As an Amazon Associate, I earn from qualifying purchases. Learn More.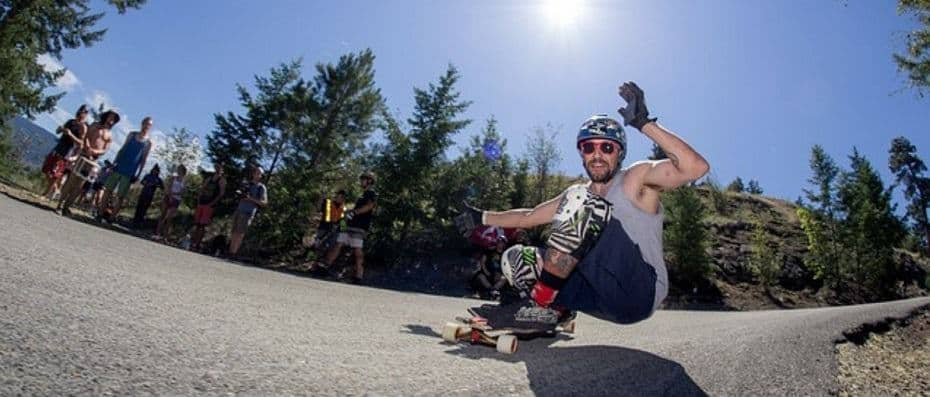 Whether you are an adult or a kid, you will always find skateboarding is a challenging and exciting sport. Hence, it is hard to resist the temptation to go on the roads with your favorite skateboard and let the adrenaline take over you. Undoubtedly, it brings satisfaction for all of us. But it also runs the risk of tipping over and getting injured unless you wear the right protective gear for skateboarding.
That's why we will review the seven best skateboard protective gears for safety to make sure you remain safe and practice carefulness. It will also allow you to ride skateboards with confidence and show some crowd-pleasing tricks like a pro.
Our skateboard protective gear review includes skateboarding shorts, helmets, goggles, elbow pads, and many more that both adults and kids require. So, you won't miss anything.
[wptb id="5448" not found ]
What are Skateboard Protective Gears?
U.S. National Safety Council reports over 50000 cases of injuries that come to the U.S. Emergency Department due to skateboarding every year. Also, around 1500 people are hospitalized in hospitals due to skateboard injuries.
These incidents happen because skateboarders don't follow safety rules and aren't interested in wearing skateboard safety gear. The safety equipment for skateboard refers to several gears, including thigh pads, protective helmets, goggles, knee pads, and elbow protection while riding skateboard and longboard on roads.
The equipment will protect different parts of the body. So, even if you trip over from the skateboard, you will be less likely to get injured. Also, it is essential if you are willing to practice skateboard and longboard tricks such as Ollie, backside flip, heelflip, power sliding, etc.
What Protective Gears Do You Need for Skateboarding?
When you plan for skateboarding, you must practice carefulness and follow safety precautions set by experts and elders. Hence, you need to wear safety gear for skateboarding. The list includes-
A thigh pad to support your thighs well. It even comes with pockets to store smartphones these days.
Wrist guard and knee pads will protect your wrist and knees from injuries.
Closer-toe or metal-toe shoes will safeguard your feet from serious injuries and offer stability on the board base.
A helmet with enough cushioning inside to protect your head. Also, it should fit well without any tightness.
Shatterproof glasses or goggles will protect your eyes. Also, it keeps dust and debris away for a clear view.
Gloves on hands to remain free from any cuts even if you fall.
Why Do You Need Safety Gear for Skateboarding?
Skateboarding is one of the most challenging sports you will ever come across. There're dedicated parks for skateboarding. But mostly, both kids and adults will practice their skills on roads or in crowded parks on hard floors made of concrete.
Since skateboard always runs the risk of falling over, the hard floor can result in different injuries. There are many cases of hospitalization due to injuries while people were on their skateboards. It even increases when riders practice different tricks.
The skateboard protective gear will help you remain safe from such injuries. Using a thigh and wrist pad, proper chest clothing, shatterproof goggles, and toed boots will eliminate the chances of injuries and boost your confidence.
Read: How to Look Cool Wearing a Skateboard Helmet?
What Happens If You Don't Use Skateboard Safety Gear?
When you don't wear skating protective gear, it will increase the chances of injuries. Just imagine how bad the cuts can be if you fall on gravel from the skateboards. Plus, longboards put extreme pressure on knees, which can cause strains.
If you don't wear knee pads, it will increase the likelihood of knee strains and injuries. Then many riders dislike wearing goggles. It may cause dust to get into your eyes. Also, it will reduce your visibility on roads, and you may hit your fellow skateboards.
Thus, in short, not wearing the skateboard protective gear will increase the likelihood of minor cuts and injuries. So, be aware of it.
The 7 Best Skateboard Protective Gears Review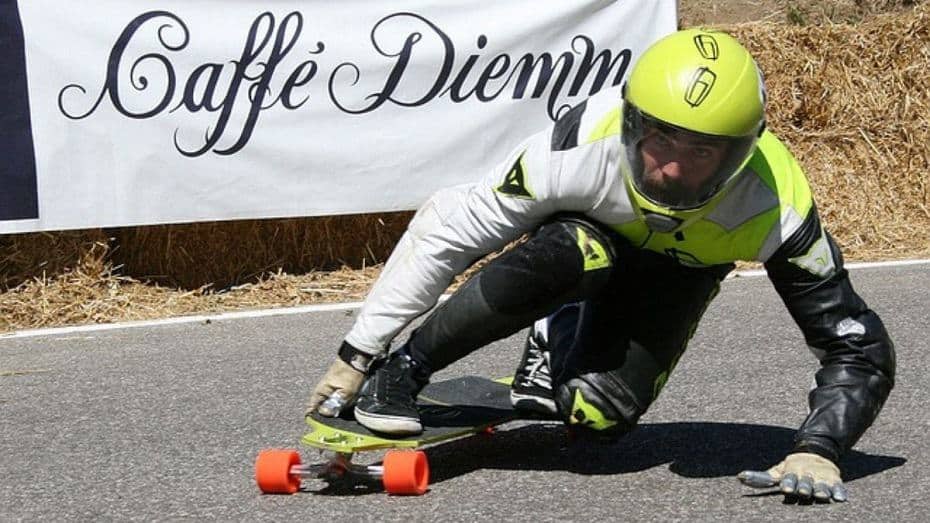 When it comes to skateboard sports, safety must be your prime concern, irrespective of your skill level. Yes, both professionals and beginners run the risk of injuries from skateboarding. We took concern of it and enlisted the best skateboard equipment in the following sections.
1. Triple Eight THE Certified Sweatsaver Helmet
When you look for the best skateboard safety gear, the list can't be completed with the inclusion of a proper helmet. The Triple Eight skateboard helmet is a good consideration in this context. The helmet successfully meets all the safety requirements that U.S. CPSC and ASTM F-1492 have set. Its dual certification ensures maximum protection.
For comfort, the longboard helmet plush fabric inside. It will absorb sweats to offer you a drier and cooler feel and stay focused. Also, it is made using dual EPS soft foam as part of the helmet's impact-resistant feature. It is ready to take extreme abuses to keep your head safe.
Also, the helmet has two sweat-saver terrycloth liners. It offers a custom fit and maximum comfort. Plus, these liners are removable for an easy and quick wash. You can also adjust the straps thanks to their side buckles. The strap adjustment is easy and fast too. The helmet comes in four different sizes. So, you can get it in any size for both adults and kids. It also allows proper fitting.
Furthermore, the helmet is gettable for anyone over 5+ years. So, it can be a great gift to your skateboard enthusiast kids.
Read: Skateboard Helmet Laws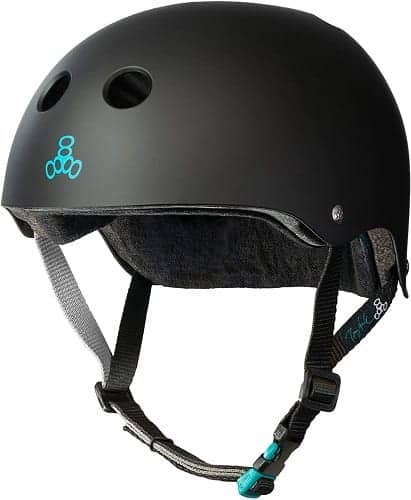 PROS
Different sizes allow a custom fit for adults and kids.
EPS foam is impact-resistant and offers a soft feel.
Soaks moisture and sweat for a comfortable feel.
Easy adjustability for tailored fit on all heads.
CONS
The sizing chart is a bit misleading.
Why You Need It:
Triple Eight sweat saver helmet is made for both kids and adults. You can use it for electric skateboards, scooters, and bicycles. Its impact resistance and plush material make sure you enjoy maximum safety and comfort.
2. G-Form Pro X3 Elbow Pads
Elbows are the most vulnerable body parts along with knees during skateboarding. Hence, we introduce to you another skateboard protective gear for adults to protect your elbows. The Pro X3 pads come with a lightweight design. So, its lightweight design frees you from extra burdens while riding the deck, making it the top-rated elbow pad for skateboarding.
Its design also features body mapping with smart-flex construction. Its mapping provides easy movement, which is further eased out with flexibility. You won't feel stressed at all. Besides that, the pad is made of impact-resistant foaming to offer maximum protection from hard surfaces. You will love how the flexible padding moves along with your elbow movements.
Its fabric is made of breathable fabric. So, it keeps sweating and moisture away and will boost your comfort and confidence. Also, its ventilation is of prime quality and allows airflow for a better feel while you ride the skateboard. Also, it is a good elbow pad thanks to its compression grips both on the top and bottom. It keeps the fabric in its place without wrapping and movements. So, you won't have to focus on keeping it in the right place.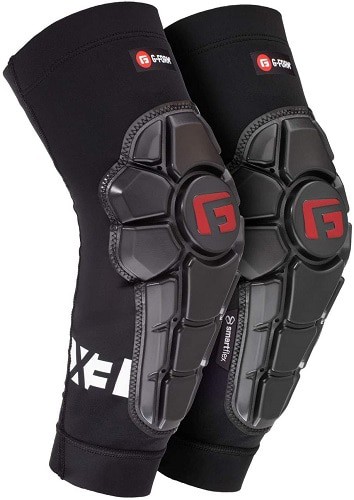 PROS
Flexible design and body mapping for a custom fit.
UPF50+ rating provides excellent U.V. protection.
Resists impact for safety with good comfort.
Absorbs moisture and ensures breathability to stay cool.
CONS
The stitching quality is very poor.
Why You Need It:
The flexible elbow pad is for skateboarders, mountaineers, and cyclists. It will stay in its position and so permits hassle-free wearing. Plus, its breathability provides comfort along with safety.
3. JBM Adult/Child Knee and Elbow Pads with Wrist Guards
JBM is a premier manufacturer of skating protective gear for adults and kids. The kit includes knee and elbow pads with a wrist guard. So, the 3-in-1 protective gear kit will provide excellent safety in all conditions.
JBM has used EVA foaming and plastic as the primary material to manufacture the knee, elbow, and wrist guards. EVA foaming is known for its impact resistance while still being soft. Therefore, you can enjoy comfort and safety at the same time. It is essential since many skateboarders complain about pain and stress due to hard materials on their protective gear.
Its plastic is impact-resistant too. So, even if you fall over on the hardest surface, you will be less likely to get injured, making it a better wrist guard for skateboarding. Plus, the elastic straps for adjustable fit are breathable. So, air will flow through the fabric to keep you dry and cool. It is crucial since skateboarding needs lots of physical activity, which produces extreme sweating.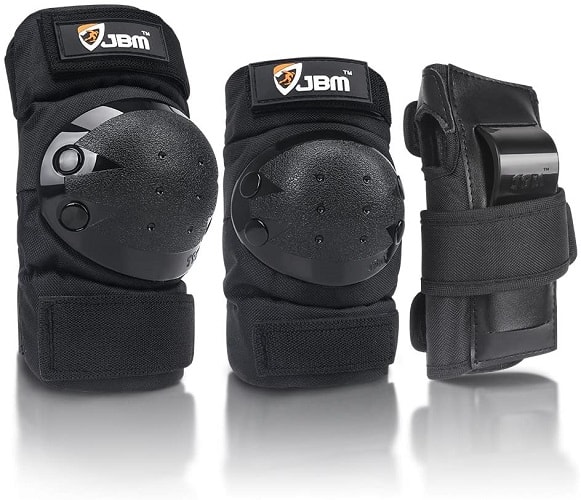 PROS
3-in-1 protection for knee, wrist, and elbow.
Its sizes are available for kids and adults.
Breathable fabric offers great airflow for comfort.
CONS
The overall pricing is expensive.
Why You Need It:
The JBM kit will protect your wrist, elbow, and knee from cuts and injuries. So, you can practice different longboard tricks with the kit with increased confidence.
4. Triple Eight unisex-adult Bumsaver Skate
The triple Eight bump saver is the best safety gear for skateboarding to protect bumps and thighs from serious injuries. It gives full coverage from your waist to the right over the knees, boosting your comfort on the skateboard rollers.
The bump saver is made with 100% lycra fabric. It is soft enough to fit inside your regular clothing discreetly. It increases comfort while riding the board. Plus, the short is lightweight and breathable for riders. Lightweight design ensures you don't feel overburden with the shorts. Also, breathability will allow you to remain dry and enjoy a cool breeze inside.
On top of it, it equips with EVA foam-made pads. It protects thighs, bumps, and tailbones. The pads are removable and permit you to customize fit for added comfort. Therefore, you will experience comfortable mobility with this skateboard protective gear around your waist, thigh, and hips.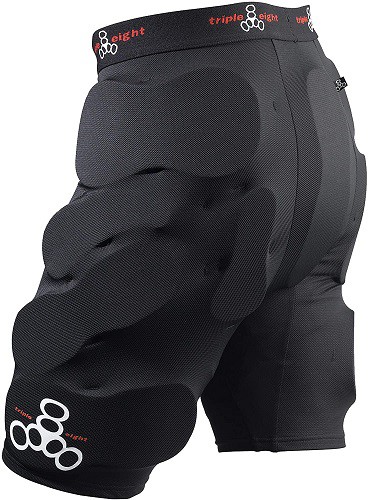 PROS
Customizable padding zones with quick removal facility.
Heavy-duty Eva foam ensures impact-resistant safety.
Lycra fabric is lightweight and fits discreetly inside clothing.
CONS
May increase your body temperature slightly.
It seems overpriced.
Why You Need It:
If you are planning to upgrade your skateboard skill and speed, this bump saver kit is a must. It will make sure you remain safe even if you fall hard on the concrete surface.
5. 187 Killer Pads Derby Wrist Guard
The 187 Killer is more than a pair of good wrist guards for skateboarding with its toughness, protection, and comfort. The wrist guard is made of soft material with EVA foaming right where it needs to be. So, your wrists enjoy both lightness and safety at the same time.
Plus, the wrist guard features comfy and unrestricted finger movements. So, you will enjoy great flexibility and control, unlike regular wrist guards. It also keeps your fingers free for use if need be. Its protective plate is big enough to cover the entire palm and wrist properly. Plus, its contoured design makes sure you get a snug fit.
The protective area is large enough to dissipate the impacts better. So, you won't feel much stress even if something hits your hand during skateboarding. On top of it, its slide-on facility allows easy putting in and off facility. You will also love the seat-band location. It comes forward to keep sweats away for a dry feel inside the wrist guard.
In short, the wristband is recommendable skating protective gear for adults that you can count on for reliability and safety.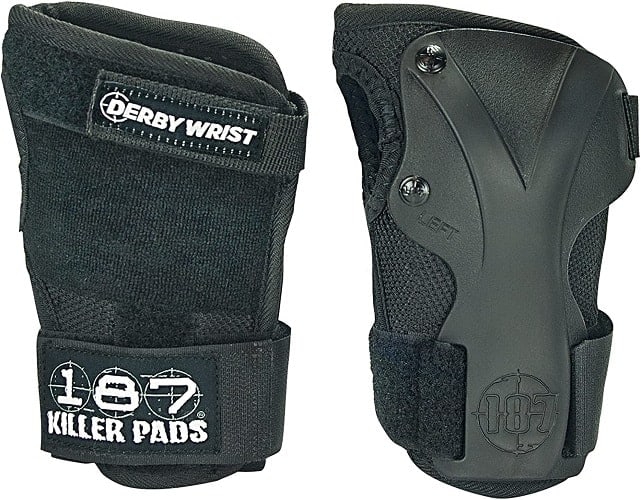 PROS
Slide-in sides help quick and tailored fit.
Expanded protection for palm and wrist.
Built ruggedly for durable and abusive uses.
CONS
The thicker design prevents breathability inside the wrist protector.
Why You Need It:
Whether you are a professional skate dancer or longboard enthusiast, the wrist protector will correctly take care of your palm and wrist. You won't feel wrist-twisting or fracture anymore.
6. Board Blazers Skateboard Lights
The Board Blazer lights will be a great addition if you plan for skateboarding at night. Also, you can decorate the skateboard with these lights for an elevated look.
The box comes with three packs of LED lights. The lights change colors which truly increases the look of your longboard and skateboard. You will get lime and white colors. The colors are attractive and eye-soothing. So, you feel intimated either.
The package also includes CR2032 batteries. So, you are ready to go straight. The batters are hassle-free to mount with a bottom cell design. On top of it, the battery has a long 30 hours of lifespan. So, you don't need to change them quickly either.
The stylish battery will be a great fit for your skateboard. You will love to take it out in the park and show some tricks.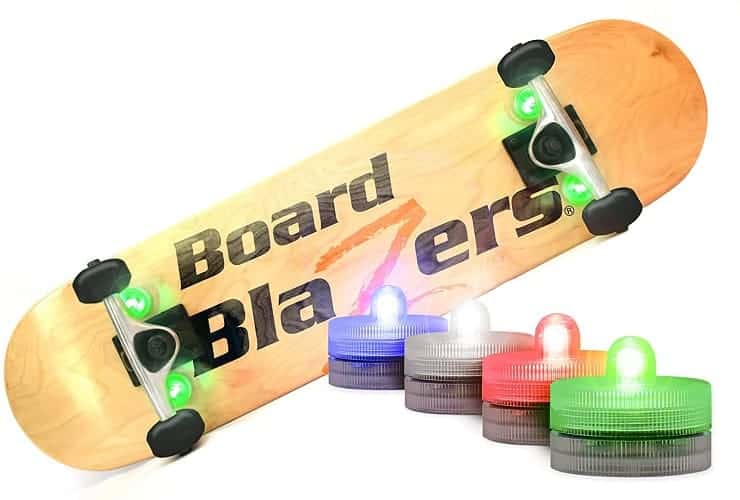 PROS
Hassle-free installation with adhesive.
Long battery life will last for 30 hours.
Stylish with two different color changes.
CONS
Not so visible from a distance.
Why You Need It:
The stylish light with two color-changing facilities will give your skateboard a look that you always wanted. Also, it could be skateboard protective gear for kids as a nice gift.
7. JBM Rider Series Protection Gear Set
This JBM gear set is a complete skating protective set, including full-face helmets, wrist guards, and knee and elbow pads. Thus, your daredevil kid will remain safe with his favorite skateboard anywhere.
The knee and elbow pads are made of P.E. shells. It is strong enough to resist the impacts of any hits. Also, the fabric is breathable. So, the wearer won't experience any sweating inside with good knee pads for skating.It will also improve mobility with a dry and soft feel.
The helmet is designed to fit a kid's head with a snug fit. It has EVA foams inside as part of an impact-resistant feature to offer maximum safety. Plus, it has multiple vents. So, kids will love the airflow inside, which will keep their heads cool and comfy. Also, the wrist guards are of good quality and offer flexible movement for an easy riding experience.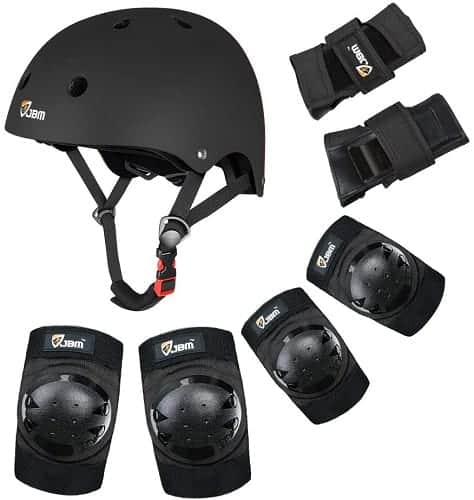 PROS
The pads are sturdy and breathable.
The helmet offers a snug fit with vents.
Reasonable pricing for all buyers.
Why You Need It:
As a parent, you would want maximum protection for kids. This JBM gear set will provide you with the same. Kids can confidently skate through different terrains with it.
How Do You Choose Skateboard Protective Gear?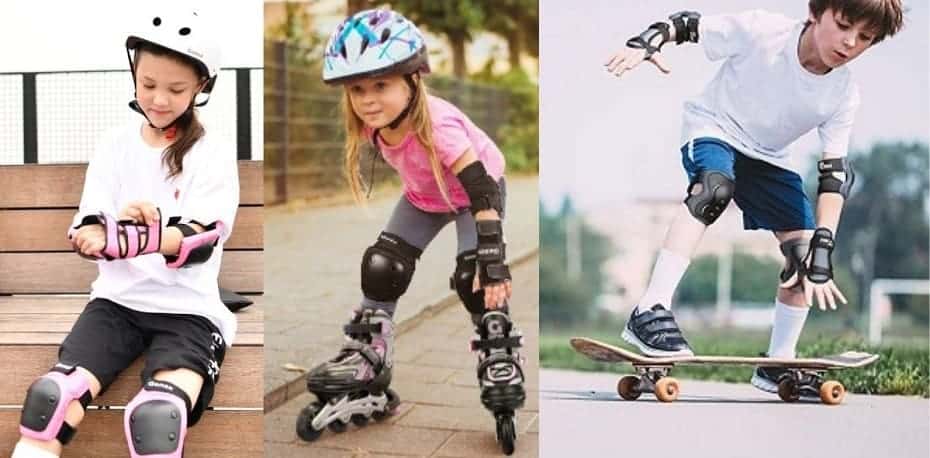 When you want protective gear for skateboarding, you must be picky about it. Since it includes multiple items, you have to look at various things.
First off, the helmet must be sturdy and offer a snug fit. It should have vents for breathability. Also, EVA foams inside will offer impact resistance with a softer feel. Similarly, the knee and elbow pads should have EVA foaming. It ensures maximum safety.
Also, the protective gear must be lightweight and flexible enough to allow easy movements. If the pads or helmet feel heavyweight, it will distract you and cause stress. Next, you may look at the airflow and breathability. If the fabric lacks breathing facility, you will feel sweaty.
Lastly, check the price. If you look for high-end protective gear, you have to spend more on it. But you should get these items mostly at affordable pricing.
Read: Skateboard Helmet Vs Bike Helmet
Frequently Asked Questions (FAQs)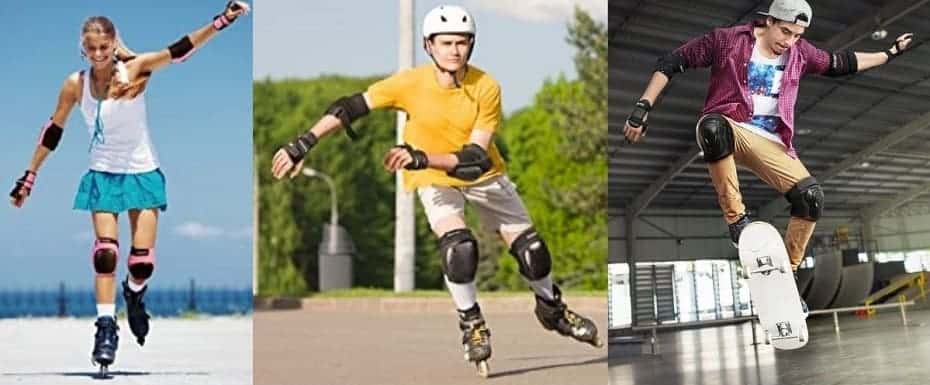 What is the best protective gear for skateboarding?
Skateboard protective gear includes different items such as helmets, wrist guards, and pads for the knee and thighs. So, it is difficult to choose one particular item. Yet, we recommend JBM and Triple Eight manufactured items.
Should I get protective gear for skateboarding?
Yes, you must wear skateboard protective gear. It will safeguard you from minor injuries and fractures which skateboarders often experience.
How do you protect yourself while skating?
You have to wear the right protective gear. Make sure you wear a helmet, wrist protector, and pads for protection. Also, learn the tricks with patience.
Do I need knee pads for skateboarding?
Knees are the most vulnerable parts of your body while skateboarding. So, you must wear knee pads with EVA foam to avoid injuries and cuts.
What protective gear does Tony Hawk use?
Tony Hawk uses a Triple 8 helmet with EVA foam construction. He also uses a certified sweat saver wrist and elbow guard for protection.
What gear do professional skateboarders wear?
Professional skateboards will always wear sweat-saver helmets, elbow pads, and wrist guards. They also use breathable knee pads.
How do you wear knee pads for skateboarding?
You should fit the pads right below the knee cap. You can also choose to cover half of your knee caps. Once the fitting is good, tighten the strap, and you are ready to go.
Why don't people wear protection?
Skateboard is an exciting sport. So, people want to feel the excitement and thrill. It refrains people from wearing protective gear. But that increases the chance of injuries.
Conclusion
Whether you are a beginner or professional, riding on a skateboard always runs the risk of tipping over it. Since skateboarding surface is hard, it may cause you cuts, minor injuries, and fractures even. And it cans aloof you from the excitement of skateboarding for days and even months. If you don't want such an experience, you must wear the best skating protective gear.
Our list includes a protective helmet, wrist guard, and pads for both knee and elbow. So, you will enjoy maximum safety. Plus, the kits are lightweight and breathable, which allows a cooler feel. Therefore, you will truly enjoy the elevated thrill of skateboarding.
Amazon and the Amazon logo are trademarks of Amazon.com, Inc, or its affiliates.