As an Amazon Associate, I earn from qualifying purchases. Learn More.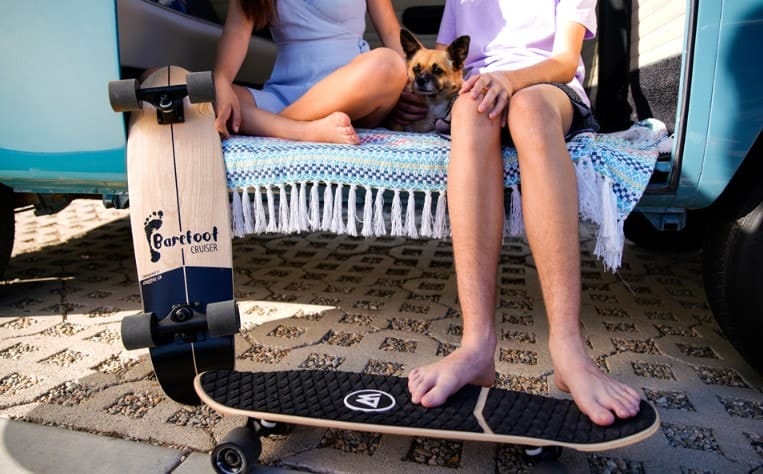 Do the trio of a sand grit finish, the beauty of Canadian maple wood, and double kick tails lure you into the subtle art of skateboarding? If yes, then now, you should check out this Magneto Mini Cruiser review. Here, we broke down the board's parts and features, along with its trucks, bearings, and wheels.
Although it presented excellent decks and tolerable wheels, we found issues that it needed solving. In terms of performance, the barefoot board is best for all beginners and the jolly kids and teens who are into cruising fun.
It is one of the best rated skateboards you could find in the market.
When we first laid hands on the Magneto mini cruiser skateboard, its similarities with a certain Dinghy was astounding. Also, when you see it first-hand, you'll know that it is pretty compact and small in size, but no humdrum. If you find yourself checking for imperfections or try to find fault with it, you may not be so successful. It comes off as a solid shortboard.
Features of Magneto Barefoot Mini Cruiser Skateboard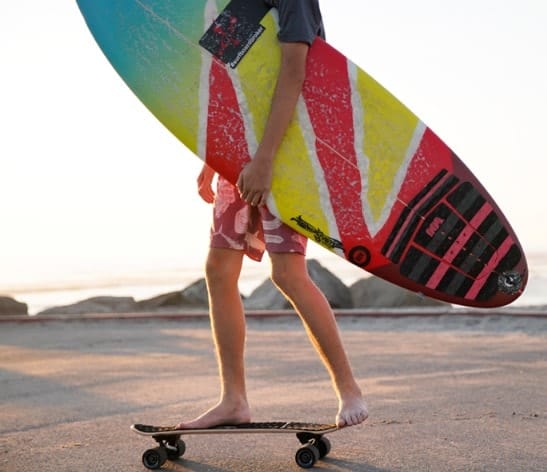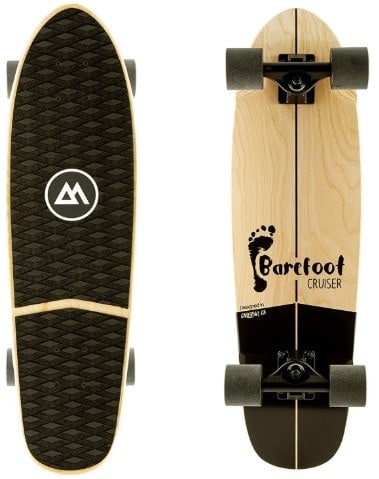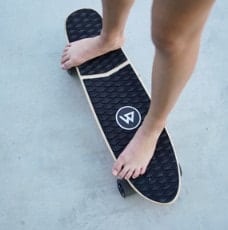 Parts and Feature
With some simple graphics, the design of the Magneto barefoot mini cruiser is quite simplistic and minimal. Things get a degree better with the transparent grip tape. Besides, you get: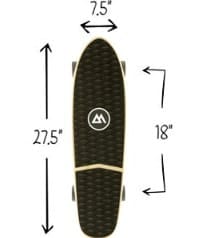 2x trucks
2x ⅛ inches riser pads
4x metal spacers
4 x 63 mm wheels.
8x Abec 11, 608 bearings
8x Allen key screws and bolts
Deck
The Magneto right here is a barefoot skateboard measuring 27.5 inches in length and 75. Inches in width. The deck is both reliable and lightweight. With the well-constructed grip that stays in position, you can move your feet around as you swirl. The structure is a medium concave and poses no difficulty in controlling the board. Kudos for successful foot placement!
Trucks
Here we had some issues. The trucks aren't exceptionally high quality. Instead, they look like mixed breeds. We weren't a huge fan here as they came off cheap and had rough edges. However, the bushing was pleasing. These come with adjustable tightness. But if you don't change things, they feel quite soft. Don't be fooled as they are hard to break in!
Bearings
We weren't a fan of the bearing again. Although it was mentioned of the ABEC 11 type, it didn't feel so. So, if you want to maintain speed, you will have to push by yourself after a couple of while. If you're not pushing, get ready to come to stall sooner than you know it. But thank God, these are replaceable.
Wheels
The wheels were good enough, but you'll find them without bubbles. If you want to have a quick ride on a gravel road or find yourself on cracked surfaces, the wheels will hold you up well.
Performance
If you have beginner cruising abilities, you will find the board to be decent enough. However, if you are a pro-cruiser, the agility and stability will haunt you. In terms of speed, you do not do something very fast, and as we said, it needs pushing to keep up with similar boards.
But since pushing abilities are essential to developing for new riders, you can try it out as a first-timer, and once you get comfortable and ride better, you can switch options.
Buy If…
It can be the best mini cruiser skateboard for kids and teens. If you want to explore cruising, this is an excellent board to start with. Here is a chance to always upgrade the wheels and bearings later. And for those with a tight budget, this is cool too.
Don't Buy If…
This Magneto cruiser board is not for intermediate or professional cruisers. If you know how to ride and cruise already, you will not love this model at all. Heavy riders will also find it hard to balance on.
Pros and Cons
Here's the good and bad of the Magneto barefoot shortboard:
Easy to carry and lightweight.
Compact in size, right for kids and teens.
Turns quickly.
Extremely affordable.
Great grip.
The best part is the deck.
Great for beginners.
Needs pushing.
Not very great trucks and bearings.
Not suitable to go downhill with.
Not for pro-users or heavy users.
Frequently Asked Questions
1. Are Magneto boards good enough to use?
Yes. They are good enough for beginners.
2. Would you say Magneto boards are safe?
Quite safe for kids and teens but not so much for heavy users.
3. Are such mini cruisers good for beginners?
Yes.
4. Can I use the board with my shoes on?
Sure! But they are meant for a better barefoot experience.
The Bottom Line…
This brings us to the end of the magneto mini-cruiser review! Like we said, if you do not know how to ride a board yet, you will absolutely love what this delivers to you.
The ABCs of skateboarding can come from Magneto's lessons. But if you know the ins and outs of riding, you know there's always something better!
Read More
Amazon and the Amazon logo are trademarks of Amazon.com, Inc, or its affiliates.