As an Amazon Associate, I earn from qualifying purchases. Learn More.
Minority Store is among the top-tier longboard manufacturers. They have presented the skateboarding world with some iconic longboards for champions and newbies alike. Their longboards are famous for their unique design, durability, easy maneuverability, and skaters' safety.
The Minority Downhill Maple Longboard is one such longboard from the manufacturer. During the Minority downhill maple longboard review, we found it comprising of a long 40" base sturdy enough to carry any weight. Also, it is prepared of complete maple wood with multiple layers for durability.
If you are a longboard and skate enthusiast, you will know the ins and outs of the Minority downhill longboard with its design, construction, the best features, and so on in this minority longboard review. So, don't go away.
Key Features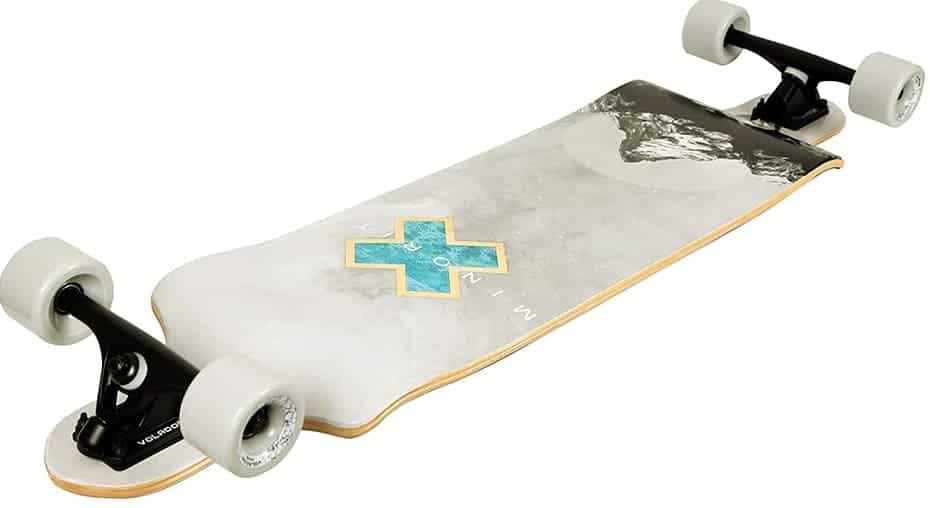 Wheelbase length: 37"
Width: 10"
Wight: 7.5 pounds
Dimensions: 40 × 10 × 4 inches
Base construction: 8-ply maple wood
Truck: 7" reverse kingpin
Minority Downhill Maple Longboard Review
This classic longboard features a drop-down design. Also, the safety and racing convenience of the skateboard is appreciable. Plus, the luxury construction with details makes it an eye-catchy longboard and so suitable for stylish skaters.
Great Downhill Racing Performance
This longboard is made to offer you maximum comfort and increased smoothness while racing downhill. The drop deck model with 40" length ensures sturdiness and stability to ride through the hilly and bumpy grounds at ease.
Also, the design features low gravity functioning. So, you can accelerate the speed and still feel super-confident about the rides on it. You will love the speedy ride without any jerks and shakes.
Solid and Durable Construction
The Minority drop deck longboard boasts of a 40" long deck. It is one of the longest decks you will find in the longboard market. The best part of it is its 100% Canadian maple wood construction. The deck features 8-ply construction. Each ply sheet has been cold-pressed for maximum longevity.
Apart from the construction and its length, the 10" width is also appreciable. Its length and width combine to offer you a unique skating experience. You will quickly and smoothly speed up in the downhill regions. Similarly, cursing along the streets with this longboard is like a dream coming true for many professionals even.
Performance Boosting Specs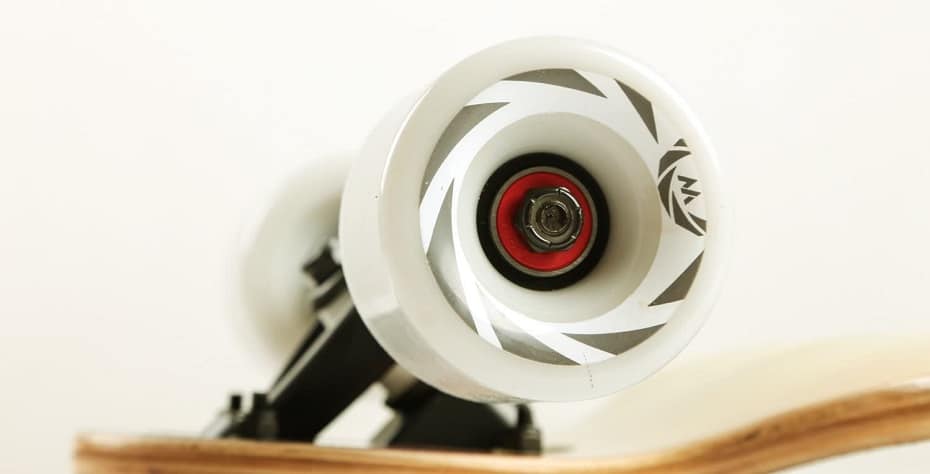 The performance of a longboard doesn't only depend on its deck length, but also factors like bearings and wheel contribute to its overall performance. And in this regard, the longboard excels miles ahead of others, as we found in our minority downhill maple longboard 40 inch drop deck review.
The wheels are made of standard 78A PU materials. It is sturdy enough to carry your weight without cracks and damages. The deck has ABEC-9 bearings to support the wheels. The bearings are sufficiently lubricated to provide you an unrivaled riding comfort.
Also, the platform stability makes the longboard a great investment for beginners. They won't find controlling the longboard hard, thanks to its standard width, length, and sturdy wheels. The boost in gives to the skating performance is simply unmatched by others.
Smoothest Maneuverability
Most longboard skaters complain that their longboard is difficult to maneuver. The problem mainly comes due to the limited adjustability on either side. But these are not the scenarios with the Minority downhill longboard.
The reverse kingpin truck is made with genuine aluminum. It has 7-inch in length. The aluminum-made truck is durable and can withstand any bumpy region with ease. But the real magic lies in its great adjustability.
You can adjust the reverse kingpin trucks on either side. The adjustability is easily reachable up to 45° to 50°. Also, it can be done in quick time, offering you the smoothest maneuverability. The maneuverability ensures that you enjoy the rides without thinking too much about the controls and speed.
Visually Pleasing Longboard
Are you on the lookout for an eye-pleasing longboard to cruise through the streets? The maple wood design with the wood grain exposer look makes it a perfect companion for your outdoor activities. The Alps finish imitates the frosty look of the great mountain that will grab everyone's attraction.
You have the liberty to choose from other impressive finishes as well. Cheers!
PROS
Eye-catchy and durable 100% maple wood design.
Sturdy and stable deck base.
At 7.5 pounds, it is lightweight.
Smooth and easy maneuverability.
Compact and easy to carry for outdoor activities.
CONS
Only basic features; may not suit professionals.
Some users find the width a bit too much for a comfy ride.
Why Should You Choose This One?
If you look for a sturdy and durable longboard to kick-off your skating career, you should get the Minority longboard. It is a piece of true artwork but without pricing it out of your reach. The polyurethane wheels are durable, offering you a long-lasting service.
Also, you will love its maneuverability and unique design.
Who is This for?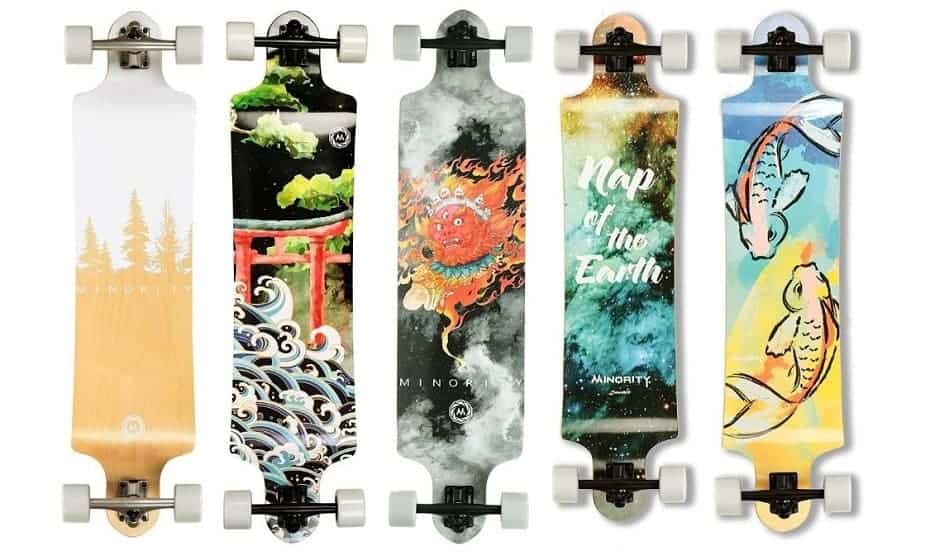 This longboard will be a fantastic investment for beginners. During this Minority longboard review that we have mentioned it a good purchase for beginners already. But how can you be so sure about it?
First off, the longboard has the perfect length and construction for easier controls. And as a newbie, easy controls immediately mean it is made for you. Also, the pricing and premium design make it a suitable investment.
Last but not least, its smooth maneuverability and performance are what a beginner may ask for in his 1st longboard.
Frequently Asked Questions (FAQs)
Are minority longboards good?
Yes, the minority longboards, with their impressive maple wood design, durable construction, and affordable pricing, is a great investment for all. Also, its smooth riding experience is appreciable too.
Are drop deck longboards good for beginners?
This drop deck longboard with a sturdy base and perfect width is ideal for newbies. It is easy to control and maneuver with a lightweight design. So, newbies find it a good option.
Is Minority a good skateboard brand?
The minority is a leading manufacturer in the longboard industry. They ensure rider's safety and user convenience with great look and durability in each of their longboards in the market.
Are drop-down longboards good for cruising?
Yes, this drop-down longboard is ideal for cruising on the streets too. Longboards with rugged wheelbase and wider deck suits cruising. Also, the lubricated bearings provide good maneuverability on the roads.
Final Words…
We found in our Minority downhill maple longboard review the longboard worthy of the investment thanks to its finest quality and smooth performance. Also, it has quick maneuverability, easy control, and great durability. Thus, the Minority downhill longboard comprises everything you may want as a beginner.
The responsiveness of the board while turning around the corners is surprisingly good. Also, the riding smoothness is impressive. However, the longboard has pretty basic features which may not be suitable for professionals.
Read More
Amazon and the Amazon logo are trademarks of Amazon.com, Inc, or its affiliates.