As an Amazon Associate, I earn from qualifying purchases. Learn More.
Are you fond of sports like skating? Inline skating is a fun way to help everyone maintain a fit body figure, exciting, right?
Skating also improves our nervous coordination. As well as balances our body while moving. Also enhances our inner strength. Like, everything gets upgraded while skating.
Now here comes the real trouble- choosing the right pair of skates! Finding out the perfect skates that fit your specific needs is not easy. All thanks to Rollerblade, though. The brand has come to our rescue with the ideal solution!
Rollerblade Zetrablade inline skates are packed with style and grace. They will cover your feet with comfort and high-class protection.
Here is a detailed Rollerblade Zetrablade review focusing on its amazing features. Just to let you understand why people are madly in love with these cool skates!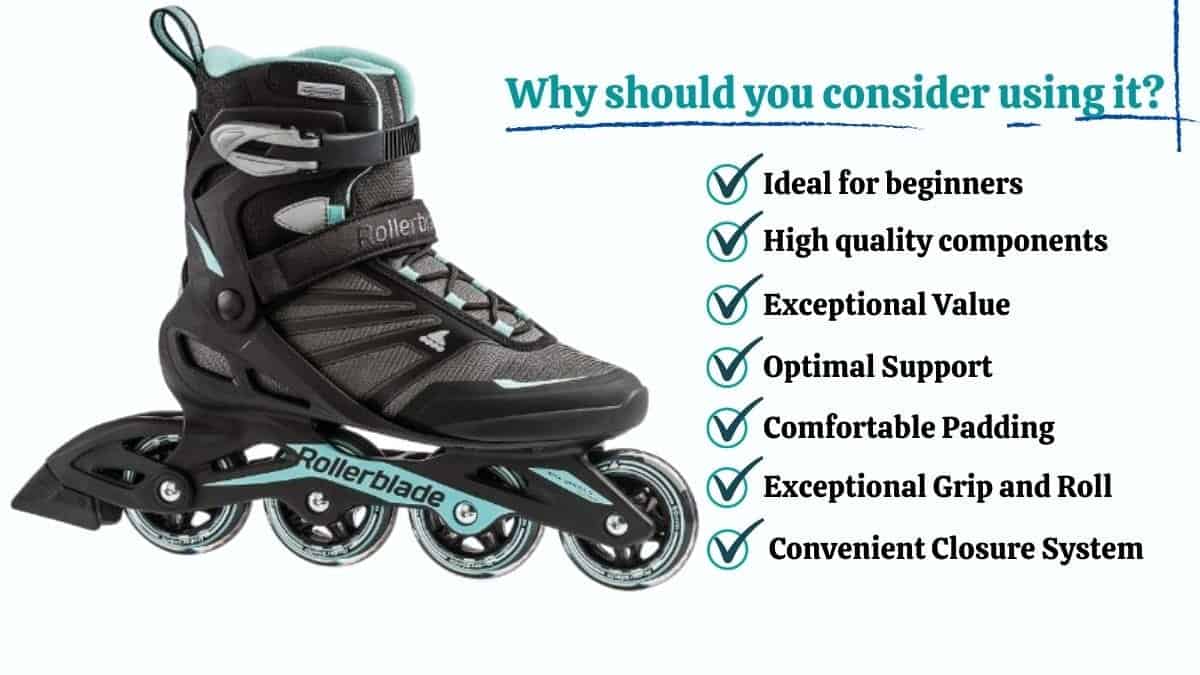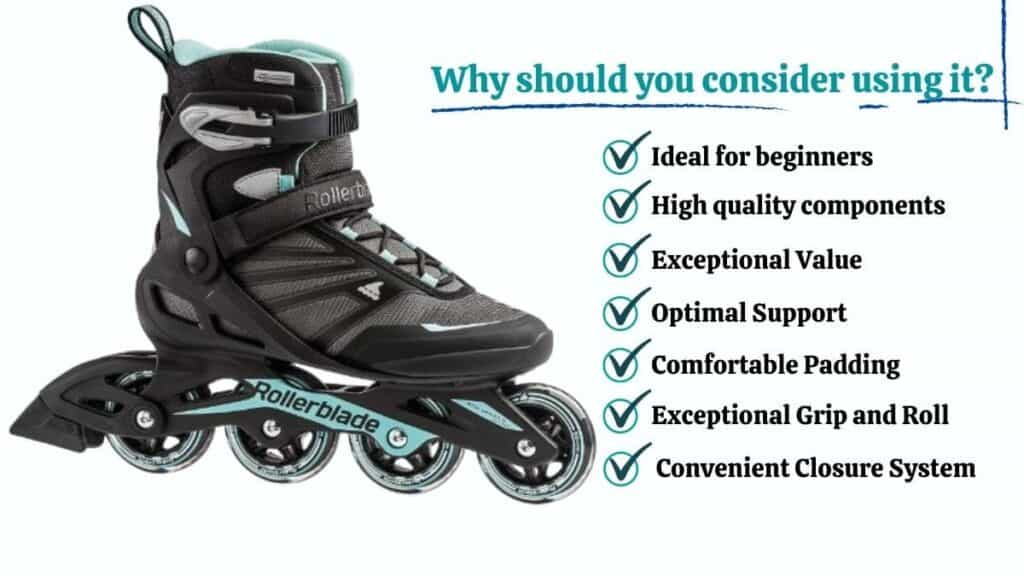 | | | |
| --- | --- | --- |
| Features | Benefits | Pain Solved |
| High-performance wheels | Provides a smooth and comfortable ride | Reduces impact on feet and joints |
| Monocoque composite frame | Durable and lightweight | Enhances speed and control on skates |
| Padded liner with easy-to-use closure system | Provides comfort and easy fit adjustment | Prevents blisters and pressure points on feet |
| Lateral support and stability | Helps maintain balance and control | Prevents injuries and falls |
| Ventilated design | Allows for breathability and reduces heat buildup | Prevents overheating and excessive sweating |
| Replaceable brake pad | Enables easy and safe braking | Ensures optimal performance and safety |
| 80mm/82A wheels with SG5 bearings | Offers a balance of speed and maneuverability | Enhances skating experience and skill level |
Overall, the Rollerblade Zetrablade Men's Adult Fitness Inline Skate provides a comfortable and durable skating experience. The high-performance wheels and monocoque composite frame enhance speed and control, while the padded liner and closure system prevent discomfort and blisters. The lateral support and stability features ensure safety and prevent injuries, and the ventilated design prevents overheating and excessive sweating. Finally, the replaceable brake pad and high-quality wheels with SG5 bearings enable safe and optimal performance.
The Renowned Rollerblade Zetrablade Review
What makes them so unique? It's all about the main features!
Extensive Availability
The skates are available in a wide range of designs for your natural selection. They also come in a total of eight different sizes. So there is no way that the skates won't fit your feet!
They also come in multiple color shades of black and red. The skates have a durable structure. The long-lasting material is sturdy too.
The cherry on top – the skates are uniquely designed to allow equal access for all. Men, women, and children of all ages can wear them too.
That is why the skates have long-lasting shells. It will make the process of learning skating simpler. Also, more convenient for everyone.
Super Comfy

Not to mention, these best-rated inline skates feel very comfortable. Want to know the secret for why? The skates are comfortably soft padded.
Along with that, the excellent grasp quality of the enclosed laces will maintain your posture. To keep you assured of not tripping over!
All the cushioning and padding setups are there to ensure your comfort. Along with convenience in every way possible. Even if you are a beginner, learning how to skate with no basics!
Secure Closure
A lace closure framework with great brakes has been guaranteed to regulate your balance. This arrangement will help to keep your feet well-balanced into the skates.
Moreover, you can also make sure about your feet by moving the impact points into the boot's back. The Zetrablade sleeve supports the lower leg for smoothly moving ahead. That, too, with reliable sideward support.
We haven't told you yet, but the Zetrablade cuffs function amazingly. Just make sure that the skates are appropriately positioned.
Read: Rollerblading tricks for beginners
Steady Balance
All Zetrablade skates have the same structure. Let us tell you in detail! Each set has a coordinated shell and casing system.
Do you know how this will help? This feature will give skaters more excellent steadiness and balance. Also, it is notably more incredible for new skaters.
Mostly because when they are near to the ground, it will help them balance themselves. Similarly, to have more confidence during the learning stage. Proper support to your feet will be ensured.
How will all this help? It will improve your skating skills. You will learn to skate better day by day. Or somewhat improve your current skills.
Your Protection Is The Priority Of The Rollerblade Zetrablade
We all know skating is fun and exciting. An activity enjoyed by all. However, just like every other sport and game, skating can cause accidental falls and hurts too.
That's why keeping yourself backed up with protection is essential. And that too from every way possible. That is why safety should be the priority.
Rollerblade keeps your safety concerns in mind. That is why they are offering a variant collection of protective gear. Starting from knee pads, caps and helmets, and the list goes on.
You choose the perfect ones for yourself from a variety of colors. Not to forget, all this incredible protection quality is being offered at a very cheap rate. Of course, you would not want to miss such a fantastic offer!
Are Rollerblade Zetrablade Inline Skates Any Good?
Pros
Strong material
Long-lasting usage
Resistant to damage
Unique design
High quality
Cons
Shorter straps
Tight on skin
Who Should Buy It?
Inline skates help new skaters become more accustomed to the ropes. That is why they are an ideal choice for many sports experts. Riders of other sports find skating fun too, with the perfect skates!
People often believe that skating is only for men. Wrong! Sports should be for all – both men and women.
That is why the Rollerblade Zetrablade women's inline skates are designed with equally high quality and excellent features. This is to ensure they are the same as the Rollerblade Zetrablade men's skate collections.
| | | | | | | |
| --- | --- | --- | --- | --- | --- | --- |
| | | | | | | |
| | | | | | | |
| | | | | | | |
| | | Twinblade Aluminum 10.4" (11.0" Sizes 11-13.0) | Twinblade Aluminum 10.4" (11.0" Sizes 11-13.5) | Twinblade Aluminum 10.4" (11.0" Sizes 11-13.5) | Twinblade Aluminum 10.4" (11.0" Sizes 11-13.5) | |
| | Cuff Buckle, 45º Strap, Laces | Cuff Buckle, 45º Strap, Laces | Cuff Buckle, 45º Strap, Laces | Cuff Buckle, 45º Strap, Laces | Cuff Buckle, 45º Strap, Laces | Locking Cuff Buckle, 45º Buckle and Laces |
| | | | | | | |
| | | | | | | Can accommodate 3WD set up (upgrade frame must be purchased) |
| | | | | | | |
| | | | | | | |
| | | | | | | |
| | | | | | | |
| | | | | | | |
Why Do We Like It?
What should we first look for when buying new skates? We say comfort, strength, and good quality material are essential.
But only focusing on these qualities in this Rollerblade Zetrablade review will not be enough. We really cannot neglect the excellent ankle support design of the skates.
This system is specially designed for beginners. We need to understand that skating is a new idea for people who are always searching for alternatives. Different ways of staying in touch with activities.
Don't get us started with how great do the wheels work! Both the wheel size and its speed give a smooth ride. Moreover, glide makes sure that you are getting enough speed to make skating easier to learn.
VERDICT (4.7/5)
We all know Amazon is a large platform. To be ranked there in the list of 'top 10 best-rated skates' is a great achievement.
All the positive ratings are enough to suggest the excellent product quality. Customers' positive feedback about the skates also suggests its growing popularity among skaters.
This reputation makes Rollerblade Zetrablade skates the best ones compared to many other brands. Therefore, these skates will always be at the top of our recommendation list!
Because of all the advantages, these skates deserve an overall 4.7/5 rating from our side!
Amazon and the Amazon logo are trademarks of Amazon.com, Inc, or its affiliates.