As an Amazon Associate, I earn from qualifying purchases. Learn More.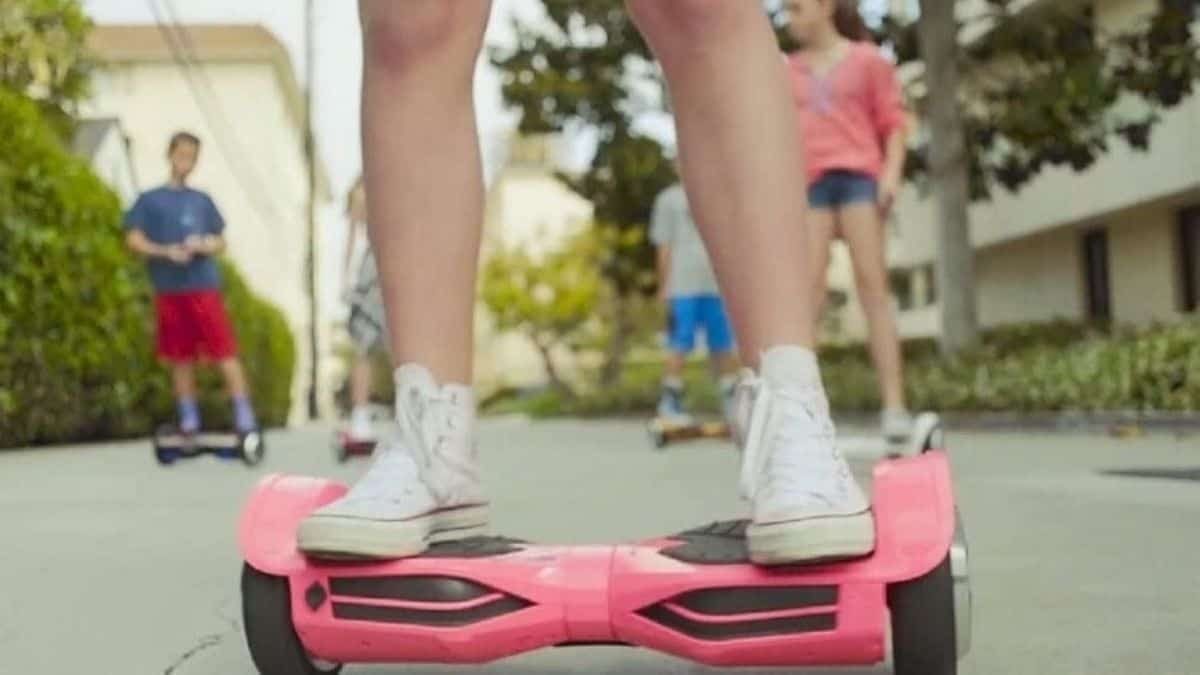 If you are worried about seeing all the hoverboards getting burst and catching fire for poor batteries, you would be pleased to know these are mostly cheap one which was not compliant with the Ul 2272 certificate.
So if you want a high-quality hoverboard, there are many hoverboards manufacturers you can choose from. However, among them, the brand that stands out the most is the swagtron. Swagtron is renowned for bringing out the best quality UL 2272 Certified hoverboards.
These hoverboards are tough and ensure quality and tremendous performance. So if you have been looking for Swagtron hoverboard reviews to find the right one for you, we have some reviews on Swagtron hoverboard for you right here!
In a Hurry?
This is our winner…
Swagtron T1 Hoverboard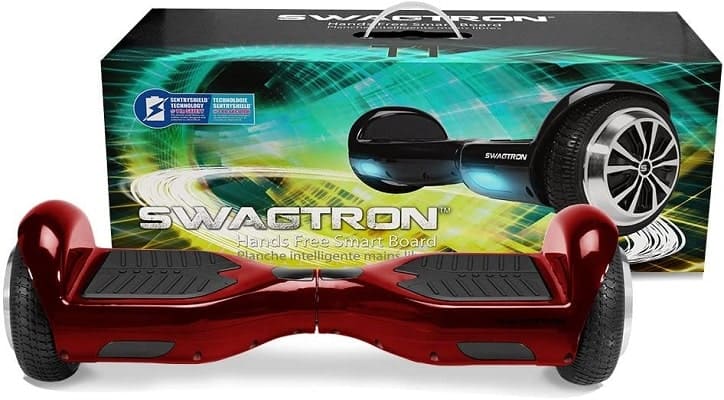 Why this is the Best?
UL 2272 certified.
Incombustible Frame.
Lithium Ion battery.
Maximum Weight Load: 220lb
7-12 mile range per charge.
It has battery & System indicator.
It also has LED movement indicator.
It has learning mode.
100-240 volt power.
Fully charged only in one hour.
Appropriate for all age.
About The Swagtron Company
Swagtron, inspiring mobility, has been serving as one of the best when it comes to manufacturing the best quality hoverboards, electronic scooters and bikes. They are the manufacturer who brought out the first certified hoverboards, and all of their hoverboards come with impressive smart features and design.
Swagtorn put gyroscopic technology that smooth the travel and gives a taste of adventure on the slopes or even hilly terrains as well. Besides this, they always ensure that their products are environmentally friendly and risk-free. All of their users are highly pleased with the service and product and expressed interest in purchasing more products from the Swagtorn.
One great thing about Swagtorn is that the warranty quite exhaustively ever since the beginning. Overall, Their products are easy to operate, great to look and advance to function.
Why Choose A Swagtron Swagboard Hoverboard?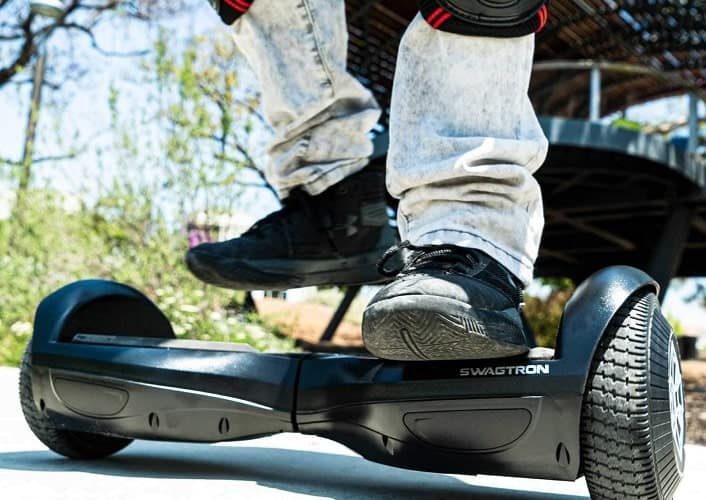 What do the Swagtorn hoverboards do so differently than the other manufacturers?
Well, the outstanding features of these self-balancing scooters are what makes them such a great choice when it comes to buying a hoverboard. But most importantly, the Swagtron hoverboard is one of the safest hoverboards as it is fireproof and made to prevent any such incidents.
They ensure that the battery on their hoverboard is off topnotch quality. Also, the charging time is quite short, so it doesn't take that much too long to be fully charged.
Their hoverboards are designed in such a way that it can uplift the weight young to adult and zip over the hill or flat areas.
The driving modes are specially manufactured according to the needs of riders and providing them with better comfort. The speed of Swagtorn hoverboards is quite excellent as well, as you can reach up to 12 miles per hour.
Top 5 Swagtorn Hovervoard Reviews
1. Swagtron T1 Hoverboard
If you love to have thrilled and yet craves some comfort while you ride, then Swagtron Swagboard Pro T1 is for you. It has a much faster speed than other hoverboards in this price range. A 300-watt powerful motor gives you the freedom to speed up your journey to 8+ mph. With a full charge, you can cover a good distance, as much as up to 11 miles. The best advantage of using this hoverboard is that it only takes an hour to be fully charged. The 23 pounds machine can load up to 220 pounds of weight.
The swag board pro T1 has two driving modes, including learning mode and standard mode. Learning mode limits the speed for users, while the standard mode is ready to fly at max speed.
UL, which a leading organization for ensuring safety for consumers worldwide, certifies it as a safe hoverboard to use, and it comes with LED headlights that help to move flawlessly at night. Battery indicators help you to understand the remaining charging levels. Besides, it is designed with rubber bumpers that provide extra protection to users.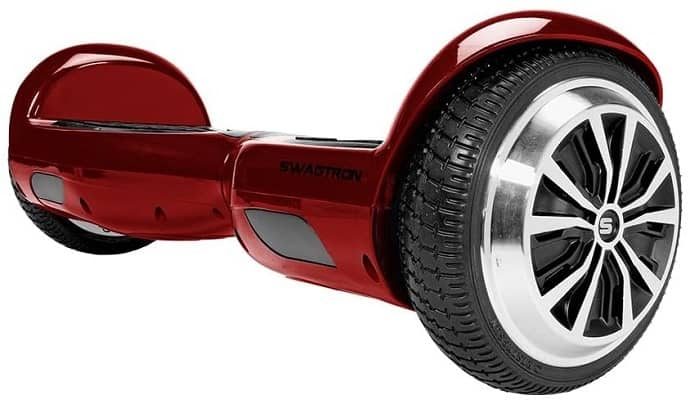 PROS
It doesn't take more than a 1 hour to be fully charged.
It has a top speed 8+ mph.
It comes with two different driving modes.
It can handle 220 pounds of weight so adults can ride it as well.
2. Swagtron T5 Hoverboard
Swagboard Classic T5 is a masterpiece and one of a kind hoverboard for both beginner and pro riders. It has come with dual 200-watt heavy-duty motors that provide the highest 7mph speed limit of the vehicle. The Lithium battery of the scooter is sentry shield protected. 60 to 90 minutes is enough for fully charged, and a fully charged Swagboard Classic T5 can be run up to 7 miles. The scooter is designed with gyroscopic technology that ensures safe and straightforward navigation. Besides, it has passed the UL2272 test for electrical and fire safety so you can purchase it for the kids a well.
The T5 version also has two driving modes, like the T1 version. A beginner can start the driving with learning mode, whereas a pro can start the ride with the standard mode.
The Swagboard classic T5 weighs around 19 pounds and can take load up to 188 pounds. It is designed with a hard rubber tire that provides the long-lasting performance of the scooter.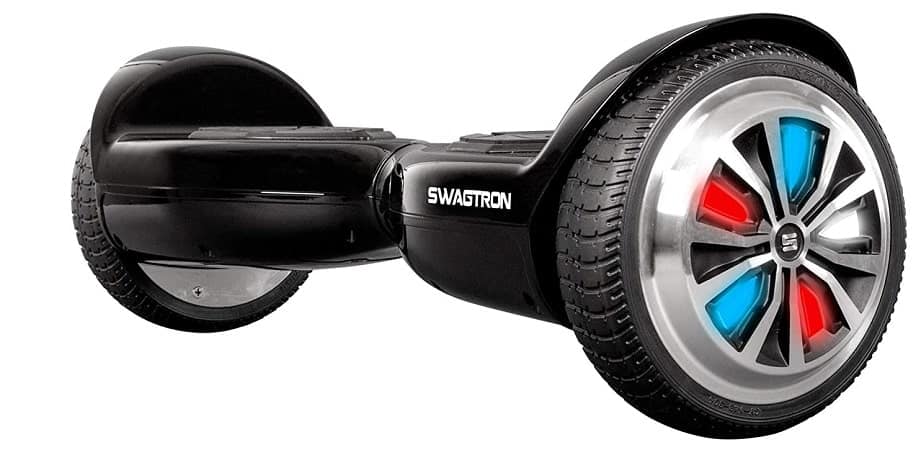 PROS
It comes with two driving modes.
Quite high in quality for the price range.
It is very lightweight.
Doesn't take more than an hour to charge.
CONS
No LED front light.
No LED wheels.
3. Swagtron T881 Hoverboard
Are you a beginner rider and afraid of balancing the board? Then the Swagtron Swagboard T882 can be your best bet to get comfortable in riding a hoverboard. Because it comes with an auto-balancing feature so it can be a great aid if you feel too anxious about balancing yourself in a hoverboard.
The Swagboard T882 is designed with dual 250-watt hub motors that allow a rider to run at a max speed of 7mph. Besides, the heavy-duty motors will enable you to ride 30-degree hills comfortably. The powerful lithium-free battery is efficient enough to ride up to 5 miles with a fully charged battery.
The weight of the board is only 22 pounds, and the maximum load of the board is 155 pounds. The Chassis Material of the board comes with a Durable UL-compliant shell that ensures safety and security for every ride. Maintenance-free Hard rubber tires provide great durability and control over any terrain as well. It is designed with heavy-duty ABS polymer that is compliant to the UL2272 standards and well equipped to protect from crashes, overheating, and drops.
PROS
Great for beginner riders it has auto-balancing.
High quality build to withstand any crash.
You can go up to 5 miles once it fully charged.
The tires do not require any maintenance.
CONS
It takes a bit long time to be fully charged.
4. Swagtron Swagboard T380 Elite Hoverboard
If you're an adult who never wants to miss any of the fun the teenagers have with hoverboards these days, this Swagboard Elite hoverboard from Swagtron can indeed be a perfect choice for you. The rugged, all-terrain hoverboard boasts a massive weight capacity of 420 lbs. So it may even prompt you to carry the significant other of yours with you as well.
This high-profile hoverboard is ideal for all circumstances you can think of. Be it grass, dirt, grime, mud, or rocky gravel, with the help of its 10-inch, astutely treaded tires you can roll onto any of them with ease. Besides, the 600-watt dual motors will allow comfortable roll-overs when you come across bumps or even inclines that exceed 30 degrees.
Speed is one of the best aspects of this hoverboard that tops at a staggering 12 mph, even on the toughest of terrains. The trait makes it one of the fastest models in the market also allows a whopping 12 hours of riding time per charge. That certainly can be the sole reason why many would prefer it to most other hoverboards out there.
The ABS plastic-made hoverboard, of course, come with higher durability than its potential rivals. And the folks behind it have made sure it gives you consistent stable rides in all circumstances through its unique side footguards that are made of sturdy aluminum.
The device is indeed all about peace of mind and that's why it has one of the best music systems any hoverboard enthusiast can think of. It boasts an incredible bass capability that you can control with the app. Moreover, you can control almost anything of the hoverboard with its user-friendly app that gives so much more than just track-switching.
PROS
Solid, rugged build with an enormous weight capacity.
Large and tough tires for aggressive off-roading.
Integrated move indicators provide additional ride support.
Exceptional incline climbing ability.
Staggering speed and range coverage.
Multi-purpose app functions.
5. Swagtron T3 Premium Hoverboard
Here's another premium hoverboard model we have from Swagtron, the brand that produces the lions share of quality hoverboards found in the market. This is a more baseline model compared to the T380 model we've discussed above. But in terms of providing satisfactory riding experience, it hardly falls short.
This self-balancing device is meant for casual riders, newbies, and people who want to have some fun time to time. Meaning, you may as well call it the perfect hoverboard for the family. And the learning mode feature will add some evidence to it. The 6.5-inch tires can also carry riders of all ages too.
While the hoverboard isn't the best option for fancy features, it does come with some of the features that are the best of their kind. For instance, its safety standards not only meet the UL certification but tops with the highest value possible. That's why it has a price tag bigger than some of its rivals that offer much more gaudy features at slightly lower prices. But as long as top-notch safety is the prime concern, very few would beat the Swagtron T3.
However, don't get wrong about its performance. With its powerful motor, you can expect to reach 8 miles per hour speed. And before the battery runs out, it will carry you for up to 11 miles, which is generous indeed.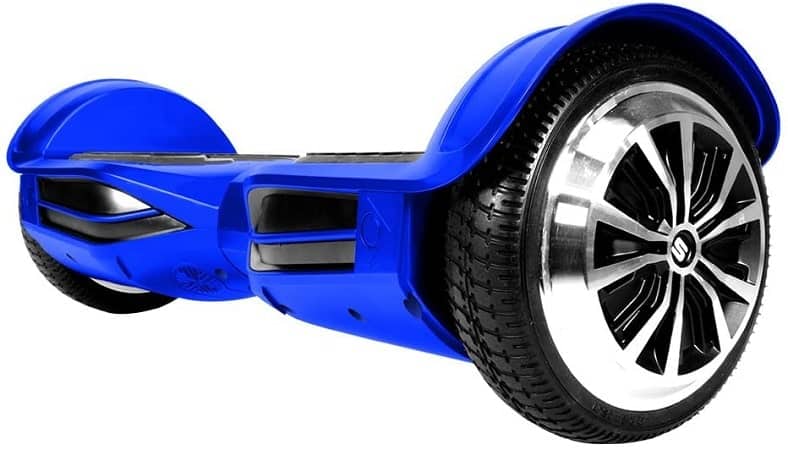 PROS
High-value safety certifications.
Cool high-bass Bluetooth speaker with a user-friendly app.
Charges real quick.
Satisfactory speed and range.
CONS
Poor lighting feature.
Not suitable for off-road rides despite the price.
What Is The Best Swagtron Hoverboard?
Our top pick is Swagtron Swagboard Pro T1. There are so many different features in different hoverboards, but not all of them got everything it takes to be the best quality hoverboard. But considering everything, we think Swagboard Pro T1 has got the right combination for both beginner and pro.
The very first reason we choose this hoverboard is that it has a heavy-duty 300-watt motor. It not only provides a powerful performance but can reach up the max speed of 8 Miles Per Hour. The two other hoverboards we reviewed here are equally good but only offer a maximum of 5-7 MPH.
Also, when it comes to battery performance; it takes only an hour to be fully charged. But most importantly it can go up to 11 miles whereas the other two can cover up 5 to 8 miles max.
Swagtron Swagboard Pro T1 is convenient and also quite lightweight compared to others. Not only that, but it can also take a load maximum of 220 pounds. That is quite an anomaly compared to other swagtorn hoverboards as these are designed to carry only 160 to 190 pounds.
So overall this can be your best bet if you are considering buying a swagtorn hoverboard.
Frequently Asked Questions
1. Are SwagtronHoverboards good?
Most of the riders express dissatisfaction due to all the problems they face for their poor manufactures. But the swagtron hoverboard hasn't got any real competitors because all the manufacture is lagging way. Be it the build or the use of advanced features, swagtron is among the topmost brass of the industry.
2. Does Swagtron Hoverboard catch on fire?
A Swagtron hoverboard doesn't have any single report of catching fire when it is in use or charging, and all of the hoverboards from them are compliant with UL2272 requirements. Also, these hoverboards are made of high-quality materials and in fact, considered to be the industry leader when it comes to safety.
3. How fast does a swagtron hoverboard go?
With a swagtron hoverboard, you can lift your ride to extreme and zip around any sturdy off the road even with a critical velocity. It can go as much as up to 12 miles per hour, which is the highest among all other hovers.
4. How long does a Swagtron last?
It can last for 10-15 miles per every single charge depending on how much pressure you put on it. Also, there are other factors such as rider's weight, flat or hilly roads or the slope and angles to pass that can affect this. But you can expect it to go no less than that range.
The Bottom Line…
If you are getting a hoverboard for the first time, there has to be so many confusing facts that are coming across your mind. Also, there are so many choices out there, yet all are not suitable considering the features and reasonable price. However, the swagtron hoverboards are quite well known for producing the most versatile hoverboard of all as it has a good blend of quality at a reasonable price. We hope our swagtron hoverboard reviews have helped you to find your desired one.
Read More
Amazon and the Amazon logo are trademarks of Amazon.com, Inc, or its affiliates.