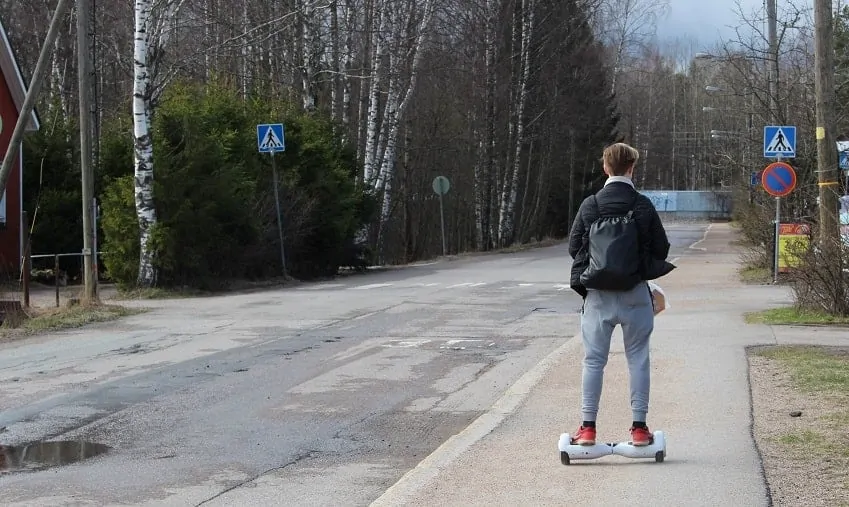 The feeling of flying, balancing his body over the hoverboard is beyond thrilling, it's rather exhilarating to be able to ride such an advanced ride. Made popular by science fiction and pop culture, it was only a matter of time something sophisticated like the hoverboard came into existence.
So when it finally came out, people from all over the world went into a frenzy. Everyone wanted to get their hand on a piece of that new and sophisticated ride. So if you were wondering too about what a hoverboard is and how it works, we have gathered here some interesting and necessary piece of information you should know before getting your first unit.
What is a hoverboard?
Hoverboards are becoming so widely popular among the globe, but how do you define one? Well, A hoverboard is a self-balancing scooter like a narrow horizontal board. Kids too young, almost everyone is now quite intrigued about those cool new gadgets called the hoverboards.
Although the concept of the hoverboard was floated into popular literature as far back as 1950, it wasn't until early 2010 when it finally came into a recognizable form as it is now. But in essence, it's just another form of scooter that is powered through batteries and a platform to keep yourself. The ability to levitating itself above the ground is what makes it so great and popular among the people of all age.
How does a hoverboard work?
The hoverboard has an underlying mechanism which ensures its intended function, which is levitating and self-propelling above the ground. This exciting innovation typically has four parts of a battery, a logic board, and gyroscopes with two motors. The lithium-ion battery is the source of power for it. Lithium-ion batteries are better for this kind of rides as it discharges slowly.
The Gyroscopes in it receive information from the wheels about speed and the other issues and process it to the logic board. The logic board acts as the brain and works analyzing the data. What it does is power consumption, controlling the speed and action as the rider's directions and switching on or off. Now coming to the last part is the two motors. These motors accelerate the wheels, and they are geared with sensors to direct the two wheels at a different speed.
How do you control a hoverboard?
You will undoubtedly have a fantastic experience with the hoverboards, but it can feel not very comforting about how you are going to control this thing. But to be quite honest, there is not that much to worry about. Because there is a stabilizing mechanism that has been put into every hoverboard. So enjoy your hoverboards without wheels racing safely.
Plenty of brands are making advanced hoverboard technology that is making the whole thing a lot easier to handle. So don't be so Don't be tensed about its stability or how you will be able to manage such things. Like anything, with time and experience, you will be able to control it better and smoother.
How long can you ride a hoverboard?
The longevity of the hoverboard depends on different parameters such as temperature, the weight of the rider, and stunt or drive across. You can ride the board for 15 miles average and can enjoy 3-4 hours at a single time. The hoverboard is a battery-operated device, and so it is not something to go on smoothly all the years. You can prolong the battery life with some simple tricks.
Discharging the battery entirely in a month is a healthy step to boost up the battery. Overcharging drains out the battery; that's why try always to charge your battery for the estimated time. Overuse and high temperature reduce battery life. In case of new hovers, of course, assure that you charge out your battery full before riding out. In Ideal conditions, hoverboards will serve more.
How does a hoverboard work without wheels?
Although a hoverboard without wheels is still a concept in development, we have a rough idea about how it might play out in the near future. And after all, we all will be quite excited to see such hoverboards, aren't we? There probably will be magnets installed into the hoverboards instead of wheels, and this is what will make them float above the ground. But make no mistake, these magnets will not be regular magnets. These will be sophisticated and highly advanced magnets that rotate very fast and dynamite the air against weight.
How much older should you be to ride a hoverboard?
It's such a fantastic gadget that there is no age limit to operate and you will always find it quite exciting to ride as well. It can be a great family sport as well. Its quite well suited for children to even teenagers as well. Today's kids take it so passionately that a five-year-old champ rocks on board.
However, the official age limit is 8. So the safety tips should always be considered before handing it over to the little kids. Some basics are to follow in this regard, as every hoverboard is not perfect for the kids. Hoverboard size and structure is the best choice for the kid. These 6.4 inches length hoverboards have a handle and small wheels which ensure speed stability and safety.
Do adults ride hoverboards?
From running errands to taking a leisurely ride around the city, the hoverboards are becoming increasingly popular among you adults and even people older than them. There are increasing numbers of adults who are adopting this new mode of transportation as it allows them greater mobility and more freedom.
What is a hoverboard used for?
The hoverboard can be used for everyday use and all transportation purposes. People can reach their station faster without getting caught into the dreaded traffic jams. Nowadays, there are several schoolboys you can see around every city who are enjoying riding hoverboard with friends rather than their School bus. People use it to go for groceries or to have a chat with friends.
Wrapping it Up!
If you feel like you are getting behind to catch this cool new trend of riding a hoverboard or your kids, want one, but you aren't sure, we hope this guide will clear up a lot of confusion. There will be more advanced and smarter hoverboards coming in the future. So make sure you get one to get ahold of this new era of transportation.