As an Amazon Associate, I earn from qualifying purchases. Learn More.
For a non-rider, skateboarding may seem a simple trouble-free activity for recreation. Yet only the person who has attempted riding a skateboard will realize what a monotonous piece of work it is to drive the board proceeding towards the surface. You can develop a stronger muscle by skateboarding. Along with an energetic activity, you need to maintain coordination while skateboarding. This type of coordination will help you to build up your muscles. By adding more tricks in one direction skateboarding, you can develop your muscles perfectly.
In this article, I will pinpoint on the topic," what muscles does skateboarding work". After reading this article, I am sure that you will get enough knowledge about it. So, without wasting further time, let's dig into the article.
What Muscles Does Skateboarding Work?
Here is an infographic for you as promised: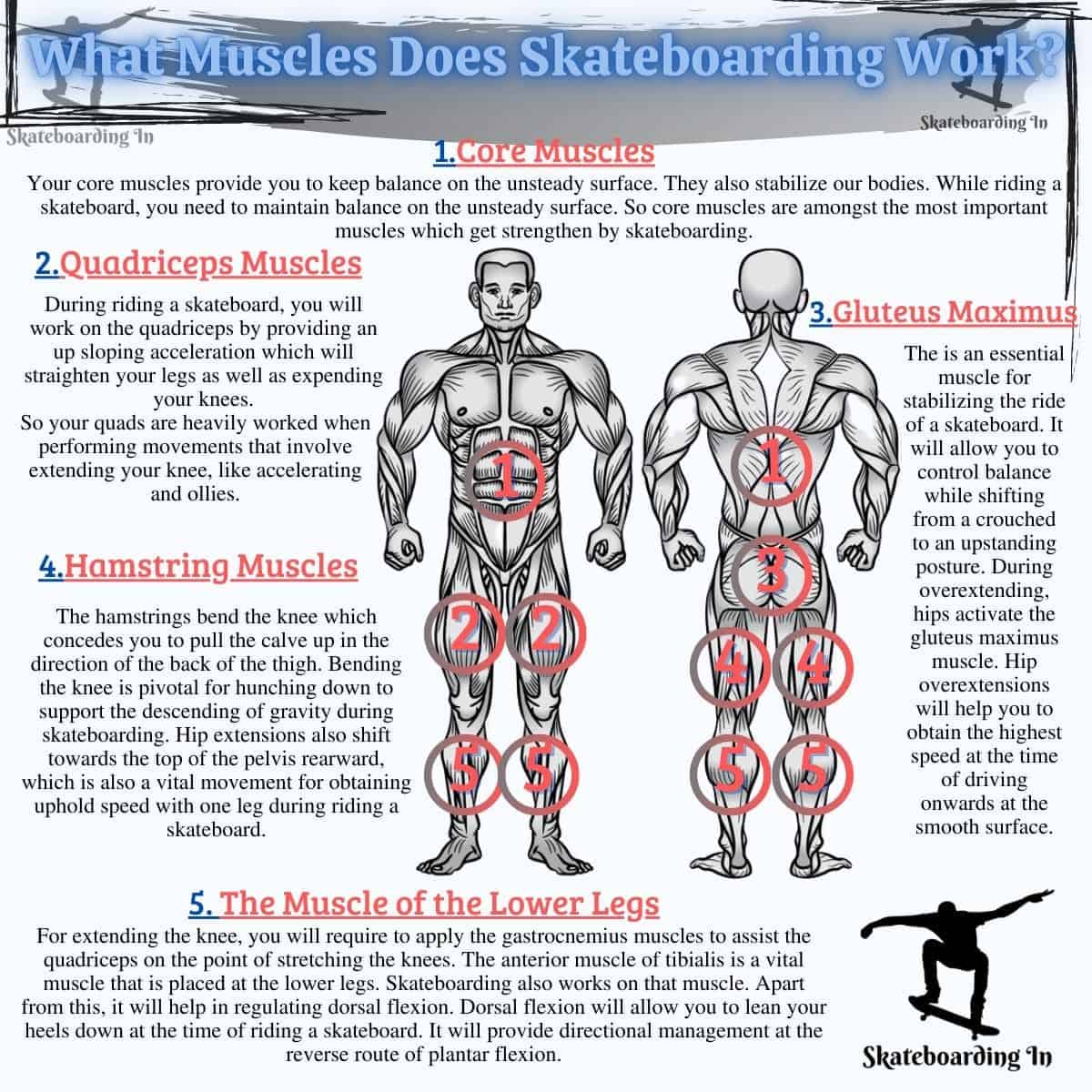 Share this Image On Your Site
We all know skateboarding as a type of action sport that includes riding and performing techniques. But have you ever thought about muscular activities when you get the ride with a skateboard? If not, then for you I am here. A lot of research has been done on this topic.
As a matter of fact, sports scientists confirm that riding a skateboard is a perfect exercise. Along with works on the cardiovascular system, it also strengthens our muscles. Besides amusement and fun, skateboarding will work on these muscles-
Your core muscles provide you to keep balance on the unsteady surface. They also stabilize our bodies. While riding a skateboard, you need to maintain balance on the unsteady surface. So core muscles are amongst the most important muscles which get strengthen by skateboarding. Core muscles are constructed by the muscle-bound structure of hips, muscle of the abdomen, and the muscle that surrounds your backbone.
You will stay strong because skateboarding helps to build up your core muscles. The hip muscle constitutes 10 central muscles which help you to stabilize your hip joint. Spinal muscles constitute larger muscles like the flattened latissimus dorsi muscle and large trapezius muscles along with some inner muscles which will expand the span of the spinal column.
Besides the core muscles, skateboarding will also work on quadriceps muscles. They have categorized four muscles located ahead of your thighs. These muscles are in the charge of extending your knees at the same time stretching your hip joint.
During riding a skateboard, you will work on the quadriceps by providing an up sloping acceleration which will straighten your legs as well as expending your knees. So your quads are heavily worked when performing movements that involve extending your knee, like accelerating and ollies.
Skateboarding will strengthen your hamstrings that include categorized four muscles which expanding from the glutes to the backward of the knee. The hamstrings bend the knee which concedes you to pull the calve up in the direction of the back of the thigh. Bending the knee is pivotal for hunching down to support the descending of gravity during skateboarding.
Hip extensions also shift towards the top of the pelvis rearward, which is also a vital movement for obtaining uphold speed with one leg during riding a skateboard.
The gluteus Maximus muscle extends from hips to hamstrings & is among one of the biggest muscles in the body. The is an essential muscle for stabilizing the ride of a skateboard. It will allow you to control balance while shifting from a crouched to an upstanding posture.
During overextending, hips activate the gluteus maximus muscle. Hip overextensions will help you to obtain the highest speed at the time of driving onwards at the smooth surface.
The muscle of the lower legs
Riding a skateboard will help you to strengthen the muscles of the lower legs. For extending the knee, you will require to apply the gastrocnemius muscles to assist the quadriceps on the point of stretching the knees. The anterior muscle of tibialis is a vital muscle that is placed at the lower legs. Skateboarding also works on that muscle.
Apart from this, it will help in regulating dorsal flexion. Dorsal flexion will allow you to lean your heels down at the time of riding a skateboard. It will provide directional management at the reverse route of plantar flexion.
Let's not forget about the muscle of arms which generates the glide of movement by providing the direction. However, by strengthening the muscle and burning calories, skateboarding will help you to get a perfect body.
Above this discussion, I am sure you already get an in-depth idea about it. Let's start a ride with your skateboard!
https://www.2bstronger.com/article/recreation/what-muscles-does-skateboarding-work-36246.html
https://www.handandtheheart.com/five-muscles-skateboarding-works-on/
https://www.quora.com/Biomechanics-Which-muscles-are-used-for-skateboarding
https://www.redbull.com/in-en/core-muscles-used-in-skateboarding
https://www.sportsrec.com/7494909/what-muscles-does-skateboarding-work
Amazon and the Amazon logo are trademarks of Amazon.com, Inc, or its affiliates.