As an Amazon Associate, I earn from qualifying purchases. Learn More.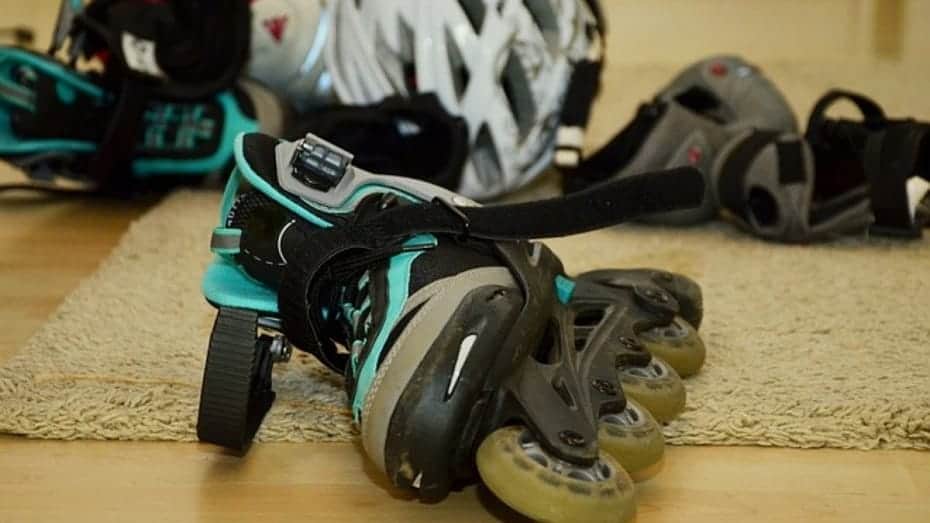 If you are already familiar with inline skates, you know how fun it is to skate around your neighborhood, be that as a daily commute or showing some cool tricks in the skating park. But do you know you can do the same on a dirt trail? Yes! You can skate in rugged terrain even with extremely uneven surfaces. All you need is an off-road skate and fortunately, this article is all about the best Off Road Skates.
Earlier, riding on a rocky surface wasn't possible with traditional inline skate due to low traction and incapable small wheels. Soon enough skate manufacturing companies came up with skate designs that are proficient at riding on rough surfaces. Now, we get all sorts of off-road skates carefully curated for newbies and professionals. Let's do a deep dive on the ins and outs of off road skating and what you need to get started.
What Are Off-Road Skates?
In short, off road skates are a particular type of inline skate that rides well in rough terrain and gravel surface. They usually have larger wheels (125-200mm) with inflatable tires to provide strong grip in almost any type of surface condition whether it's wet or dry.
Unlike other inline skate types like indoor, racing, recreational, off road rollerblades or skates have different sets of features. All of these make your off-road riding experience more pleasant and safe. Such features are durable frames, taller cuffs, thick padding, multiple mounting points, grooved tires, etc.
We've reviewed these 5 skates here:
When To Use Off-Road Skates?
Normally it's a good idea to use off-road skates on dirt roads where there will be a lot of loose rocks, gravel, and uneven surfaces. It could be an off-road trail, cross-country road, or even a downhill mountain road. Here your typical indoor skate with polyurethane (PU) wheels will have a hard time overcoming these obstacles.
Skatin on a paved surface is one thing but doing the same on a rocky road is a whole different story. Just think about the solid wheels on those street skates, they don't even have grooves to make a good grip on the surface. but the bigger wheel on the off-road rollerblade ensures maximum contact point and solid grip with the uneven surface.
Read: Considerations before choosing the quad roller skates
Are Off Road Skating Dangerous?
Naturally, Off-road skating falls into the extreme sports category and there are possible dangers associated with it. But as you train your mind and body, the danger factor slowly drops down significantly. Plus there are various safety gears like helmets, elbow pads, knee pads, skate poles that further mitigate the risk of injury.
As for beginners, it's not ideal to jump on a cross-country trail right after getting a new off-road skate. Even if you have experience with other types of skate prior to this, try familiarizing yourself with the bigger wheels and what it actually feels like to roll on a dirt surface. It would be much better if you could ride with a friend who has the experience and tell you what to expect along the way.
Read: Are derby skates good for outside?
Advantages Of Off-Road Rollerblades
Whether you are using off-road rollerblades for reaching point A to B, joyriding with friends, or an escape after a long week, it sure has tons of advantages. Even though you usually use this type of rollerblade off road, you can still use them on-road as well. Performance wouldn't be the same but it's not completely useless.
Here are a few advantages you would enjoy if you have off road roller skates
Extreme cushioning and a padded shoe that provides comfort
Sturdy and durable construction that lasts longer
Bigger wheels that give an amazing speed
The grooved tire provides freedom to ride anywhere
Inflatable tire works as a shock absorber on rough roads
Greater Aerobic exercise value
Difference Between Indoor, Outdoor, And Offroad Skates
At first, there were only indoor skates with small wheels. People would ride them on wooden or cemented floors. After people realize it would be more fun to ride on the roads and going places, then comes the outdoor skate. And finally to overcome the dirt trail the off-road skates have evolved.
Indoor Skate: Some indoor skates have two sets of 60-100mm small wheels made out of polyurethane or PU materials. A lot of color schemes and designs are available in this segment as most of them are for kids and teenagers. They also come with various braking systems.
Outdoor skate: Requires slightly advanced maneuvering control as these are performance beasts for racing and showing tricks. The 100-125mm inline wheels are what make these skates accelerate fast and manage stability. Out of the box, the skate comes with safety features like rugged shoes and cuffs and a sturdy frame to withstand the rough handling.
Off-road skate: These are the most durable skates of them all. With the 125 to up to 200mm of wheels, off road inline skates can be very big and heavy. Of course, you would be riding it on a ragged surface so you need a wide bite on the ground. All the best off road inline skates have amazing speed with these instead of initial acceleration.
Off-Road Inline Skates Vs Roller Skates
Roller skate and off-road skates are the two most popular means of personal transportation and in some cases an enjoyable sports gear. Although they function in a similar manner, they do have fundamental differences that make them suitable for certain types of surfaces.
Off-road inline skates: One quick way to spot an off-road inline skate is to look at the wheel configuration. The wheels on these are always in line and big with traction lining. There could be three, four even two wheels like the Nordic off-road skates. Being large and tall the skate lacks stability at the start but when you get up to speed, it's much easier to control.
Roller Skate: These are more of a beginner skate with smaller wheels with more stability. The wheels on these are thick and parallel to each other. You will see the cuffs are short along with the ground clearance. For this reason, roller skates are fast and the polyurethane wheels have significant control over smooth surfaces.
Review of the 5 best off road skates
1. Powerslide Phuzion Argon 100 Skates
The Phuzion Argon 100 is a beginner's inline skate for women from renowned brand Powerslide. Although this is an entry-level product, you won't have problems in road skating even after moving to an advanced level.
The overall skate is pretty cute with the pink and off-white color scheme. The good-looking color palette goes from top to bottom in an ergonomic design that would be hard to resist for a girl.
It comes with two highly adjustable buckles on the shoe for secure fittings regardless of the feet size. For smooth riding, you get three lightweight 100mm wheels with ABEC 7 bearings. And last but not least brake pads on the rear for safe control.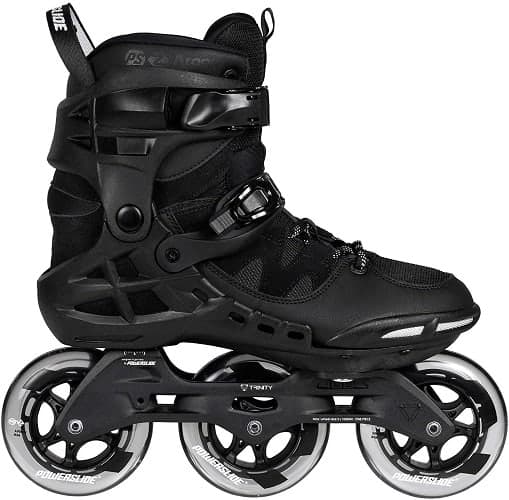 Pros
Comfortable padding
Two Adjustable buckles
Comes with HABS brakes
Cons
Does not fall under the Trail skates category
2. Rollerblade Maxxum Edge 125 inline skates
Rollerblade makes some of the best inline skates for rough roads, the Maxxum Edge 125 is one of them. The best part of this skate is it's a unisex variant.
To begin with, manufacturers use molded shell tech to fit both genders. And also make sure it doesn't compromise support with an ample amount of padding around it. The three high-quality Twincam bearings on the aluminum frame make rough riding smooth and less shaky.
Like any other inline skate, Maxxum has quick-release straps which make entering and exiting much easier. The 125mm wheel with PU outer gives the ability to cover most rough roads.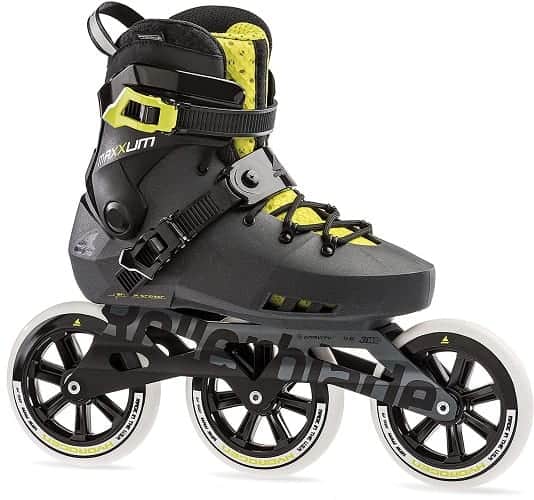 Pros
Breathable Mesh padding
Lightweight aluminum frame
Smooth Twincam ILQ 9 bearings
Cons
The metal eyelet on the shoe can be uncomfortable sometimes
3. Roller Derby Elite Alpha 125mm Inline Skate
This is another advanced 125mm inline skate for Adult Men and Women with all the latest bells and whistles. The Roller Derby Elite Alpha is a direct competitor to the Maxxum Edge with almost the same configuration and sits among the best roller skates for rough roads.
All around the hard shell with breathable padding is what delivers the most comfortable experience in this skate. The shoe linings, laces, straps, and mounting points, the entire construction compliments support and stability.
Like many all-terrain rollerblades, the Elite Alpha has speedy 125mm wheels. That's not all the bearing used in this skate is Bevo Gold 7 bearings made out of chrome. So for any surface type, it won't pose any performance issue.
Read: How to choose the roller derby skates for you?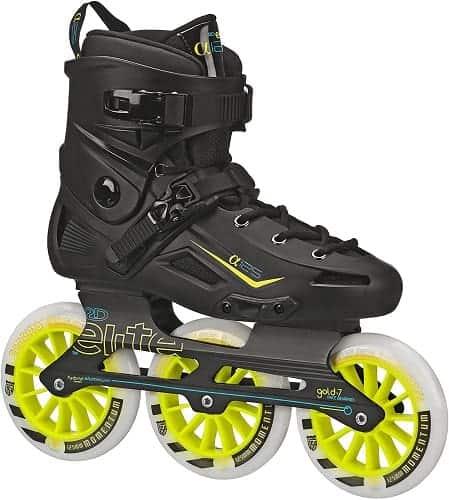 Pros
Well ventilated shoe
Longer and comfortable skating session
Dual closer system
4. Powerslide Next Core 110 Skates
For intermediate male skating enthusiasts, the small 100mm skate is underpowered. But if you consider 110mm skate like Powerslide Next slides instead, it would be a big performance jump.
Another advantage you get with 110 skates is the wheels are significantly bigger and wider. For that reason, the wheels will have more grip surfaces to work with. You get speed, stability, and acceleration at much lower efforts.
Don't forget about the comforts it offers with the proprietary hard shell along with strategic linings. Plus you also get breathing pockets all around the enclosure which prevents your feet from sweating.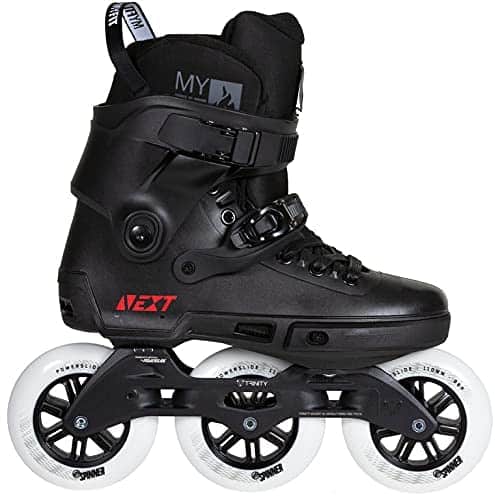 Pros
Durable hardshell enclosure
Quickfire straps and laces
Greater ankle supports
5. Roces X35 3 110 TIF
The last product on the list is the Roces X35 110 rough terrain skate. It's a fairly decent and capable skating shoe that you could use to ride on roads, skate parks, and indoors.
At first look, you would see the large cutouts around the entire shoe design. This enables air to go in and out without any impediments. Naturally, you would feel more relaxed and could ride for long hours without fatigue.
The shell itself also works as a shock absorber with all that fluffy padding. In addition to that, the most amazing thing about this skate model is the frame that holds the wheels is almost invisible.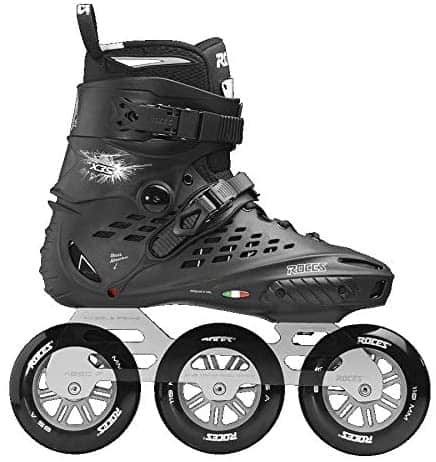 Pros
Extreme ventilations
Transparent frames
Inbuilt shock absorber
Cons
No extra traction on the wheels
All Terrain Rollerblades Buying guide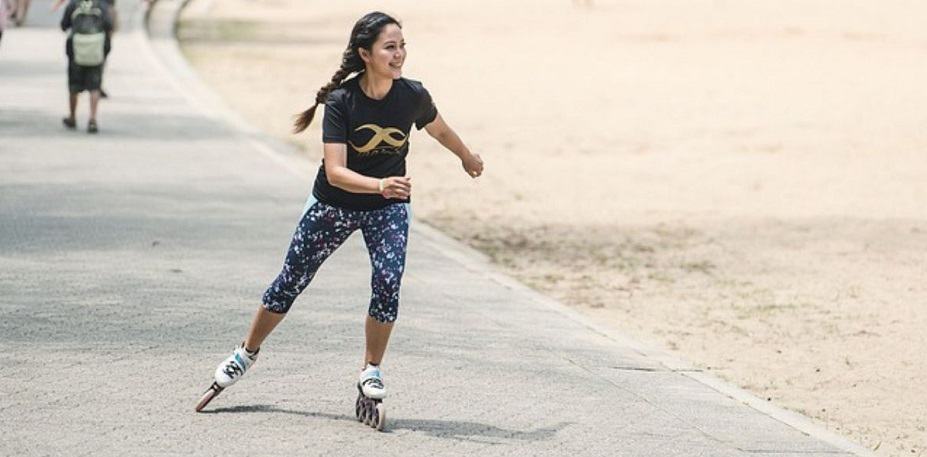 Buying a good off-road skate is much easier than other skate types available in the market. You only need to factor in the number of wheels, wheel size, and frame material. Manufacturers fiddle with these configurations to provide the most benefits associated with a particular setup.
Comfort
The overall comfort of an off-road skate is quite important as you ride through the toughest terrains. In most cases, you will have ample padding around the shoe with taller cuffs. Try to get the skate with memory foam as they are the best in class for extreme comfort.
Frame material
The frame is what joins your skate shoe and the wheels. There are steel frames and aluminum frames. Generally, Steel frames are strong but heavy in weight which can affect control. On the other hand, aircraft-grade aluminum is also lightweight and fairly strong.
Wheel diameter
Off-road skate thrives on big wheels. The 125mm and the 150mm wheels are the most common wheel size in the off-road skate segment. Normally bigger wheels translate to speed where smaller wheels contribute to maneuverability and stability.
The number of wheels
Like the wheel diameter, the higher number of wheels adds more stability to the skate. This is very helpful for beginner riders but you should also know that it also sums up weights. In that case, Most experts prefer 3 wheel configurations for greater speed.
Frequently Asked Questions (FAQs)
How often do you have to inflate off-road skates?
Once a week is a pretty ideal routine to inflate your off-road skate tires. If you use your skate frequently, you may need an early refill.
What PSI should I maintain for off-road skate tires?
The standard PSI rating for off-road skating is around 100psi on all the wheels. Some experts maintain a custom PSI rating for each wheel as a personal preference.
When to change off-road skate tires?
Most off-road skate tire quality is top-notch and takes time to wear off the traction. That said, keep an eye on the traction marks, if they fade out completely you need a new set of tires.
Final Words…
Hope this article about the best Off-Road Skates provided you with a comprehensive idea of what you should look for and what to expect in a particular conformation. Now make that decision and seize your freedom.
Read More:
Amazon and the Amazon logo are trademarks of Amazon.com, Inc, or its affiliates.