As an Amazon Associate, I earn from qualifying purchases. Learn More.
Many males love speedy skating to showcase their skills and passion. The K2 Skate Men's Mod 110 Inline Skate is built for such brave skaters. The skate has the biggest wheels of its class, a great lacing system, a lightweight design, and a look that never goes out of the trend.
In our K2 Mod 110 review, we looked deep into the best features of this popular and trendy roller skate and found astonishing results.
If you are interested in leveling up and challenge your skating skill, this review on the inline skates for racing is a must-read.
Features of K2 MOD 110 Inline Skates
Wheel Number: 4
Wheel Size: 110mm
Wheel Diameter: 85A
Frame: 6061 aluminum
Weight: 8.84 pounds
K2 MOD 110 Review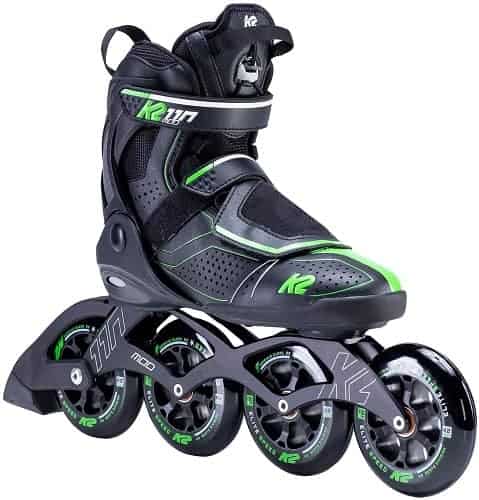 Skating is a challenging sport and yet, surprisingly popular. And most males love speeding up their skating to enjoy the thrill and awesomeness of the sport. K2 Skate Store has addressed the needs of male skaters and so came up with this incredible racing skate.
Pleasing Aesthetics
The first time you look at this skate, you cannot help loving its appearance. It combines a black and yellow accent that gives you an alien vibe coming from Mars or other planets. And just like the rough surface of different planets, this skate is designed to run smoothly over any surface.
The wheels are embossed with the tagline, 'Elite Speed.' It truly showcases the actual purpose of manufacturing this skate. It is for those who love speed and don't compromise with their style and fashion.
Smooth and Fast Roll
The key to a successful racing skate is to ensure impressive roll-on ability on any surface. Also, it must not forget about smoothness. The K2 inline skate is unbeatable in both categories. The skate comes with the largest wheels in its product line.
Larger wheels mean you get better stability. Once you are accustomed to the larger wheels, you will like how it glides through the rough and even terrains smoothly. Also, it has four wheels which help in distributing your weight on the frame and the wheel evenly. It also increases the overall stability of the skate.
Thus, professionals love these inline skates for racing, and beginners will also appreciate their smoothness at the top speed.
Great Cuff Facility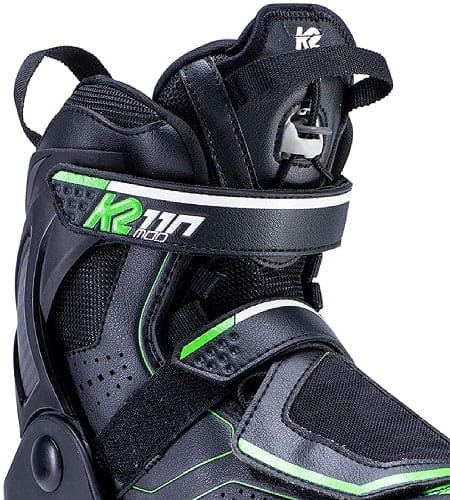 The cuffs of this skate are purposefully made higher than the usual height. It provides better protection to your cuffs and ankle as you race through the skating ground. Also, the interior of the cuff is packed with stiffer yet flexible materials.
It makes sure you remain injury-free and enjoy enhanced stability. This is a great benefit for skate racing as your mind won't divert towards your cuff safety. Also, the flexibility gives your ankle a comfortable feel during the extreme racing time.
Durable Skate Frame
Many ordinary racing skates would break apart after a few skating sessions. But this is not the case with the K2 Mod 110. In our K2 Mod 110 inline skates review, we found its frame design exceptionally durable. The frame is made of composite material.
Thus, it offers great durability without being too weighty. In fact, it weighs only 8.84 pounds which is less weighty than roller skates. Also, its 6061 aluminum used in the frame won't catch rust and corrosion. Its ILQ 9 PRO bearings are well-lubricated and provide lasting service as well.
Quick Closure
You will love its quick get-in and out mechanism. It uses Quick Closure with speed lacing to offer you the easiest putting in and out convenience for the skates. It doesn't even need more than one minute to lace up the skate and get into the ground.
Pros
The skate is made for speed and racing
Lightweight design with great comfort
Heightened cuffs for better safety on leg
Impressive look and durability
Larger wheels for speed and stability
Cons
It offers medium ventilation only
It may be a touch expensive
Frequently Asked Questions (FAQs)
1. Are K2 inline skates good?
Yes, these skates are more than good enough for racing. Its large wheel, higher cuffs, and medium ventilation offer skaters safety and racing thrill at the same time.
2. Are K2 inline skates true to size?
Yes, the skaters have true size. You will get it in a standard size, and the fit should be comfortable and snug on your feet and cuffs.
Final Verdict…
The K2 Mod 110 review found the skate a great recommendation for those who want to take their racing skills one step ahead. Its larger wheels combine with the softer boot and high cuffs to offer you unbeatable performance. The only issue is its medium ventilation which you can easily get rid of with a quality pair of socks.
Hence, it truly claims a spot as the best inline speed skate at present. You won't feel disappointed with its racing ability; mark our words.
Read More
Amazon and the Amazon logo are trademarks of Amazon.com, Inc, or its affiliates.