As an Amazon Associate, I earn from qualifying purchases. Learn More.
While the Penny cruisers have taken the skateboarding world by storm in recent years, it's hard to be not compelled by the urge to hit the streets with one.
But, if you happen to be a beginner and with the boards being highly-priced, looking elsewhere for a cheaper alternative sounds like more preferable an option. And that's why Cal-7 mini cruisers are around the corner. This is one of the best skateboards under $50.
So in this Cal 7 mini cruiser review, we will look into the ins and outs of the cruiser board and figure out if it meets your skateboarding demands.
Overview
Compact 22.5-inch x 5.75-inch deck
High-speed ABEC-7 bearings
59mm smooth Urethane Wheels
Aluminum alloy-made 3-inch trucks
Weighs 3.2 lbs
Cal 7 Mini Cruiser Review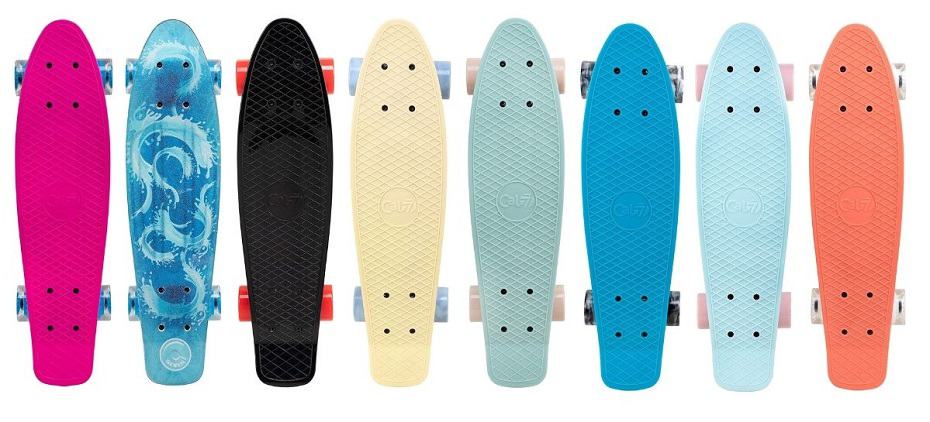 Let's now take a closer look at the key aspects of this Cal-7 Complete Mini Cruiser Skateboard.
The Design
Admit it you're never up to riding a skateboard that has a flat, toneless design. Keeping the fact in mind, this line of Cal 7 mini cruisers come in different styles and patterns.
A wide range of styles will certainly mess up your preference. You may well get confused to choose the right design that gets along your riding style. The Color Blast and the Snack Attack are the most popular among the series, known for the suitability to all the age groups. Also, the Grafix series having a bold, twisted, classic design, is loved by the funk lovers.
Whether you're young or not, the bright and vibrant color patterns will surely cheer up the playful personality in you. Also, even if they do not happen to be sounding much like you, you'll definitely find a skateboard reflecting your attitude. And to make sure you can get into action in no time, an end-to-end grip tape comes pre-applied with the skateboard, allowing you to roll it straight away.
The Deck
While skaters mostly prefer full-wood boards or boards made of carbon-fiber, plastic construction is what primarily defines these Cal-7 mini cruisers.
The 22.5-inch vinyl plastic build may bend on several occasions, but it's highly unlikely to encounter breakages even under heavy stress. The high-grade components are strong enough to withstand hits without any remarkable damage. You can eliminate the concerns regarding accidental splinterings or even razor tails. Also, the durability of these vinyl plastic boards is bolstered with 7-ply maple.
And interestingly, the plastic board is incredibly lightweight despite the sturdy build. You can expect to carry it around your backpack or in your hand without much effort when not in use.
Wheels

The high durability urethane wheels of these Cal-7 cruisers measures 59 millimeters in diameter. The size is ideal for beginner riders, especially the juniors, for keeping the balance without difficulties.
As far as stiffness is concerned, the wheels feel softer than most of the street wheels. It's a feature that allows better rolling-overs on cracks and pebbles while it also adds buoyancy in your riding. No matter if you're a beginner or a veteran, the soft rides will make you feel like floating above the ground.
Trucks and Bushings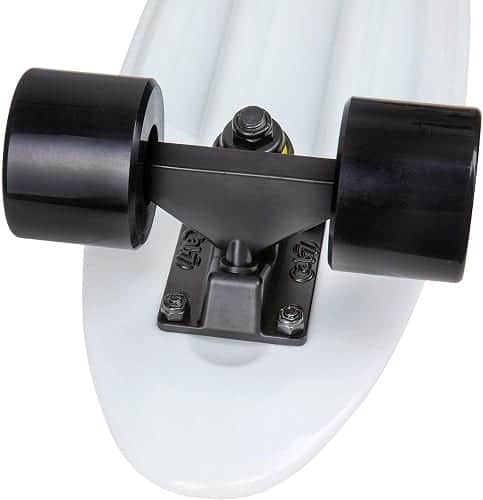 The trucks are one of the most reliable aspects of these Cal-7 mini cruisers, with the brand having been renowned mostly for its premium quality aluminum trucks.
Its 3-inch string aluminum trucks are steady enough to avoid wraps, ensuring you of conveniently stable rides for ages. And you can expect to enjoy enhanced flexibility, for it comes with quality HR95A bushings. Meaning, your carves will be more defined and smooth while doing those pop in flip tricks.
What's more? The excellent combo is even more perfected with the 3mm raiser pads that come pre-installed with the skateboard. So whether it's the skating street, ramp, skate park, or pool, no matter how smooth or rough the surfaces are, it promises to deliver top-notch assistance during your skateboarding exploits.
Bearings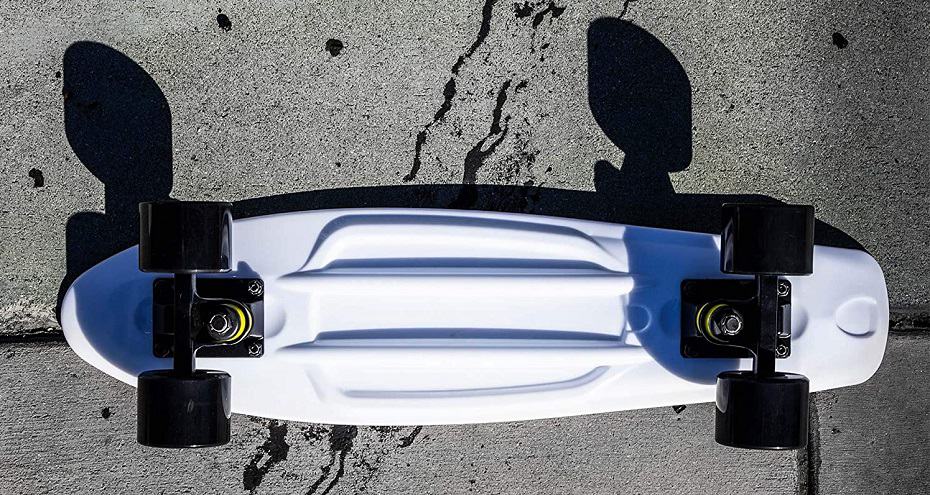 The ABEC 7 bearings of these mini cruisers indicate to a top-grade inclusion that hardly compromises with the skateboard's performance even in the roughest context. With a higher ABEC (Annular Bearing Engineering Committee) rating, the bearings promise excellent accuracy to provide consistently smoother and faster rides.
Are Cal-7 Mini Cruisers Good?
Here's our take on what makes the Cal-7 mini cruisers good (or bad?).
Things We Liked
It offers 24 different colors and designs to choose from.
The package comes completely assembled, which allows instant rollings right away.
Its compact size allows convenient carrying.
The soft feeling urethane wheels work excellently over cracky surfaces and pebbles.
The quality vinyl plastic build is lightweight yet highly durable and splinter-proof.
The ABEC7 bearings provide smooth rides with high stability.
It's an excellent choice for kids and amateurs for damage-free practice.
Things We Didn't Like
The tricky turns might not be that effortless because of the rigid trucks. In such cases, you can slightly loosen it and adjust accordingly.
Despite the sturdy build, the deck can often be bendy for some heavy riders.
The Bottom Line…
If you've been searching for a classy and high-performance cruiser skateboard without breaking the bank, the Cal-7 mini cruiser has to be the up to snuff choice. It's undoubtedly one of the best mini cruiser skateboards to stand up as a competent alternative of Penny boards offered at an affordable price.
Read More
Amazon and the Amazon logo are trademarks of Amazon.com, Inc, or its affiliates.