As an Amazon Associate, I earn from qualifying purchases. Learn More.
If you want to portray a little bit of vintage punk, you definitely need backup from the best old school skateboards. You may need to borrow it from a relative or order online.
Or do you rush to stores and set it up on your own?
But do you look for mind-boggling graphics?
But then, you may not have clues on the weight and size of it.
To answer the truckload of questions, here's an assimilation of all that you need to know, starting right from the history of it.
A Little Backstory
While we definitely cannot say which specific individual started skateboarding, we can tell you what purpose gave rise to it. Some surfers lived near the ocean and surfers that didn't. So the taste of surfing in the waves was not always possible for some. So they went, 'Why not create a mode of surfing we regularly have access to?'
And you guessed it right! They took to the streets, or more specifically, the pavements. This is also why you will hear skateboarding being called sidewalk surfing, where everyday walkers can be on board without being on the water.
This was all back in the 50s or earlier. At this time, wooden/metallic wheels were popular. It wasn't until the 70s when PU or polyurethane wheels came into play, and the popularity of pavement surfing soared like anything, bringing about convenience with recreation. The mid-70s also saw changes in deck construction and increased maneuverability. With skate parks, skate competitions, and similar boosting factors, styles shifted from freestyle to vert skating.
The soft wheeled, short-nosed vert-specific boards of the 80s gave rise to a shift informs, and the most popular type remains the characteristic "popsicle" of narrow width and asymmetrical cut of the mid-90s. While the 80s saw a play of new shapes of board and changes in design, 90s linked skateboarding with the hard punk music and teens dissatisfied with the system that was coincidentally rising back then, and an image of angry skater punk became popular in the streets.
What do we mean by Old School Skateboards?
When you think of skateboards these days, you will come across symmetrical boards, fresh off the 90s, or carried forward since then. They are better-called shortboards, with boards not measuring more than 8 inches in width.
To make riding the streets leisurely and doing the tricks easier, these are good, and we won't deny. But we're here to promote and make you love old-school skateboards and tell you ways to recognize them.
All the skateboards before the 2000s can be called an old-school one. But skateboarders have a soft spot for the 80s boards. These had a flat nose. Flat, but think wide, and kicktails too. Also, these are asymmetrical. The width is over 8.25 inches. The diameter increases the stability of the board. You will find them the best to carve, skate and cruise.
Our Top 5 Pick
Counterparts of Old school Skateboards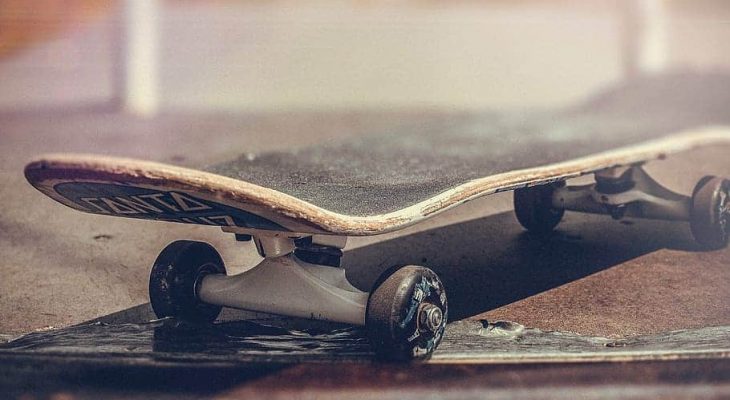 Old School Skateboard Decks
The best old school skateboard decks are of a width of 8.25 inches or larger. They feature plywood, bamboo, Maple, etc. Your skating deck's width, although having a standard of 8.25 inches, can vary according to your preference and skills. It also depends on your height and shoe size. So only because something is an old-school skateboard of the perfect measure, doesn't mean you will be able to skate it smoothly.
Other factors naturally come when discussing decks. Firstly, the length of the board from the tip of the nose to the end of the tail is preferable above 30 inches. But more important to check is the wheelbase. This is the space between two pairs of inner mounting holes. It can be between 16 to 13 inches in some. Your experience will define what the right distance is for you.
What are mounting holes again? These are pre-drilled holes to attach your trucks, about which we will shortly discuss. Anyway, if you're dissatisfied with the positioning of them, you can always drill holes and change things up a bit. Hoping that you know what the tail and the nose of a skateboard is (even if you don't, the graphics indicate the front as the nose), we will talk about the last essential thing, which is the rails. This is basically the edge of the board. Oh, and we almost forgot, there is a "concave" of a board which measures how curved the wood is between the nose and the tail.
Now, the types of concave can be Radial, Progressive, W-concave, Asymmetric, Tub, Convex, or even Flat. The Radial one is like a steep-U, with deeper curves. This is best for grip. Again, you have a Progressive deck; you won't struggle to find safe footing and want to just lock your feet on the board securely as you swift, thanks to the steep edges. Then, the W-concave has the curve continue from below the rails to the centreline and is for those who want quick turns and responsive board. This is great for shifting energy on board too. If you choose the Asymmetric concave, you can pick which side you want to exert power on. Lastly, the Flat ones are rare but may be shared in Reissued old-school boards. These boards allow board walking, and plenty of room on the deck lets you show off tricks better.
A very less-talked section of the deck is the kicktail, which is the raised portion above the tail. This is very important if you plan on doing tricks with your old board. For sharp turns, pivots and slides, if you are a fan and intend to do these, check that your board has one of these.
Old school Skateboard Shapes
The old-school shape is full at the top and narrower at the bottom. This is the asymmetry we've been speaking of for so long. Such boards have a near-flat concavity.
With everyone going gaga on asymmetric boards, we are in full support of adopting odd shapes as it may help us revive a lost subculture.
The shape of an old-school skateboard is frequently referred to as a "non-popsicle" board. Due to different ways given to the nose and tail, these form the oddities of geometrical play. You can get ideas from the likes of Rip Saw, Walker Mark Lake, Dead Guys Tracker GSD, Hammerhead, etc. Even shapes of soda bottles and pizzas are seen.
Old School Skateboard Deck Size
Assuming that you are an adult, you will need a full-size deck. These are for skaters aged more than thirteen and a height of more than 160 cm. However, you can pick from mid-sized (7.5 inches width), mini (7 inches) or micro (6.75 or lower inches) boards.
Old School Skateboard Wheel size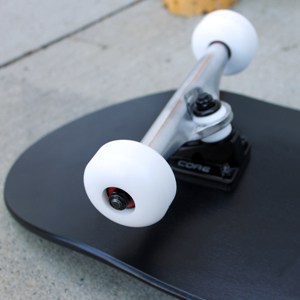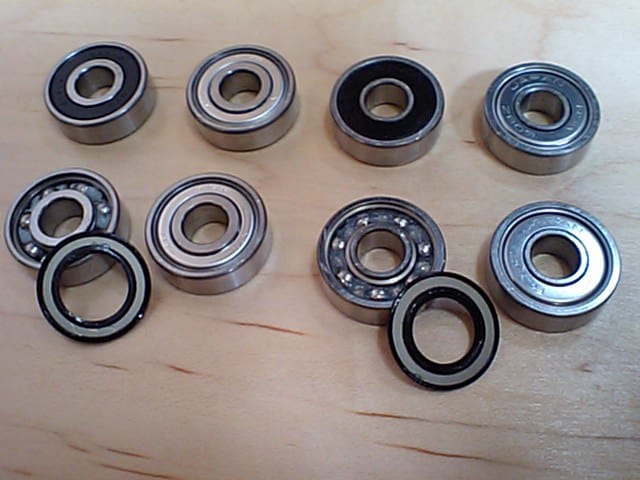 The best old school skateboard wheels are different for us. Luckily, you will find some boards that are made of polyurethane. How you ride, the board will depend on the diameter as well as the durometer of the wheels. In old-school boards, you will find diameters measuring 54-60 mm or more. The width less than 59 mm makes wheels better able to do vert ramps and skating bowls. Above 60 mm, the old-school dirt boards substantially thrive in rough surfaces and to build up speed. As you go higher up the diameter, you get more speed.
The hardness of your wheels measures its hardness. This is measured on A scale. Below 87a, the wheels are softer and rollover pebbles and rough surfaces smoothly, letting your cruise along. For riding hilly areas, this is good. For rough surfaces like on the streets, you can pick the ones that are below 95a. Below 99a, you get both grip and speed, making it best for beginners.
Old School Skateboard Trucks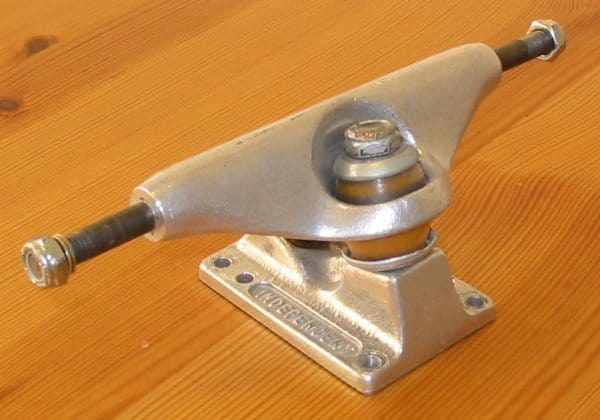 Trucks are metallic parts mounted below the decks. The width of the deck should be reflected in the length of the truck axle. So if your old-school board has a diameter of 8.25 inches or above, you should check that the truck axle measures 8-8.5 inches. These should make the best old school skateboard truck sizes.
Old School Skateboard Graphics
Skateboard graphics to some is another realm To understand the best old school skateboard graphics, we suggest you take a look at the following:
A fan of skeletons, dragons, and all things grimly, menacing and horrid? The 80s' Johnson and Phillips with Powell Peralta and the likes of Santa Cruz are what the adolescence of some of us are made of. This is a very characteristic one of the 80s and influenced a lot of other styles.
And why stop at skeletons, just take it to wretched skulls! World Industry made cult-gore back in the days with artists Cliver and Mckee.
Again, Neill Blender and his partner gave a future-pop addition to the skates as they took to a burst of colors and cartoons. Lastly, a big one, Chocolate. They included soda bottle arts and classical guitars into skateboards and made them the definition of street-punk.
Apart from these renowned ones, you could do graphics on their own skates using graffiti or maybe metallic paint. You can also take inspiration to make graphics via screen printing and similar processes.
Different Types of Old school Skateboards
There are 3 types of old-school boards. Including:
1. Vintage Old-Schoolers
Which actually belongs to early in the days. So if you're buying an 80s skateboard, it better not be an 80s-inspired skateboard to be a vintage old-schooler, but an actually manufactured in the 80s board. These will be the most costly ones naturally and also the least maneuverable ones as you date back in time.
2. Reissues
This basically means the old decks/boards are being manufactured in a new way. This is a forgiving type since, with the advancement of technology, you can expect better manufacturing processes making your old favorites in a new way. These were actually made back in the time, but are only being made newly now to add to the current ones.
3. New Old-Schoolers
These aren't a part of the golden times. In fact, these are modern, but in the manufacturing/design/shape or whatever, they bear remnants of the classics. They have the flair but not the pure-blooded privilege as the Potterheads will understand.
Old school Boards vs. New school Boards
The first difference is in terms of appearance like we already mentioned. The rest are as follows:
The old-school ones have a flat, wide nose, whereas the modern one has a sharp one.
Although fondly remembered as the 80s boards, these can date back to the 30s even. But the modern ones are the contemporary ones you will see readily available in the market.
Aerial control of the old-school boards is tough unless you are a genius of skating skills. On the other hand, the wider tail, broad nose, smaller wheels, and narrower decks make aerial control easier with the modern Best Standard Skateboards.
The new ones are excellent for street skating, park skating and trying tricks. For cruising and ramping, old-school are the best.
Top 5 Best Old School Skateboards of 2023

1. Powell Peralta Old School Skateboards
The dimensions of the old-school favorite is 10×30.81 inches, around what we are used to seeing. It comes in the original concave shape and truck hole pattern. Along the edge, you will see white top and rails adding to the graphic beauty of it.
The material features hard Maple and Airlam to scream on the durability. For the record, the wheel diameter revolves under 60 mm.
When you buy one from them, one thing you're sure to get is quality. The throwback graphic, the sturdy deck construction, and the concave that gives in to most riding styles make it a popular choice. It is best if you like everything.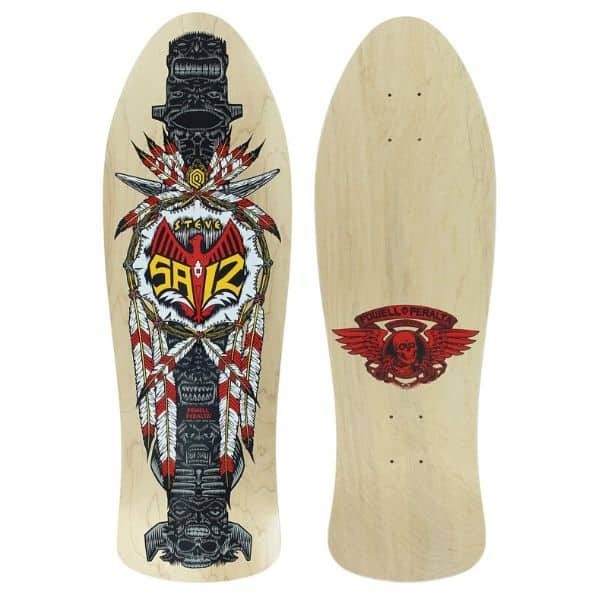 Pros
Great for vert skating.
No delamination.
Comfortable for most riding.
Cons
Advanced riders need an upgrade.
2. Vision Original Psycho Stick Reissue Skateboard deck
Featuring a 7-ply construction and the dimensions of 10×30 inches.
This has a backstory of a psycho who lost his hair, and the story is just as popular as the skate.
The old-school shaped board has a 15-inch wheelbase and a modern truck hole pattern. The concave version with a hint of contemporary touch allows you to control it in a steady manner while showing off your skills as you vert or cruise.
This reissued one is a close replica of the old, original one. However, there's nothing like the real Psycho stick.
Pros
You can go carving with the board.
Both beginner and intermediate players can have fun with the reissued version.
Great shape and graphic.
Cons
Does not include grip tape.
3. Moose Old School Complete Skateboard
The dimensions of Moose Complete that takes zero attention from you to itself measure 10×33 inches. For the wheelbase, we have less than 16 inches of space. It is made of Canadian Maple and has 6 Trucks at the core.
The shape of the body is concave. In front, you get a kicked nose, and at the back, you get a raised kicktail, accommodating to do the tricks you've been dying to try. You also get grip and stability from the concave formation and skate the park just as easily as you'll like it.
The white wheels assembled underneath are 58 mm, 97a, so on the harder side of the spectrum. Also, you get it pre-taped.
And if everything else pleases you except the black deck, you can customize to have it painted!
This board is best suited for those who prefer mid-range cruisers with reliable control. It will make landings very controlled, and so when you're hitting ramps, you won't feel like falling to anything. However, if you want to do tricks, we suggest you change wheels.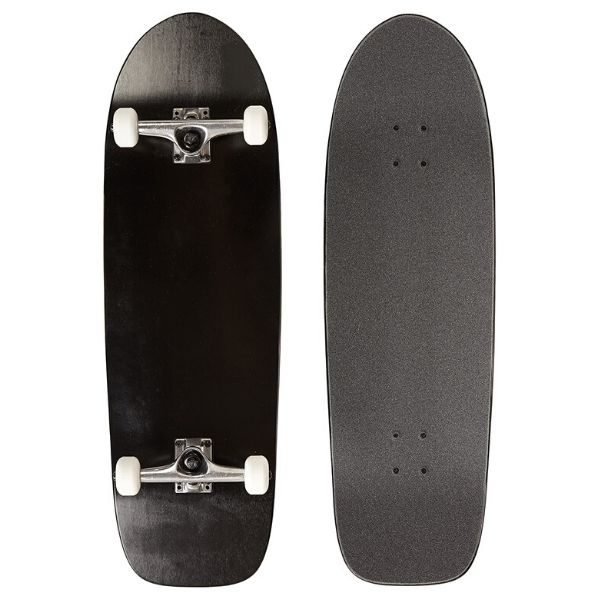 Pros
Great for cruising and park skating.
Stability from concave shape.
Great quality,
Customizable deck.
Cons
Comes with hard wheels that may need changing.
4. Santa Cruz Rob Roskopp Face Cruiser
Santa Cruz had to and very rightly made it to the list of old-school boards.
Who can forget or even let pass the vintage awesomeness that Santa Cruz brings?
It is a little narrower than what you are used to seeing on other old-school decks, with a width of 9.5 inches and a length of 31 inches. The same deck material, 7-ply Maple is used here.
For the wheels, you get 60 mm, 78a slimeball wheels. These are very soft wheels that can take you over rough surfaces in a jiffy, without much friction. The nose and the kicktail both are square on this deck. So, instead of being rounded at the edges, you get some elevated game.
The slimeball rails are essential to let you glide through, just like slime but without the grossness of it. Another great thing about it is the Krux trucks. These give you the "cushion" that you need as you ride. With the traction from the wheels, you will not just fly away at high speed, not without stability.
Around sharp corners, this grip is what you'll seek. This also comes pre-taped. This is for the ones that prefer unreal smoothness as well as a dynamic style.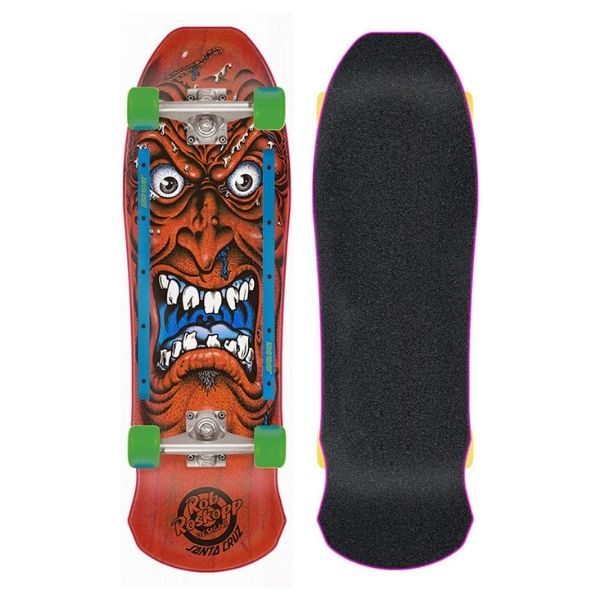 Pros
Protective rails to save graphics.
Cushioning of Krux Trucks.
Super smooth slimeball wheels.
Cons
Bearings-quality needs improvement.
5. Yocaher Graphic Old School Skateboard
It has the same dimensions of 10×33 inches as we saw on the first one. The shape features a pointy nose and also a kicktail that allows pivoting. It has the usual deck material, but the wheel diameter is the highest till now, 62 mm.
The little concave that you get on the board lets you be stable on it. To raise the height of the deck, there is half an inch of rubber addition. This helps to reduce wheels biting in. These wheels, along with the truck axle width, do a decent job.
You can hope to ride over mildly rough surfaces. This is for those who like cruising for the fun of it. Though it can't compete heavily in a modern-day ramp, it is a tolerable starter.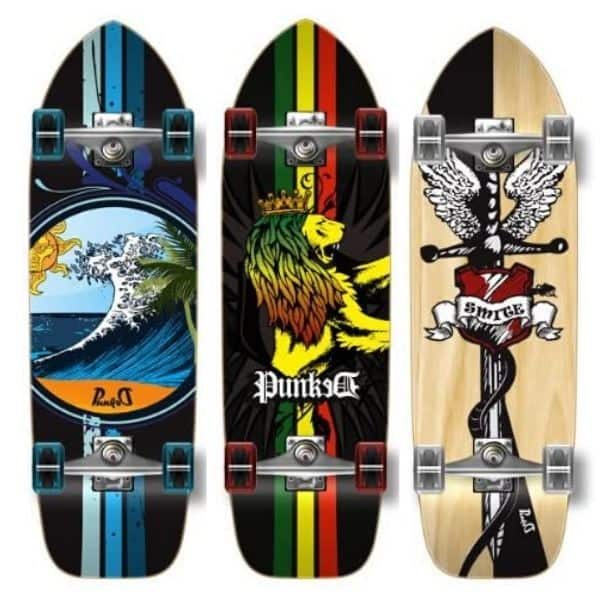 Pros
Concave allows control.
Very comfortable.
Made for cruising.
Cons
Bearings need changing.
Not for skate parking.
Best Old school Boards Brands
Some of the very well-known brands for purchasing and seeking the best retro skateboards from include Moose Skateboards, Santa Cruz, Epic Sports, MPI Vintage Nos Skateboard, Creature Shed, Powell-Peralta, Alien Workshop, YoCaher, Prime Lee, 5Boro, Independent Trucks, Alva, Hosoi, Vision Skateboards, Birdhouse, etc. in no particular order. You can pick anyone from these and not regret it if you're careful enough.
Of these, Powell-Peralta is almost everyone's favorite. Their boards are based on plywood sheet layering. You need to thank heavens they reissue the old decks with old prints.
Santa Cruz is also a big shot with an excellent range of board materials and resultant styles.
For cartoonish vibes, opt for Alien Workshop, and if you're into cheeky pieces, go to Birdhouse.
Again, there is Vision's spectacular and famous Psycho Stick skateboard, and the rising-sun graphic of Hosoi skateboards, that give you old school designs combined with technical tricks.
What We Recommend
Considering everything, we are a big fan of Santa Cruz's Rob Roskopp and Moose Old School.
For those who want the freedom of customization and all that is good, we suggest Moose, and for those to whom speed is the most significant incentive, Santa Cruz calls you!
But it always depends on your preferences, which is the best old-school board to you so no need to think that this is our definitive statement.
Final Words…
Hopefully, you're enthralled and ever so ready to lay your hands on one of the best old school skateboards.
These are not just a pretty thing of the past to be hung up the walls as part of the decor. Get your hands on one of the beasts, practice it out and get on the streets, rider!
Read More
Amazon and the Amazon logo are trademarks of Amazon.com, Inc, or its affiliates.