As an Amazon Associate, I earn from qualifying purchases. Learn More.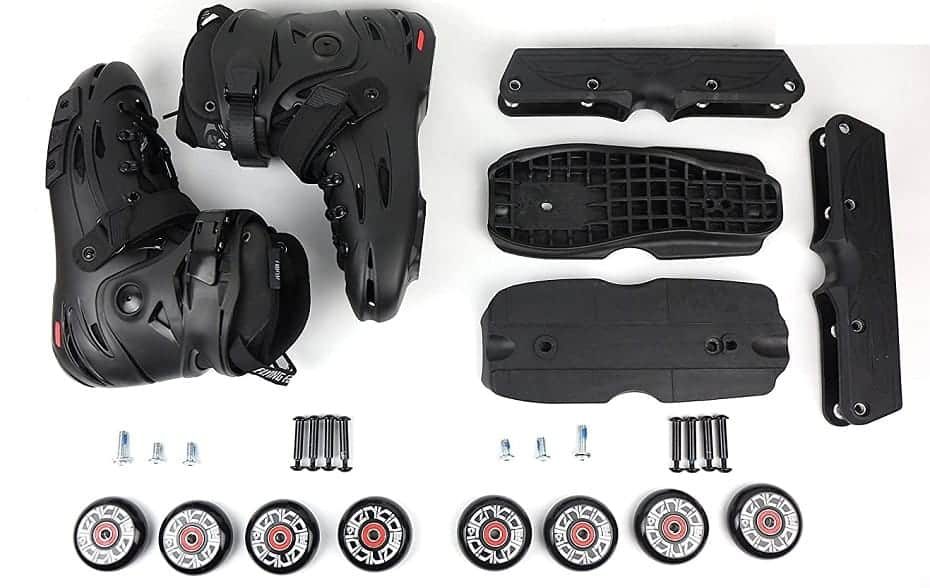 There have been a lot of inline skate companies arise in the last few decades but only a very few were able to establish themselves as a reputable brand. Also, there are not many that allow free-skaters to try aggressive skating. Thanks to Flying Eagle, they have come up with a solution to this problem.
We're talking about Flying Eagle Enkidu in particular. Despite being a fairly new addition to the Flying Eagle collection it has earned recognition to all level skaters. And if you are among those who have become curious about this aggressive skate this is your place to start.
In this article, we are going to review the bells and whistles Flying Eagle Enkidu comes with. Once you finish reading, hopefully you will be able to weigh the pros and cons of the product for yourself. So, without further ado, let's get started!
Flying Eagle Enkidu Aggressive Inline Skate
Key Features at a Glance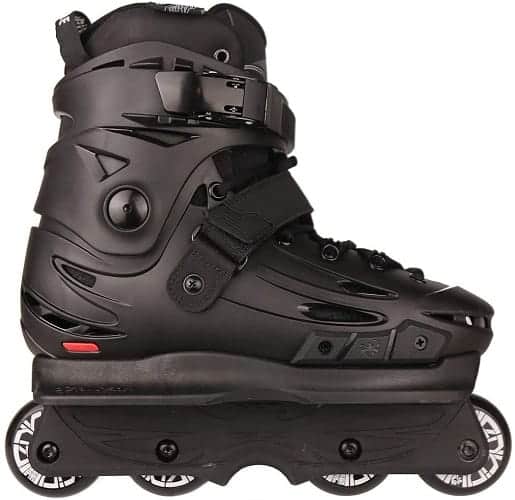 Eclipse mold shells and anti-abrasion sliders.
Multiple foam liners and Lycra toe-box design.
Top buckle strap, Velcro strap in the middle with strong laces.
231mm and 243 mm UFS frames.
165 mm mount, also compatible with 195mm frames.
65mm wheels with 90A (durometer) hardness rating.
Highly rated ABEC-7 chrome bearings.
A Brief Overview
Manufactured in China, Flying Eagle Enkidu has gone through four years of development process making it a very high quality yet affordable aggressive inline skate. From the outside, it looks nothing more than a regular inline skate. However, don't let this fool you. The innovation involves in its design is quite remarkable.
The rockerable frame is a prime example. Its UFS (universal frame system) compatible frames allow you to do all the tricks in the book. You can grind it or just use it for speed skating as you wish.
Besides, Flying Eagle Enkidu provides great ankle supports, and the shell breath fairly well too. The soul plate is compatible with all F5 and F6 skates, so you have room for customization if you've already got any of these. There are also five soul plates and two frame sizes to choose from.
Pros of Flying Eagle Enkidu
Shell provides adequate ventilation and ductility.
Anti-abrasion fabrics help it reduce surface wear.
Comes with five different size options to suit all ages.
Customizable frames make it versatile. Saves money.
Included axle tools allow you to change bearing faster.
Bigger wheels offer greater stability while doing tricks.
Flaws but not Deal Breakers
No brake; beginners might struggle when going too fast.
Purchase cost may upset price-sensitive buyers.
Now Let's Learn the Details of Flying Eagle Enkidu Inline Skate
The subject product is equipped with most features needed to take your inline skating to the next level. However, in this section, we will mainly focus on the important details of the product and discuss them in several points.
Shell
In general, the boot shell is a crucial part of any inline skates, and for people who perform tricks on rough surfaces, it has to be considered first. The shell of Flying Eagle Enkidu is made up of eclipse mold. It is a highly durable urethane that offers optimum elasticity and support you need around your foot.
It has got safety buckles that lock your feet properly and prevent the laces from moving out of place. The front air duct reduces sweating on your feet and save the insole from getting damp. On our first use, we didn't find noticeable scratches on the sole as well.
Soul Plate

The plastic soul plate is super strong, rarely seen on most regular aggressive inline skates out there. This allows you to fasten them easily with aluminum blocks. You have five options (37-38, 39-40, 41-42, 43-44, 45-46) to cover all the boot sizes.
They are compatible with all previous F5 and F6 skates and comfortably fit any 165mm frames (you can also use them with 195mm frames for size 41 and above).
Frames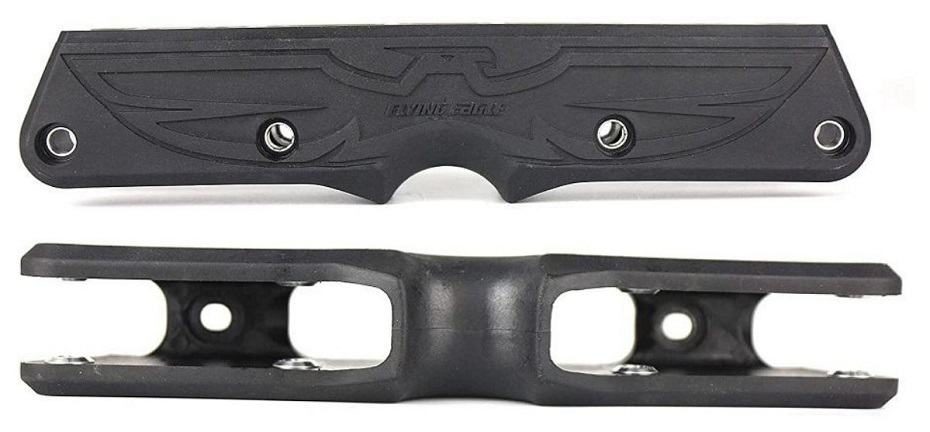 The two frame sizes that are available with Flying Eagle Enkidu have to be its crucial selling points. They feature more protected grooves and we didn't feel much of a wheel bite riding on them. You can mount four 65 mm wheels on the frame.
The frames are not symmetrical meaning they will be much easier to fit with the boot. More importantly, the UFS frames are versatile. You can easily switch between rockerable and anti-rocker setups which is quite an incredible feature to have.
Read: Anti rocker vs flat wheel
Liners
The liners are similar to F6. With multiple layers of foams, they provide the necessary comfort and padding to your foot. Flying eagles are using neoprene fabrics. It doesn't degrade as quickly as leathers, at the same time ensures breathability in the right spot.
Bearings
If you want to enhance the smoothness while riding on your inline skates you must ensure you are getting high ABEC-rated bearings. The higher the rating the easier it will be for you to reach the desired speed. These bearings will keep frictions between the wheel and the frame to a minimum.
Flying Eagle Enkidu comes with the 2nd highest ABEC 7 rating. So, you can expect to have a fairly comfortable riding experience with these pairs.
Final Verdict…
If you want to invest in a single pair of aggressive skates that aren't one trick pony Flying Eagle Enkidu will be a great option. Whether you want to speed skate, do jumps, or grinds this product has all exclusive features for seamless performance.
No doubt, inline skating is a sport of balance. Thanks to the larger wheels and customizable setups of Flying Eagle Enkidu, it helps you find your rhythm faster. Overall, for us it's a great aggressive inline skate, and for its price, there is not much to complain about.
Amazon and the Amazon logo are trademarks of Amazon.com, Inc, or its affiliates.