If you ride a skateboard regularly you already know that wheel bite is one of the worst experiences, you can ever have. Wheel bite on skateboards occur when the wheels touch the board during a ride. You may wonder how to prevent wheel bite on a skateboard. In this article, you will find the solution to this issue.
There are a couple of ways to prevent wheel bite. One of the common ways is using riser pads on your skateboard. It will create additional distances between the wheels and the board. However, there are some other ways too to solve the problem.
Stay with me throughout this article to know everything about the solution to this issue.
What Does Wheel Bite Look Like?
Wheel bite is a common occurrence for a skateboard rider. It happens if your wheels rub against the deck of your board. Sometimes we lean or turn excessively during the ride. In that case, your board will stop fully and throw you forward. In many cases, you will see that paint of your skateboard has been rubbed away right above the wheels. That's due to wheel bite and it looks like that.
Because of this phenomenon, many skaters got injured. As the skateboard stops suddenly, you will fall unexpectedly and may face an awkward situation. It is a wise decision to ride carefully to avoid wheel bite. But still, many skaters face this issue in many cases. I hope now you know about the wheel bite meaning and how it happens.
Read: What are skateboard decks made out of?
What Causes Wheel Bite?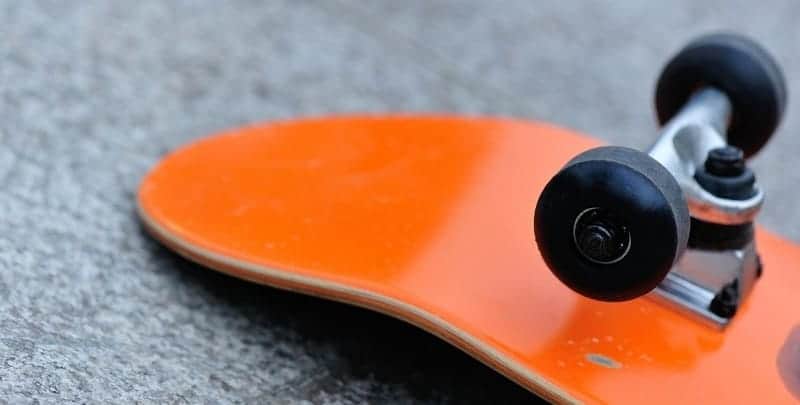 I mentioned earlier that if the wheel touches your skateboard's deck, a wheel bite happens. There are some reasons for which you may experience wheel bite. Explore those responsible causes below-
Cause 1- Loose Trucks
Both of the skateboards and roller skates come with fixtures called tucks. They attach the wheels to the deck of the skateboard. If the trucks are attached loosely, they will move under the boot or deck.
As a result, the steering will be more responsive and the deck or boot will move more frequently. If the deck dips excessively deeply, you will end up having a wheel bite.
Cause 2- Too Large Wheels
The too large size of wheels can be a significant reason for a wheel bite. When it comes to a standard skateboard, there is enough clearance under the deck so that the wheels can roll smoothly.
If the clearance is not enough, wheel bite will occur. In the case of bigger wheels, they take up more space which will reduce the clearance. So, the chance of wheel bite will increase.
Cause 3- Lacking Wheel Walls
When you talk about wheel walls, they will enhance the distance between the wheels and the deck. This distance is known as clearance. So, lacking wheel walls mean less amount of clearance and a high risk of getting a wheel bite.
How To Prevent Wheel Bite?
Now that you already know about the causes and consequences of a wheel bite, you may also want to know how to fix wheel bites. There are some simple solutions to this problem.
If you think wisely, you will realize that the problem causes too much movement when the space is not adequate. So, either you need to reduce the movement of the trucks or increase the clearance. Below I will show you some easy ways to fix the issue.
Solution 1- Tighten the Trucks
When the trucks of your skateboard are so much loose and you can't stand properly, you will need to tighten the steering up. If you want to reduce the movement, tightening the trucks is a great way. The rule is simple here. If you reduce the intensity of dipping of the trucks, wheel bite will not happen again. So, tighten the trucks of your skateboard to fix the wheel bite issue.
Solution 2- Change the Wheels
If you are tired of experiencing wheel bite in your skateboard or roller skates, changing the wheels can be a great solution. If you face wheel bites even when the steering and trucks are properly tight, the problem maybe be in the wheels.
As I mentioned earlier, larger wheels will reduce the clearance between wheels and the deck. In that case, you will need to replace the wheels. Go for smaller-sized wheels to get enough clearance. It will stop getting wheel bites unexpectedly.
Another point is, you may want to keep your trucks a little loose. In that case, decreasing the wheel's size will help you to prevent wheel bites in your skateboard.
Solution 3- Install Risers
Installing risers is a popular method when it comes to preventing wheel bites. This method can be applied both to skateboards or roller skates. If you want to keep trucks loose and get additional clearance, installing risers can be the best solution.
There is no denying that losing trucks or steering will offer you some benefits. But, you are already aware of the fact that it is one of the main reasons for wheel bite. So, you need to give the wheels a little more space so that they can turn properly.
Fortunately, risers are specially designed to serve this purpose. You can install risers between the deck and baseplates of the trucks. If you are fixing a roller skate, you need to install it between the plates and trucks.
If you install risers correctly, you will be able to keep trucks looser along with having bigger wheels. Trust me, in that case, there will be less likelihood of wheel bite.
Related Video: https://www.youtube.com/watch?v=rdk2WCU3GIA
Why is Wheel Bite Bad?
If you are a skater, wheel bite is bad in many ways. I have already discussed the cause and preventive measures of wheel bites. The incident happens suddenly and you will not get any time to balance yourself. So, it may cause serious injuries to your body.
As you have little to no control over your body balance, during the wheel bite you may fall into rocks or stones. No wonder, it is good enough to destroy your riding mood. For these reasons, skaters don't like wheel bites.
How To Test For Wheel Bite?
To check for wheel bite in your skateboard, you should check that whether the trucks are properly tight. When you ride, try to check how it steers. You have to be skeptical to find out any noticeable things that can cause wheel bite.
If you feel any kind of change in the steering, you should check the bushings or cushions properly. Try to check the clearance of your skateboard. If it is not adequate, you may end up having a wheel bite.
Wheel Bite Maintenance
To prevent wheel bites from your skateboard, you should do the following maintenance works.
Tighten the trucks properly regularly.
When you notice any difference in steering, check up the bushings.
Replace or upgrade wheels to maintain proper clearance.
Check the installed risers to confirm everything is right.
Read: Do longboards need maintenance?
Frequently Asked Questions (FAQs)
1. How does wheel bite happen?
When the wheels of your skateboard rub against the deck, the board will stop completely and you will fall forward. It is called a wheel bite. More responsive decks, or a low level of clearance between the wheels and the deck cause wheel bites.
2. Are wheel bites normal?
It is a normal phenomenon. But, most of the skaters don't like it as it can cause serious injuries. You can prevent it by taking some simple measures.
3. What is a wheel bite on a longboard?
During the turn on a ride, when the wheels of a longboard rub against its deck, the board will suddenly stop. Plus, you will unexpectedly fall forward. That's how to wheel bite happens in a longboard.
Final Words
A wheel bite is a common occurrence when you ride a skateboard. It can happen due to loose trucks, large wheels, or even for not having wheel walls. However, you can prevent it if you follow some simple steps that I discussed in this article. I hope now you know how to stop wheel bites. Happy skating!