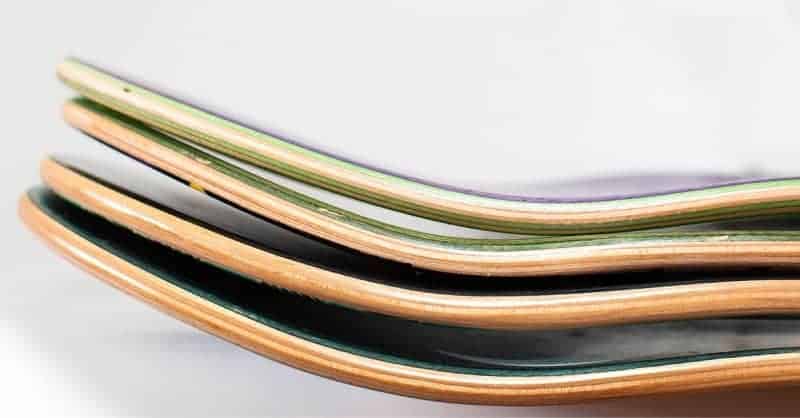 Skateboard decks have a lot of different materials and shapes. They can be made from wood, bamboo, fiberglass or plastic. But what exactly are skateboard decks made of?
There are many different types of wood that can be used for skateboards and each has its own advantages and disadvantages. In this article we will explain some of the most common types of skateboard decks materials so you can choose which one is right for you!
Why It Is Important To Choose The Right Skateboard Deck Materials?
The deck is the part of the skateboard that you stand on. It is usually made from plywood, and its size and shape determine the size and shape of the skateboard. The deck is one of the most important aspects of choosing a skateboard, as it affects both the look and performance of the board. Different materials have different properties that make them better or worse for different skating styles.
For example, a stiffer deck will be better for street skating, while a softer deck will be better for vert skating. There are also decks made from alternative materials such as carbon fiber, which can be very expensive but offer a significant performance advantage.
Best Materials For Skateboard Deck
Wood
Many beginners start on wooden boards because they are easy to control and are less likely to break than plastic ones. Wood can come from different types of trees including maple, birch, cedar and ash. The type you choose will affect how much it costs as well as how long it will last because some woods are more durable than others.
There are a few different types of wood that are commonly used in skateboard decks, each with its own advantages and disadvantages. The most popular woods used in skateboard decks are maple, birch, and poplar. Maple is the strongest and most durable of the three, but it is also the heaviest and most expensive. Birch is lighter than maple and not quite as strong, but it is more affordable. Poplar is the lightest of the three woods, making it ideal for street skating where weight is a major factor. However, poplar is not as strong as maple or birch and can be more susceptible to damage.
Here are a few examples for you:
-Maple Wood
Maple wood is a hard, dense wood that's popular for skateboard decks. As the name suggests, maple comes from the maple tree and has been used in many different forms throughout history—including furniture and musical instruments. Maple is also known as a light-colored wood because it tends to reflect light rather than absorb it like other types of wood do.
Maple may not be your first choice when building your deck; however, it can be one of the most durable types of boards available on the market today thanks to its high strength-to-weight ratio (which means you'll get more miles per pound). While this makes it ideal for functional projects like furniture construction or tool handles for carpentry work—it also makes perfect sense if you're looking for something durable enough to withstand rough usage without breaking down over time!
-Poplar
Poplar is one of the most common woods used to make skateboard decks. It's a hardwood that is strong, resilient and flexible. Poplar can be found in many different shapes and sizes, from very soft to extremely hard. The grain pattern on poplar boards ranges from straight to wavy depending on where it was harvested.
Poplar has been used for thousands of years as well as being an important part of furniture making across Europe up until modern times when it was replaced by cheaper alternatives such as pine or plastic (which we'll talk about next). In recent years however, poplar has made a comeback thanks to its high strength-to-weight ratio which makes it ideal for use in skateboards!
-Birch
Birch is a hardwood that's light in color, but has a grain that is similar to maple. It's also one of the most common types of skateboard deck materials because it's strong, durable and lightweight.
Birch decks can be difficult to work with when you're first starting out; however, if you take your time and use quality tools (and keep them sharp) then birch can become one of your favorite materials for building skateboards!
-Cedar
Cedar is a hardwood that's been used for skateboard decks for years. It's strong, resistant to warping and cracking, and dense. This means cedar boards are more durable than other types of wood—and they cost more too! But if you care about sustainability—and who doesn't?—you'll know that cedar is actually an eco-friendly choice because it's one of the few woods that can be harvested sustainably without damaging forests or ecosystems.
-Ash
Ash is a light, hardwood that makes up the core of most skateboard decks. It's a very common material and can be found in many different types of skateboards, including park and street models.
Ash is made from the wood of the ash tree (Fraxinus excelsior), which grows throughout Europe and northern Africa. The bark on these trees contains tannin sap that helps protect them from bugs and other insects looking to feast on their leaves or fruit-bearing buds; this protection also makes ash ideal for skateboarding decks because it helps keep those sharp edges safe while you're shredding around town.
-Beech
Beech wood is a type of hardwood that is often used in the construction of skateboard decks. Beech wood decks are known for their durability and strength, which is why they are a popular choice among skaters. Beech decks are also very lightweight, which makes them easier to maneuver and control. Beech wood decks are also often used in the construction of longboards and other types of skateboards.
Bamboo
Bamboo is a strong, lightweight material that's also sustainable. It's renewable and organic, meaning it grows back after every harvest. Bamboo is also an excellent choice for skateboard decks because it has a natural resistance to warping or cracking when exposed to heat or moisture (think: hot summer days).
Fiberglass
Fiberglass is a strong, durable material that's used in skateboard decks and surfboards. The glass fibers are woven together to create a strong composite material. It's not as flexible as wood or plastic, but it's more durable than both of those materials.
Fiberglass is also known by other names like "glass-reinforced epoxy resin" (GRES) and "fibreglass" (the type of fiberglass used in skateboards). You may see it listed as either "fiberglass" or "fibreglass."
Glass-reinforced composites (GRC) like fiberglass have been around since the 1950s but weren't popular until recently when people realized their potential for making strong yet lightweight skateboards that don't crack easily or warp over time like many other materials do under pressure like jumping up onto curbs or riding down stairs at full speed repeatedly without wearing pads first!
They cost more money than regular composite decking materials though – which could be why there aren't many companies offering these types of products yet despite their popularity among professionals who demand high-end gear from professionals who already know what needs doing next time around!
Plastic
The most common material used in skateboards.
Plastic is a very cheap material. It's not as durable as wood or even fiberglass. It does have some positive qualities, though:
It can be flexible enough to curve around obstacles and obstacles that are too large for your board to cross over easily. So if you get hit with a hard kick while skating, the board won't break.
The plastic will break before the wood does if you fall off your board while skating at high speeds (which could happen)
The reason why this isn't so great of an option is because it doesn't look quite as nice as other materials do—and if you're going to spend money on something like this then why not get something that looks nicer?
Composite
Composite decks are made of a mix of materials, usually wood and plastic. They're more expensive than other types of decks because they cost more to produce and ship.
Composite decks have a hardwood core with an outer layer of plastic (or another polymer). The wood gives the deck its strength, while making it easier for you to grip when you ride on your skateboard. You can find composite decks in all different shapes and sizes—you can even get ones that have no wood at all!
Plexiglass
Plexiglass is a transparent plastic made from polymethyl methacrylate, a high-impact acrylic resin that comes in sheets. It's available in different thicknesses, ranging from .01mm to .06mm (3,300 to 40 microns). The higher the number on this scale, the thicker it is; for example, 1mm is about as thick as paper.
Plexiglass has been used in skateboard decks since the 1960s because it's durable and light—and affordable! In fact, you can find plexiglass at most hardware stores or online retailers like Amazon or Home Depot.
Carbon fiber
Carbon fiber is a very strong, lightweight material. It's used in a variety of applications and can be found in skateboard decks, trucks, wheels and bearings.
Carbon fiber has been around since the 1950s when it was first invented by American engineer Wernher von Braun. In fact, this type of construction went into space with NASA astronauts such as Neil Armstrong (who became famous for his walk on the moon)
Aluminum
Aluminum is a lightweight material that's commonly used in skateboards, and it's one of the most common materials used in skateboard decks. It makes for a great choice for people who want to customize their board or make it lighter, because aluminum is inherently less dense than other metals. This means the board will be lighter and more durable than other options—and if you're looking for something that'll last longer than your average wooden board (or even just long enough), aluminum works well!
Aluminum also has some other benefits: it's easy to work with and inexpensive compared with other materials like steel or fiberglass; plus, as mentioned above, it's also very flexible so you can bend things around corners on tight spots without damaging them too much.
What Are The Different Types Of Construction Methods Used To Build Skateboard Decks?
The most common type of skateboard deck is made of 7-ply maple wood which uses seven layers of wood glued together. This method is strong and durable, but can be heavy. This type of deck is making it ideal for street and park skating.
Other construction methods include 8-ply and 9-ply boards, which are even stronger and more durable than 7-ply boards. These construction methods are often used for downhill and freestyle skating, where more strength and durability is needed.
Another common method is 5-ply construction, which uses five layers of wood glued together. This method is lighter than 7-ply construction, but not as strong or durable.
FAQs
What is the best material for a skateboard deck?
The best material for a skateboard deck is typically a 7-ply maple wood, although there are decks made from other materials like bamboo or plastic. Maple is the most popular choice because it is strong and durable, yet still flexible enough to provide a good amount of pop. It is also important to choose a material that will not warp easily in the heat or cold.
What kind of wood is used for the skateboard deck?
Skateboard decks are made from a variety of materials, but the most common type of wood used is maple. Maple is a strong and durable wood that can withstand the wear and tear of skateboarding. It is also relatively light, making it easy to maneuver on the board. Other types of wood that are sometimes used for skateboard decks include birch, poplar, and beech.
What are real skateboards made of?
Skateboards are made of a variety of materials, the most common being maple wood. Other materials include aluminum, titanium, and carbon fiber. The deck is usually glued to the trucks using epoxy resin.
What kind of plywood is used for skateboards?
Most skateboards are made with 7-ply maple wood. The maple is a hardwood that is durable and has a tight grain, which makes it ideal for skateboarding. The plywood is usually glued together with waterproof adhesive, which makes it even more durable.
What is skateboard veneer?
Veneer is a thin layer of wood that is glued to the top and bottom of a skateboard deck. Veneer can be made from different types of wood, but maple is the most popular choice because it is strong and durable. Veneer is what gives a skateboard its smooth, curved surface.
How thick is a skateboard ply?
A skateboard ply is a layer of wood that is glued together to make a skateboard deck. Most decks are made of seven plies, but there can be more or less depending on the desired characteristics of the deck. The thickness of each ply varies depending on the manufacturer, but they are typically around 0.7mm thick. This results in a overall thickness of around 5mm for a seven-ply deck.
What is longboard wood?
Longboard wood is a type of wood that is typically used for the construction of longboards. While there are a variety of different woods that can be used for this purpose, longboard wood is typically selected for its strength, durability, and flexibility. This type of wood is also often chosen for its aesthetic appeal, as it can provide a longboard with a unique and stylish appearance.
Conclusion…
The list above is by no means exhaustive, and there are other materials used in skateboard decks too. But these are the most common ones you'll see on the market today.