As an Amazon Associate, I earn from qualifying purchases. Learn More.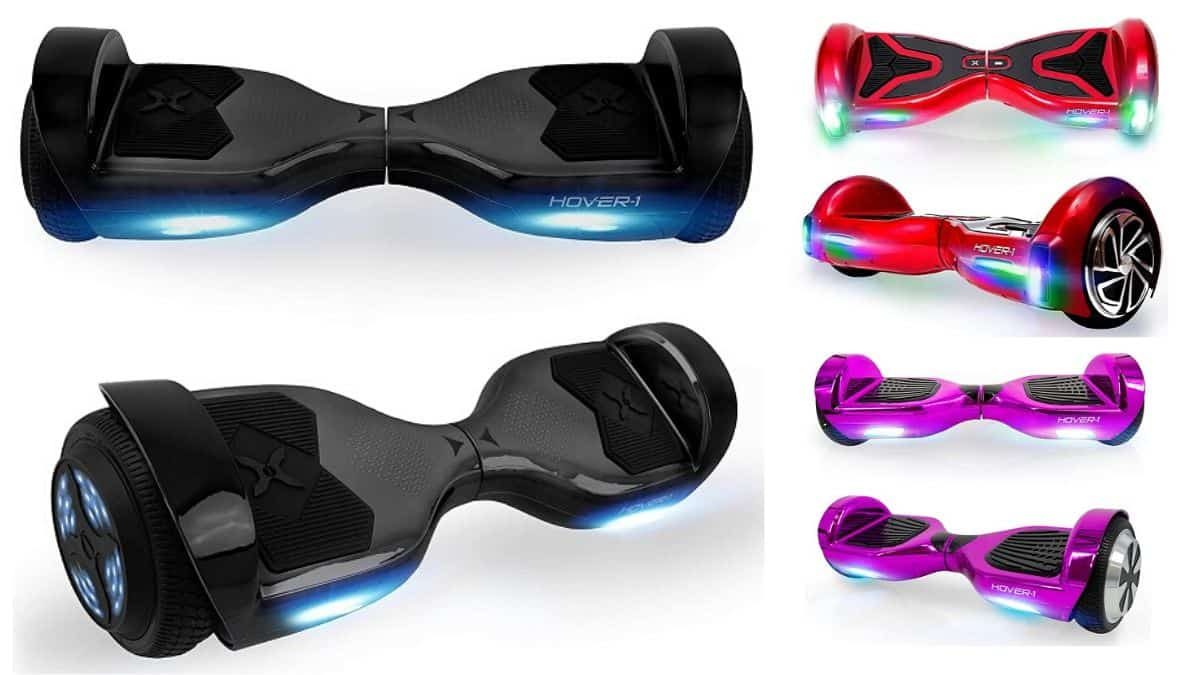 Just when everyone was almost getting too disappointed on all the other hoverboards due to all the reported hazards like cheap build and even a few reported cases of fire, then the hover 1 came out. This brand new hoverboard manufacturer took the whole hoverboarders like a storm as it delivers precisely what they promise!
Hover 1 got one of the highest quality builds among all the hoverboards out there. But best of all, they are quite affordable as well!
So if you haven't quite decided your mind over which hoverboard you should get as your first one, hover one definitely should be on top of your list! But the question arises which one of them you should get as there are quite a few out there!
So to clear out all your confusion regarding this excellent ride, here is our hover 1 hoverboard reviews to clear it out for you!
In a Hurry?
This is our winner…
Hover-1 Helix Electric Hoverboard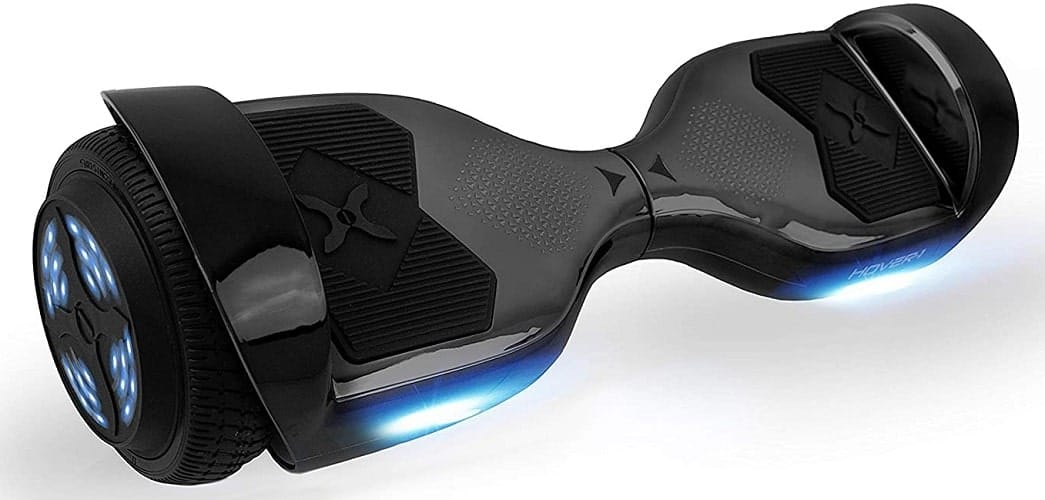 Why this is the Best?
Maximum Weight limit 160lb.
Motor Power: 400W
Built-in blue-tooth Speaker.
Max Distance: 3miles
UL2272 certified battery.
Max Charge time: 6 hours.
Water-resistant(IPX4)
Extremely blazing LED wheels with low battery indicator.
About The Company
Hover 1 is an excellent manufacturer of an e-bike, hoverboards, electric skateboards and buggy. They are known for providing a full warranty to the original purchaser of the products. Also, hover 1 is known for maintaining the warranty faithfully and regulations very strictly. Most of the hoverboarders who purchased their hoverboards are highly satisfied with the company's services and products.
There are many other reliable rides other than the hoverboards, and all of them has proved their quality quite well, and that is why hoverboard 1 is among the leading manufacturers of e-rides like hoverboard and scooter.
Why Choose Hover 1 Hoverboards?
You should pick a hover 1 scooter over all the other hoverboards manufacturers because of their sophisticated build and use of advanced technologies to ensure their customers' comfort. Its rechargeable battery system, highest weight capacity, and built-in BlueTooth speaker that too in such an affordable price sets it apart from all the other manufacturers.
In most of the hoverboards, you can't control your running balances and face lots of difficulties while running on the street. But these hoverboards come with a very high-quality balance controlling system.
You can ride a long way after charging the scooter for only once. Other than these, hover 1 hoverboard come with ultra-bright LED wheels and also battery life indicators. So, if you are an adult and thinking of buying a cool looking hoverboard scooter that has excellent features as well, then Hover-1 electric scooters are the best option to go for.
Top 5 Hover 1 Hoverboard Reviews
| | | | | | | | |
| --- | --- | --- | --- | --- | --- | --- | --- |
| | | | | | | | |
| | | | | | | | |
| | | | | | | | |
| | | | | | | | |
| | | | | | | | |
| | | | | | | | |
| | | | | | | | |
| | | | | | | | |
| | | | | | | | |
| | Built-In rechargeable Li-ion | | Built-In rechargeable Li-ion | | | Built-In rechargeable Li-ion | 144W rechargeable Lithium-ion |
| | | | | | | | |
| | | | | | | | |
| | | | | | | | |
| | | | | | | | |
| | | | | | | | |
| | | | | | | | |
1. Hover-1 Helix Electric Hoverboard
Weight Limit: 160lb
If you are thinking of buying hoverboards, you may find a lot of companies, but not all of them will provide you with so many advanced features as hover 1 does. So if you can't seem to find a suitable hoverboard within your budget with all the necessary features Hover 1 Helix electric hoverboard scooter can be an excellent choice. Whether you want to buy it for the younger ones or yourself, it is one of the Best hoverboards within this price range.
This electric scooter is very sturdy and can take the weight up to 160 pounds. It has water resistance power and huge battery capacity. You may face difficulties while riding the scooter in the beginning, but after you get used to it, you will never stop gliding around with this scooter.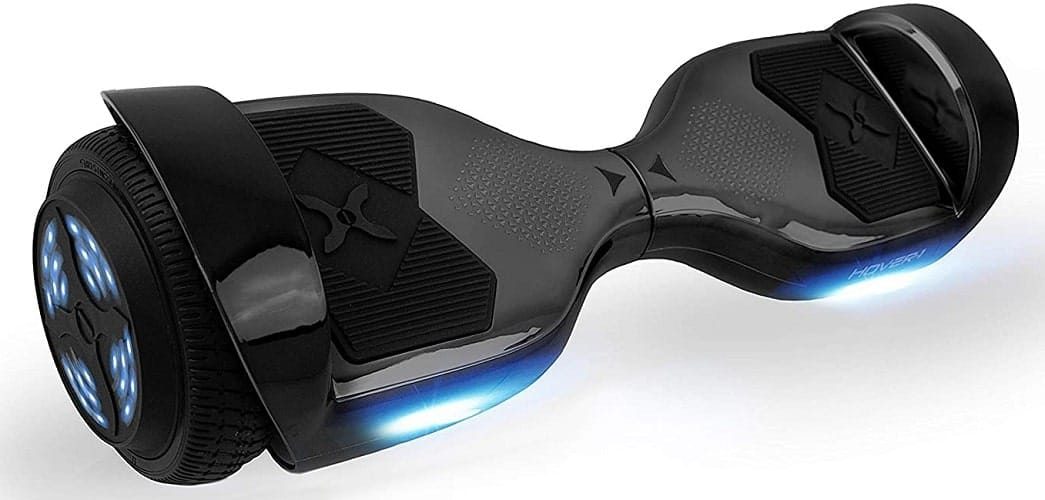 Pros
This scooter has IPX4 water resistance with a built-in Bluetooth speaker.
The maximum charging time is up to 6hours.
It comes with a 36V, 2.0 Ah battery capacity.
It has ultra-bright LED lights and a battery life indicator.
Even the people of 160 pounds can ride this scooter.
Cons
It comes only in one colour black
Some users said that its balancing feature is not that effective.
Buying Tips
This hoverboard comes with multiple advanced features at such a low price. Its speaker is pretty loud, and it's ultra-bright LED lights give your hoverboard quite a dazzling look.
2. Hover-1 Chrome Hoverboard
Weight Limit: 220lb
Wherever you go for buying an electric hoverboard scooter, you must not choose something that can take enough load and also versatile enough to ride different terrains. This Hover-1 Chrome Electric Hoverboard Scooter is quite sturdy and built to last. It is the best Hover 1 hoverboards for its ability maintaining a proper balance which is great for new riders.
It works great as a daily ride for running errands around the city due to its 6.5-inch tire wheels. You can even go to your school, colleges daily by gliding on this. You can enjoy a great time riding these hover 1 hoverboards as well as can save a lot of time as it enables you to navigate even the worst of the traffic.
If you are concerned about overheating, this outstanding hoverboard will give you proper protection and build to withstand overheating, so there is not a chance of it blowing up when you're on it.
Pros
This hover 1 hoverboard is quite sturdy.
It comes with ultra-bright LED headlights along with a battery indicator.
It has 6.5-inch tire wheels, and it is a highly stable form of transportation.
You can listen to music while gliding because of its building Bluetooth speaker.
Its 24 volts, 48 Ah battery keeps the device safe from overcharging and provides protection.
Cons
Many user reviews show that the app may not sometimes work properly.
It comes in four colors only.
Buying tips
For gliding around the house and neighborhood, this 6.5-inch tired hoverboard is the best option. Its high-quality battery keeps the electric scooter safe from overheating and overcharging.
3. Hover-1 Titan Hoverboard with 10″ Tires
Weight Limit: 265lb
If you need a hoverboard that is well accustomed to taking loads of young riders and adults as well, then Hover-1 Titan is your best bet. Whether you are an adult or young rider, it can take weight up to 265 lbs which are quite impressive.
You can glide around every place around your house with its excellent control and maneuverability. You can even listen to music while riding as it comes with a built-in Bluetooth speaker.
Another impressive feature of this Hover-1 Titan is once you have downloaded the app, you can have a look at the battery life range. You can choose your destination as well.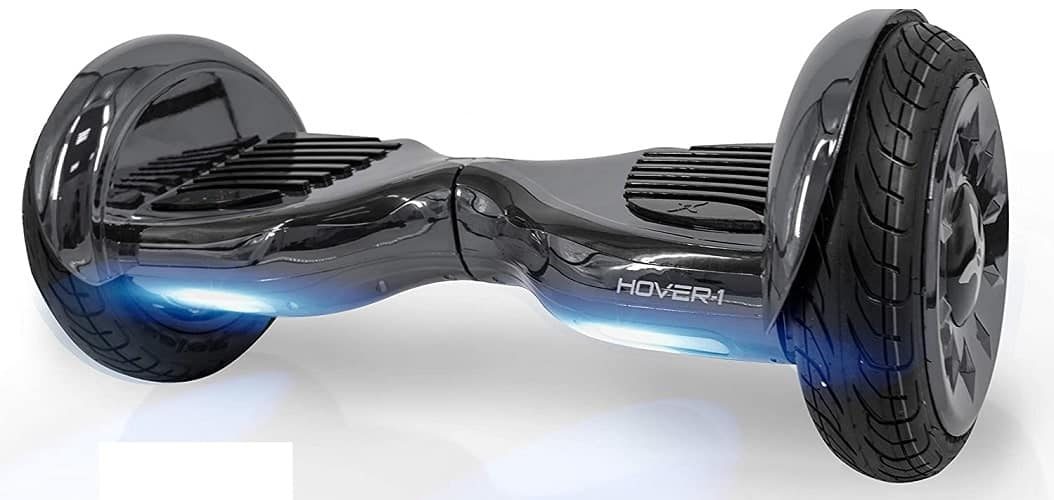 Pros
It comes with a built-in Bluetooth speaker, so, you can connect your mobile device with this and hear music while riding.
You can download applications and observe your battery life range and plan routes too.
It can reach the highest speed up to 7.45 mph.
Hover-1 Titan comes with 36v and 4 Ah rechargeable battery.
Cons
The color of the LED stand be changed.
Buying Tips
Titan electric Titan Hoverboard scooter comes with 10-inch tires which will help you to glide smoothly and control your speed. This is the best value hoverboard you will ever find in the stores.
4. Hover-1 Ultra Hoverboard
Weight Limit: 220lb
Like the name Hover-1 sounds so synonymous with hoverboards, the brand indeed is the name of a trust. With its extra-large 9-inch tires that come with a premium quality shock absorption system, you'll have improved stability in your rides.
For the price, it simply stands out with its multiple mode selection features that let you switch between three riding modes. No matter if you're an expert in hovering around or a novice still trying to get a hold on the gadget, it'll aid your rides by adapting to your skill instinctively.
The phone app is something you'll find really handy too. It not only lets you control the tunings on the go but also allows you to customize the LED lighting as you prefer. Besides, its built-in GPS tracker will guide you continuously with trip info and recordings so that you are well aware of pretty much everything essential during your rides.
While the top-notch self-balancing feature guides beginner riders for effortless learning, the extra-large wheels add stability to sweeten things up all the more. More so, they aid you glide through grass, rough terrains, gravel, and uneven pathways and curbs. And to make sure you can make the best out of all these advantages, the hoverboard comes with a pair of non-slip treads as well.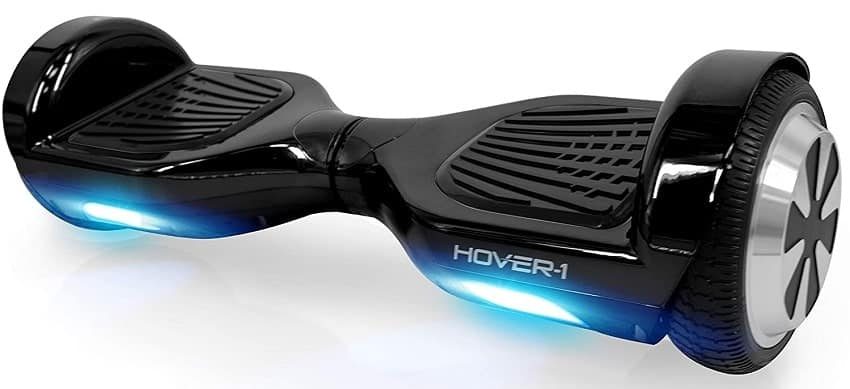 Pros
Top-notch self-balancing feature for easy glides.
Three riding modes for universal suitability.
Generous weight capacity.
Satisfactorily high top speed.
User-friendly phone app with multiple controls and information.
Cons
Relatively short battery life.
Unimpressive lighting system.
5. Hover-1 H1 Hoverboard
Weight Limit: 264lb
The Hover-1 is specifically for those who would love to have access to various controls at the ease of touching app icons. Unlike most other app-enabled hoverboard models that only allow controlling the music through Bluetooth, this electric scooter lets you control your riding modes as well.
It's certainly an excellent feature to have in this price range. The advanced technology allows three different mode settings- beginner, intermediate, and pro. Whenever you choose a mode to ride on, the device quickly adapts to your riding skills and supports your maneuvers accordingly.
Besides, it lets you control and customize different effects of the LEDs through a few taps. What's more? The app enables you to track the GPS, speed levels, movement adjustments and so much more.
And the hoverboard isn't just about convenience, but also about speed. You can expect to speed up to 9 mph and ride for more than 9 miles on a single charge.
The hoverboard has taken safety concerns more seriously than many would probably expect. Not only it meets the UL standards, but it also comes with a mechanism that can absorb shocks and impacts as you ride it. The 500-watt motor can deliver consistent balance throughout your rides, regardless of the mode you choose.
One of the most peace-of-mind features of this hoverboard is its water-resistant build. It boasts IPX4 technology that never allows water to penetrate it, even if it rains on you all of a sudden. While it may not be the best all-terrain hoverboard out there, but it certainly is one of the best on flat-terrains that also provides excellent support when you attempt to ride past inclines more than 20 degrees.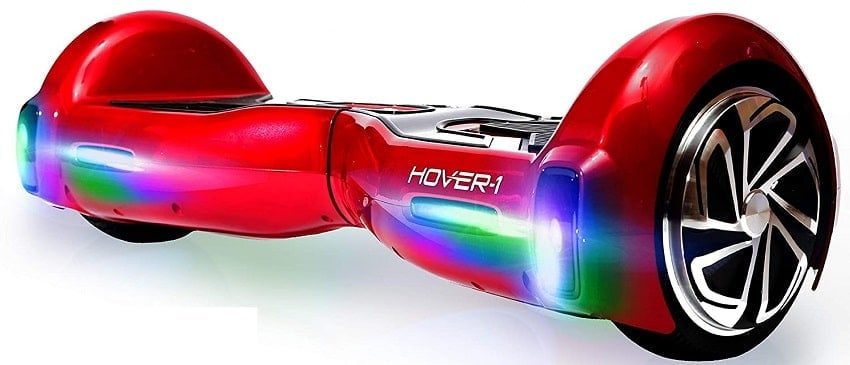 Pros
The mode settings make it suitable for all riders.
Generous weight capacity for people of all ages.
So many convenient options within the phone app.
Excellent water resistance, even in the rain.
Stable, consistent, and satisfactory top speed for pro-riders.
Great for climbing inclines.
Cons
No lights on its wheels.
Charging takes too long.
Not suitable for long rides on gravel roads.
What Is The Best Hover 1 Hoverboard?
Among all the Hover 1 hoverboards, I would suggest you get the Titan electric self-balancing electric scooter.
Its 10-inch tires make a huge difference from the other ones.
It goes way faster, and the battery works great against overheating.
Its battery charges up very quickly and capable of handling weight up to 265 lbs.
The dual motors are 250 watts.
The battery charges very quickly within 2.5 hours.
After charging for only one time, you can go up to 8.4 miles.
The battery indicator is very easy to look at as it's right at your feet.
You can also compare the efforts you are giving as input and the power of the motor.
Other hoverboards may take some time while turning, but this hoverboard ensures mood turning on expert mode.
Its large tires help you to move around everywhere smoothly. You can ride on bumpy roads, grass, rocks, along with every surface.
If you are really into a classic looking scooter, then one that is quite suitable for spending your money.
Frequently Asked Questions
1. Are Hover 1 Hoverboards Good?
Yes, Hover-1 hoverboards are one of the most versatile and considered to be the best electric scooter for people of all ages. They have some outstanding features which are rare among this price range. All of the hover 1 hoverboards comes with a led light which makes it look quite. There is a rechargeable battery to ensure a smooth running experience. You can go up to 7mph, and these are cheaper than other hoverboards.
2. Are Hover 1 Hoverboards Safe?
Hover-1 hoverboards went into becoming the industry leader of hoverboards all due to its special safety features. Its water-resistant battery comes with full protection against fire and overheat. These hoverboards are fully UL certified, that's why these are highly recommended.
3. Are Hover 1 Hoverboards Cheap?
Hover 1 hoverboards are cheaper than other hoverboard electric scooters in the market. You can get some advanced features at a low price which can typically be found into costlier hoverboards. So, it is a very budget-friendly option for everyone.
4. How Fast Does A Hover One Hoverboard Go?
The hoverboard can go up to 6.21 mph to even ten mph. Its origin nomad and titan version can go up to 7.45 mph. And if you can manage to buy the Ultra electric scooter, then you can reach up to the highest speed threshold of 10 mph.
5. Do Hover 1 Hoverboards Catch On Fire?
There are a few reports of catching file on hoverboards, but when it comes to the Hover-1, it is yet to be reported to have a single case of catching fire. When the battery gets overheated, Hover-1 batteries provide full protection from fire and accidents. That's what makes it so reliable.
6. How Long Does A Hover One Last?
After charging for one time, hover one can go for 4.5 hours. So, if you plan to go on a tour for a day, then you can take hoverboards with you as it can last up for quite long for a casual group ride.
7. Why Is My Hover One Beeping?
Your hover one may start beeping because of its tilted platform. Make sure that the platform is not tilted more than 15 degrees. Otherwise, it will be starting to beep. So, it is always better to move the board in a flat and smooth surface. But, it may also occur because of sitting on the incline and exceeds 30 degrees.
8. How Much Does A Hover One Hoverboard Cost?
If you have a pretty decent budget, then you can buy a hover one hoverboard easily. These are quite cheap, and likely to cost you no more than $150 to $250.
9. Is The Hover 1 Have Bluetooth?
Yes, the hover one hoverboards come with a built-in Bluetooth speaker, and you can hear songs by connecting it with your device. So, if you ever feel bore while riding, you can play songs to make your ride enjoyable and fun.
10. How Do You Ride A Hoverboard Hover 1?
You cannot ride a hoverboard without taking proper safety measures if you are a complete beginner. But it is not that hard to ride a hover one hoverboard as well. All you need to do is to set your hoverboard on a smooth surface, and you have to step on the board. But be very cautious as it might start to tilt just after landing on it. You have to control your speed and balance, but it is not that hard once you get the hang of it. After riding and balancing for a few days, you will be able to ride a hoverboard smoothly.
The Bottom Line…
If a safety issue is obstructing your mind to have a hoverboard, then you are missing out on a whole lot of thrilling experiences and fun. Yes, any parents may feel anxious because of the accidents and bursts reported to happen with the hoverboards, and they have their reason to be concerned.
But Hover 1 hoverboards are quite different in this regard as there are no such incidents reported about it and considered to be among the best hoverboards. The manufacturers included a highly sophisticated battery technology, and it saves the device from overheating. So do check the hover 1 hoverboard reviews we provided here and get one for yourself or the kids!
Read More
Amazon and the Amazon logo are trademarks of Amazon.com, Inc, or its affiliates.