As an Amazon Associate, I earn from qualifying purchases. Learn More.
Razor has introduced many iconic caster boards for skate lovers. Ripsurf and Ripstik are two of their most popular caster boards. While Ripstik is more of a traditional caster board, Ripsurf is built like a real surfer board. But, at first glance, they almost appear similar.
Hence, many people get confused between these two caster boards. It yields a popular debate among skaters, "Ripsurf vs Ripstik." Skaters have different opinions about them. In today's discussion, we will look at the design, deck, wheel, and utility of both Ripstik and Ripsurf for a comparison to help you in the buying decision.
Ripsurf vs Ripstik
Razor first introduced their Ripstik in 2006, and it got immense popularity since then. Inspired by its popularity and business profit, Razor later developed multiple models, and Ripsurf was one of these models.
But it has a difference from the Ripstik as it looks more like a surfboard.
The Difference in Deck Design
The major difference between Ripstik and Ripsurf lies in their deck design.
The conventional Ripstik is made with two separate decks. Then, these two platforms are attached using a torsion bar. The bar is made of steel to prevent rust and corrosion. Also, it is sturdy enough to hold the two platforms together firmly.
On the contrary, Ripsurf features a one-piece design mostly mimicking a surfboard. You will see a thin plastic at the 1/3rd position of it. It lacks the torsion bar. But, its deck has a patented technology to propel the deck forward.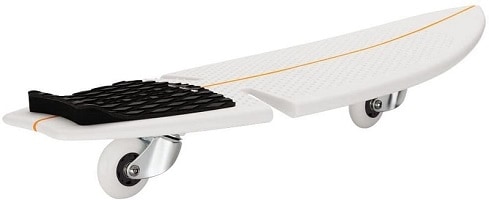 Working Procedure
Another difference between these two caster boards is how they work. The torsion bar of the Ripstik helps it proper forward without any kick. The Ripsurf board works differently. You need to put one foot in the deck and push it forward by kicking your dominant foot.
Thus, the caster boards have major differences in their working procedure. Since you need to use kick force for Ripsurf, it needs more power.
The Wheel Design
Ripsurf and Ripstik have different wheel designs to complement their unique design. The Ripsurf boards equip with 360-degree caster wheels. These wheels are made of urethane. Unlike the actual caster board, these wheels lack pivoting capacity.
On the contrary, the best quality Ripstiks have standard wheels that you see in skateboards. But these wheels are much larger at 76mm diameter. Ripstik uses larger wheels to add stability. Also, these wheels are made of polyurethane.
So, Ripstik and Ripsurf wheels also have distinctions in their materials. Also, Ripstik uses ABEC-5 bearings, which the Ripsurf board doesn't have.
Color Difference
At present, Ripsurf is available in white color only with classic surfing graphic embossed on it. On the contrary, Ripstik is available in many colors, including black, blue, pink, etc. So, with Ripstik, you have more options to choose from at ease.
| | | |
| --- | --- | --- |
| Comparison Points | Ripstik | Ripsurf |
| Design and function | Ripstik features a standard design made for skateboarding and snowboarding, mainly | The Ripsurf has a design that mimics a surfboard |
| Deck | It consists of two separate platforms and is connected with a torsion bar | The deck is a one-piece polymer construction without torsion bars |
| Wheel size | It uses 76mm polyurethane wheels | Ripsurf has 360-degree urethane wheels |
| Bearings | Ripstik uses ABEC-5 ball bearings for stability | It doesn't have any ball bearings |
| Color | One-color availability | Multiple colors available |
Ripstik or Ripsurf: Which One You Should Choose?
So, here's finally a valid question for users. No doubt, both caster board design has unique benefits and are immensely popular. But which one should you choose?
Let's break it down so that you can quickly make the purchasing decision.
Ripsurf is built to help you experience surfing thrills. If you want to surf on dry streets without going to oceans and seas, you can opt for the Ripsurf. Plus, it is more stable than the Ripstik. So, newbies will find it easy to control.
Ripstik features a standard skateboard but is difficult to control since your two feet will be on two platforms. The torsion bar holds the two separate platforms. It needs improved skill to ride a Ripstik on the streets.
Final Words…
Here we end our discussion on Ripsurf vs. Ripstik. Both caster boards are made to enhance your skating experience. Their difference in deck and wheel design makes them suitable for different people. However, both boards are made of premium materials ensuring durability and performance. So, we leave the decision to your court.
Amazon and the Amazon logo are trademarks of Amazon.com, Inc, or its affiliates.