As an Amazon Associate, I earn from qualifying purchases. Learn More.

Ripstiks, with their cool look and thrill-filled riding experience, has become the new talk of the town among skaters. But, people are even using it as a daily commuter instead of longboards and skateboards, especially youngsters.
However, ripstiks are still pretty confusing to many people, particularly when it comes to their difference with skateboards. That being said, the variety of ripstik manufacturers may make it difficult to pick the best ripstiks for your rides.
Ripstiks are available in many shapes and designs. So, it must meet your budget, weight limit, riding comfort, and above all, your style. We looked at all these important ripstik factors and have reviewed the 8 best caster boards following their buying guide, maintenance, tips, and tricks.
So, shall we kick off?
What Is A Ripstik?
Although ripstik, at first glance, looks much like a skateboard or longboard, it is pretty different. For this, you need to look at ripstik construction.
A ripstik is a combination of two separate boards. These two sturdy boards are connected with a metal beam. Also, each deck has one caster connected with the wheel. So, both wheels can move independently, and it increases your riding fun.
As a rider, you need to continuously move the two decks back and forth to balance the ripstik. That's where a ripstik is different from the standard skateboards. People use ripstiks mainly for their unique design and thrilling experience.
Also, a ripstik is referred to as J-board, vigor board, and most commonly, caster board.
The top 8 List:
| | | | |
| --- | --- | --- | --- |
| | | | |
| | Razor Ripstik Classic Caster Board | | |
| | Razor Ripstik DLX Caster Board | | |
| | Razor Ripstik Ripster Caster Board | | |
| | Razor Ripstik Ripsurf Caster Board | | |
| | Street Surfing Wave Board | | |
| | Razor Ripstik G Caster Board | Best skateboard/snowboard hybrid | |
| | Razor RipStik Air Pro (GS) Caster Boards | Best with 360-degree Caster Wheel | |
| | Magnitt Deluxe Junior Caster Board | | |
Why Use Caster Board's Ripstiks?
Ripstiks are for thrill and enjoyment. If you want an exciting riding experience as you move around your neighborhood or go to nearby supermarkets or parks, a ripstik can be an excellent option. Also, many youngsters prefer caster boards over longboard and skateboards for their unique style.
If you already love riding on a skateboard and longboard, it's time you shift to a ripstik to elevate your riding skills and joy. The two separated decks with independent movements of the wheel also promise excellent convenience.
Many people also use it for practical purposes to exercise. Yes, as your legs go back and forth continuously, the ripstik offers brilliant exercise to your feet and muscles and helps you stay fit and confident.
The Target User Of Caster Boards
A ripstik caster board is mainly made for young people. The targeted use of this incredible commuter is those who love the thrill and still want a convenient vehicle for neighborhood and supermarket hopping with ease.
These decks with wheels are stylish, attractive, and boozes with outstanding riding experience. Those who love skating and want to show off a few tricks out of their sleeves will love the free movement of the wheels of caster boards.
Any Disadvantages?
One obvious disadvantage of ripstiks is its balancing. You will find balancing between the two independent wheels quite tough. Also, the continuous movement of your legs back and forth needs extreme physical fitness.
Thus, initially, you will find riding a caster board the hardest. But, once you know the technique, you will love riding the ripstik.
Ripstik vs. Standard Skateboard vs. Longboard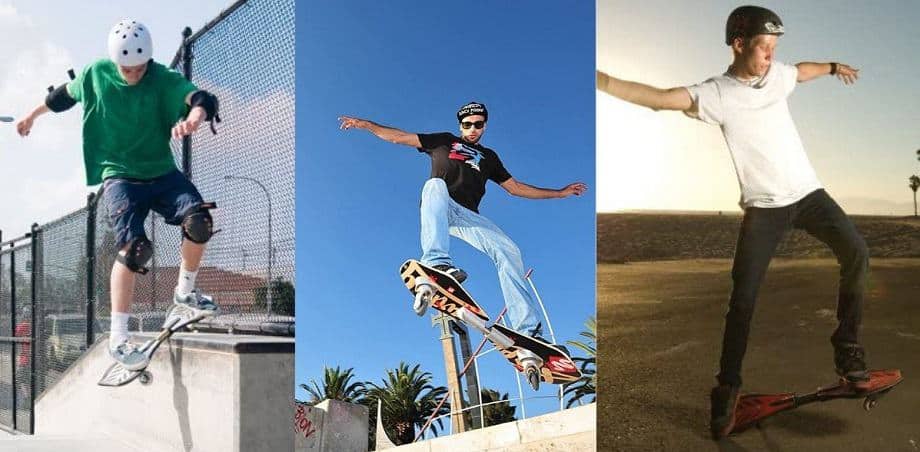 Both longboard and skateboard come with a long and elongated deck without any separation. The ripstik, on the contrary, has two separate decks, and each has a caster connected with the wheel. Both decks connect using a metal beam.
Also, skateboards and longboards have four wheels. But a ripstik only includes two wheels, with one for each deck. The shape is mode sideways too.
The most striking difference among these three boards is self-propulsion ability. Ripstiks have self-propulsion ability. So, unlike the skateboards, you won't have to push the deck forward. You just need to shift your weight between front toe and heel to back toe and end to help the caster board move.
Is Ripstiks Easier Than Skateboards?
Well, learning a skateboard is easier since it needs less balancing between your feet. Skateboards feature a wider and sturdier deck. So, your learning curve on it will be a brisk task. The ripstik, on the contrary, has a pretty compact board. So, it is difficult to learn and control initially.
Nonetheless, after a few trial and error sessions, ripstik riding also becomes as easy as any longboard and skateboarding riding is. So, don't worry if people say riding rip sticks is difficult.
Read: How to slow down a ripstik?
Review of the 08 Best Caster Boards Ripstik for Beginners

Razor ripstiks are the most prevalent in the market. However, even Razor has tons of options available, including the cheap ripstik and mini ripstik to cater to different users. The following list includes 08 top ripstik caster boards for beginner to expert riders.
1. Razor Ripstik Caster Board Classic (Silver)
Razor has introduced many high-quality ripstiks in the market, but the Classic 2-wheel model is their original one and is, undoubtedly, the best wave board for the money. With 360-degree inclined wheels, sturdy decks, and lightweight design, this ripstik is ready to deliver you perfect riding moments.
It equips with 76mm wheels with polyurethane construction and sealed bearings. So, you will enjoy enhanced smoothness. Plus, the deck is made slip-resistant, which adds to its overall convenience and safety features.
The deck is made of high-tech polymer. It is lighter than most skateboards. So, you can move it better. But, it is durable enough to withstand the daily abuses for a few seasons with ease. The deck can take up to 220lbs weight. So, carrying an adult is a walk in the park for this ripstik.
The overall riding experience on this brilliant ripstik will add fun and thrill to your life. Also, at reasonable pricing, the commuter fits everyone's budget.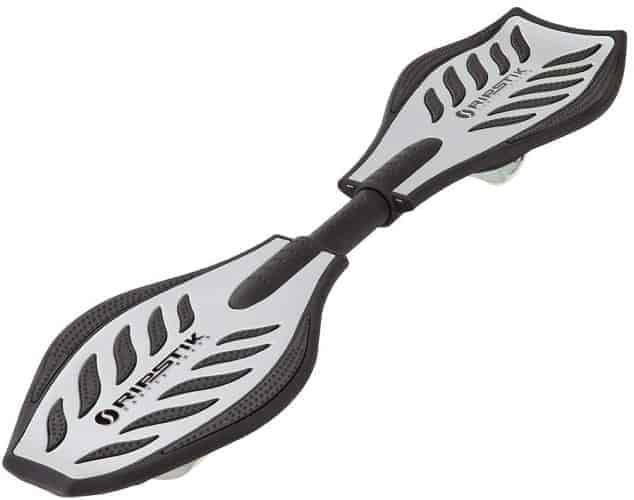 Pros
Slip-resistant deck for safety.
Lightweight design boosts portability.
Torsion bars have rubber pads.
Target Users:
The recommended age for this classic ripstik is 8 years and above. Adults can also use it as it holds up to 220lbs weight.
2. Razor RipStik DLX Caster Board
The DLX caster board features standard 76mm wheels, 5-ABEC bearings, and a concave deck for easy, safe, and comfortable riding. The torsion bar is made of aluminum and ha rubber pads for maximum balance and durability.
You can use it to show a few tricks as well. So, many youngsters will like it. You can even ride downhill with it, thanks to the inclined wheel design and high-performing ball bearings. You will find its urethane wheels pretty durable too.
Last but not least, its nose and kicktail design offers one of the smoothest riding experiences and makes it the best ripstik for beginners. Also, you can shift from a conventional skateboard and use it for commuting thanks to its easy controls and safety measures.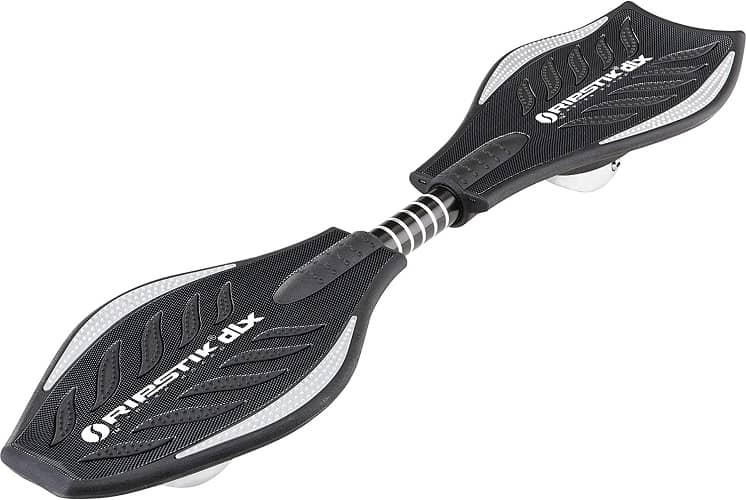 Pros
Easy controls for all riders.
Faster downhill riding ability.
Suitable for showing tricks.
Cons
Slightly on a pricier side.
Target Users:
If you want a sturdy, durable, and dependable ripstik for showing tricks and fast downhill riding, the DLX caster board will be a perfect fit. Also, it is easy to maintain.
3. Razor RipStik Ripster Caster Board
The Ripster is an updated version of the popular Classic 2-wheel Razor Ripstik. So, you can expect it to offer better riding smoothness and comfort, and it delivers the same, maybe more. To begin with, Ripster has a compact and sleeker design than the Classic model.
Also, it offers more tricks, and so, youngsters will love it. Since it is an updated version, you will get the best features of Classic, such as urethane wheels, inclined cater trucks along the pivoting deck, but all in a better and improved way.
Therefore, you can depend on it for durability and comfy rides. Nonetheless, with a 27.5-inches size compared to the Classic's 34-inches deck, it is compact and offers better control. So, both adults and kids can use it without issues.
Also, compactness has helped it reduce weight by 2X times, and so suits quick portability. The only setback is the 66mm wheels that won't support off-trialing riding.
Read: Razor Ripstik Vs Ripster
Pros
Improved features for comfort.
Rubber pads enhance safety.
Lightweight and easy to transport.
Cons
Less speedy than most ripstiks.
Target Users:
The Ripster is suitable for those who already like the Classic version but want a compact caster board for showing a few tricks. Also, it is a go-to choice for beginners and experienced riders alike.
4. Razor RipStik Ripsurf
If you want the best ripstik in the world that will give your outstanding surfing experience without tanning in a seabeach, get the Ripsruf now and thank us later. Its unique design means you will get a quality ripstik with the best surfing moments to love, even on city streets.
The Ripster features an hourglass shape. So, its tail and nose move independently. Plus, instead of a beam, it has a long one-piece design. It combines with the improved upturn nose design for maximum control at the minimum effort.
It comes fully assembled and is ready to hit the road right out of the box. So, it saves valuable time in assembly. Riders also said that it is faster than the standard ripstiks and offers smoothness in most trails which suit beginners greatly.
We also loved its attractive design that combines a white deck with a rainbow finish at the tail for a surfing vibe.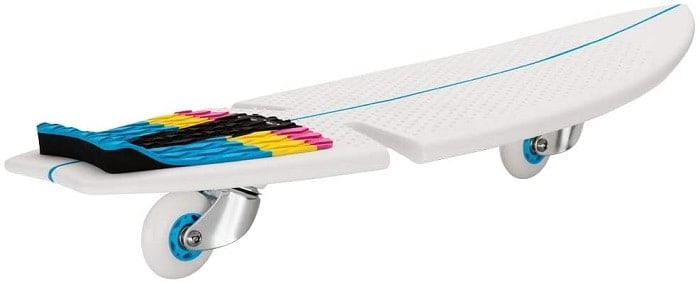 Pros
Ready for use without assembly.
The package includes stickers and extra wheels.
The curved design mimics real-life surfing.
Cons
Not for skateboard parks.
Target Users:
The Ripsurf is for those who want a bit of surfing experience without going to the beaches. Plus, it is a value-added ripstik with stickers and wheels for people with a tight budget.
5. Street Surfing 2-wheeled Wave Board
This ripstik without middle features a classic version had is usable on any skateboard rings. It is useful for kids to improve their agility, synchronization and boost skating skills for serious sports. The ripstik is lightweight and sturdy enough too.
Also, this is the best waveboard that comes with a wooden deck. So, you will enjoy a premium performance from the maple wood deck. It is slip-resistant. So, you won't have to worry about injuries as much as other skateboards.
This ripstik with big wheels has an 88PU wheel and 7-ABEC ball bearings. So, it offers the smoothest riding experience. The bearings have a 360-degree turning facility for safety and convenience. ON top of it, its torsion bar has cast iron housing and ensures maximum durability, which is worth the investment.
Pros
Suitable for the toughest outdoor games.
A wooden deck adds a premium look.
Larger wheels support better stability.
Cons
The wheels are loosely fitted.
Target Users:
The Street King ripstik is for both extreme outdoor sports and casual riding. With a 220lbs weight limit, this is ideal for both kids and adults.
6. Razor RipStik "G" Caster Board
Ripstik G comes with everything a performer wants for his outdoor sports, from look to stability and from control to convenience. It includes a concave deck and nose, and kicktail. It combines the torsion bar with rubber padding to make every rider a king in the skateboard ring.
Its sturdy polymer deck design allows you to use it as a snowboard. So, during winter you can still ride it and enjoy the snowfalls. The 360-degree caster trucks combine with the pivoting deck to support snowboarding.
The deck is durable and withstands 220lbs weight at ease. So, even a heavy person can ride it with the utmost comfort. Plus, the center has aircraft-grade aluminum. It ensures maximum grinding facility with the least effort.
Last but the least, its removable decks will help you transform the caster board just as in the way you want, making it one of the best ripstiks to buy.
Pros
It has a removable yet sturdy deck.
It supports extreme grinding.
Slip-resistant and rubber pads for safety.
Cons
The wheels have issues with durability.
Target Users:
For those who want a ripstik for faster riders, uphill and bumpy regions, the G caster board will serve them with outstanding brilliance.
7. Razor RipStik Air Pro (GS) Caster Boards
Another ripstik with no middle that has always been on our favorite list is the Ripstik Air Pro. It is an updated version of the Ripstik Air and is regarded to have the best ripstik wheels. It offers a snowboard feel even in dry streets and skateboard rings, which is an added value.
It has a one-piece design, and Razor has used reinforced polymer for its construction. Its industrial-grade plastic design ensures durability and stability. The deck can take 220lbs weight at ease. So, kids and adults can ride the wave board without any problem.
Also, the wheels support 360-degree casters and include 5-ABEC ball bearings. So, riders will enjoy top-most durability and smoothness with this ripstik.
Finally, with spring-loaded wheels, you can show a few tricks with the ripstik. The wheels will come in the center spontaneously, and it is ideal for those who love ripstik tricks on wave boards.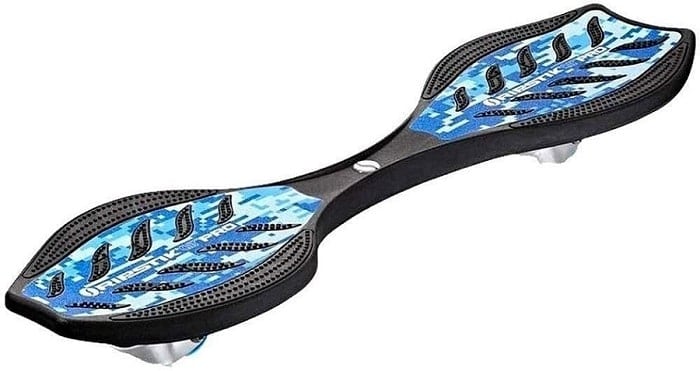 Pros
Spring-loaded wheels for flexibility.
Best for tricks performer in rings.
Reinforced polymer deck is anti-slip.
Cons
The wheel needs a quick replacement.
Target Users:
The Razor Air Pro is a suitable ripstik for both casual and trick riders. Its flexible wheels and durable deck promise to bring one of a kind skateboarding experience for riders.
8. Magnitt Deluxe Junior Caster Board
This is a relatively cheap ripstik but packs a punch with a feature-stacked design. The design is stylish and serves all, including adults, kids, and professional riders.
The deck has ABS and PC combinations. It has anti-collision and pressure features. So, you won't have to worry about its stability. Plus, the PU wheels have elasticity, hardness, and wear resistance. It means the caster board is ready for extreme abuses and will still offer long-lasting performance.
Next in the line is its LED. It will light up when you slide on the caster board, adding excellent value to your tricks. Plus, the reinforced torsion bar adds stability. It allows you to use the ripstik for versatile use, including outdoor sports.
Thanks to such a fashionable look, sturdy deck, and multipurpose use, the Magnitt is one of the best wave boards on our list, and that too at a comparatively low price.
Pros
Bright and fashionable appearance.
LED lights on the wheels for tricky slides.
Spring torsion bar promises brilliant performance.
Cons
The delivery is late.
Initially feels too steep.
Target Users:
The fashionable Magnitt ripstik will be a good choice for professionals and young people. It is capable of showing a few tricks and ensures a nice riding experience.
Buying Guide for the Best Ripstiks to Buy
We have described 08 top-quality ripstiks for every rider with various skill levels. But you can't buy them all and test which suits you. That's why we have also prepared a review buyer guide to help you quickly finalize which ripstik is your go-to choice.
Deck design and construction
The key benefits of ripstik is its ability to move 360-degree without taking much space. However, it won't be possible without a pivoting deck. Although beginners might find it hard to control, once you learn the technique, a pivoting deck will open limitless flexibilities for you.
Plus, the deck must be durable and slip-resistant. Or, it runs the risk of damage and injuries to the rider.
Wheel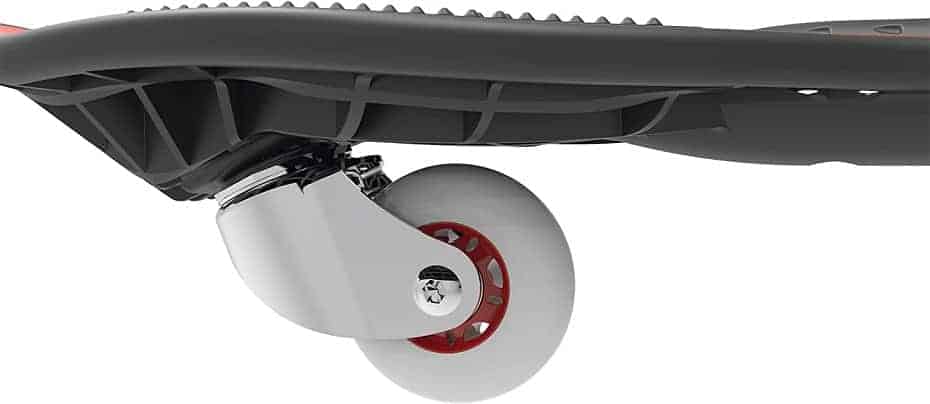 The wheel will largely determine your riding comfort and how many tricks you can perform with the ripstik. So, look at the wheel diameter carefully.
Larger wheels bring stability, and so will suit kids and beginners better. If you have skateboarding skills, you can choose a smaller wheel to perform tricks. Also, look at the number of ball bearings the wheel includes. More ball bearings mean better flexibility and smoothness.
Also, these wheels are made with either urethane or PU material. For off-trails, the urethane will be a better selection.
Ripstik weight and load capacity
The weight of the board is crucial. Although heavier ripstiks are harder and stiffer, beginners will find it easy to control and stable. Advanced riders may choose lighter boards for showing tricks.
Next, you have to check the load capacity of the ripstik. Mostly, the deck accommodates up to 220lbs weight capacity. It is perfect for most adults and kids unless you are an incredibly heavyweight person. However, a few boards have a 150lbs load capacity which isn't suitable for most adults. So, keep an eye on the weight limit.
Torsion bar
While most people look closely at the deck construction and wheel design to find which ripstik is the best, most ignore the torsion bar. It connects the two separate decks and determines the performance of your ripstik largely.
The bar may come with rubber pads or open. The rubber pads help protect the bar from dust and abrasion and so, it needs less maintenance. Finally, look at the consistency of the torsion bar. If it is inconsistent, you will find it hard to move forward and twist the ripstik. It may limit your riding smoothness and performance.
How much is a Ripstik worth?
In general, ripstiks are affordable and budget-friendly. The average cost of a standard ripstik may vary from $60 to $90. However, some cheap or mini ripstik are gettable at $40 even. So, you need not spend too much on the ripstik, and so, they are highly worthy of any investment.
However, you may need to spend around $120 for some high-end models of Razor ripstiks. But these models are mainly for professionals.
How long does it take to learn to ride a RipStik?
Learning Ripstik is fairly easy. At least, it is easier than most people consider. You can learn ripstik basics within 24 hours of practice. So, you should learn to ride a ripstik within a week or so, given that you invest 2 to 3 hours for practice.
How to Ride a Ripstik?
For beginners and kids, the first few practice sessions are going to be difficult. The rider may fall a few times from the ripstik during their practice sessions. So, riding on a smooth surface will help. Also, wear helmets along with knee and elbow guards to protect your body.
And for riding, place your non-dominant foot first and put your dominant foot on the deck. It helps in better controls. Also, make sure the nose of the ripstik is facing forward. As you place the dominant foot at the rear deck, use it to push the ripstik forward.
Tricks on a Ripstik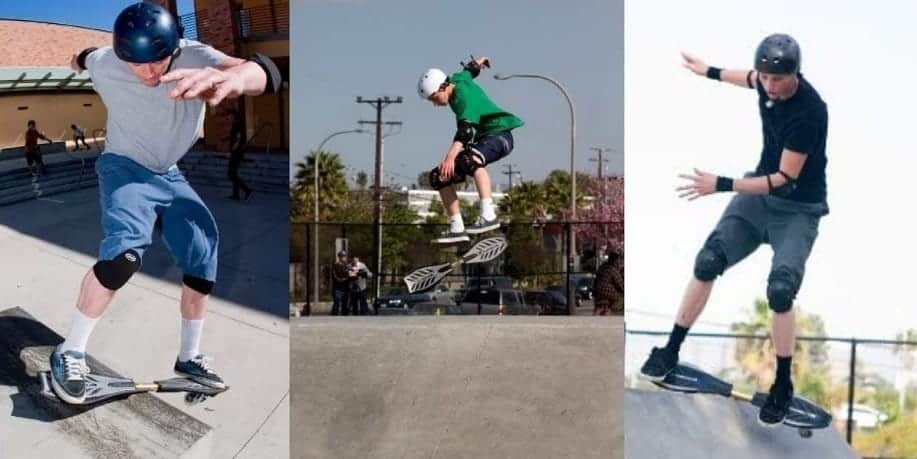 You can use ripstik for a few tricks. But for this, you need to be confident in your riding skill. The flip start is the most common ripstik trick, and beginners can learn it pretty quickly.
Apart from flip start, other common ripstik tricks include-
Flip and turn start
High caveman
Manual ripstik tricks
Hang 10
Nose manual, etc.
When you try tricks on the ripstik, you must wear protective gear that meets ANSI and ASTM quality guidelines for safety.
Maintenance
Although a ripstik looks simple, it needs proper maintenance for durable performance. You need to take care of the deck, torsion bar, and the caster wheels mainly.
Especially, torsion bar maintenance is essential since it connects the two decks. You need to clean dirt and other debris from it if need be. Also, at times its paint may wear out and cause rust accumulation. So, you have to repaint it at such moments.
For the deck, clean them off properly after rides. This way, they will remain dust-free and in good condition for a long time.
Frequently Asked Questions

1. Are ripstiks adjustable?
Yes, you can adjust the ripstik wheels if you need. You have to remove the wheels and readjust them following the user manual. But it is not a recommended process.
2. What size are ripstik wheels?
The standard ripstik will feature 76mm wheels. However, some mini ripstiks will have 66-68mm wheels. The absolute large ripstik includes bigger than 76mm wheels, but it is rare.
3. What size are ripstik mini wheels?
The size of ripstik mini wheels is 66-68mm. For instance, Razor RipStik Ripster has a 66mm wheel size. Smaller wheels are more suitable for tricks.
4. Can you replace ripstik wheels?
Yes, ripstik wheels are replaceable. You need to flip over the deck and use a flathead screwdriver to remove the wheel from the caster and replace it with a new one.
5. Can you ride a ripstik backward?
Yes, you can ride a ripstik reverse or backward. You will get many useful tutorials on YouTube on how to ride ripstik backward. Follow them to learn the trick shortly.
Read: How to stop on a Ripstik?
6. When did ripstik come out?
Although a few forms of caster boards were popular in California, these weren't the official ripstik. Razor 1st brought the ripstik in the market in 2006. And surprisingly, it got immense popularity within a few years.
Conclusion…
Here we end our best ripstik reviews of 08 top-quality ripstiks. They are made for comfortable, safe, and fun rides and showing off a few tricks. You can pick the Classic 2-Wheel Ripstik for the beginner's level. And if you are a fan of surfing, we recommend you getting a Razor RipStik Ripsurf that offers you an incredible surfing experience even on the roads.
Last but not least, RipStik "G" Caster Board can be a great option for those who love snow and ice boarding. Also, other models are suitable for kids, adults, and professionals. So, the choice depends on your budget and requirements mainly.
Amazon and the Amazon logo are trademarks of Amazon.com, Inc, or its affiliates.