As an Amazon Associate, I earn from qualifying purchases. Learn More.
Most kids when they begin to grow up, they become more agile and adventurous. Many of them visit skate parks at this age and try out new tricks like their older pals.
Like in most instances, your child probably began with a kick scooter. And it's not uncommon for him/her to insist on an upgrade at this time around.
No doubt, there is a plethora of pro scooters on the market to choose from. However, there aren't many that are good for both boys and girls, teens and adults, beginners and intermediates.
Fuzion Z250 Pro Scooter is among the few that grabbed our attention. Whether it's a quick drop into the bowl or doing jumps and tail whips it can be a great scooter to perform all the tricks in the book.
Today, we are going to review this very Fuzion z250 pro scooter and see if this is really the case. So, without further delay, let's get started!
A Brief Overview of Fuzion z250 Pro Scooter

Started their journey back in 2004 in Oakland, California Fuzion Scooters has become a famous brand in the US for wheeled scooters. All their products go through a strict development process that reflect their passion for Innovation and Excitement. They test their trick scooters with pros all over the world, and Fuzion z250 is no exception.
Although it's a relatively newer addition to Fuzion's collections, it has achieved enormous popularity since its release. There are hundreds if not thousands of riders who have rated this scooter very highly for its smooth, and more balanced ride.
Being primarily a pro scooter, it helps kid and teenager riders push themselves for new challenges. Given its versatility, beginners can also choose to use it on streets. Thanks to its sleek design and cool graphics, it will surely make them look professional.
Unlike regular scooters, Fuzion z250 comes with high-end aluminum construction. Although it is a purpose-built for kids and teenagers, any adult who weighs up to 220 pounds can ride it without issues.
The scooter is compatible with almost all aftermarket parts and upgrades. So, when your child needs to take his/her skills to the next level it can fulfill all the demands. Apart from this, Fuzion z250 needs minimum assembly. It takes 2 minutes to tighten only two bolts from your ends.
Technical Specifications at a Glance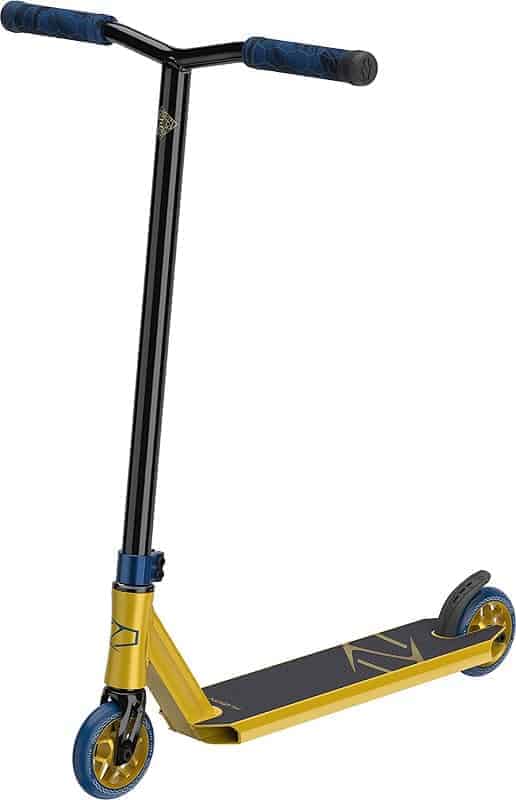 Scooter Type: Trick/stunt
Weight Capacity: 220 lbs.
Product Weight: 8.2 lbs.
Age Range: 7 years and above
Deck Material: Aluminum
Handlebar Type: Dip Bar
Bar Material: Chromoly Steel
Handlebar Size: 23" W x 21" H
Deck Size: 4.5" W x 19.9" L
Wheel Material: High Rebound PU
Wheel Size: 110 mm Diameter
Wheel Hardness: 88a (durometer)
Wheel Core Material: Aluminum
Wheel Bearings: High Precision (ABEC – 9)
Brake Type: TRIAD™ Nylon/Steel Brake
Compression System: HIC (Hidden Internal Compression)
PROS
Extended weight limit for heavy riders.
Wider wheels ensure better stability.
High-quality brake delivers quiet ride.
Fits all existing parts and future upgrades.
Highest rated bearing for smooth rolling.
Wheels core is aluminum instead of plastic.
Relatively lightweight, easier to carry around.
Steel frame can withstand countless fails.
CONS
Its stem is little short for tall riders.
You can't fold it into smaller size.
Fuzion Z250 Pro Scooter Review | Now Let's Breakdown Every Aspects Below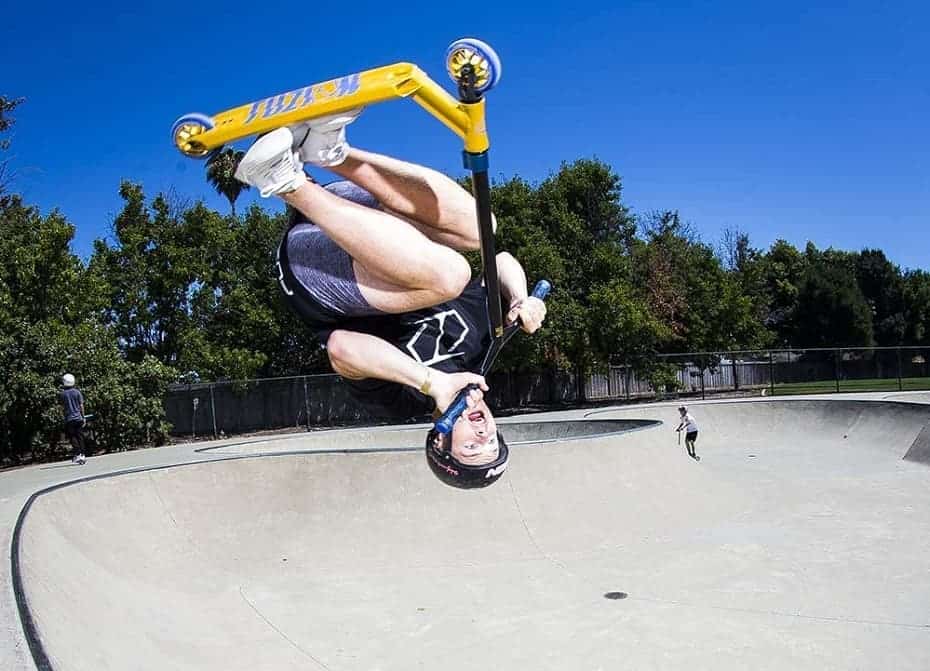 Steel Handlebar
Right off the bat, the very first thing that you would notice in Fuzion Z250 Pro Scooter is the handlebar which is nice and wide. It makes lifting the scooter easier for older kids to perform jumps. The bar is made of high tensile strength steel, rarely seen on other scooters with the same price tag.
Hex Grips
Talking about the handlebar, one thing that makes Fuzion z250 stand out is, it has grips with hex pattern wrapping on top of its riser bar. They are 155mm oversize grips and thicker (more padded) allowing your child to become more aggressive without worrying about slipping or discomfort.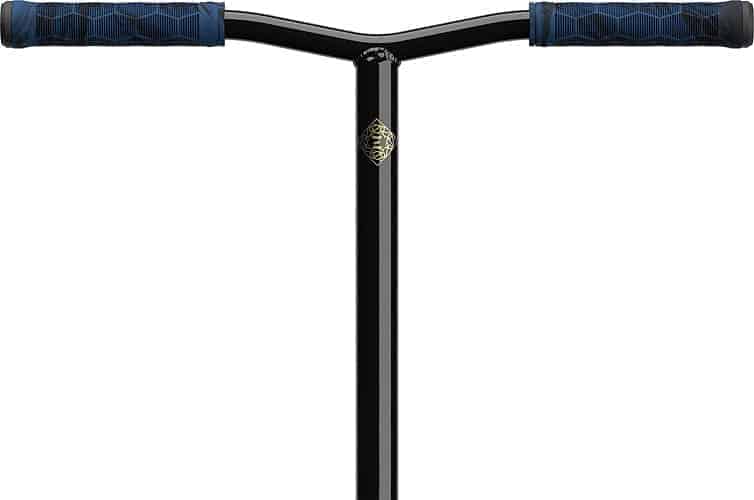 Deck Design
Another feature that we must admire in Fuzion z250 is the deck itself. It is 4.5 inch wide and 19.5 inch long and incorporates a dog bone design. The design is highly appreciated by pros since it helps distribute riders' weight evenly across the scooter on landing for a clean, smooth ride. The top and bottom concave maintains a three degree design which is great when you want to execute grinds or try out spins with the scooter.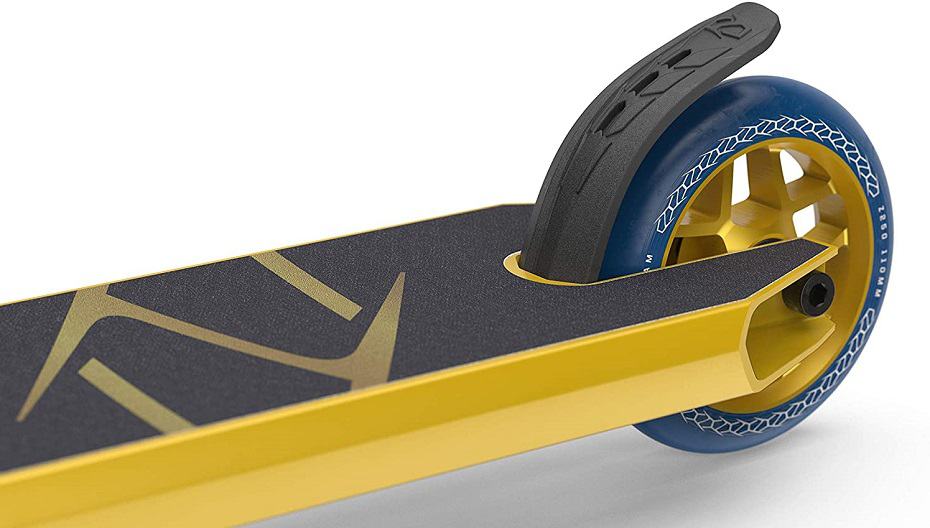 Deck Capacity
The deck is made out of tougher T-6061 aluminum which is tested by several Pro teams to prove that it withstands the stress of demanding tricks and jumps. The highest weight limit of the deck stands at 220 pounds which comfortably fits any older or fat kids.
Precision Wheels
One of the best selling points of Fuzion z250 pro scooter is that its wheels are made of high rebound polyurethane. They are 110mm in diameter, a nice upgrade from the previous X5 model. Bigger wheels will allow for more yet controlled speed.
The bearings on the wheels are rated at ABEC-9 (highest) for precision, ensuring maximum rolling comfort. At the core of both wheels they have aluminum. This brings peace of mind knowing that these will last a very long time.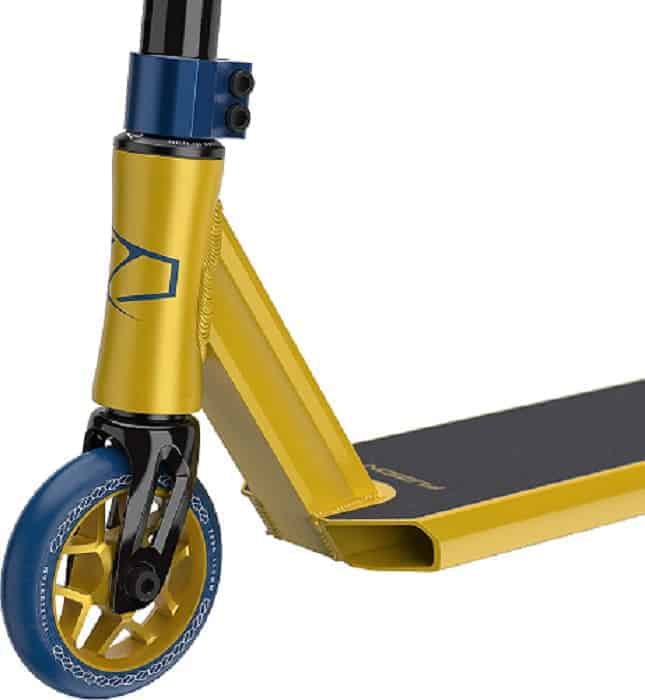 Brake System
We can't ignore the Nylon/Steel Brake of Fuzion Z250 which is noise free and easier to adjust. Thanks to the engineers at Fuzion Scooters, the brake is optimized for more stopping power from its previous models. So if your kid is a little timid, this will give him/her confidence to try out new tricks at the local skate park.
HIC Compression
We are going to finish this Fuzion Z250 Pro Scooter review talking a little bit on the compression system used around its fork. HIC (Hidden Internal Compression) is used in this pro scooter which has been around for longer than the other two compression systems (SCS, IHC) available.
HIC compressions are super strong, yet relatively lighter and easier to ride with. They are combined with fully sealed headset bearings, require minimal maintenance and almost never come loose.
So What is the Takeaway: Is Fuzion Z250 a Great Pro Scooter?
As we were going through various online forums, we saw many pros speaking highly of the Fuzion Z250 trick scooter. In Amazon the product has a whopping 4.7 rating (out of 5) from 1,085 users which also goes to show the credibility of this product.
On the flip side, there is a small group of tall riders who found the stem a bit shorter. This forces them to hunch their back for a comfortable grip when cruising. If you are above 5.6 feet you might want to take this into consideration.
Otherwise, Fuzion Z250 has some exclusive features that are usually only found on more expensive pro scooters. Overall, if your kid is ready to nail the half pipe at skate parts or just aiming for a smooth transition, there can't be any better option for him/her than to start with Fuzion Z250 Pro Scooter.
Similar Option

There is a similar trick scooter like this, but better. See the differences below:
| | | |
| --- | --- | --- |
| | | Fuzion Z250SE Pro Scooter |
| | | |
| | | |
| | | |
| | | |
| | | |
| | | |
| | | |
| | | |
| | 110 mm PU Wheel w/5-Spoke Aluminum Core | 100 mm PU Wheel w/Aluminum Core |
| | | |
| | | |
| | | |
Amazon and the Amazon logo are trademarks of Amazon.com, Inc, or its affiliates.