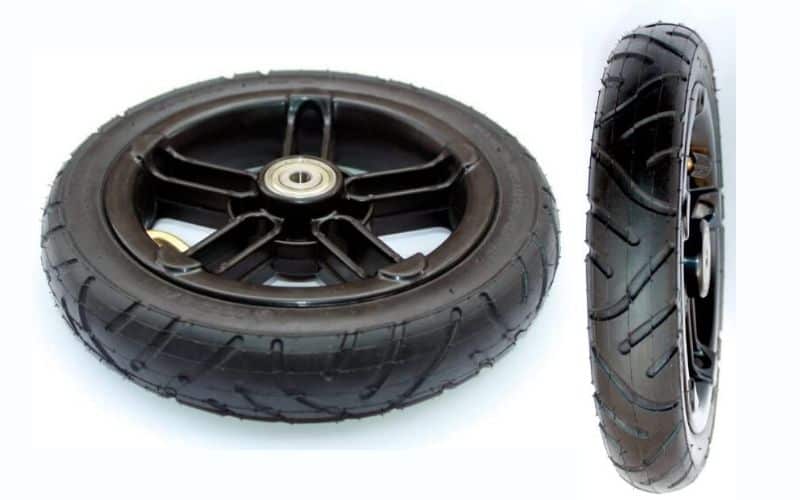 Kick scooters nowadays have become a very common and popular man-powered vehicle all around the world and also among all ages of people. It does not require much maintenance activities. It's more like a grab & goes vehicle. Moreover, one can do many types of tricks with it. That is why It's very much handy for different aspects.
However, many users find it difficult to pump or put air on scooter wheels. Though not every scooter tire requires air pumping. But, those, which require pumping have to go through a certain process, which is a bit tricky, but not very much difficult.
So, to clear out all the confusion, here we are to emphasize upon how to put air in a scooter tire.
Which type of Scooter Tires Need Air?
Kick scooters can be divided mainly into two types according to wheel type. Solid wheels and wheels with inflatable tires. The solid wheeled ones are very swift and can gain acceleration very quickly. These do not require air pumping. Thus It's more popular for doing tricks for beginners.
On the contrary, scooters with inflatable tires are much more comfortable to ride on. These tires are bigger in diameter and require air pumping. Also, these tires have bearings in them, which reduces the shaking and vibration while riding.
These are more popular for regular riding.
Now, as we have known about the tire types, let's focus on how to get air on a scooter.
How To Put Air In A Scooter Tire?
Putting air on a scooter tire can be a bit challenging in the initial stage. But if you follow this step by step instructions, we believe, you will get all your answers regarding how to air on a scooter.
But to do that you will be needing a couple of tools like a pumper – might be an electric or a manual one, air pressure gauge with PSI index, an align key/a nozzle extender.
After that what you need to do is :
Lay down your scooter on its right side, unfolding the right handlebar.
Then you have to loosen the wheel from the main structure and find the nozzle.
Connecting the nozzle with the pumper is the challenging part here. Because, the nozzle is very small in size, and structure-wise it is pushed inwards of the wheel rim.
But once you have found the nozzle, the next steps should be like these:
If you are going to use the align key, then you have to put it through a hole that is situated right under the nozzle. When the align key is pushed through the opposite side. It will push the nozzle outwards.
Then remove the nozzle cap, set the pumper on that, connecting with the air pressure gauge and pump it according to it's a requirement.
After that, put on the nozzle cap back in place, remove the align key, tighten the wheels and you are good to go.
Again, if you are going to use the nozzle extender, first you have to remove the nozzle cap. Then you need to connect the extender with the main nozzle. The extender is like 4-4.5 inches long.
Then connect the pumper with the nozzle.
Pump the tires as per requirement.
While pumping the tires, you must keep a few things in mind and those are:
Connect the pumper and nozzle tightly.
Maintain the proper or required air pressure according to the PSI scale.
The standard air pressure is estimated to 60-65 units of the PSI scale. But it may vary for tire types. To ensure the perfect air pressure range, go through the instruction manual of the scooter.
Never over pump the tires, it might lead to several catastrophes or unwanted accidents.
By following the mentioned steps, you will be able to get the best push kick scooter experience.
If you have more questions, go here or let's watch a video…
Conclusion…
There is no need of saying that kick/trick scooters are undoubtedly a very handy and easy functioning vehicle. You can always find various types of trick scooters at shop. So, before buying one, you should consider your requirements, preferences, and also maintenance measures.
There are different types of scooters, which specialize in different sectors. The choice is always yours.
If comfort and regular usage is your main and major priority, then scooters having inflatable tires should be your first priority.
And if you find any trouble regarding putting air in your scooter tire, this whole discussion will be very much useful to you.
Our main focus here was on how to put air in a scooter tire. We believe that, if you follow the above-mentioned steps accordingly, putting air on your scooter tire won't be a big deal for you.
And most importantly, it will ensure your best ever scooter riding experience.
Read More