As an Amazon Associate, I earn from qualifying purchases. Learn More.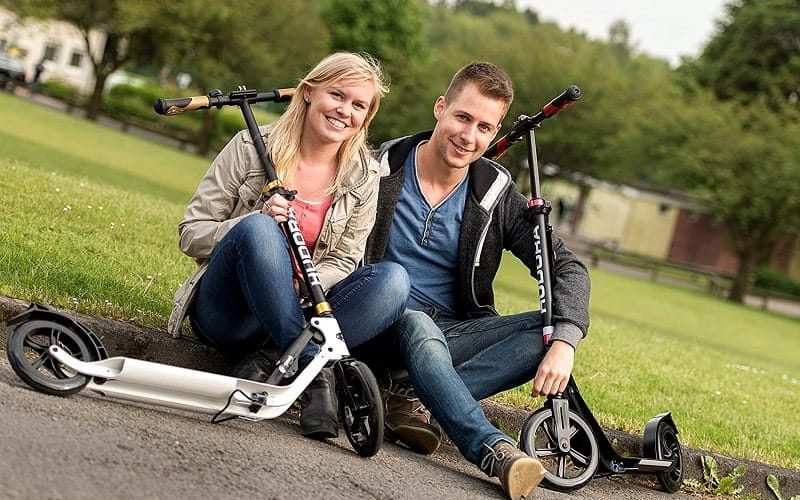 Kick scooter had hardly fallen out of the trend among children and teenagers ever since its first production, which dates back over a century. And nowadays, it's not just a typical children's toy anymore.
Whether you believe it or not, the desire for fun gliding while roaming around from place to place lies beneath every heart. And that's why adults of different age groups these days, have embraced the amusements in kick scooters as well as the convenience they bring along.
However, the problem arises when choosing the right adult kick scooter as the market is flooded mostly with the ones that target kids and teens.
So, in this Hudora Big Wheel 230 review, we'll take a closer look at one of the best adult kick scooters to appear in the market and figure out how well it meets your scooting demands.
An Overview of the Specs of Hudora Big Wheel Style 230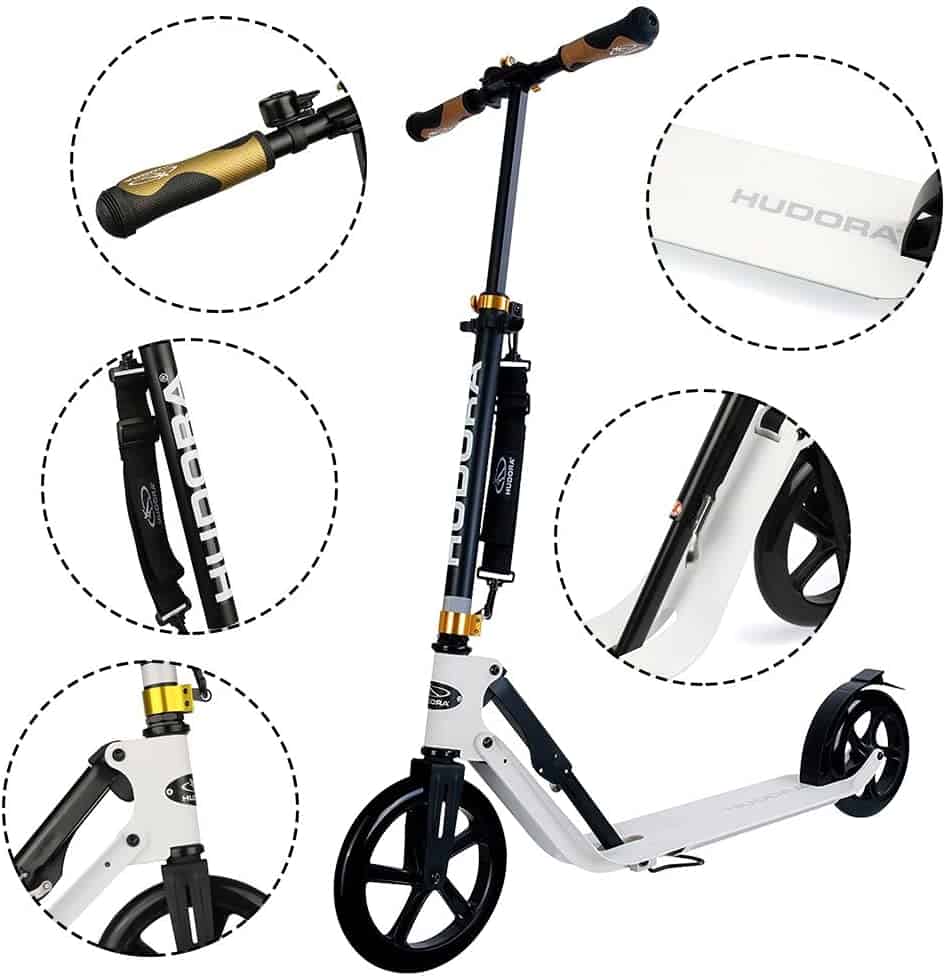 Big PU case wheels (230mm on front, 205mm on rear)
Collapsible handlebars (adjustable from 32.7-inch to 41.9-inch)
45cm by 14cm deck
Weighs 11.45 lbs
264.5 lbs weight capacity
ABEC 5 chrome bearings
44cm wide handle
Reflectors on both the deck and the handlebar
Patented German folding design
Adjustable strap for carrying on the shoulder
Mechanical ringing bell
Hudora Big Wheel 230 Review: The Key Aspects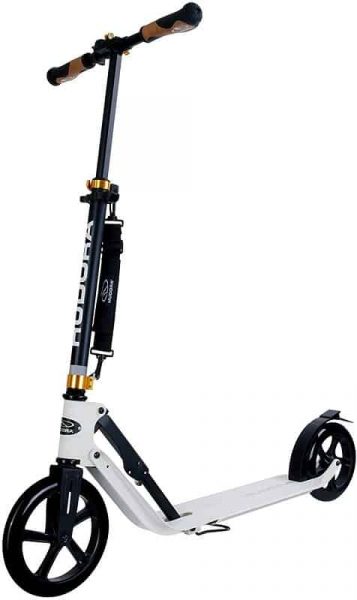 Hudora is one of the most famous names in the world of scooting. The well-renowned German brand has been selling high-quality scooters worldwide for decades. This particular small urban scooter is yet another addition among their top-grades that comes with a suspension system, unlike most of the rival brands.
Let's now look at key aspects of the big wheel 230 kick scooter more closely and determine what good they have to bring along.
The Big PU Case Wheels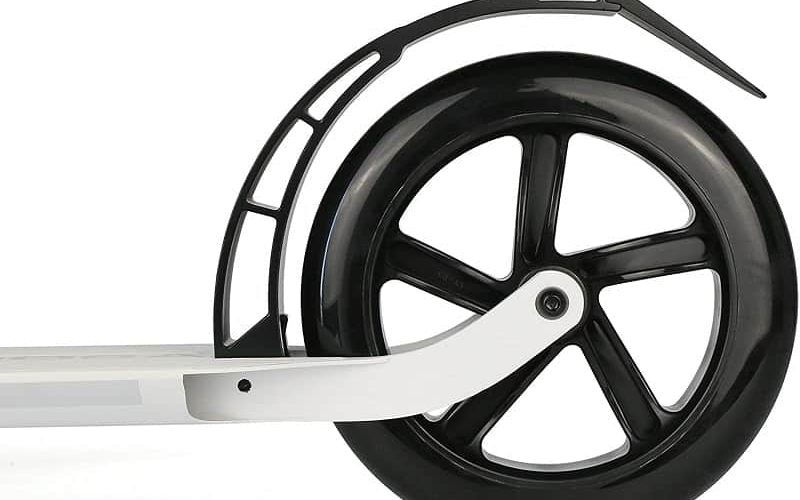 The Hudora kick scooter comes with a 230 mm wide wheel on its front and 205 mm wide rear wheels as well as a front suspension system.
So what could be a big deal with larger wheel sizes? You might have come across plenty of adult scooters with large tires, and they sure have some good reasons behind that. It's like adult scooters should come with bigger wheels, and whenever you spot one with smaller wheels, you must keep away from it. They are essential for an all-round convenience while riding.
Larger wheels are great in making your rides smoother, and this particular pair of wheels add to that smoothness with its high-quality anti-abrasive PU rubber build. While the teensy tires tend to ruffle your balance even on the smallest of bumps or cracks on the sidewalks, these large tires are rather more shock-resistant that allows you to breeze through such circumstances with much comfortable handling.
The PU cast wheels not only stabilizes your steering, but they also hold up a ton more weight compared to regular tires. To be more specific, they can withstand up to 264.5 lbs, which competently covers almost the entirety of the world's adult population.
The Patented German Folding Structure
The solid aluminum alloy build of this adult kick scooter comes incorporated with its patented German fold design that you can easily fold within seconds. It requires you only to fold down the handlebar to its deck.
You'll surely be charmed with the lightness of this scooter when carrying it around on your hand. And despite the lightweight, it's nowhere near compromising the sturdiness. Besides, you can take your under ten youngsters on its deck without worries when riding in doubles.
Moreover, the makers have astutely paired the front wheel with a bit smaller one in its rear to keep the foothold slanted throughout the rides. This tilt makes your rides all the more convenient with natural balancing while it also decreases the shocks, increasing the suspension. As a whole, it allows you to boss around the roughest of surfaces, fearless of sudden plummets.
Corrosion-Resistant Alloy Brakes

Unlike most of the scooter these days that comes mostly with steel brakes, the Hudora 230 has brakes made of solid aluminum alloy. The material makes it much sturdier than lots of its rival scooters. It enables you to ride with absolute control while providing added safety.
Many companies opt for utilizing cheaper materials that render a lot cheaper range of products. This may sound not that big a deal until those scooters with poor-quality materials start rotting and rusting from rain or similar other weather-based phenomena. The repercussions will mostly be troublesome enough to vex you with jammed brakes and disturbing sounds.
With Hudora 230 Kick Scooter, you can cut down such worries, as its corrosion-resistant brakes aptly promise to give you peaceful rides in the years to come.
But on top of that, the rear friction brake is incredibly fast-acting, which doesn't come with a handlebar braking system. Plenty of people may frown upon the toe brake, which is pretty much out of the norm. It takes a simple pressing down of your toe on its rear tire brake to bring the scooter to an instant halt.
And you can forget the worries regarding heated up wheels as well. The friction-extruding aluminum brakes will keep your foot protected from the ensuing heat.
ABEC 5 Chrome Bearings
Along with the reinforced aluminum deck and wings, the scooter also comes with high-grade chrome bearings that are rated five on the ABEC (Annular Bearing Engineers Committee) scale.
ABEC 5 bearings provide more controlled decelerations, which is a must for friction brakes. The high-precision chrome bearings also outperform the standard ABEC 7 bearings. Also, the bearings produce anti-shock comfort throughout your rides while giving you top-notch tension control for accurate holdings or stoppings.
Is Hudora Big Wheel 230 Good?
So, if the question arises in your mind about whether the Hudora 230 scooter is good enough for you or not, take a look at the outlines of our thoughts about the scooter down below.
The Greats
The large wheels make the rides incredibly smoother and help avoid the potential disruptions the little cracks or bumps on the road may cause.
The high-grade aluminum build is sturdy and highly durable.
Despite the sturdiness, it's incredibly lightweight and easy to carry.
The flexible shoulder strap allows you to carry it with even more comfort.
Its simplistic, user-friendly design has a fashionable outlook.
The patented German folding design allows quick folds in a flash.
It can withstand up to 264.5 lbs of body weight, whereas other scooters mostly fail to hold up beyond 220 lbs.
The corrosion-resistant friction brakes act real quick, and its protective metal barrier keeps your feet safe from the friction heat.
The Not So Greats
The collapsible handlebar may get wobbly at times and generate rattling sound.
The Bottom Line of Hudora Big Wheel Style 230 Review
The Hudora big wheel style 230 is jampacked with so many unique features and highest quality components to provide you with smoother, more relaxing rides along with the much-needed riders' safety. Whether you use it for your routine transitions to everyday places or your occasional fun roaming around the town, you can expect the scooter to give you a fascinating experience every time.
In this Hudora Big Wheel Style 230 Review, we tried to show all the experience you can expect from this scooter. Now its your turn!
Read More
Amazon and the Amazon logo are trademarks of Amazon.com, Inc, or its affiliates.