As an Amazon Associate, I earn from qualifying purchases. Learn More.

Has your kid been dreaming big about becoming a pro-scooter-riding superstar to astound huge audiences with a host of his tricks?
Or you've merely been seeking ways to have your kid spend more of his childhood out in the fresh air?
Whatever the case might be, the best way for you to approach both concerns might lie within a kick scooter that's built for tricks and stunts. And when it comes to choosing the right model, very few brand names promise as reliable performance and safety as Razor.
In this Razor El Dorado scooter review, we'll look deeply into one of the brand's best-rated stunt scooters to help you determine whether it's the right match for you and your kid.
Specifications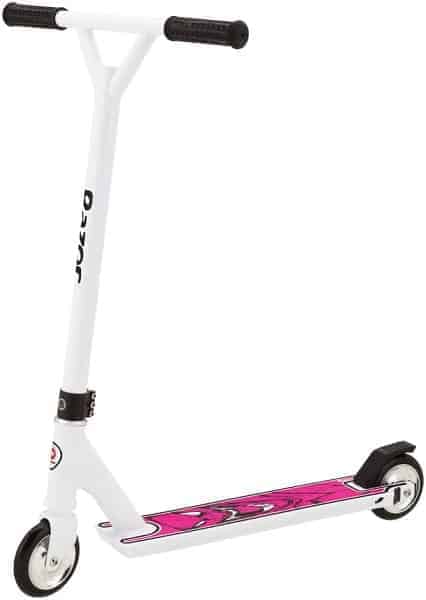 Dimensions: 28.5 x 20.75 x 34.5 inches
Deck Material: Aircraft-grade aluminum extrusion
Bar Material: Aircraft-grade aluminum
Handlebar Type: Y-style reinforcement bar
Handlebars: 4130 CroMoly riser, height 23-inch (584 mm), width 20.5-inch (520 mm)
Grips: Soft rubber grips
Grip Tape: Whole deck
Head Tube Angle: 83 degrees
Fork: CNC Threadless hidden internal compression fork
Deck Size: length 20.5-inch (520 mm), width 4.3-inch (108 mm)
Clamp: 35 mm Triple stacked clamp
Brake: Ridged brake extrusion
Wheels: solid core alloy, urethane 84A, RZR pro 40 bearings
Wheel Size: 110 mm
Weight: 8.65 pounds
Weight Capacity: 220 pounds
Assembly Required: Yes
Suitable Age Group: Eight years and up
Price ($): Around 200
Razor El Dorado Scooter Review
Design and Build
Both the bar and the brake of the Razor Pro El Dorado are made from aircraft-grade aluminum. While this build makes the scooter comfortably lightweight, it also makes it astutely sturdy enough to withstand stunted spins, jumps, and even flips.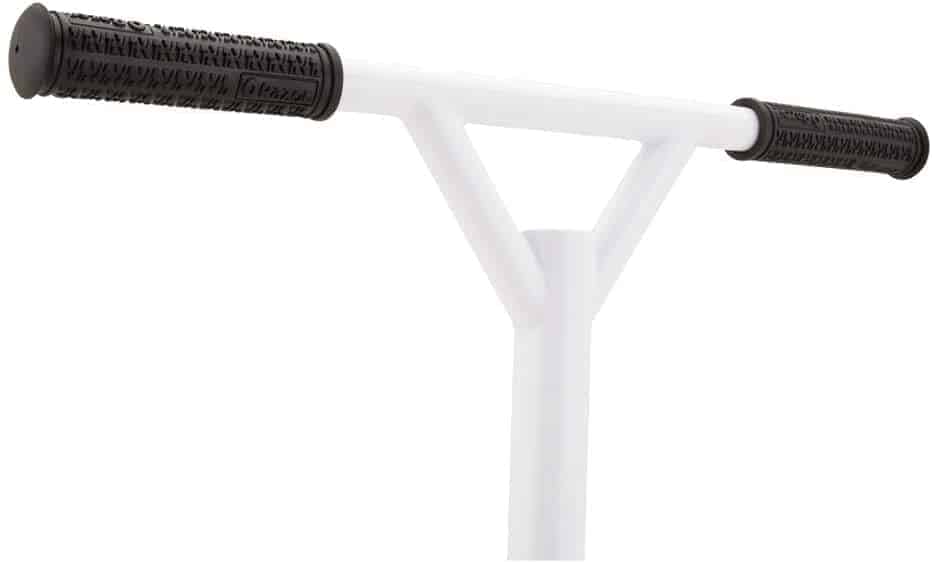 It comes with a Y-style handlebar having a reinforcement bar in its middle, which allows firmer holds with the proper balance alignment.
The handlebar also has soft rubber grips at its ends. The cleverly textured surface provides a superior, convenient, and slip less grip even for the sweatiest hands.
Deck
The El Dorado's 20.5 inches long and 4.3 inches wide deck is spacious enough for kids to rest their foot on comfortably. And it comes entirely covered in resilient grip tape, which aims to eliminate any sudden slippages. So, whether or not your kid loves both-foot rides in between the park stunts, the deck will provide just the support needed for keeping his/her feet stable.
Although it purports to be not-too-thick in breadth, the deck easily carries up to 220 pounds of bodyweight while surprisingly weighing less than nine pounds itself. More so, it barely bends down even with that much weight.
Wheels
This kick scooter's polyurethane wheels have solid alloy cores in their support that provide superior support during rougher rides, be it park stunts or gravel commutes.
However, a few extreme riders may find its 110 mm wheels a disadvantage because of its incorporation with the unique Rzr pro 40 bearings. The bearings are yet to match any other urethane wheels in the market, which means you'll have to buy separate bearings as well as newer wheels when replacing them.
Fork
Razor guarantees you the ultimate resilience and durability in this El Dorado kick scooter with a super-supportive compression system. It comprises a steel fork and a stiff, rigid triple-stacked headtube clamp. You can expect them to handle the roughest of landings, and therefore, superior safety when your kid does the spins and jumps.
Brake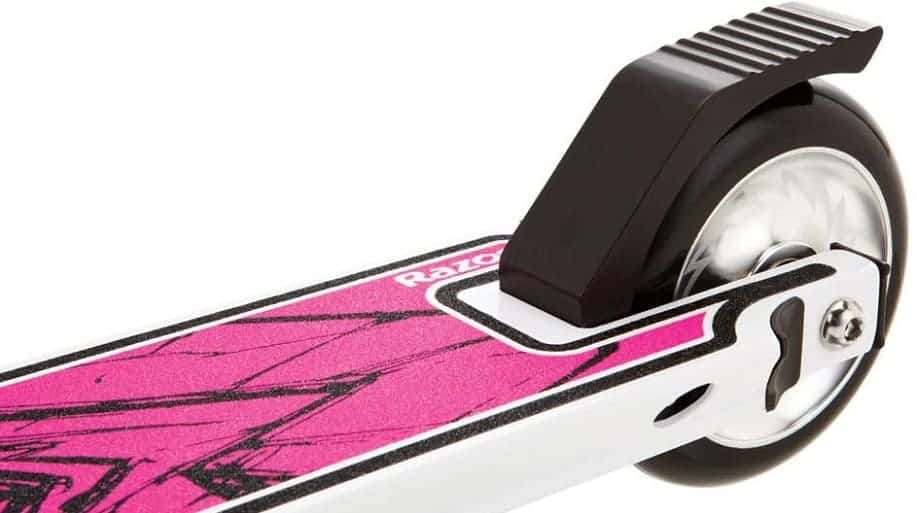 To make your kid's stoppings smooth, convenient, and flawless, Razor has equipped the El Dorado with a stamped steel-made rear fender brake. Its highly-effective and considerably quick-responsive halting system allows the rider effortless halts every time to help become faster and spontaneous with the operation over time.
Your kid will indeed love it during the downhill wind-ups, and you will, too, when relieved about the potential safety concerns.
Suitability
The Razor Pro El Dorado kick scooter's dimensions are a clear indication suggesting it's a model targeted at taller children. The 23-inch tall, 20.5-inch wide handlebars are suitable for youngsters with a height of around four or five inches. However, even if your kid is a tad shorter than this height range, it shouldn't be much of an issue with a little practice.
Final Word
Hopefully, our Razor El Dorado Scooter review has given you a clear insight into one of the brand's most prized stunt scooters for kids.
At around 200 bucks, it's definitely not one of its most affordable models. But again, everything that's good comes for a price. And it's more understandable when you emphasize ensuring your kid's endless fun with top-notch safety.
If you have further questions about this scooter or have your experience to share with us, please let us know using the comment box below.
Read More
Amazon and the Amazon logo are trademarks of Amazon.com, Inc, or its affiliates.