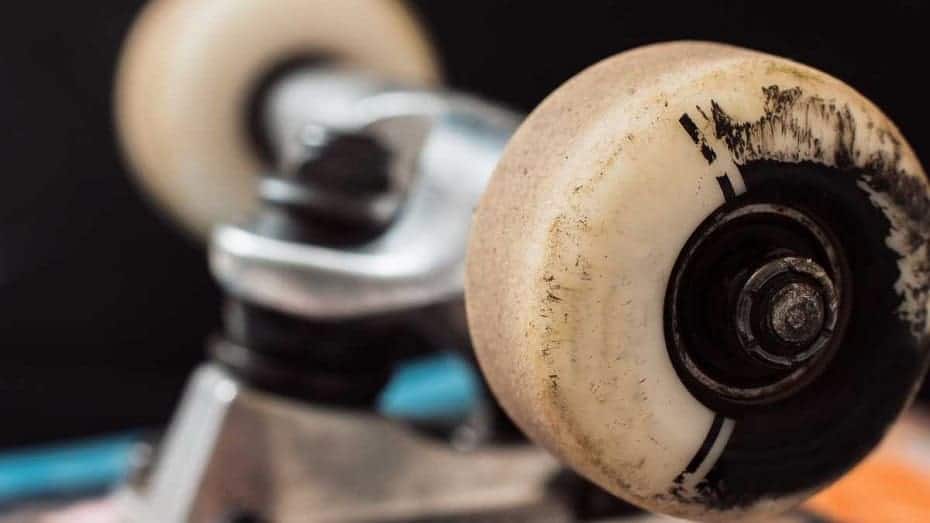 A skateboard making squeaky noise is very normal may it be a new or old one. If your skateboard starts to make noise, at some point you may get annoyed and stop riding it. But guess what there is no need to totally abandon that skateboard because you can easily fix this problem.
Today in this article I am going to share how to make your skateboard quieter. The steps of fixing the problem are very easy so follow this guide to fix your squeaky skateboard trucks and wheels today!
Is It Normal For My Skateboard To Squeak?
Yes, skateboards can squeak and it is very normal. There is no reason to get worried thinking something is breaking or the skateboard is damaged. There could be many reasons behind a skateboard making a squeaky sound.
Mostly it is the bushings or rubber of the truck which makes the sound. It can happen even if you buy top quality skateboards.
So, yes, it is totally normal for a skateboard to squeak.
Why Is My Skateboard So Loud & Squeaky?
There could be numerous reasons behind a skateboard being loud and squeaky however, most of the time it is because of the bushings. If the bushing is damaged and not changed for a long time it will make noise.
Also, the wheels can make sound too if you keep skating without replacing them. Some other reasons could be,
Unmaintained or damaged bearings.
Loose nuts and screws.
A hard and rough surface.
Flat spots.
Pressure on baseplates.
Old pivot cup.
Loose truck.
How To Stop Trucks From Squeaking?
A skateboard truck can make a squeaky sound which is very normal. All you need to do is tighten the truck and put some wax or shavings of bar soap into the pivot cup. These will surely help to eliminate the truck from squeaking.
So, let's see how to do it in detail and stop the skateboard from squeaking,
At first, you have to take off the truck apart from the skateboard. For this, you can use the skateboard tool that is mostly given with skateboards or a normal wrench.
After taking off the nut, bushings and the truck put them aside. Now take a dishwasher or wax that is available in your house. With the help of a cotton bud or with your fingers take some wax/ dishwasher and put it into the pivot cup.
Now take the bushings and lubricate it with some wax as well. Remember do not overuse it, just put it like a thin coat.
Lastly, Take the trucks and put wax/dishwasher into the hole of the truck. Now, assemble everything and attach everything to the skateboard using a wrench.
In this way, the bushings will no longer be dry and you can fix the squeaky trucks.
How To Fix Squeaky Skateboard Wheels?
If the bearings of wheels get dried up or damaged then it starts to make noise. So, the wheels actually do not make the sound, it's the bearings of the wheels.
Let's see how to fix it to stop skateboard wheels making noise,
Take some oil or wax to lubricate the bearings. Each wheel of a skateboard has one bearing. Remove the nuts using an axle or skateboard tool whichever you have at your home.
After removing the nuts the wheels will come off. Inside the wheels, you will see the bearings. Put the wheels at a downward angle and the bearings will come off.
Now, Before lubricating, clean the wheels and bearings with a brush to remove the dirt. After cleaning now lubricate the bearings but don't over lubricate.
Now put the bearings back and attach the wheels with the skateboard. In this way, you can fix squeaky skateboard wheels.
How To Stop Squeaky Bushings & Bearings?
Bushings and bearings make a squeaky sound when they get worn out or dry. In this case, to stop squeaky bushings and bearings you have to lubricate them with oil or wax.
Mostly this how the noise problem gets fixed after properly lubricating the bushings and bearings. If lubricating does not work then try replacing them with new ones.
FAQs
Why Are My Trucks Squeaking?
Trucks squeak when the bushings or nuts of the trucks get dry or gets damaged. Also, if you are using the skateboard for a long time without replacing the nuts and bearings the trucks make get squeaky.
Why Are My Skateboard Wheels Squeaking?
It could be because of the dry bearings. A skateboard has two wheels and each wheel has one bearing inside it. When the bearings get dry it starts to make noise. This is when the wheels become squeaky.
What Does It Mean When Your Skateboard Squeaks?
If your skateboard squeaks, that means any nut is loose or the bushings/ bearings got worn out or dry. This is when you have to lubricate and make some replacements of the nuts, bearings or bushings to solves the noise problem.
Why Are My Bushings So Squeaky?
Bushings can get squeaky if they're worn out, dry or if you are using the skateboard for a long time without replacing the bushings. Mostly, worn out bushings that cause more movement make the squeaky noise, in your case this also may also be the reason behind squeaky bushings.
Conclusion
Now that we are at the end of this article, I hope now you have the answer to ' why is my skateboard so squeaky'. Moreover, you also came to know that you can easily fix this problem with some simple steps.
So, before running to any mechanic or buying a new skateboard I will highly recommend to follow my mentioned steps. I can assure you can fix the problem on your own and if it still doesn't work replace the bearings and bushings. But remember, try to fix at home before rushing to the mechanic or abandoning your squeaky skateboard totally.
Read More