As an Amazon Associate, I earn from qualifying purchases. Learn More.
Rolling on fitness inline skates is both an enjoyable and effective way to work out and relax. They're more breathable, comfortable, and snug on your feet than the others, making them far easier to ride trouble-free. That's why people of all ages prefer fitness inline skates to get themselves rolling for the first time, including kids and the elderly.
And keeping that in mind, Rollerblade has brought two impressive lines of fitness skates, namely Zetrablade and Macroblade, to offer beginners and intermediate riders the experience they crave. While the first is fantastic for weight adjustment and control, the other is great for increasing speed while staying in shape.
Here's our quick, comprehensive rundown of Zetrablade vs Macroblade, which will hopefully clarify their difference further and make it easier to decide which one suits you best.
Overview of Specifications
| | | |
| --- | --- | --- |
| Properties | Zetrablade | Macroblade 80 |
| Type | Fitness/Recreation inline skates | Fitness/Recreation inline skates |
| Targeted users | Beginners/Intermediates | Beginners/Intermediates |
| Available Sizes | 6-13 (24.0-31.0) full-size only | 6-13.5 (24.0-31.5) |
| Wheel Size | 80 Millimeters | 80 Millimeters (wheels up to 84 millimeters can be used as replacements) |
| Wheel Durometer | 82A | 82A |
| Bearing | Rollerblade SG5 (equivalent to ABEC-5) | Rollerblade SG5 (equivalent to ABEC-5) |
| Cuff | High | High |
| Frame Material | Monocoque Composite | Twinblade Aluminum |
| Closure Type | 45º Strap, Cuff Buckle, Speed-Laces | 45º Strap, Cuff Buckle, Laces |
| Boot/Shell | Semi-Soft Plastic | Semi-Soft Plastic |
| Upper Liner | Fairly-Breathable Engineered Mesh | Extra-Breathable Engineered Mesh |
| Brake | Available | Available |
| Fit | Universal | Universal |
| Price | Check | Check |
Zetrablade vs Macroblade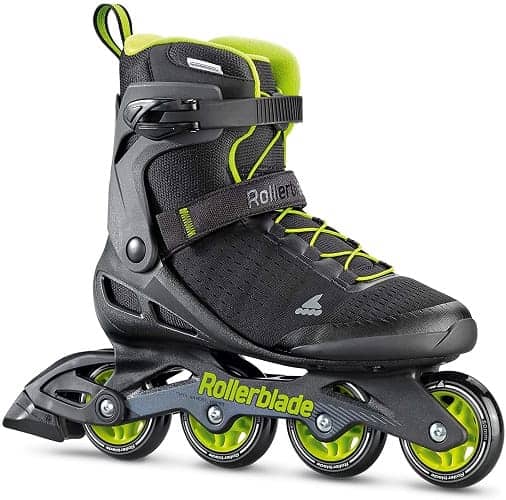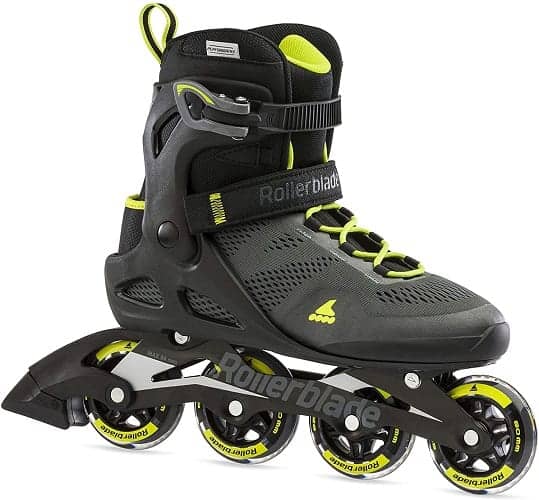 Frames
The most notable difference between the two fitness skates lies within their frames. While the Zetrablade has a flexible monocoque composite frame, the Macroblade's is robust twin-blade aluminum-made. And each build serves a specific purpose.
Because monocoque composite is more malleable, it offers more flexibility than rugged aluminum or hard plastic. It can bend significantly well according to the rider's weight, promoting an equal distribution and more consistent control.
Twinblade aluminum, on the other hand, isn't as malleable as the composite, and therefore, can't aid the rider's weight adjustment as its counterpart. However, it's considerably sturdier and more durable than monocoque composite frames. Besides, despite its ability to withstand higher pressures, it's much lighter than regular aluminum. Due to these characteristics, it's a good option for fast cruising.
Therefore, the Zetrablade suits you more if you're concerned about your weight and the troubles it adds to your control. But the Macroblade is for those seeking to improve their speed by playing it rough.
Wheel Size
Zetrablade and Macroblade are both designed to offer you the most enjoyable short distance riding experience across fitness skating, cruising around the city, and similar recreational rides. That's why both come with 80 mm wheels, which are fairly shorter, hence easier to maneuver, allowing for quicker turns and stops.
However, Macroblade has a slight advantage over Zetrablade with regards to flexibility. While the former allows you to replace the wheels with any size between 80 mm and 84 mm for an added speed, the latter makes you stick to the original size.
Wheel Durometer
Wheel durometer is measured by A-numbers that indicate their relative hardness. The hardest is 100A, and the softest is 0A. In addition to shock absorption and grip, the durometer affects wear and speed. Since fitness skating demands more grip and more extended wear, the wheels must be between 80A and 88A.
From that point of view, neither Macroblade nor Zetrablade disappoints. Each offers 82A hardness, which is soft enough to enhance your grip and not too hard to affect your control. With the models also providing tweaking options, you can make them fit your needs by replacing them accordingly from Rollerblade.
Bearings
Rollerblade's Zetrablade and Macroblade line of inline skates use the company's very own SG-rated bearings, unlike most bearings, which follow the ABEC precision standard. However, this system uses the same ABEC number scale, with the higher number indicating greater bearing precision.
Both skates lines are on par from this perspective as well. They use a similar SG-5-rated bearing in their wheels, allowing for lesser friction with controlled, consistent rolls. Also, they employ Rollerblade's proprietary build for better wear.
Boots and Liners
You may already know that soft boots are typically more comfortable and better ventilated, while a hard boot provides more stability and control. However, both Zetrablade and Macroblade come with semi-soft shells to keep your feet within the happy medium in that sense.
But it's undoubtedly an all-win for you, considering their engineered mesh liners. They both come with Rollerblade's Energy-maximizers, reinforced by 3D-anatomical stretch padding that impact shocks immediately to deliver the strength your feet need.
Nevertheless, in terms of breathability and added comfort, the Macroblade just edges its counterpart by some margin. It comes with more open and superior ventilation holes than the Zetrablade, letting in more airflow inside. As a result, your feet are significantly more comfortable and steady when you wear them.
Closure System
Like most modern-day models, these lines of Rollerblade inline skates' closure system consists of both buckles and laces. While the buckle provides strong ankle support, the 45° lace and strap system anchors your heels in place for a secure fit that minimizes heel lift. The Macroblade has the upper hand here as well, having a sturdier urethane strap than the Zetrablade's plastic.
But the Zetrablade wins against the Macroblade for the first time in our comparison, thanks to its speed laces as opposed to the latter's regular laces. The fast and convenient speed laces allow you to put the skates on and take them off far quicker. In addition to keeping your shoe snug on your foot, they enable you to set the exact tightness you want every time.
Price
The Macroblade is the pricier inline skate between the two. For a costlier frame, sturdier buckle, and more comfortable liners, that doesn't surprise much. The product line includes several models for men and women, and their price range varies within 150$-160$ accordingly. Zetrablade offers a similar selection that you can purchase for around 120 bucks.
Frequently Asked Questions
How much weight can the Zetrablade withstand safely?
Up to 220 lbs.
Are the wheels durable on concrete?
Yes, the PU wheels have a design suitable for gliding on both concrete and asphalt.
Can you adjust the inner wheels by putting a rocker in them?
Yes, it's possible to put smaller wheels anywhere (center two for anti-rocker, front, and rear for rocker). However, you should understand that if the rear is too small, the (removable) brake may drag.
Are the brakes replaceable?
Yes. But you must find the exact match from Rollerblade for a particular model since the frame doesn't support anything else.
So, Which One Should You Pick?
The apparent similarities between Macroblade vs Zetrablade, coupled with their seemingly different purposes, don't quite lend themselves to a conclusion about who wins. It doesn't matter where that leads, though, since you always know what you're seeking. And hopefully, our above comparative take on the two beginner inline skate lines has given you the insight you've been after. So, consider your necessities, choose wisely, and get yourself rolling right away!
Read More:
Amazon and the Amazon logo are trademarks of Amazon.com, Inc, or its affiliates.