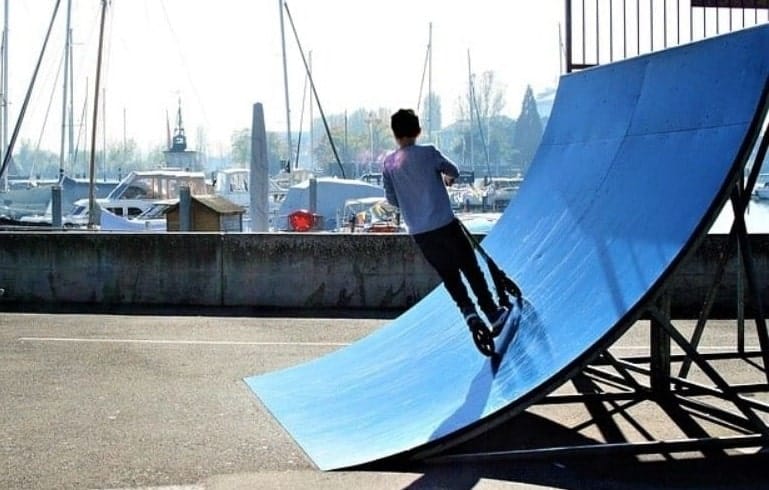 Who does not want to impress his/her buddies with some simple tricks on a scooter? I bet you do want the same. But stuck between your thoughts and fear right? Confused about what to do and where to start? Well, here we are to guide you and take your trickery knowledge and skills to another level.
We will talk about the drop in trick today along with step by step instructions. And after following these steps, drop-ins will be the easiest trick for you to perform. So without further a due, let's jump right on how to drop in on a scooter for beginners.
What is Drop In On Scooter?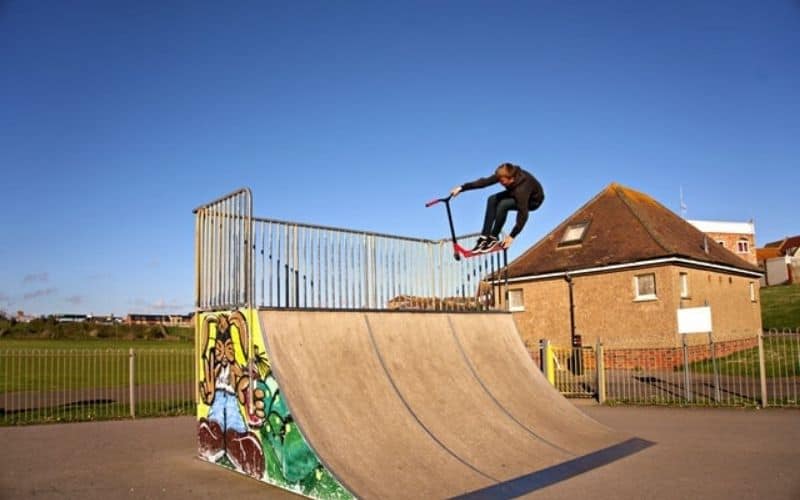 Drop-in on a stunt scooter is undoubtedly one of the simplest yet amusing stunts, which can be performed on scooter/skating ramps. It's like just sliding down the ramp bowl in a fashionable way.
Also, it is considered as the first step of professional trickeries of scooters. So knowing how to drop in on a scooter is really important.
How To Drop In On A Scooter For Beginners?
We will be talking here about some simple but very much effective drop-in techniques. There are several methods, but here we will be talking about the very simple ones. And by following these doing drop-ins will be like remembering a nursery rhyme to you.
So let's see the step by step ways of How to drop in on a stunt scooter for beginners:
Take your scooter and place it on the ramp coping. Your front wheel should be over the coping, like floating.
Then place your one foot on the deck, lean forward, push the scooter with the other leg and just slide down the ramp along with the motion.
You can do the same thing while keeping your both feet on the deck. Just lean forward, push a bit, and follow the motion. Both feet on or one foot on and one foot off, whichever comforts you.
For the second way of dropping in, take your scooter an place it sides by side with the coping, as your scooter wheels and deck placed parallel to the coping.
After that, put your both feet on the deck and just lean on to the side of the slope, holding the handlebar. Your scooter will come down the ramp automatically.
The second technique requires more physicals balance. Also as in here, both the wheels are placed over the coping, there are zero chances of wheels clipping with the coping.
How To Drop In A Bowl On A Scooter?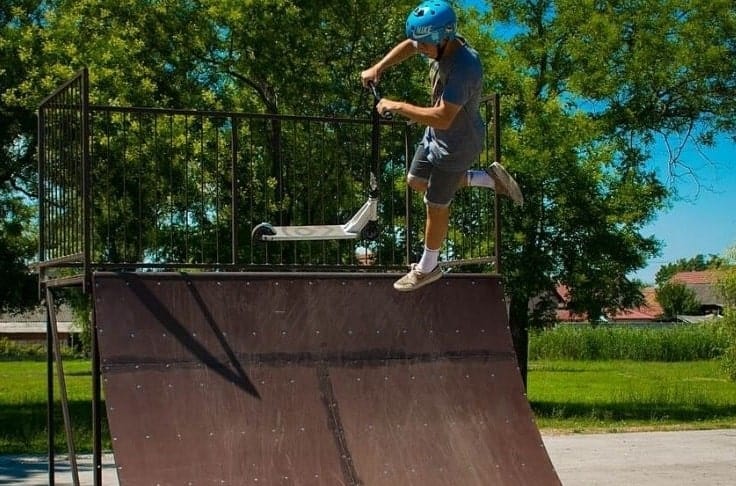 The last procedure requires a coping free ramp that is known as the "Bowl".
So, at this point, you will find the guideline for How to drop in a bowl on a scooter. As the bowl does not have any coping, all you need to do is take a position on the top end, with a firm grip on the handles, place your feet on the deck and just lean forward.
The last way is easier because, there's no coping and a bit difficult because the bowls are usually more steeper than the ramps.
So these are some basic and easy ways of doing the Drop-in on scooter. You might pick any one of these and start practicing accordingly with your favorite kick scooter.
Safety Measures
You might be a bit worried about the Fear of dropping in on a scooter. But just by following these few instructions, and you won't face many troubles:
Always put safety gear on (helmet, knee, and elbow guards).
Try to be stable and confident, that will give you more balance.
Start practicing on smaller ramps. Gradually move on to steeper ones.
The Bottom Line…
So we discussed about some very basic tips and tricks of dropping in with the scooter. It's not a tough trick to perform. Moreover, It's like the first step in the path of hundreds and hundreds of tricks for scooters.
We picked the question How to drop in on a scooter for beginners and pointed out some step by step instructions along with the safety measures. So we believe that this will be a complete guideline for dropping in on a scooter as a beginner and also for starting the awesome journey of trickery with scooters.