As an Amazon Associate, I earn from qualifying purchases. Learn More.
Razor, one of the most acclaimed kick-scooter brands out there, has never disappointed whenever it came to providing adventurous kids of all ages the most exhilarating ride of their life. But the company barely stopped at giving pleasurable glides just to the youngsters; they now make scooters that both older kids and adults can enjoy just fine.
The Razor A5 Dlx is such an adult-friendly model from Razor's A5 line. It's among the company's very few additions that intend to give taller users the riding comfort that they never seem to find in typical kick-scooters.
In this Razor A5 Dlx scooter review, we'll take an in-depth look at the sought-after adult kick scooter and compare it with other popular Razor models so that you can weigh its worth and decide your purchase accordingly.
Specifications of Razor A5 DLX Kick Scooter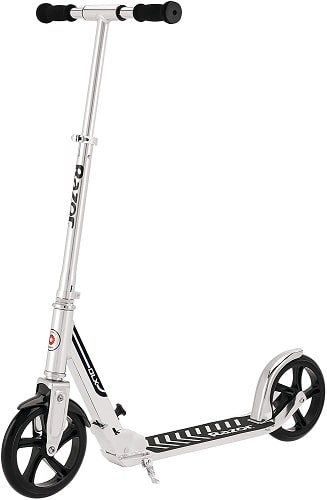 Dimensions- 34.65 x 16.85 x 38.58 inches
Weight- 8.8 pounds
Frame material- Anodized Aluminum
Adjustable Handlebars- Available
Retractable Kickstand- Available
Deck length- 20.9 inches
Folding mechanism- Available
Wheel material- Polyurethane
Wheel size- 8 inches
Max. weight capacity- 220 pounds
Suitable age group- Eight years and up
Pre-assembled- Yes
Razor A5 Dlx Scooter Review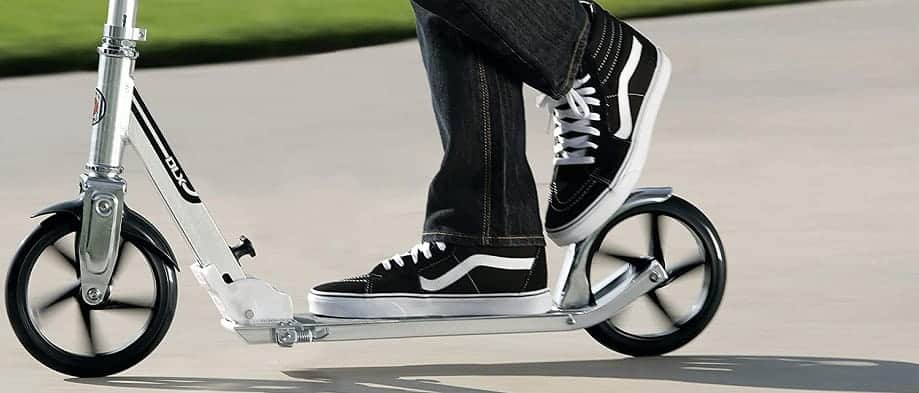 Design and Feel
The stout, sturdy structure of the Razor A5 Dlx boasts a high-grade anodized aluminum build that intends to support those loving rough-tough scooting. It has a silver-sporty finish with black additions on the deck and wheels, giving you a classic yet trendy evergreen feel.
You won't need to worry about putting the parts together since it comes pre-assembled; all you'll have to do is just unfold and ride.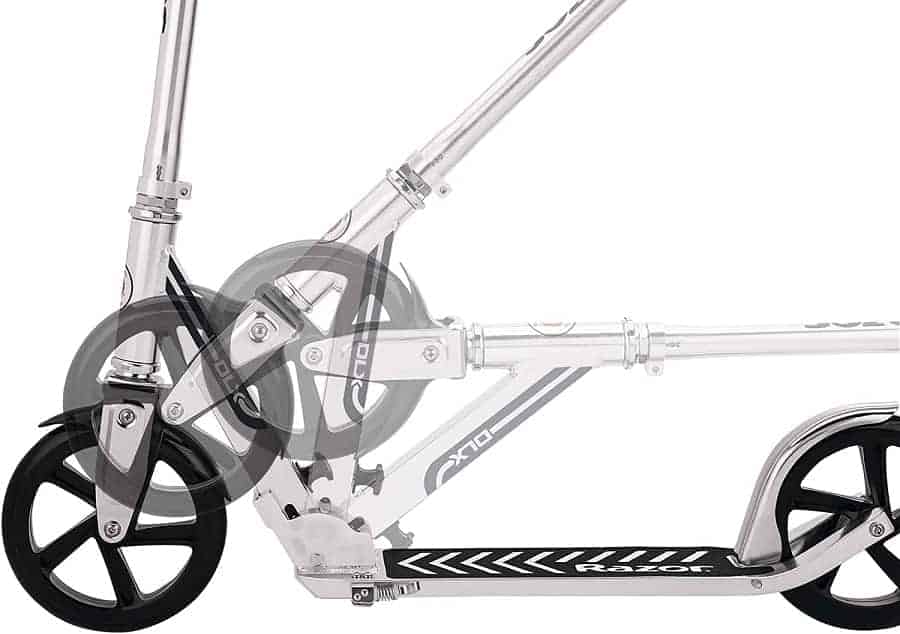 The scooter has a no-brainer of a folding system indeed when speaking of it. It takes a mere few seconds to work on it. You can say goodby to the frustrating prep time while heading to the office or your daily commuting. Surprisingly yet, weighing just less than nine pounds, it's a lightweight scooter that you can carry around without aching your hands.
Deck
Razor A5 Dlx has its deck made of aircraft-grade anodized aluminum. Meaning, they've made it not only highly-durable but super comfortable as well. Despite the lightweight feel, it can easily carry up to 220 lbs of weight, with superior foot placement support across various body types. And because of the high-tech aluminum build, you'll barely need to worry about rusts or breakages.
Wheels
I must admit that the wheels on this scooter are substantially bigger than typical models' wheels. They've got a diameter of 8 inches, making the kick scooter an ideal choice for adults. They can indeed be a great boon to taller riders seeking extra rolling support while adjusting their hands with the handlebar.
The polyurethane-made wheels provide relaxingly smooth rides, allowing breezy glides down any urban pavement.
Their premium-quality build will also give you a superior grip, hardly letting you feel any unsettling bumps underneath your feet. Neither you'll have to worry about evading or swerving past any road crack or even thin train tracks for avoiding sudden plummets. And no matter what surface you're riding on, you can expect the durable wheels to last for years without significant wear.
Anti-Rattle Technology
The anti-rattle technology is the most significant upgrade that the company has brought within this Razor A5 Dlx scooter for adults. They call it 'the king of comfort,' which makes both the handlebar and the deck rattle-free during rides.
To tell you the truth, the super-solid aluminum build and smooth, path-adapting wheels play the real part in making this happen.
Brake
Like most Razor scooters, the A5 Dlx comes with the company's patented rear fender. The highly-effective, quick-responsive brake gives taller riders the upper hand in halting their ride who struggle to be spontaneous with hand brakes. You'll surely get amazed if you try winding up the scooter during a downhill ride, as it slows you down smoothly yet quickly before stopping instead of limping off abruptly.
Handlebars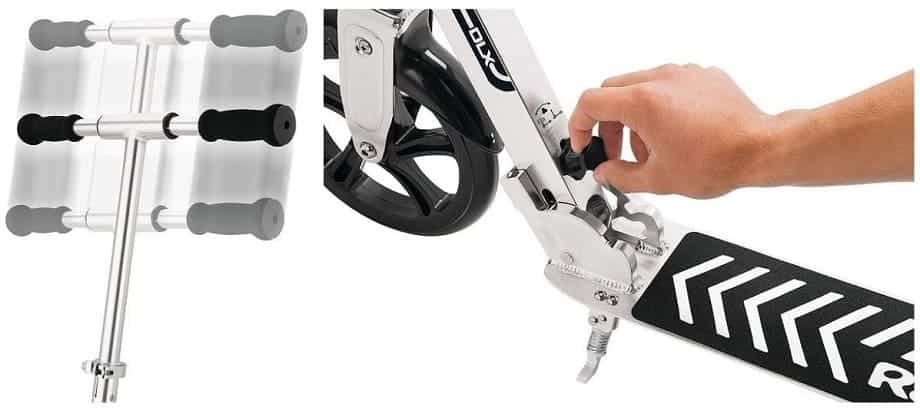 The height-adjustable handlebars of this Razor A5 Dlx allow easy fitting for anyone riding the scooter. Whether it's you or your ten-year-old, the adjustments shouldn't make you sweat it out at all. However, since it intends to serve taller riders, even the minimum height isn't a match for underage kids.
You'll also love the comfy, spongy grips they've put on the handlebars, which make your speeding-downs blithely convenient. However, a few people may find the sponginess a bit distracting, especially the beginner riders who are yet to grasp their control. If that sounds like you, Razor gives you the option to switch them for sturdier ones too.
Kickstand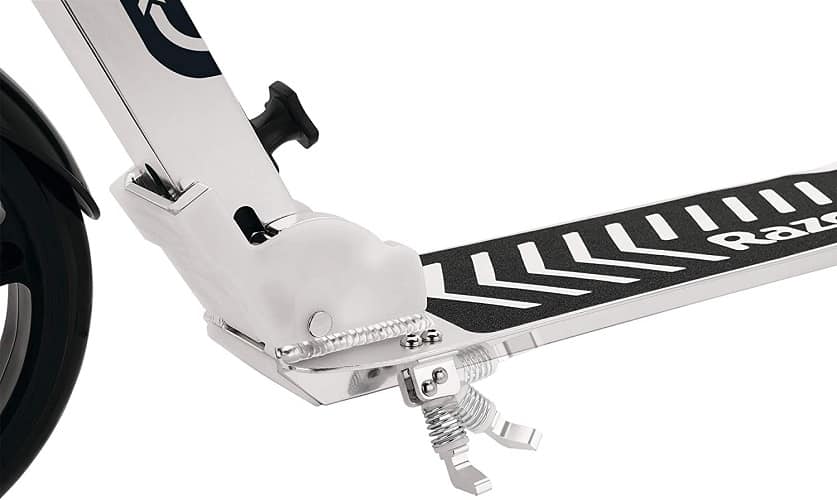 Finding a place to rest your scooter can be burdensome when there's a need to stop in the middle of the road. But when your scooter has a kickstand, you won't have to worry about taking a water break, doing the shoelaces, or chatting with a friend.
And that's why the Razor A5 Dlx also comes equipped with a retractable kickstand. You can efficiently operate with your feet, and it's sturdy enough to support your weight when you lean onto the handles for a quick chat with a mate without having to put your prized scooter on the floor.
How Does the Razor A5 Dlx Scooter Fairs among Fellow Razor Kick-Scooters?
Let's know the key differences between the Razor A5 Dlx and its fellow Razor kick-scooter models so that you can compare and choose your pick accordingly.
| | | | | | |
| --- | --- | --- | --- | --- | --- |
| | | | | | |
| | | | | | |
| | | | | | |
| | | | | | |
| | | | | | |
| | | | | | |
| | | | | | |
| | | | | | |
| | | | | | |
| | | | | | |
| | | | | | |
| | | | | | |
| | | | | | |
Razor A5 Dlx vs A5 Lux
The core difference between the two Razor scooters lies within the anti-rattle technology we've discussed above. Both the models come with solid handlebars with a double clamp while sharing a similar aircraft-grade aluminum build. But the A5 Dlx has the upper hand when it comes to providing rattle-free riding, that too within a much lesser cost.
Razor A5 Dlx vs Air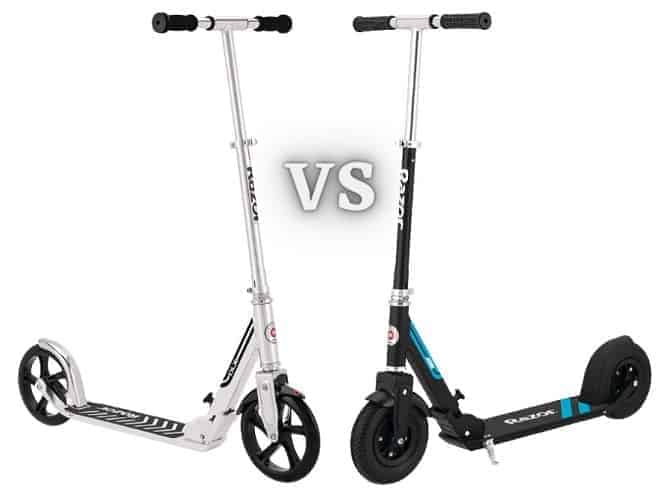 The A5 air rides well for those loving tubed scooters. But it has got bad tubes. While there's always a risk of sudden deflation with pneumatic tires, you definitely won't like to take it to the repair shop every time you ride on a pebbled road (which is highly likely).
Its low-to-the-ground deck can be irritating, too, especially when gliding over bumpy pathways. With the A5 Dlx, on the other hand, deflated tires or bumpy rides are never an issue. And when you consider their price gap, Dlx is the definite winner.
Razor A5 Dlx vs Prime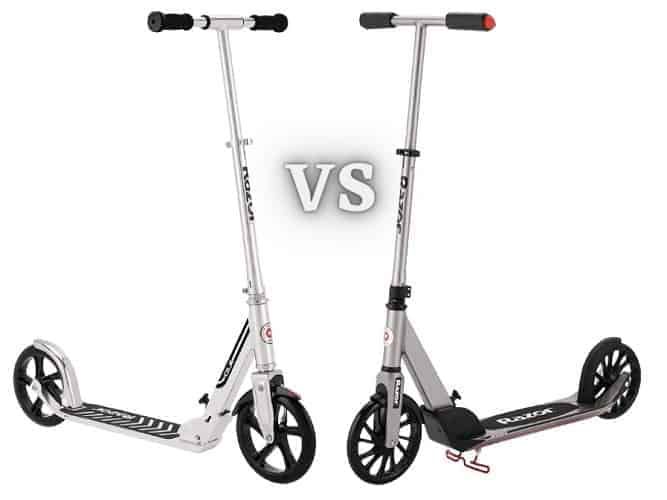 The A5 Prime has a build resembling both the Razor A5 Lux and Dlx; only it's got a larger shroud on its folding mechanism. You may find its size a bit nettlesome when folding and locking the deck into place, while it also makes the scooter somewhat heavier. It also has a wire stand that can quickly bend out of shape when used in a hurry.
Nevertheless, you can expect it to deliver a smooth riding experience similar to that of the Dlx. Yet, paying higher for a similar item with additional drawbacks isn't an entertaining idea at all.
Razor A5 Dlx vs A6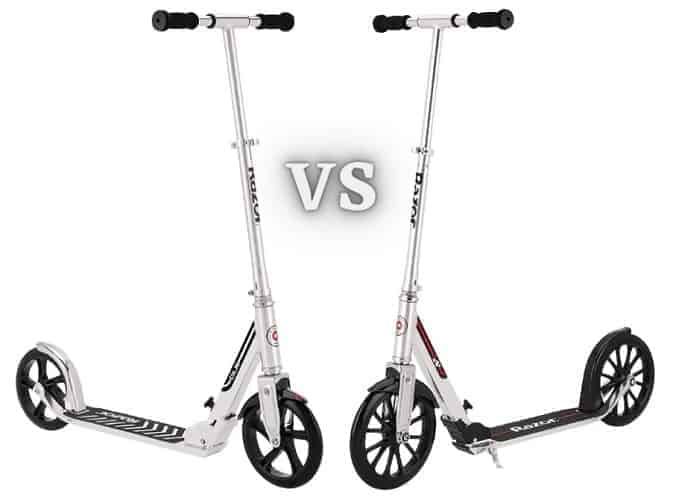 Because of its humongous 10-inch wheels, the A6 is one of the best kick-scooter for taller adults seeking faster, smoother glides. Its superior aluminum build and polyurethane wheels are indeed sturdy enough to last beyond years. However, it doesn't have the anti-rattle technology like the A5 Dlx, and you may often encounter squeaky sounds while riding on cracky, uneven pavements.
Frequently Asked Questions
1. How do you fold a Razor a5 scooter?
The scooter comes with a knob on the shroud of its folding system. All you'll need to do is turn it loose before folding it from the joint.
2. How do you fix a Razor scooter that won't fold?
Sometimes, the joint gets jammed because of various reasons, preventing the scooter from folding. If that's your case, try lifting the scooter by the t-bar with one hand, and then push the lever facing the brake down. You should feel a click, and when you do, just press the parts together.
3. Do Razor scooters come in different sizes?
They do, but not necessarily under the same model.
4. Is razor a good scooter brand?
Razor's undoubtedly one of the most renowned kick-scooter manufacturers. They've been making scooters for both adults and kids for years. When it comes to reliable builds with superior riding experience and durability, very few brands are as trustworthy as Razor.
Final Say…
Hopefully, our Razor A5 Dlx review has given you a clear insight into the brand's most talked-about kick scooter to date.
Looking at the scooter's exquisite features and comparative edges, we can safely conclude that the Razor A5 Dlx folding kick scooter is a splendid combo of style, convenience, and standout performance. If your search for the right match of an adult kick-scooter for your height and budget has been a consistent exasperation, the scooter has everything to offer for perfect satisfaction.
Read More
Amazon and the Amazon logo are trademarks of Amazon.com, Inc, or its affiliates.