As an Amazon Associate, I earn from qualifying purchases. Learn More.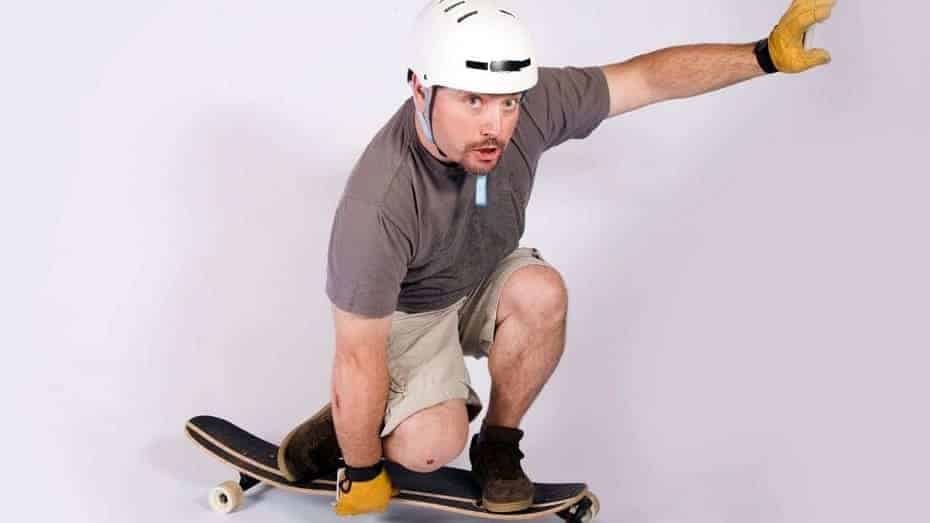 Longboarding is always fun and exciting, but at the same time, it's risky too. That's why longboarders are obliged to wear safety gear, and helmets are an absolute must. It can help you avoid severe head injuries and the nasty consequences that follow.
Most states in the US have now made it illegal to longboard without wearing a helmet, so it barely remains just a duty to encourage our youngsters to wear them. The law also demands these helmets to meet particular safety standards to ensure they are safe to use.
But finding the best longboard helmets complying with these legal requirements can be somewhat of a hassle for a layperson. And when you want to mix and match it with your personal preference and comfort, it becomes even more troublesome.
With this in mind, we have put together this article to answer all the questions you may have about longboard helmets. Also, we present reviews of helmets that provide uncompromised safety and are cool to wear. So, let's begin.
We've reviewed the following helmets:
| | | | |
| --- | --- | --- | --- |
| | | | |
| | Triple 8 Downhill Racer Helmet | | |
| | TSG Pass Full-face Helmet with Two Visors | | |
| | 1storm Motorcycle Modular Helmet | Best Budget Helmet Under $100 | |
| | Giro Switchblade Mips Helmet | | |
| | | Best Half face helmet under $100 | |
| | Triple Eight THE Certified Sweatsaver Helmet | | |
| | Pro-Tec Classic Certified Skate Helmet | | |
| | | | |
Do You Really Need a Longboard Helmet?
The answer is unambiguously a 'BIG YES.'
Longboarders, whether they're beginners or pros, often find themselves asking this question at some point. They're rarely fans of wearing helmets, thinking it takes their freedom away.
Even though many of them agree that a helmet is necessary for downhill racing, full route cruising, skatepark riding, or similar disciplines, which involve substantial injury risks, they strongly disagree on the occasions of low-speed pushing on flats.
Read: How to Look Cool Wearing a Skateboard Helmet?
In case you need some convincing, here's what we'd like you to know.
First of all, it's illegal to longboard without a helmet in many states.
Once you have fallen on your head, you realize how essential helmets are.
Some longboarders suffer from severe concussions that even get them into intensive care, including those with two-plus years' experience. Injuryjournal.com finds longboarders are twice as likely to suffer severe head injuries and neck injuries, as well as neurological trauma.
An accident can occur when the board has a poor setup, leading to wheel bite, stopping the riders in their tracks, resulting in a headlong fall.
Cruisers usually ride relaxedly with their guards down, leaning heavily and not bending their knees very often, increasing the risk of a sudden fall.
A miss of a weight transfer can cause you to hit the ground with a sudden impact even when dancing on your longboard at a slow speed on a flat.
Even when riding on a familiar flat surface, you will occasionally run into some deep crack or debris, causing you to fall off your board and hit your head on the sidewalk or road.
You may experience a car suddenly pulling out on you even when you're slowing down on a flat.
A kid or an unmindful pedestrian can always pop out of nowhere and push you hard without you even realizing it.
Older longboarders should be role models for younger ones by wearing helmets.
When Should You Replace Your Longboard Helmet?
Most helmets have the designs to endure and survive a great deal of abuse, but changing a helmet should never be put off until it wears out completely. Helmet manufacturers usually suggest replacing them after about three to five years of use or roughly seven years after production.
However, it's incredibly challenging to maintain a bike, skateboard, or longboard helmet integrity through multiple impacts, as it shakes under pressure any impact a skull might have otherwise sustained. Consequently, the damaged area of a helmet can barely withstand another hard blow.
So, we recommend replacing your helmet soon after it has taken one severe blow.
How Often Should You Change Your Longboard Helmet?
Helmets have one steadfast rule: if you crash wearing one, replace it. They are primarily single-use safety equipment. You can no longer protect yourself with a helmet that has had its foam compressed. No matter if you bought the helmet yesterday or twenty years ago, this holds.
Even multi-impact certified helmets that have taken multiple hits will not provide the same level of protection as they did at their time of purchase. Their lifespan decreases near to zero with each slam. It's best to replace the helmet if you're not sure if it's still protecting you.
You might also want to consider replacing your helmet even if you haven't suffered any injuries in the past few years. Sweat and heat can age and destroy the helmet's protective properties, reducing its defense mechanism radically. That's why we recommend replacing yours every 3-years, even if you never fell or crashed while wearing it.
Types of Helmets for Longboarding
The following two main longboard helmet variants are to consider based on the kind of skateboarding discipline you wish to pursue:
Full-Face Helmets
Half-Shell Helmets
Full-Face Helmets
A full-face longboard helmet provides more enhanced protection than its half-shell counterparts as they cover your entire head, protect the eyes, ears, jaw, and face.
Almost every full-face helmet comes with a tinted, removable visor that protects your eyes from dirt or insects, as well as the radiant sunlight blinding you when skating. Essentially, they share the same construction as all other hardshell helmets, consisting of an ABS exterior, EPS foam liner interior, and additional padding for a snug fit.
Downhill or challengingly high-speed longboarding calls for a helmet of this type. The rule for professional longboarding and skateboarding contests is that the riders must wear a full-face helmet. As an aerodynamic helmet, full-face helmets do not have that many vents, but ultimately it comes down to your utmost safety and performance.
Unfortunately, full-face helmet makers provide little information about the amount of impact their helmets can handle. So it's essential to check the helmet's certification marks to ensure you're getting the best protection (see below to learn more).
Half-Shell Helmets
Half-shell helmets are also called 'buckets' because of their shape. These ABS foam-filled lightweight helmets do not cover most parts of your face. For longboarders, the half-shell helmet only provides 'basic' protection for cruising, freestyle, dancing, slalom, and street skating, as well as activities similar to roller skating and cycling.
However, a half-shell helmet is not an ideal option for downhill longboarding. The classic bucket shape only shields the top and the back of your head and the forehead; it doesn't guard your eyes, ears, jaw, and face.
Half-shell helmets come in two types:
The Classic Half-Shell
It's the most commonly found half-shell helmet. As we've mentioned earlier, it only goes above your hairline and down the back, covering less than half of your face.
The "Full-Cut" Half-Shell
This helmet's ear covers are borrowed from snowboard helmets of the same style. They don't have any performance boost over their classic counterparts, but they sure do look cool.
Comparisons between Different Longboard Helmet Constructions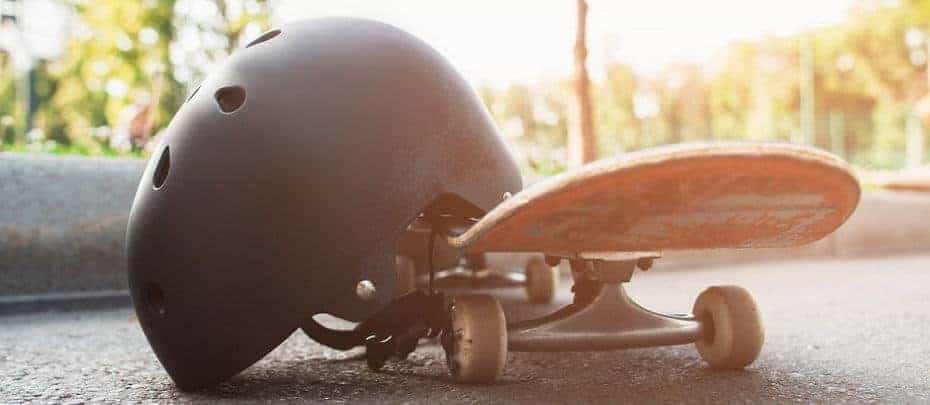 You can find the above two types of helmets in a variety of constructions. It's always a good idea to compare them to determine which is most suitable for you according to your needs.
Hard-shell vs Soft-Shell Helmets
Longboard skateboard helmets typically have a "hard shell," meaning a rigid ABS outer shell that sits on top of an inner layer of lightweight EPS foam that disperses and absorbs impacts.
In particular, you should steer clear of "soft-shell" helmets, as they have a thinner outer shell and less stiff multi-density foam lining, which are not as protective as a hard shell helmet with EPS.
Hard-Shell Construction vs In-mold Construction
In terms of the bond between the EPS liner and the helmet's outer shell, there are two construction types: a hard shell and an in-mold shell.
The Hardshell Construction refers to how the outer shell and the interior EPS shell are not directly joined but are glued at several contact points. It is the reason why some skateboard helmets have come apart after long-term wear.
In contrast, an In-Mold construction means that the outer shell has the EPS foamed directly into it. As a result, the components have a very stable bond between them, as they do not depend on the glue strength used to construct hard shells.
Multi-Impact vs Single-Impact Helmets
In case of an impact on a helmet, the EPS foam liner cracks or deforms, dispersing the energy of the hit while compromising its structural stability. It depends on the helmet. Some can handle more than others.
From this point of view, helmets fall into two categories- multi-impact and single impact, indicating the number of blows they can endure before one should replace them. As the names suggest, single-impact helmets need a replacement after going through a single massive hit, while multi-impact helmets can survive multiple impacts.
But, also keep in mind that multi-impact helmets intend to withstand a single high-impact strike or several low-impact strikes before needing to be replaced. Therefore, if you have been wearing your helmet for an extended period, it is more likely it has encountered multiple minor impacts from transport and handling, potentially causing its protective properties to deteriorate.
Read: Choose the right wrist guards for your safety
Other Varieties of Longboard Helmets
Apart from the main two types, you may often come across several other variants, such as:
LED Helmets
As you can guess from the name, LED helmets are more for electric longboarders than regular riders. In other words, it has more to do with looks than rides. Nevertheless, they can provide some additional security. While their front lights allow you to cruise at night, the backlight notifies nearby cars and pedestrians of your presence.
Foldable Longboard Helmets
These helmets indeed can fold! At the end of a ride, you can tuck them away easily without storing hassles. Folding helmets are typically lighter than other types. However, it doesn't necessarily mean they're too flimsy; they can offer the protection like the rest so long as they boast a certified, quality build.
The Aero Helmet
An aero helmet is just a full-face helmet with a fairing that enhances its 'aerodynamic' characteristics. These fairings can be a tail at the helmet's base that extends behind or shoulder fairings covering the shoulders. The aim is to smooth out the air movement over the head and the body.
Benefits of Full-Face Helmets
Check out the following reasons why you should consider using a full face helmet for longboarding:
Face, neck, and head protection- You can never be sure which part of the head will take the hit during a crash or impact. Even if you don't hit your head, a fall can still injure your neck or even cause you to fall onto your face. But when you wear a full-face helmet, you will be protected from every angle.
It keeps out dust, flying objects, and insects. A flying insect or dust particle can distract you while riding at full speed, causing an accident. But as long as you keep the face screen down, no problems will arise.
You stay warm when it's cold outside. During cold weather or early winter morning rides, a full-face helmet can provide you with ample warmth so that your ride is never compromised.
It ensures protection without obstructing ventilation. Well-made longboarding full face helmets will be breathable and comfortable even if you wear one on a hot day. Despite covering the head, face, and neck areas, it will still keep you safe and secure. ​
Benefits of Half-Shell Helmets
As evident as it is, a half-shell helmet won't offer the same level of protection as a full-face helmet. Still, you shouldn't ignore the following advantages it can provide.
Safety, more or less. Wearing a helmet will always protect your head in case of an accident. While half helmets don't provide as much protection as full-face helmets, they're still better than wearing nothing at all.
Enhanced airflow. The best half-shell helmet for longboarding lets you enjoy the wind on your face while keeping cool. A helmet with an open face does not have chin bars, so your cheeks and chin are more exposed to fresh airflows.
Lightweight. It is much lighter to wear a half helmet than a full-face or a 3/4 helmet. Good longboard helmets with a half-shell aren't too bulky or cumbersome, yet they are still pretty sturdy and protective.
Review of the 4 Best Full Face Longboard Helmets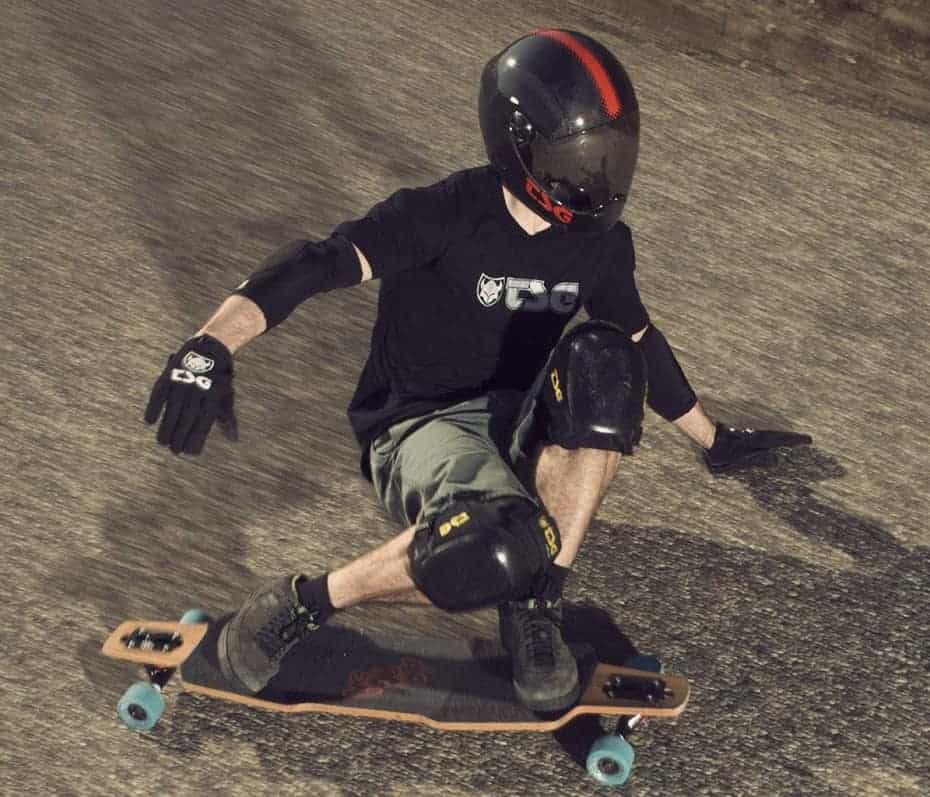 The following reviews feature five of the best full face longboard helmets and what makes them the best on the market.
Triple Eight Downhill Racer Helmet
Key Features:
Size: L, XL
Certifications: CPSC 1203 and ASTM F1952
Hand-laid fiberglass shell
EPS foam and velvet-combined liner
Shatter-resistant flip-up visor
Aerodynamic styling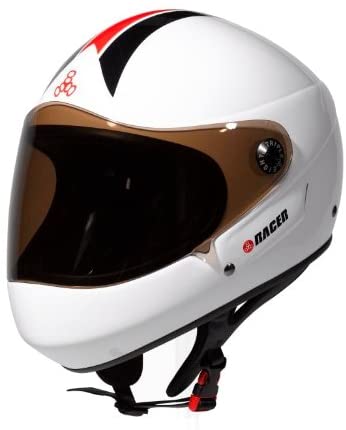 Triple8's downhill racer features an aerodynamic design and a sleek, streamlined appearance, with a contrasting logo stripe running along the top and striking lettering around the ears. Its higher cut at the back alleviates neck restriction and provides more comfort when tucking, while its aerodynamic shape considerably reduces wind resistance when riding fast.
According to the helmet's safety certificate, it meets both ASTM F-1952 and CPSC Bike standards, assuring you of the utmost protection for safer cruising. The mix of hand-laid fiberglass shell and the velvet-lined EPS liner give it a complete motorcycle helmet-like feel (minus the bulk, of course), apart from the looks.
A shatter-resistant material has been used for the tinted, multiview flip-up visor, which you can flip up when necessary. On the inside, you have a velvet-lined cheek pad that you will find incredibly smooth and comfortable. Using this extra padding, you can customize the fit of your downhill longboard helmet.
On the downside, the helmet has a plastic buckle rather than a double D-ring. There is no doubt that each has pros and cons, but buckles are more straightforward to snap into place than the latter.
Pros
A classy, eye-catching look
Speed-booster aerodynamic design
Multiple sports compliant
Designed to withstand subsequent impacts
Cons
Not-so-durable buckle
Fewer size options
Who Should Get It?
You should consider the Triple8 downhill racer if you're a speed freak and love dicey downhill longboarding. It's one of the best looking longboard helmets available out there that neither compromises protection nor style.
TSG Pass Full-face Helmet with Two Visors
Key Features:
Size: S, M, L, XL
Certifications: ASTM F1952, CE EN 1078, and IDF standard
Multi-layered glass fiber shell
Dual (clear and mirrored) antifog visor
Nose and ear vent ports
Adjustable cheek-pads
Double D-ring closure system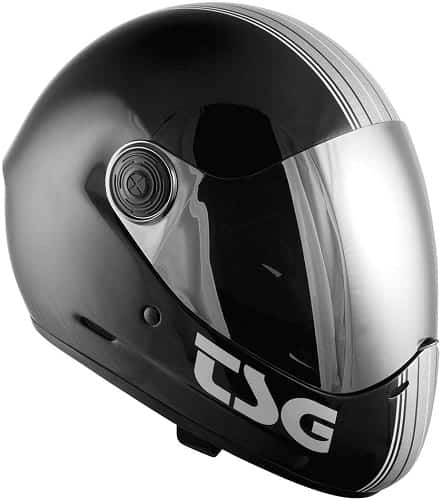 This ESP Impact Foam-lined TSG Pass helmet is an International Down-hill Federation (IDF) Certified model, a standard in action sports, that distributes impacts and prevents piercings. A lightweight, multilayered fiberglass shell is comparatively short at the front, contributing to the TSG Pass' underweight build. Thus, it fits better, is more comfortable and safer.
Style indeed meets practicality with this elegant pick, with its extensive glass surface enabling you to see many aspects of longboarding in one glance. You can easily observe ambient factors like obstacles as a result of the wide peripheral field of view.
Besides, the TSG Pass also has superior ventilation and antifog coatings that ensure that you can see clearly all of the time. Also included are ear slots to allow better hearing as well as cheek pads that can be adjusted to fit each individual's head shape. With its two spherically rounded visors, one clear and the other electric silver, you're protected from UVA and UVB rays as well.
As an ASTM F1952 and EN 1078-rated helmet certified by the International Downhill Federation, this is one of the best downhill longboard helmet you'll ever come across.
Pros
Wide-angle visibility
Scratch-resistant
UVA and UVB protection
Super lightweight
Fog- resistant
Offers Triple-certified protection
Cons
Too pricey for a single-impact liner
Who Should Get It?
If you love to rough up, whether it's sun or wind, this IDFC certified gear can make your downhill experience even safer. With its advanced visor and padded ventilation system, you can keep yourself comfortable throughout compromise-free flying.
1Storm Motorcycle Modular Full Face Helmet
Key Features:
Size: S, M, L, XL, XXL
Modular flip-up design
Certification: DOT approved
Clip chin strap
UV-resistant dual-lens visor
The 1Storm full-face helmet is a good option for longboarders on a budget. They may have designed it for motorcycle use, but its versatile features easily translate to longboarding use. The helmet comes with a specially designed visor. It has smokey lenses inside for sunny days and clear lenses outside for use at all times. Which pricy longboard helmet would offer you so?
Considering the aesthetics of this piece, it has a very glossy finish. And you'll be glad to handle it knowing it looks bulkier than it actually is; neither will you have to worry about ventilation, with the tow top and two front vent switches giving you the perfect adjustment option.
The visor uses an innovative modular flip-up design, dual lenses and offers superior UV protection. Also, due to its carbon-fiber composition, you can expect it to be incredibly durable and long-lasting, and the approval from the Department of Transportation (DOT) adds to its credence.
Pros
Cheaper price, better safety
Lightweight
Comfortable fit and adjustment
Superior breathing
Cons
Aerodynamics-less design
The vents sometimes create wind noise
Who Should Get It?
For longboarders who neither want to pay a hefty price tag nor wish to compromise their level of safety, this 1Storm helmet is a solid budget choice. Despite being primarily a motorcycle helmet, it fairly stands up as one of the best longboard helmets in the market.
Giro Switchblade MIPS Helmet
Key Features:
Size: Small, Medium, Large
Certifications: ASTM-1952-DH, CE EN1078, CPSC
Polycarbonate in-mold build
Roc Loc Air DH system
Adjustable POV Plus visor
Removable faceguard
Multi-Directional Impact Protection System
The Giro Switchblade Helmet leads a new generation of helmets by breaking away from the traditional convertible full-face helmet designs. While the helmet's unique moto-trials style will get you applause from fellow riders, its safety ratings, helpful features, and ease of use are what really make it stand out.
Its Roc loc Air DH fit system plays a vital role in its performance by passing air above the head, so you can enjoy better cooling without sacrificing comfort and stability. Despite its tough polycarbonate outer shell, this single-piece design isn't overly heavy due to the bond with EPS foam inside.
Besides, the helmet is also equipped with MIPS technology that reduces its additional damages by reducing rotational forces during rough impacts. Furthermore, this helmet meets CPSC, ASTM-1952, and EN-1078 safety standards. All of them are valid with or without the chin-bar, which you can readily remove and replace without tools.
Thanks to the twenty air vents, it also keeps your head pleasantly cool, which provides exceptional auditory feedback. And not to forget its excellent hydrophilic pad that absorbs sweat during terribly hot contexts.
Pros
Three safety certifications
Wide field of view
Outstanding ventilation system
Sweat-absorbing
Multi-directional, full-face Protection
Cons
Fussy chin guard securing system
Bulky feel around the face despite the lightweight
Who Should Get It?
If you don't want your sweating to hinder your free-flow downhill rides, and you love to cut through the air to feel like flying, the Giro Switchblade MIPS is for you. Its excellently breathable aero design doubtlessly lives up to its name.
Review of the 4 Best Half Shell Helmets for Longboarding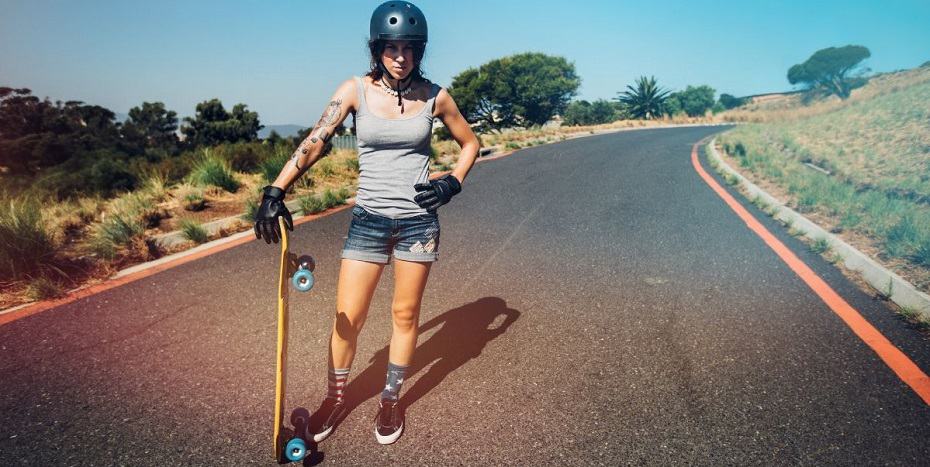 The following reviews of five of the best half-shell longboard helmets are worth looking for freedom-longboarders who find the above full-face helmets too bulky.
S-ONE S1 Lifer Helmet
Key Features:
Size: S, M, L, XL, XXL, XXXL
Certifications: CPSC, ASTM F1492
In-mold EPS fusion liner
Removable tinted visor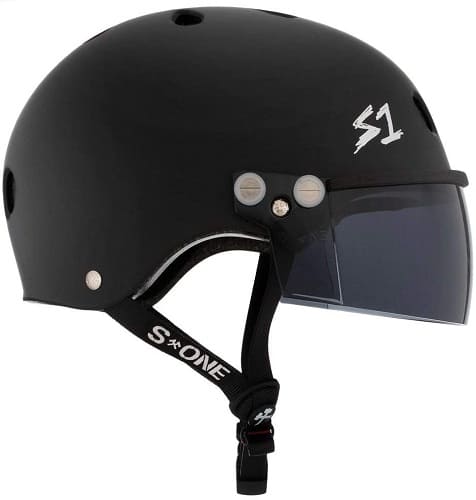 Not many half-shell helmets come with a visor, do they? Well, this one does; that too is cool, tinted one. Not to mention that many different colors and designs are available to you as well. These include glossy ones, matte ones, and even glittery ones. And that's why the S1 Lifer can be a style statement for some people to whom a helmet is more than safety gear.
With an ABS outer shell, the helmet features a typical design. However, it's the inner lining that mainly stands out. The company uses a specifically formulated expanded polystyrene (EPS) in-mold fusion that shields your head from heavy impacts. Plus, it has a soft foam lining that keeps you cozy inside.
As for certifications, this multi-impact helmet complies with both CPSC and ASTM, meaning that you are guaranteed safety. However, these certifications don't mean you should use the headgear for hardcore downhill longboarding (which implies any half-shell helmet).
Lastly, while many good helmets seem to be lacking in the sizing department, S1 Lifer is a first-class helmet that offers the broadest range of sizes imaginable.
Pros
Offers excellent visibility
Cozy inner lining
Plenty of colors and designs
Plenty of sizes available
Cons
Thinner than usual padding
Who Should Get It?
If you are looking for a half-shell helmet that balances convenience and style, this helmet is an excellent choice. And when it comes to the helmet's safety profile, the in-mold build and the certifications say it all.
Triple Eight The Certified Sweatsaver Helmet
Key Features:
Size: XS, S, L, XL, XXL
Certifications: ASTM F-1492, CPSC
Sweat-absorbing anti-bacterial liner
Dual-density foam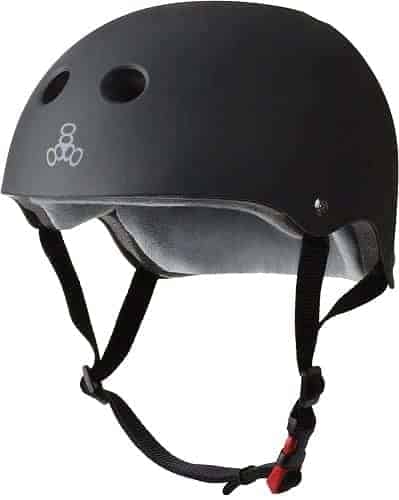 For years, Triple Eight has remained a trusted name in skateboard safety gear. With longboarding involving lots of toils and sweat, they've brought this innovative sweat saver helmet that changes the whole game of helmets.
The smell of a sweat-covered head or helmet is doubtlessly unpleasant, and they can even stain over time. But your forehead and eyes will remain dry because the liners will wick away sweat. Besides, its use of anti-bacterial coating on its inner liner prevents any bacteria that originates from your sweat and the smell it produces.
In addition, this lining comes attached with a hook and loop tape so you can easily remove it. Hence, you always have an alternative in case a method fails. Triple-Eight has also made available in their Sweatsaver a great range of colors to choose from, including girlish patterns and several pro-skaters collaborations.
The helmet's ABS shell is considerably sturdy yet lightweight; it cradles the dual-density sweat-saver lining we've mentioned above. Together, the components make an impressive impact-absorbing unit. And don't get bummed out thinking it doesn't have any certificates. After all, the term 'The Certified' highlights an upgrade over its previous model.
Pros
Feels excellently sweat-proof
Numerous size and color options
Reliable, adjustable chin strap and buckle
Washable lining
Cons
A few may find it sitting too high on their head
Who Should Get It?
The stink-free experience indeed speaks for the hearts of many. Usually, you can only find this feature on high-end helmets. So it's a massive plus for a budget helmet if you're looking for one. Additionally, its color, finish and design further accentuate its appeal.
Pro-Tec Classic Skate Helmet
Key Features:
Size: XS, M, L
Certification: ASTM F1492
ABS and HD Injection-mold shell
Wide, hard foam padding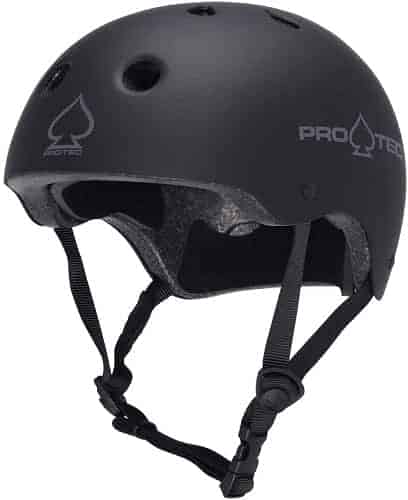 With more than fifty years of experience behind, Pro-Tec is a trusted brand of protective equipment. Helmets like this one are a favorite among skaters, thanks to a comfortable design and a range of vibrant colors. In addition to protecting the inner liner, its lightweight ABS shell promotes superior airflow.
This inner liner is made up of two different layers of hydrophobic foam, which uses the effect of wicking moisture away from the wearer to the outer layer. However, it's also why the helmet gets a bit hot during summertime despite having eleven vent holes.
The shell remains comfy and robust, though, constructed out of the combination of ABS and HD injection-molded PE, a hard-wearing shell that can survive hard falls. It somewhat works alone too. Also, the quick-release buckle on the adjustable chin strap allows the user to secure it while wearing gloves quickly.
Pros
Budget-friendly
Snug and comfy fit
Fast-wicking liner
Unique, vibrant color schemes
Cons
Not ideal for summer rides
Who Should Get It?
The Pro-Tec Classic isn't a great pick if you're looking to level up on your speed or cruising. But it's out-and-out your go-to style if you're looking to appear elegant throughout your everyday commutes. It's also one of the best longboard helmet type for beginners to get their kick-flipping underway.
Punisher 13-Vent Skateboard Helmet
Key Features:
Size: Medium
Certifications: ASTM F1492, CPSC
13-vent ventilation system
Extra padding for size adjustments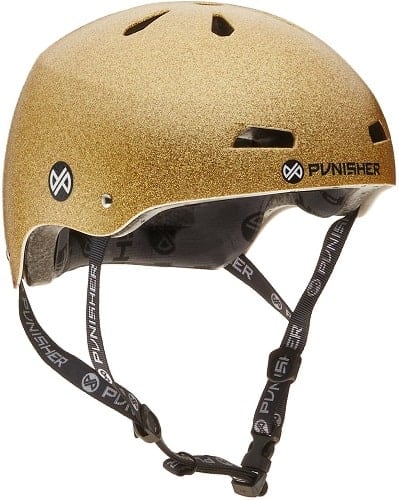 Teenagers and kids are always drawn to cool and funky colors, which Punisher has worked into this helmet. If you lay eyes on the Punisher 13-Vent for the first time, you'll be smitten. Medium-sized, it is ideal for kids and teens between six and fourteen years of age.
The helmet comes in various designs and colors, such as Glittery Gold, Neon Green, Hot Pink, and Glistering Purple. With so many cool choices, choosing the one that's best for your kids will be difficult. Besides, an additional pad makes this helmet one size smaller, ensuring a snug fit on growing heads for the days to come.
A total of 13 vents ensures the head remains cool while sweat evaporates. The shell is made of ABS plastic and is lined with black EPS. CPSC and ASTM F-1492 compliance ensures the helmet is safe and meets safety regulations. Overall, this is an excellent skateboard that will protect your child and make them the center of attention at the same time.
Pros
Color-pops kids love
Exceptional ventilation
A quick and easy buckle release
Who Should Get It?
The Skateboard makes an excellent gift for your young one. It will keep them safe while giving them a feeling of significance.
Longboard Helmet Certification Marks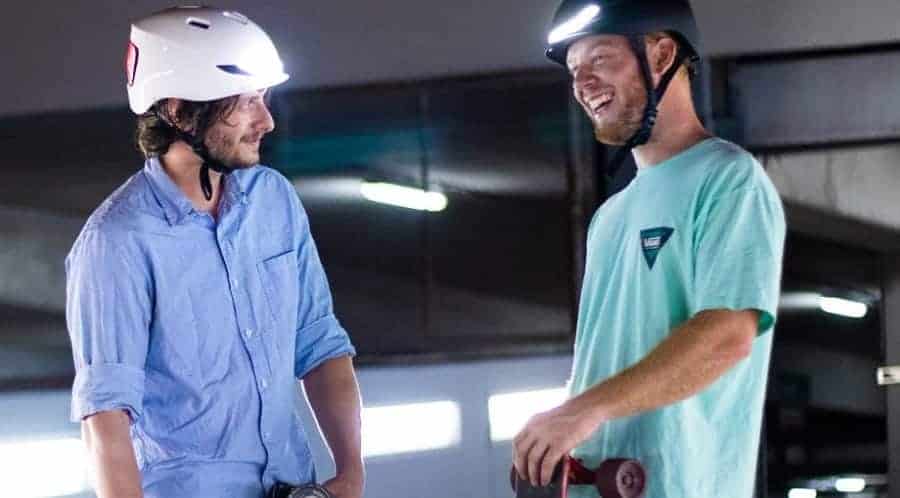 Helmet certifications assure you that they won't fail you when the time comes. The jargon may sound complicated and gibberish, only it isn't. Other than the odd number and letter names, certifications are pretty simple to comprehend. Skate and longboard helmets are most commonly certified by ASTM, CPSC, and CE. With just three to know, there is no reason you wouldn't.
ASTM Standards
Thousands of skilled volunteers serve on ASTM (American Society for Testing and Materials) International Organization, including doctors, physicists, and engineers. The ASTM sets safety standards for a variety of safety equipment. Most protective sports gear on the market in the US is designed to follow ASTM standards. Certifications to look for include:
ASTM F1492 – skateboard and longboard helmets
ASTM F1447 – bicycle helmets
ASTM F1952 – downhill mountain biking helmets
CPSC Standards
The Consumer Product Safety Commission of the United States sets bicycling helmet safety standards. In the US, bike helmets sold exclusively for bicycles must comply with the CPSC's safety standards (CPSC 1203).
At present, the CSPS doesn't have any standard for skateboard helmets. However, it does set the safety standards of the EPS foam inside the helmets. And when a helmet comes with both ASTM CPSC inner liner certification, it's labeled dual-certified, guaranteeing exceptional durability of the model.
CE Certification (EU)
In Europe, you should ensure that a helmet has a CE certification, assuring its compliance with all safety, health, and environmental standards of the European Economic Area (EEA).
The most common certification for longboard and skateboard helmets is CE EN 1078.
As part of this standard, items must endure a single high impact and a few puncture scrapes, such as those incurred during cycling, skateboarding, or roller-skating.
Are Other Helmets Like Cycling or Motorcycling Helmets Also Good for Longboarding?

It's better to wear a helmet than not at all, but wearing a certified sport-specific helmet is always the best practice to ensure maximum safety. You can use any type of helmet if you cannot buy one dedicated for longboarding, but you should be aware of these drawbacks.
Cycling helmets don't provide the necessary protection, motorcycling helmets can be too bulky, and paragliding helmets (like the Icaro SkyRunner) don't have the build to get scuffed up against the asphalt; they don't meet skating safety certifications either.
So instead, a mountain biking helmet would be the best substitute for a longboard full face helmet. And it must include all the necessary certifications we've discussed above.
However, the disadvantage of these helmets is that they are bulkier and have so many vents, causing them to be less aerodynamic than you would hope. Additionally, they won't have visors, so you may have to craft one yourself.
Read: Is there a difference between a bike helmet and a skateboard helmet?
Things to Consider when Choosing the Best Longboard Helmets (Buying Guide)
While longboarding, choosing the proper head protection is a necessity and not an option, so it's crucial to think carefully before making a choice.
We have already addressed the helmets' safety standards and types in the previous sections, which you must go over carefully. Here, we'll go over a few more essential factors to consider when you shop for longboarding helmets.
Material
Typically, skateboard helmets have two kinds of build materials, ABS and PVC. These materials are used in the outer shell's construction and are the first to contact the ground upon impact.
In contrast to ABS, which is a bit heavier, PVC is lightweight and costs much less. ABS, however, is more impact-resistant than PVC. For this reason, one should always choose ABS over PVC when choosing the material.
Second in importance is the internal core, which also absorbs impacts. Helmet inner cores usually consist of EPS or expanded polystyrene material. A fall will most likely result in EPS absorbing most of the impact force, so it's critical to ensure it's durable and not just a cheap imitation. A CPSC-certified EPS inner core is always the best option.
Another way to ensure an impact-enduring EPS material is by checking the thickness. In general, one can go for a minimum of ¾-inch. However, we recommend opting for an inch-wide liner so that you can be on the safest side.
Ventilation

You must also consider the helmet's comfort profile after covering the safety concerns. And ventilation is a crucial factor here.
Your scalp requires constant airflow, just like every other body part. A lack of proper airflow can cause excessive sweating, especially if you reside in a warm area. A helmet's ventilation cannot be measured objectively, but a helmet with multiple vents generally has better ventilation.
Essentially, you need to check how many vents the helmet has before deciding whether or not to go for it. For people living in moderately warm areas, seven vents are usually sufficient. However, seven may not be enough for longboarding in hotter climates; ten or anything over could be better.
Read: How Much Does A Skateboard Helmet Cost?
Padding
In addition to making the helmet more comfortable, a helmet's padding also helps to prevent sweat from building up on your skin. If the mercury is rising, sweating is sure to occur regardless of ventilation. As a result, if you do not have a way of absorbing the sweat, the sweat will eventually drip from the helmet into your eyes, which can be dangerous.
For this reason, a quality helmet should have appropriate padding that both provides comfort and absorbs sweat. The trouble with absorption is that the pad starts to stink unpleasantly when too much gets in there. Some manufacturers use coatings that make their products stink-resistant. These coatings kill bacteria that produce foul odors.
However, this feature is only present in expensive, high-end helmets. So, what should you do if you have to go for budget helmets?
It is simple. Just go for a helmet that has a lining you can remove and wash.
Fit
Fit has more to do with maximizing your protection than just providing comfort. There is no way that a loose helmet will be able to protect you from an impact if it wobbles on your head.
If you want to make sure you have the perfect fit, measure your head's circumference and go by the size chart of the company you are buying from. The best way to measure is with a measuring tape. And whenever you're unsure, or your head falls in between two standard sizes, you should strongly consider buying the larger size.
Straps and Retention System

The straps on a helmet keep it tightly in place while enabling you to easily open your mouth to speak, drink, or eat.
There is nothing better than a strap that creates a v-shape beneath the ear lobe. And how do you keep the helmet secured to your head? You need to be able to adjust the fit to make sure you're comfortable and secure.
Frequently Asked Questions (FAQs)
What makes a helmet downhill certified?
ASTM F1952 is the standard certification for downhill helmets. There is no requirement for a chin bar in the standard, but chin bars are tested if a helmet has them (even if they are removable). A helmet with a removable chin bar is tested both with and without it.
How can I pick the right size if I order online?
Here's a chart that might help you size your helmet. Compare the readings after you've measured your head circumference with a measuring tape.
| | |
| --- | --- |
| Size | Head Circumference |
| XS/S | 20–21.25 inches (51–54 cm) |
| S/M | 21–22.5 inches (53–57 cm) |
| L/XL | 22.5–23.5 inches (57–60 cm) |
| XL/XXL | 23.5–24.5 inches (60–63 cm) |
What certification is best for skateboard helmets?
As we've addressed above, skateboard or longboard helmets are certified by ASTM in the USA, while CSPC certifies only the helmets' EPS lining. So, it'll be best if you buy a dual-certified helmet to be on the safe side.
Should I replace a helmet after a crash?
Mostly, yes. When you have a single-impact helmet, it's always best to replace it after receiving a blow. However, if you have a multi-impact helmet and it has only endured a minor crash without any visible cracks, you can keep wearing it. The general rule is to replace your helmet as soon as you've survived a severe knock.
Will motorcycle helmets work?
As we've previously said, any helmet is better than none at all. So long as the motorcycle helmet's bulk doesn't bother you, you can wear it for longboarding.
Should you buy cheap helmets?
Never. Invest in helmets from reputable brands. It's a huge mistake to try to cut corners on helmets. You should protect your head as best you can.
What's the best longboard helmet of all time?
It's hard to label one particular helmet as an all-time best. Yet, some renowned brand names have become trusted over time among longboarders, such as Triple-Eight, ProTec, Giro, and TSG.
Wrapping Up…
There you have it. Hopefully, our comprehensive guide and reviews have given you all the information you need to pick the best longboarding helmet.
Every rider needs to put safety first, and a helmet can provide you with the protection you need when riding outdoors. While longboarding may appear to be a sport without many risks, a simple fall while riding at high speed can be deadly enough to cost your life.
So, what are you waiting for? Choose one from the above longboard helmets best fits your game and style, and venture out to enjoy the thrill with your buddies.
Amazon and the Amazon logo are trademarks of Amazon.com, Inc, or its affiliates.