In both biking and skating, falls are more or less inevitable. Hence, head protection is an absolute necessity, and that's why we wear helmets.
But are skateboard helmets and bike helmets the same?
Besides the apparent discrepancy in their looks, skate helmets and cycling helmets are pretty different in terms of safety and functionality. Manufacturers design them differently based upon their intended use.
Some of these differences are visible in their shapes, ventilation system, visors, and style, while others are internal. And those internal factors play a more crucial role in their protection system. As the level of effectiveness of each helmet varies, consumers must select the appropriate helmet according to their purpose.
So, consequently, the 'skateboard helmet vs bike helmet' dispute gradually arises when choosing one over the other. Keep reading to find a detailed explanation of the differences between bike helmets and skateboard helmets and whether you can use them interchangeably.
Skateboard Helmet Vs Bike Helmet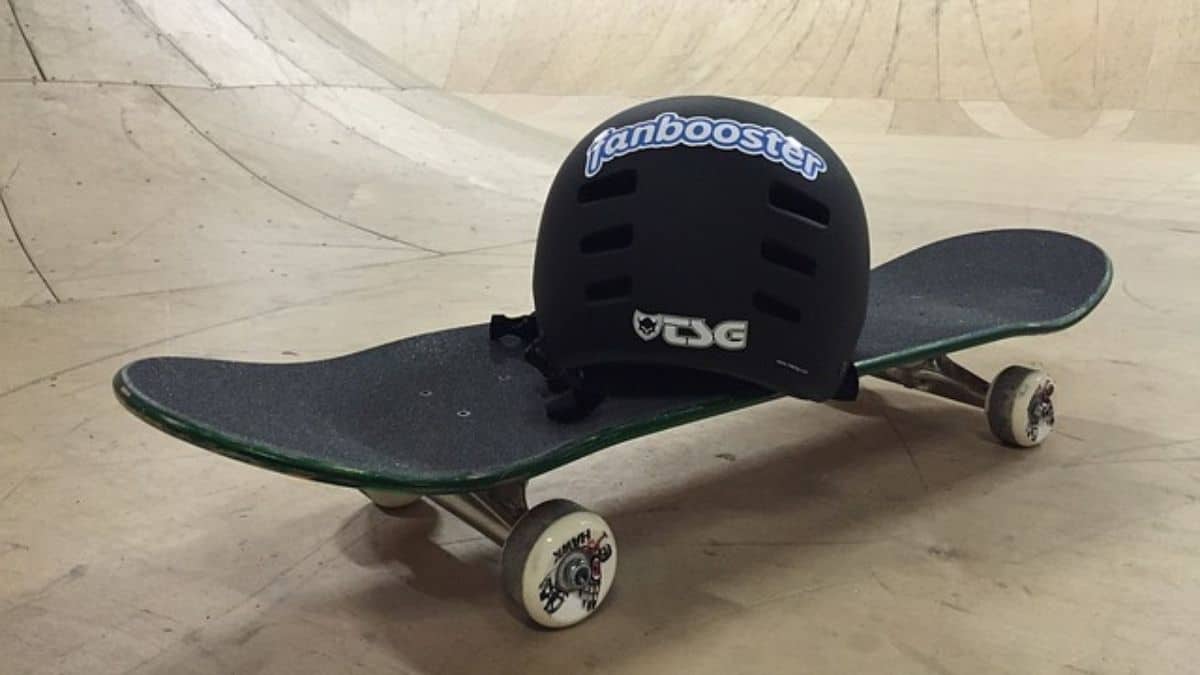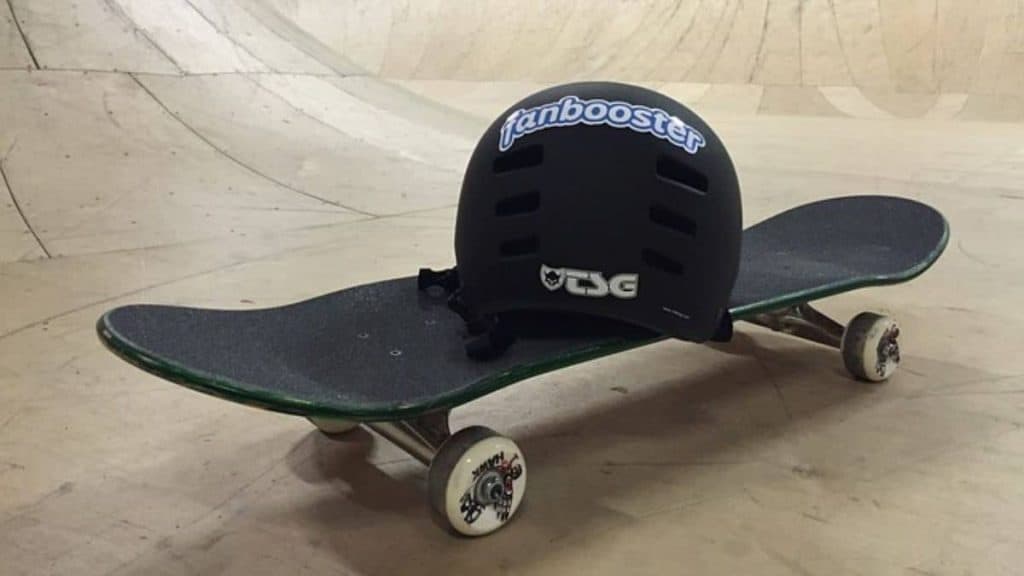 Impact Resistance System
The comparison between skateboarding helmets and bike helmets has most to do with their resistance system. While skateboard and longboard helmets can be both single and multi-impact, their biking counterparts are typically single-impact headgears.
A multi-impact helmet might seem great on its face, but it's hardly the whole story. You may always spot damages to the outer shell, but it can be difficult to tell whether the protective foam is still intact. Also, if you already suffered a few soft blows to the head, you can't be sure if the helmet can withstand another hard impact. Nevertheless, it's always better than not wearing a helmet at all.
That's why choosing a single-impact skateboard helmet or bike helmet is your best bet, although it's not very popular with skateboarders. The foam on single-impact helmets is more rigid and doesn't reinstate after a severe blow. What happens is the foam gets crushed on one powerful impact. However, a few soft knocks won't require you to get a new helmet. Unless the inner foam gets cracked, you're good to continue with it.
Safety Standards
Secondly, you'll want to know how skate helmet vs bike helmet compares based on safety standards. Helmets fall under different regulations depending on their type.
Concerning the safety of products, the Consumer Products Safety Commission (CPSC) and the American Society for Testing Materials (ASTM) have established several sets of standards. The standards can either be mandatory or voluntary. You can determine which regulations apply to your helmet by looking at its label.
Because skating is a sport that can sustain more than one impact, skate helmets are often designed to withstand multiple impacts. Falling several times is common for skaters who perform increasing amounts of complex maneuvers. However, skate helmets aren't always certified, and neither the law requires them to be. These helmets provide a certain degree of protection, but it isn't always guaranteed.
Cycling, on the other hand, is relatively accident-free once one masters the fundamentals. Therefore, bicycle helmets are most likely to survive one severe crash. Bicycling helmets sold in the US must comply with the CPSC standard. Hence, you must always check whether yours does or not.
Read: How to Look Cool Wearing a Skateboard Helmet?
Inner Materials
The two types of helmets mentioned above are intended to protect from different kinds of accidents. Their materials inside explain how they serve the protection.
Ideally, helmets for skateboarding use a rubbery foam that gently bends back into shape after an impact. Typically, they use Expanded Polypropylene foams (EPP).
On the other hand, bike helmets often feature an inner lining made of Expanded PolyStyrene (EPS). Perhaps you were familiar with it as Styrofoam. However, Styrofoam is merely one of many of this material's brands.
In contrast to EPP, EPS is crumbly and cannot regain its natural form following a hard blow. In other words, you'll have to replace your bike helmet if it has suffered a significant impact.
The Outer Shell
A skate helmet's outer shell is typically sturdier than a bicycle helmet. Often, they are made up of carbon fibers or fiberglass that is reinforced by para-aramid fibers. In addition to their high tensile strength, these fibers are stiff and lightweight. Meaning, skate headwear is less likely to crack even throughout repeated collisions.
In bicycle headgears, the exterior is considerably lighter, with their shell merely being a thin plastic enclosure. The EPS foam performs most of the protective work in these single-impact helmets. It's because cycling emphasizes speed more than anything else. Bicyclists can go faster when their gear is lighter.
Read: How to clean a white helmet?
Design and Head Coverage
No matter what skating sport you are involved in, helmet shapes are pretty similar, whether you're riding a skateboard or a longboard. They are round and smooth in shape, covering the dome of users' heads from their forehead to all the way down to their nape. The lower back part of these headwears has a unique design for protecting the wearers against frequent backward falls.
In contrast, bike helmets differ depending on the variety of cycling sports.
The elongated shape of road cycling helmets does not extend down to cover the rider's neck. Track cycling helmets have a further streamlined, ventless design with a smooth surface, while mountain biking helmets resemble full-face motorcycle helmets having a spacious ventilation system.
And although BMX involves riding a bike, it shares cultural and technical similarities with skateboarding. While laying dirt jump on BMX bikes requires wearing a mountain bike helmet, skate helmets are the go-to choice for BMX freestyling.
Read: What size skate helmet do I need?
Visor or No Visor?
A skateboard headwear doesn't feature a visor. It's because skaters rarely deal with conditions that would require any. Usually, skateboarding venues are controlled environments and are not hostile.
The same is true for road-cycling helmets; a pair of sunglasses usually suffices for their eye protection.
Mountain biking helmets often include a visor, however, since they're full-face helmets. It protects against the sun, rain, wind, bugs, and dirt from the track. The headgear of track cyclists also has an integrated visor, even though they compete indoors. Here, the visor serves as an aerodynamic optimization device.
Ventilation
Except for track cycling helmets, bike helmets have more ventilation holes than skate helmets. This is because road cruising and mountain biking are both physically more demanding than skateboarding.
Speed doesn't matter so much to skaters as it does to cyclists. They also rarely perform for as long a stretch as cyclists. That's why bike helmets feature an aerodynamic dome that provides superior ventilation, whereas skate helmets typically only have six to eight vents.
Style
The term skatewear often describes an entire daily fashion style. Helmets may not be a prominent style element, but the skate culture places a great deal of importance on clothing and accessories. Consequently, there are many patterns and colors on helmets nowadays. Skate helmets with rounded vents and smooth surfaces have become popular for decorating and customizing.
Cycling fashion, meanwhile, places a high value on efficiency and performance. Although bike helmets don't have a smooth surface, their excessive venting scheme makes them an excellent medium for creating exciting optical effects. Also, skate style bike helmets are becoming increasingly popular with kids and teens.
Durability
Is there a difference between a bike helmet and a skateboard helmet in terms of durability?
Well, trying to compare plain durability between single-impact and multiple-impact headgears seems rather unfair.
A skateboard helmet can handle more blows than a bike helmet, of course. But it's so wrong to condemn the latter just because of that since their purposes are different, and so are their constructions accordingly. A comparison of durability only makes sense from the standpoint of their interchangeability.
Frequently Asked Questions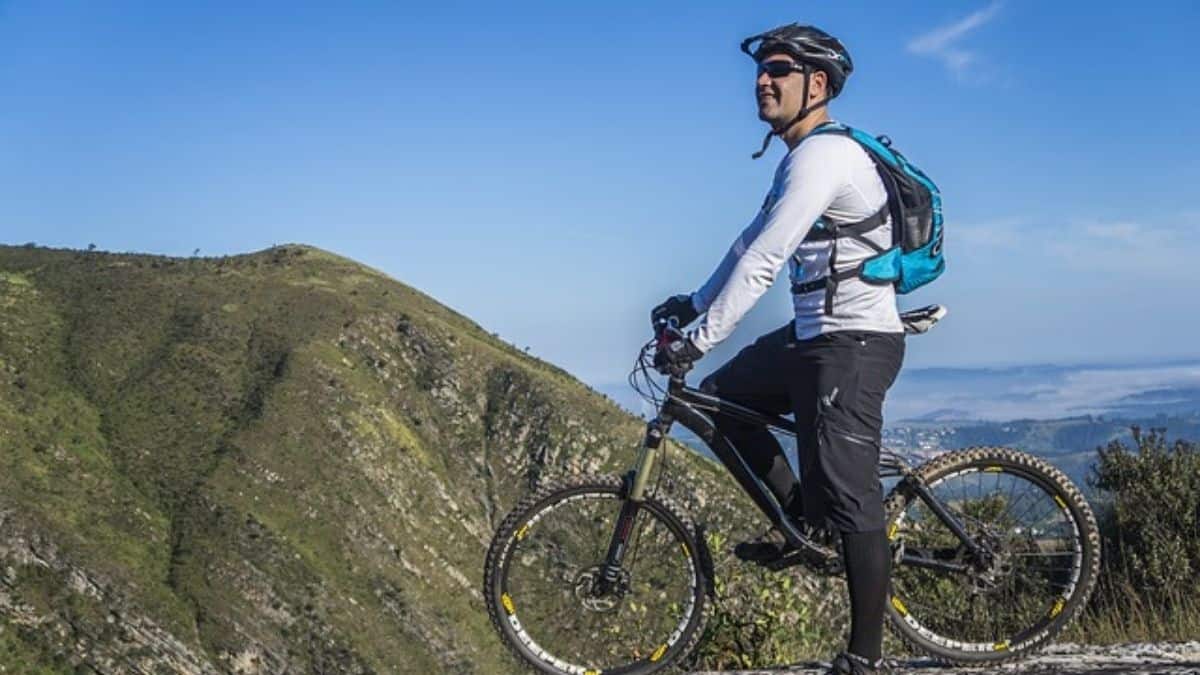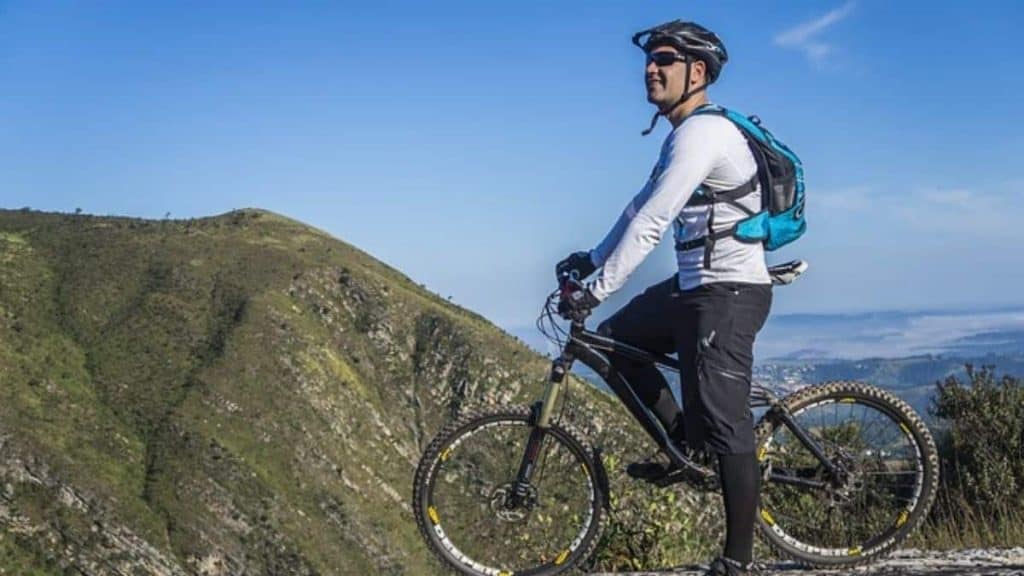 Is a bike helmet ok for skateboarding?
Ans. All bike helmets are suitable for cycling, but they must also comply with the ASTM F1492 standard for use on skateboards. It ensures that the helmet is dual-certified, offering superior protection to wearers than those with only one certification.
However, wearing a bike helmet while skateboarding brings about several concerns. Firstly, it isn't quite adaptable to skateboarding needs. It's utterly ridiculous to wear a track cycling helmet anywhere outside the track. A full-face mountain bike helmet is kind of silly and surplus to requirements. While road cycling helmets may not obscure your vision, they often won't cover your head's lower back.
Are skateboard helmets safe for biking?
Ans. As we've addressed earlier, skateboard helmets mostly have the build to absorb multiple knocks that aren't too severe, whereas bike helmets aim to thwart one harsh impact. So you can't be sure if your skateboard helmet can absorb a significant hit. We do not recommend using a skateboard helmet for safe biking unless it has both CPSC and ASTM F1492 certification.
Still, there's one downside that might be irksome when making this replacement. That is, skate helmets are not very streamlined and do not have sufficient ventilation. So, if at all, they can only be suitable for lowly, leisure rides. Taking an hour's ride would make your head feel like an oven.
Is there a difference between skateboard helmets and bike helmets?
Ans. Sure there is. Our entire article highlights their key differences and functions, so you can easily distinguish them.
Do skateboarders need helmets?
Ans. Yes, absolutely! Every time you skateboard, you should wear a helmet for your safety. Using a helmet is solely for the purpose of protecting your head from the potential injuries you may receive when falling. Many head injuries can happen to novices, particularly if you're trying to improve your skill.
According to American law, all skateboarders must wear helmets. The skateparks have all been instructed to require that helmets be worn on their skating rinks. The Law of California mandates that skateboarders aged under eighteen years who skate in public places or streets wear a helmet.
You should always wear a helmet, even if you're a professional, and don't get hurt too often since it will significantly shorten your recovery time after falling.
Do skating helmets work?
Ans. Yes, resoundingly. Let's now look at "Why?".
Hardshell plastic and foam make up skate helmets. They protect your head top-to-bottom. In other words, if you lose balance, trip, or collide, your head will not hit the pavement directly. You may be able to avoid severe injury with this small layer of protection.
As one of the most sensitive and delicate parts of the body, the skate helmet protects your head at all costs since it is too prone to falling when you skate. Skate helmets are designed to survive not only one but several falls. Therefore, the helmet can deal with your needs, whether you're a beginner or an experienced rider.
Most safety studies suggest that an individual who wears a helmet has a significantly lower chance of getting hurt than one who does not.
Read: How Much Does A Skateboard Helmet Cost?
What's the difference between a skateboard helmet and a bicycle helmet?
Ans. Skate and bike helmets function differently in many ways, in addition to their obvious differences in looks. The dissimilarities between the two become more apparent as you go through this write-up.
What is Low profile skateboard helmet?
Ans. Low-profile helmets are single-impact helmets having either a thinly padded inner foam or a thin-plastic outer shell. They are often exclusively for professionals who know their game and the tricks to avoid severe head injuries. However, wearing a low-profile helmet doesn't always mean it's dangerous; you can safely wear it as long as it has ASTM certification.
Scooter helmet vs bike helmet; is there a difference?
Ans. Unlike skateboard helmets, scooter helmets are not much different from bike helmets. If you're riding a kick scooter, a bike helmet is perfectly appropriate. Often, kick-scooters are advised to wear bike helmets.
However, the same may not be applicable if you want to use a road bike helmet with your electric scooter, which demands more protective measures. In that case, you may want to wear a full-face mountain bike or BMX helmet. Also, manufacturers make mountain bike helmets keeping electric scooter riders in mind.
Final Say
Undoubtedly, no person in the entire universe would enjoy having their brain crushed when they fall off their ride. Besides wrist guards and knee pads, helmets are a must for specific sports, whether cricket, cycling, or a MotoGP race.
A helmet is essential to protect your precious head from impacts that could cause severe damages, including hemorrhage and memory loss. So, whether or not you're torn between skateboarding helmet vs bike helmet, always remember that either one is better than not wearing one at all.
Read More: