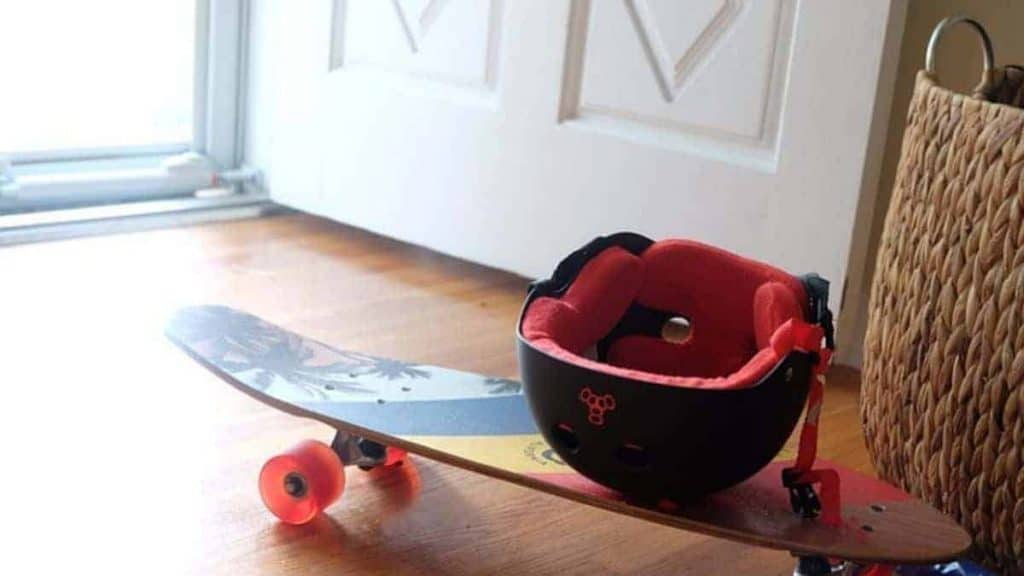 It does not matter whether you're a professional or a beginner-level skateboard rider. Safety gears are a must, especially helmets.
And like every other gear, regularly using a helmet can build up dirt and sweat, which can cause discomfort and bad odor. Wearing a dirty or smelly helmet can hamper your riding experience.
This is why it is recommended to clean your skateboard helmet from time to time or at least when it's needed. Now you might be wondering, "But how do I do it?"
Don't worry; we are here to show you how to clean skateboard helmet. The cleaning process is fairly simple if you follow the steps mentioned below properly. So, let's jump right in.
How to Clean Skateboard Helmets? Explained…
Cost: you probably have all the things we will be using here, but if you don't have them, the whole process can cost around 5 to 10 dollars. Yes, it is that cheap.
Read: How Much Does A Skateboard Helmet Cost?
Time: depending on your cleaning speed, you can easily put a shine on your skateboard helmet in approximately 5 minutes.
Read: How to Look Cool Wearing a Skateboard Helmet?
Cleaning skateboard helmets do not require too many tools or materials. So, let's look at what we need to get rid of those nasty smells and dirty outlook.
Any ordinary dish detergent liquid.
A brand new toothbrush.
A face towel.
A kitchen sink.
Read: Skateboard helmet or bike helmet?
Now that we got everything needed let's begin the process.
Step 1 – Preparing The Water.
To start the process, you need to block the kitchen sink to not drain the detergent water we will be using.
After blocking the sink, turn on the tap and let the sink fill up about 20 to 30 percent. Remember not to fill up the whole sink as it will only be wastewater.
After filling up the kitchen sink, put 5 or 6 drops of dish detergent liquid. You can put more drops if you want. Just make sure the water gets soapy. Stir the water for 30 seconds, and you are done preparing.
Read: Skateboard Helmet Laws
Step 2 – Beginning The Cleaning Process.
After your kitchen sink water is all bubbly and soapy, you have to gently put the helmet under the sink water.
Don't worry about the foam pads inside the helmet getting damaged, but you can take them out and clean them separately if you are worried.
After putting the helmet under water, shake it multiple times so that the water reaches every corner of the helmet. Soaking the whole helmet is necessary, and you should not skip it.
Read: What size skate helmet do you need?
Step 3 – Brushing
Once your helmet is all soaked and wet, bring out the brush. Start with the exterior of the helmet. Dip the toothbrush in the detergent water and aggressively rub it on the helmet.
Dip the toothbrush once again after every 4 or 5 rubs. Continue doing this until you are satisfied with the outlook.
Now move into the interior. Start with the helmet straps. Follow the previous step and dip your brush in the water.
But this time, you have to be gentle. Don't put too much force, or else it might ruin the fabric. Once you are done with the straps, move deeper.
Read: Choose the right wrist guards for your safety
Step 4 – Finishing Off The Cleaning.
After scrubbing off the dirt with the toothbrush, put the helmet under the tap and wash it thoroughly. Now take the face towel and start wiping the helmet. Make sure there is no soap left.
Now all you gotta do is let the helmet dry, and you are finished. Yes, Cleaning longboard helmet is that easy.
Read: How to clean a white helmet?
Final Words…
Regularly cleaning your skateboarding gears is as important as wearing them. And the helmet is the most important one because it sits right on top of your head. If it looks dirty or smells bad, it can cause discomfort, which will eventually affect your experience.
Some people are too nervous about cleaning their helmets because they think they might damage them. As we have shown you here, cleaning helmets is fairly easy, simple, and effective.
So, if your skateboard helmet starts to show signs of wearing out, just take out your detergent and brush, and breathe new life into it. Hope our article helps you accomplish that.