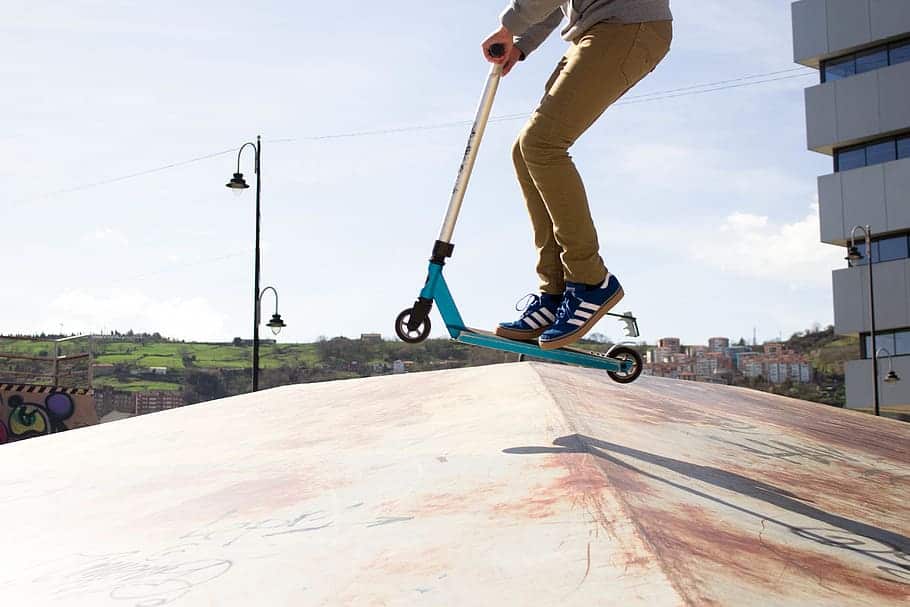 Kick scooters! A very popular human-powered vehicle. The vehicle started its journey back in the early 20th century in the urban areas of America & Europe. Since then, its popularity never went down. Which is why it became very popular all around the globe. The ease of function and mechanism basically lead kick scooters to reach the peak of popularity.
Now, whether you are a kid or an adult, if you are familiar with the kick scooter, the second thing you want to learn after learning to ride the scooter is to do some tricks. To help you with that, here we are today to discuss how to do a bunny hop on a scooter!
What Is A Bunny Hop on a Scooter?
A bunny hop is one of the easiest and simplest tricks to perform with the Kick scooter for tricks. It does not require any special skills and experience. If you can maintain balance on a kick scooter, bunny hops won't be a tough thing to perform. Additionally, it has very minimum accident risks.
That's why, no matter what your age is, if you have the fascination for doing trickeries, bunny hop is the trick where you should start.
But before starting let's get to know, what is a bunny hop on a scooter.
Well, it is a very classic trick to do on scooters. In this hop, you elevate both your body and vehicle at the same time and land in an even manner on the ground. The elevation diameter is not very much. Usually, it measures the height of 1-1.5 feet thus it is called a "bunny hop".
There are basically two ways to perform this trick. "Classic bunny hop" & "The J hop".
How To Do A Bunny Hop On A Scooter?
Let us start with the classic bunny hop, a technique of jumping along with the scooter. To do this, all you need to do is :
Put your dominant or stronger leg in the back of the scooter deck. Then, put the other leg in front of the dominant leg, both your feet should procure an "L" shaped pattern, where your stronger leg will support the other leg.
Get a firm but a strong grip on the handlebars.
Propel yourself and gain some acceleration by pushing your back foot against the ground.
Then place both the legs on the deck, bend the knees a bit, and push upwards with your legs and while pushing, pull the handlebar with your arms at the same time.
The perfect coordination of this push and pull-ups will ensure the hop.
Then reach the ground again with your back wheel first.
And congratulations! You just did a perfect bunny hop!
More questions? Find answers here or watch the following video!
How To Bunny Hop Higher On A Scooter?
Now if you ask how to bunny hop on a scooter higher, then "J hop" is the solution, where:
While on movement, you have to lean back a bit and got to pull up your front wheel first, then the second wheel while maintaining alignment and balance.
It's a complete timing and perfect alignment-based trick. If the timing of the hop is right and the body alignment is there, a perfect J hop will be performed before you can even notice!
Nonetheless, the J hop is a bit advanced technique and requires a bit more practice then the classic bunny hop.
Let's Watch a video!
Ensure Safety!
While doing such tricks, ensuring safety must be a major concern. To ensure that:
Always wear a helmet, knee caps, and elbow caps.
Better if practiced on a plain road or surface.
Be cautious about the timing and placement of the hops.
Though It's a very low-risk trick to perform, yet we should follow these safety measures all the time even after you get rid of the fear of dropping in.
The Bottom Line…
By now, you must have got a basic idea of how to do a bunny hop on a scooter. It's an easy and interesting trick to perform. In the markets, there are huge varieties of scooters available.
So, it might be a bit difficult to choose any one of those. The choice and preference are always in your hands.
But the scooters having lightweight build structure, rubber handle grips, and durable steel or aluminum-built body are considered as the Best scooters for tricks.
So, what's the delay?
Just grab your scooter and start your journey of trickery right away, starting with bunny hops!
Read More