As an Amazon Associate, I earn from qualifying purchases. Learn More.
If you've engaged yourself into cruising lately and looking to up your riding skills, a longboard can be your best mate for taking your game to the next level.
While quality and adaptability should both be your concerns, you wouldn't want to compromise when it comes to appearance and price.
In this Retrospec Zed Bamboo longboard review, we'll take a closer look at one of the most elegant choices of a longboard in the market, and figure out how it fares when meeting those demands.
What Makes the Retrospec Longboards Unique?
All the unforgettable rides and buoyant adventures begin with the basics. And when it comes to making that beginning effortless and smooth yet cool, unique, and defiant, there's no better a brand name that cares more than Retrospec.
Here's our take on why this new line of Zed longboards is different.
Retro Look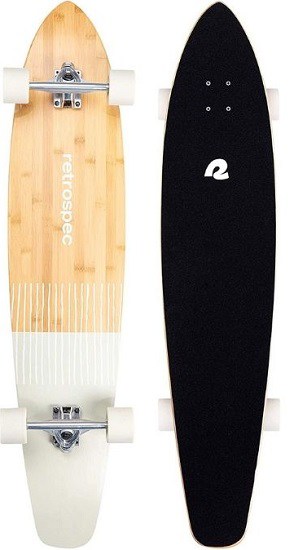 There couldn't be a more precise way for Retrospec to justify their brand name than giving their line of Zed longboards a simple yet classy vintage look from the '60s. But despite the vintage appearance and vibe, Retrospec's funky, vibrant color options are still there.
To be more specific, you'll have 15 different eye-catching unique designs to choose from. So whatever riding style you prefer or however your personality is, you can always make a selection accordingly.
Incredible Affordability
The Zed longboard cruisers are manufactured, keeping primarily beginners in mind. Yet, Retrospec has opted to provide top-notch quality within these skateboards at a price far lower than its rival brands.
The company believes that beginners are better off with a nicely balanced skateboard rather than paying too much on a costlier one that they'll find hard to adapt. Considering the superior quality at a price so low, it makes total sense.
Environment-Friendly Skateboards
Unlike most skateboards that are made from hardwood of maples, oak, or trees such alike, the line of Zed longboard cruisers have used sustainable bamboo. That's certainly an environment-friendly move from Retrospec since the bamboos grow much faster than those valuable trees.
Meaning, little wastage on natural resources. And these bamboo longboards are notably lighter than wooden boards, which also make your rides smoother.
Retrospec Zed Bamboo Longboard Review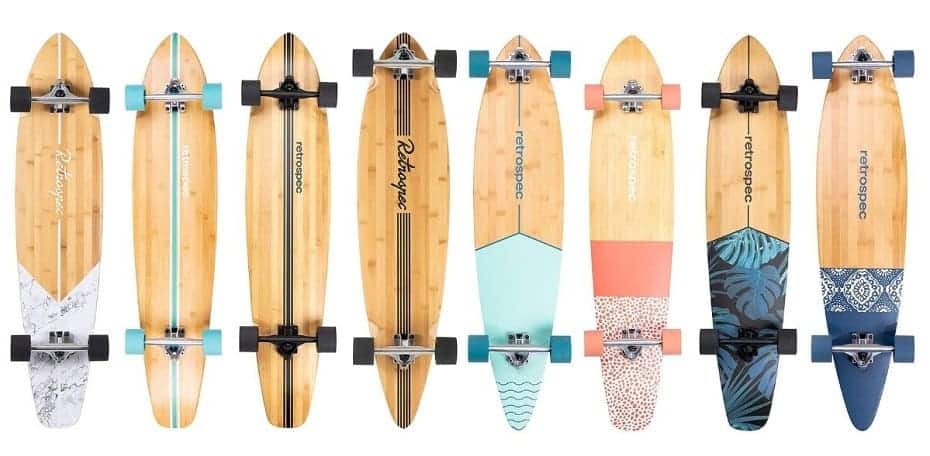 Bringing one of the cheapest lines of longboards hardly kept the brand from incorporating all the high-grade components within these cool skateboards. We'll now take a look at what they have to offer.
Material
The material has to be the first of so many gracious benefits of this Zed longboards. The manufacturers have utilized a sublime combo of bamboo and maple in its 8-ply construction to uplift its retro look and feel.
While bamboo being the primary element makes it feel lightweight, the little bit of maple used in it adds to its superior durability. More so, the deftly crafted build flex only a little to provide you with comfortable maneuvers.
Infrastructure
Whenever you're up to buying a new cruiser, the importance of its shape and size becomes evident as it determines how well you can adapt to the gear.
The Zed bamboo skateboards have a width of 9.5-inch, which aligns precisely with its 44-inch long deck. Meaning, with an ideally longer board and easy-to-rest width, you'll be breezing to cruise throughout your rides.
Talking about its shape, the board boasts a pintail design. It allows you to cut through the air with relatively more convenience. Besides, it ensures a firmer grip as well.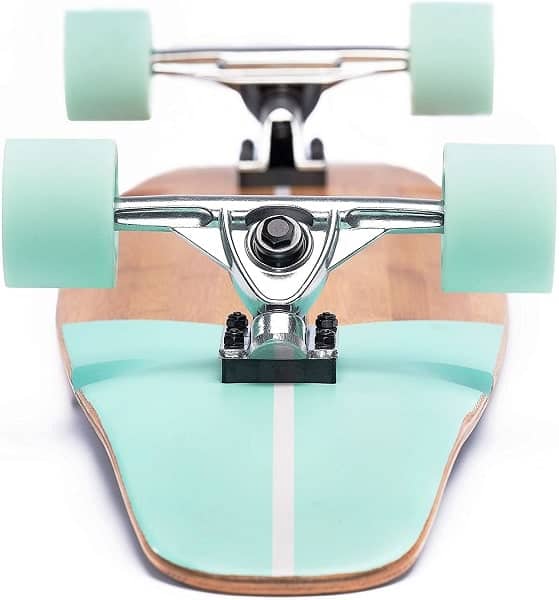 Trucks
To cut a long story short, the company has focused only on providing stress-free maneuvers through its trucks other than anything else. So, it may not impress a lot of its suitors who would love to exploit their tricks with it.
The aluminum-made invert kingpin-style trucks have a width of 7.5-inch on its rear and 8-inch on its front with harder bushings. Meaning, the tricky turns will be much harder to perform. But again, the board is intended for beginner riders, which should be kept in mind while purchasing.
Wheels
The Zed longboard comes with 70-mm highly shock-absorbent polyurethane wheels that add to its impressive smoothness. However, with a hardness rating of 85a, you may feel the wheels a bit hard when cruising. It increases the effort required for maneuvering, especially when attempting those curvy turns.
The board comes with ABEC-7 bearings, which are replaceable for future upgrades.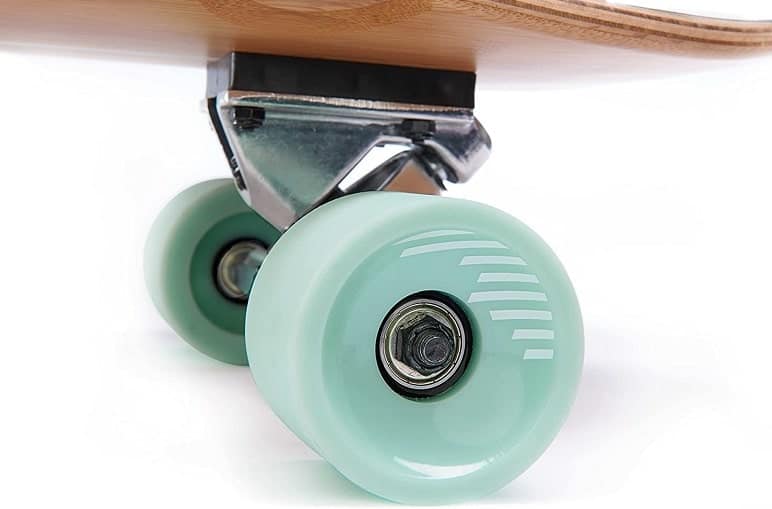 Are Zed Longboards Good?
So far, we have discussed the key features and aspects of this unique line of skateboards. Here's how we figured what are Retrospec longboards good for and what they are not.
Things We Liked
It offers 15 different designs and colors to choose from.
It has the precise shape and size required for smooth cruising.
It comes with one of the most smoothly rolling wheels.
The sturdy wheels are durable even to withstand rough terrains and rocky streets.
Easy to grip and maneuver.
It comes with a deck that is slip-resistive and easy-to-balance.
The overall build is highly stable, sturdy, durable.
It's well-balanced, highly competent, and one of the best longboard skateboards for the price.
Things We Didn't Like
The hard bushings on the trucks make the turns harder.
The bearings should've been of more improved quality. You'll be wise to replace them with better ones.
The Bottom Line…
So, if you happen to be a beginner, looking for a perfectly-balanced skateboard, there's rarely a better option than this line of Zed longboards that have much to offer compared to its price tag.
But you'd be well off investing a bit more in a skateboard having more improved trucks for professional skating or likewise staff.
Again, there's no denying that these Retrospec longboards are indeed a bang for the buck.
Read More
Amazon and the Amazon logo are trademarks of Amazon.com, Inc, or its affiliates.