As an Amazon Associate, I earn from qualifying purchases. Learn More.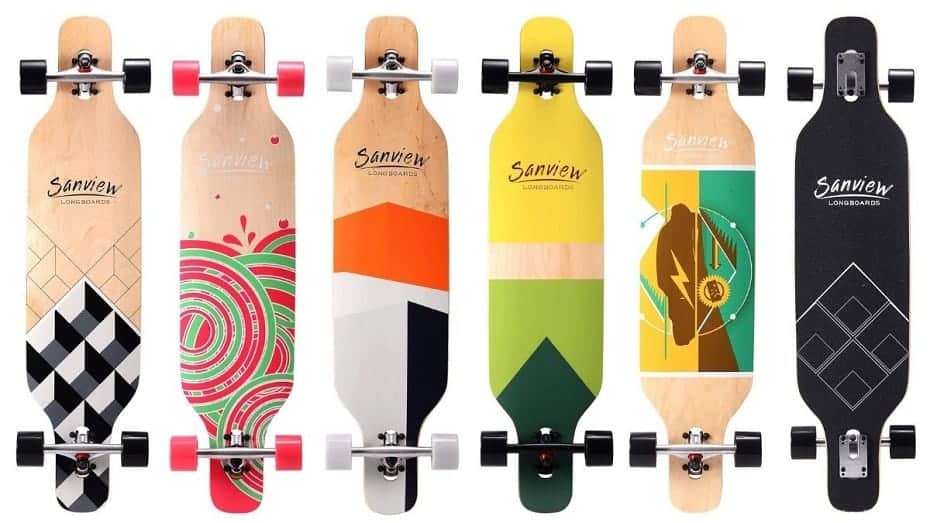 Finding a good entry-level longboard isn't easy, as most of the time people end up buying a crappy or impractical longboard. If you are just learning, there's no denying that there will be a steep learning curve. For that reason, we bring you Sanview Longboard Review, the most forgiving and Inexpensive Longboard for a beginner.
Being an affordable longboard doesn't always mean it will lack important features. At least, not in the case of the Sanview Cruiser Longboard. The sturdy wide deck, high-rebound wheels, durable trucks in the build reflect utmost attention to details and quality.
I am sure you already know all of these. But what makes a Sanview longboard different from others? Let's see what our experts have to say about that.
A Brief Rundown Of The Features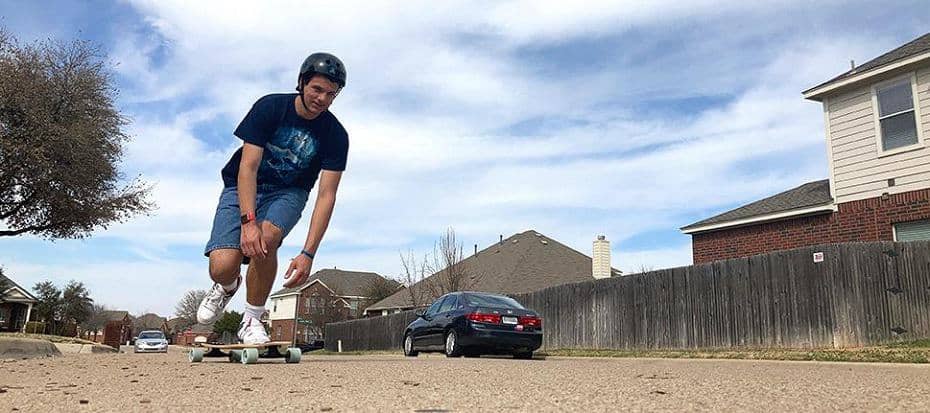 Phenomenal Deck Design
From the design viewpoint, the deck's length can go from 28-42 inches depending on what type of board you are choosing. There is pintail, kicktail, fishtail, and drop-through longboard design that highly serves different types of riders and riding styles.
Now onto the construction, it's a Canadian rock maple board in conjunction with bamboo ply. The 6 ply maple and 1 ply bamboo make the overall board build much flexible on impact yet durable not to worry much about the aftermath.
The 9-inch wide deck has plenty of space to get a good hold with your feet and detailed artwork on the back. Right of the box, it came with various flowers and intricate totem designs that catch the eye of every rider of age.
Sharp Lip Rebound Wheels

Wheels pose a vital role in any skateboard as it determines speed, curving, and ability to overcome bumps. With the 70mm x 51mm Polyurethane wheels, it's easy to roll on various surface types and stick to the ground securely.
The large wheels also help to cover more range with less effort. Going over cracks, manhole covers are just as easy as riding through a paved road. Although a sharp lip wheel won't allow you to slide it's a fun Longboard for carving and tackling those turns easily.
Cast Aluminum Trucks
The trucks of the Sanview drop through longboard are about 4 inches tall providing you with abundant ground clearance for curving. Plus the Polyurethane bushing in the trucks has a smooth curving feel that you will love when cruising or on the way to running errands.
What makes this truck more versatile is the durability and ABEC 9 rated bearings. They are reliable, buttery smooth, and anti-bite technology built into them makes them the best cruiser longboard on the market.
The overall performance of the trucks is amazing. It's not that heavy due to aluminum build but casting makes the structure tough enough to handle harsh impacts. They will give you confidence in the turns and can hold up to 220 pounds of pressure without much issue.
If you want to take it apart from the board for easy storing you do that easily with the included turnkey. You don't need other tools for the operation which is convenient for traveling with the board.
Key Specifications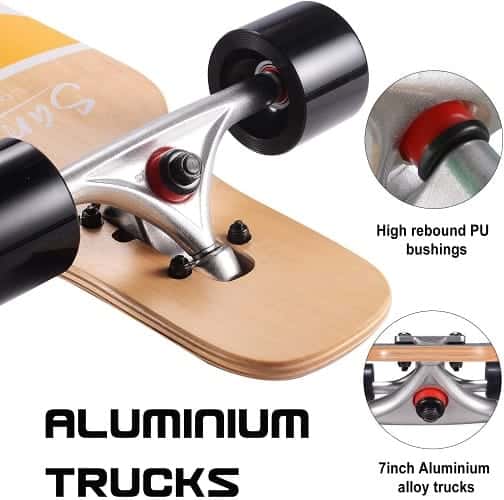 | | |
| --- | --- |
| Material | Maple and bamboo deck |
| Board Length | 28-42 inches |
| Board Width | 9 inch wide |
| Deck configuration | 6 maple ply + 1 bamboo ply |
| Truck materials | Cast aluminum 7 inches |
| Wheelbase | 70x51MM |
| Rated Bearing | ABEC 9 |
PROS
Study and durable for any environment.
Affordable in terms of overall build.
Unique design with eye-catching graphics.
Highly stable due to Low height trucks.
Quality grip tape provides unparalleled control and foothold.
CONS
Easy to get scuff marks on the board if you are not careful.
Clean the bearings and lube them to avoid noises.
Verdict…
After considering all the features and real-life experiences from riders it's safe to say, this is a good longboard for beginners. Well, there are great options as well if you are ready to spend hundreds of dollars right away. The versatility of all the components and affordability makes the Sanview Longboard more desirable to people of all ages.
Alternative Option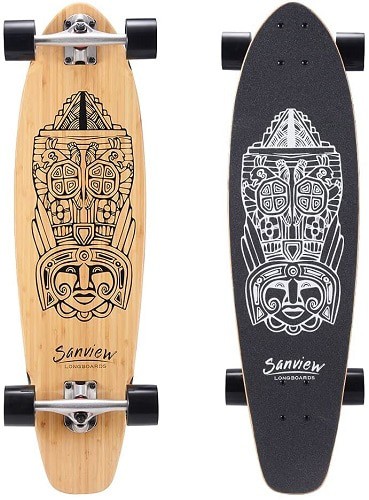 If the pintail and kicktail skateboard is not your first preference due to shape, the Sanview drop through Bamboo longboard can be a good alternative. Almost all the features are similar except the length, which can be the best longboard for heavy riders.
If you are an adult looking for a fun way to get around town or simply want to learn skateboarding for the first time, go for the Sanview drop-through cruiser longboard. And don't forget the Sanview 42 inch longboard also has similar build properties that serve well even to a pro skater.
| | | | | | |
| --- | --- | --- | --- | --- | --- |
| | 39inch Drop Through Longboard | | 28inch Cruiser Skateboard | | |
| | | | | | |
| | | | | | |
| | | 6 ply maple & 1 ply bamboo | 6 ply maple & 1 ply bamboo | | |
| | | | | | 3.25 inches aluminium alloy |
| | | | | | |
| | | | | | |
How To Choose The Perfect Longboard?
Without a doubt, it's very important to choose the right longboard to have a pleasant experience in riding. If a particular board is perfect for one person it doesn't mean it will be the same for the guy next to him. The experience level of the rider, materials, price, and preference are some of the key factors to consider when buying a longboard.
Experience level: Not all skateboards are the same as it requires a certain level of riding experience to handle the board. If you are a beginner go for a wide and longboard with low ground clearance. It will be much easier to handle the board on any terrain.
Build materials: longboard comes in various build designs but the most popular is the maple deck. The bamboo deck is also famous for flexibility and lightweight construction suitable for doing tricks. You can also find exotic boards like aluminum and glass which are mainly for exhibitions/posing.
Wheel type: Among the two types of wheels as in sharp lip and round lip, the sharp lip has the most grip on the road. Where round lips are great for sliding and other techniques. But for a beginner, it's a good idea to stick to the sharp lips as it will have more control.
Price: it's absolutely not recommended to buy an expensive board out of the gate to learn skateboarding. Buy an inexpensive one and try to learn as much as you can before you move on to an expensive board.
Conclusion…
Hope you have found what you are looking for in our Sanview Longboard Review. In addition to that, the above key points to find the perfect longboard should come in handy when it is your time to choose. That said, ride safe and happy skating.
Read More:
Amazon and the Amazon logo are trademarks of Amazon.com, Inc, or its affiliates.