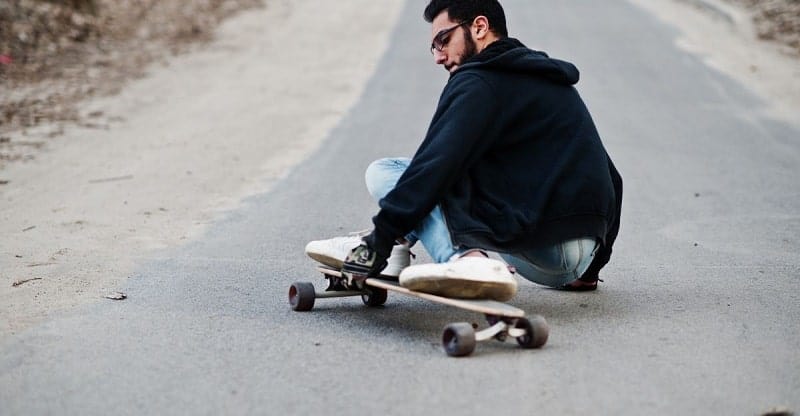 Skateboarding is not just about cruising and performing tricks—it's about harnessing the power of speed and unleashing your full potential on four wheels. Whether you're a beginner eager to learn the fundamentals or an experienced rider looking to fine-tune your skills, this comprehensive guide is here to help you master the art of maintaining speed like a pro.
Here, we will dive deep into the techniques, strategies, and secrets of how to maintain speed on a skateboard that will keep you gliding smoothly and effortlessly on your skateboard. From understanding the fundamental principles of speed to exploring advanced maneuvers, we'll leave no stone unturned in our quest for skateboarding excellence.
Discover the critical role that foot positioning plays in maximizing your speed and control. Learn how weight distribution and balance can be harnessed to propel you forward with lightning-fast acceleration. We'll also delve into the importance of wheel selection, size, and hardness, uncovering the secrets behind the perfect setup for optimal speed.
But that's not all—we'll guide you through a variety of specialized techniques, such as carving, pumping, sliding, and more, that will take your speed to new heights. With step-by-step instructions and expert tips, you'll unlock the secrets of these advanced maneuvers and elevate your skateboarding prowess.
Along the way, we'll address common mistakes that can hinder your speed and provide valuable insights on how to overcome them. By avoiding these pitfalls, you'll be well on your way to achieving lightning-fast wheel spins and maintaining your momentum like never before.
So, whether you're a thrill-seeking daredevil or simply seeking the pure joy of gliding effortlessly through the streets, this ultimate guide has you covered. Strap on your helmet, lace up your shoes, and get ready to embark on an exhilarating journey towards mastering the art of maintaining speed on a skateboard.
Get ready to experience the rush, the adrenaline, and the sheer excitement of pushing the limits of what's possible on four wheels. Get ready to become a true speed demon on your skateboard. Let's dive in and start mastering the world of skateboarding speed together!
The Importance of Maintaining Speed in Skateboarding
Speed is an integral aspect of skateboarding that can greatly impact your overall performance and experience on the board. Whether you're cruising through the streets, tackling ramps at the skate park, or executing tricks and maneuvers, maintaining speed is key. Here are several reasons why maintaining speed is important in skateboarding:
Fluidity and Control: Maintaining a consistent speed allows you to ride with fluidity and control. When you have a good amount of speed, your movements become more seamless, and you can navigate obstacles, transitions, and turns with ease. This enhances your overall riding experience and helps you maintain balance and stability.
Execution of Tricks: Speed plays a crucial role in executing tricks effectively. Whether you're launching off a ramp, performing an ollie, or attempting more complex maneuvers, having sufficient speed is essential. It provides the necessary momentum and energy to perform tricks with power and precision.
Overcoming Obstacles: Maintaining speed enables you to overcome various obstacles you may encounter while skateboarding. Whether it's uneven terrain, cracks, or debris on the ground, having a good speed helps you maneuver through them smoothly. It reduces the chances of sudden stops or falls, ensuring a safer and more enjoyable skateboarding experience.
Style and Flow: Speed adds a dynamic element to your skateboarding style. When you maintain a good pace, you can flow through different sections of a skate park or city streets with grace and confidence. It enhances the aesthetics of your skateboarding, giving it a more visually appealing and stylish appeal.
Versatility and Exploration: Maintaining speed allows you to explore different skateboarding terrains and ride with versatility. Whether you're interested in street skating, downhill racing, or vert skating, having a good speed opens up opportunities to try new riding styles and experiment with various techniques. It expands your skateboarding horizons and keeps the sport exciting and engaging.
Thrill and Adrenaline: Speed is exhilarating. The feeling of wind rushing past you as you pick up speed on your skateboard creates an adrenaline rush that enhances the overall skateboarding experience. It adds an element of excitement and freedom, making each ride a thrilling adventure.
Increased Safety: Maintaining a good speed on your skateboard can contribute to your safety while riding. When you have enough speed, it becomes easier to overcome small obstacles, such as cracks or pebbles on the ground, reducing the risk of sudden stops or falls. Additionally, maintaining speed can help you maintain better balance and control, minimizing the chances of losing control and getting injured.
How To Maintain Speed On A Skateboard?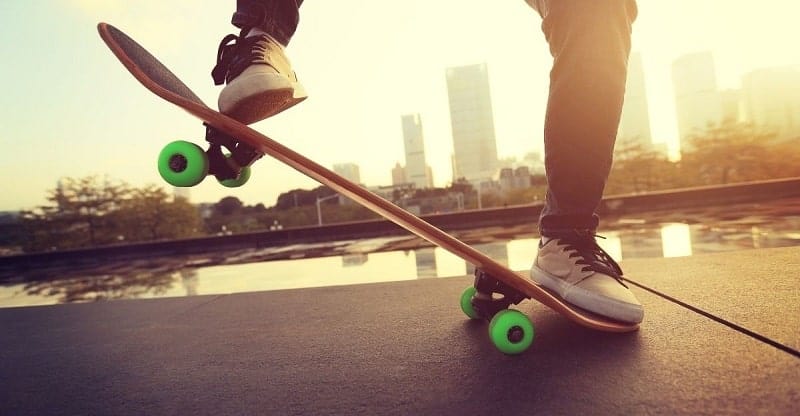 #1- Proper Foot Placement for Maintaining Speed
Maintaining speed on a skateboard requires more than just pushing with your foot. It also involves proper foot placement, which plays a crucial role in maximizing your speed and control. Here's why correct foot placement is important and how you can position your feet for maximum speed, while avoiding common mistakes:
Importance of Correct Foot Placement
Proper foot placement is essential for maintaining stability, balance, and generating power while skateboarding. It provides a solid foundation for pushing and maneuvering the board, allowing you to maintain speed more efficiently. With correct foot placement, you can optimize your weight distribution and leverage your body's movements to achieve maximum speed and control.
How to Place Your Feet for Maximum Speed?
Front Foot Position
For optimal speed, place your front foot diagonally across the skateboard's deck, with the ball of your foot positioned just behind or slightly over the front bolts. This placement allows you to apply pressure and steer the board effectively.
Back Foot Position
Your back foot should be placed on the tail of the skateboard, with the ball of your foot positioned over or slightly in front of the rear bolts. This position gives you leverage to control the board's tail and initiate turns.
By positioning your feet in this manner, you create a stable and balanced platform that enables efficient weight transfer and optimal control over your skateboard's movements.
Common Mistakes and How to Avoid Them
Placing Feet Too Close Together
Avoid the mistake of placing your feet too close together, as it limits your ability to generate power and control the board. Maintain a shoulder-width distance between your feet for better stability and maneuverability.
Putting Too Much Weight on the Front Foot
While it's important to have pressure on your front foot for steering, avoid putting excessive weight on it. Distribute your weight evenly between both feet to maintain balance and prevent loss of control.
Uneven Foot Placement
Ensure that both feet are positioned symmetrically on the skateboard, with the same angle and distance from the bolts. A balanced foot placement allows for consistent weight distribution and optimal performance.
#2- Skateboard Setup for Speed
To achieve and maintain speed on a skateboard, it's crucial to have the right setup that is optimized for performance. Choosing the appropriate skateboard components, including wheel size, hardness, and shape, as well as selecting the right bearings and maintaining your board, all play a vital role in maximizing your speed and overall riding experience.
Choosing the Right Skateboard Setup for Speed
When selecting a skateboard setup for speed, consider the following factors:
Deck
Opt for a sturdy and lightweight deck that suits your riding style. A deck with a longer wheelbase provides stability at higher speeds.
Trucks
Choose trucks that match the width of your deck and offer good turning response. Tighter trucks provide stability, while looser trucks offer more maneuverability.
The Importance of Wheel Size, Hardness, and Shape
Wheel Size
Larger wheels cover more ground per revolution, allowing for higher top speeds. Look for wheels with a diameter of 54mm or above for speed-focused setups.
Wheel Hardness
Softer wheels (78A-87A) provide better grip and a smoother ride on rough surfaces but may sacrifice some speed. Harder wheels (88A-101A) offer less grip but provide excellent speed on smooth surfaces.
Wheel Shape
Consider a narrower wheel with a rounded edge for reduced friction and increased speed. Bullet-shaped or conical wheels are popular choices for speed-oriented riding.
How to Choose the Right Bearings for Speed?
ABEC Rating
Look for bearings with a higher ABEC rating (e.g., ABEC 7 or higher) for smoother and faster performance. However, keep in mind that ABEC ratings primarily measure precision and not necessarily speed.
Read: Is ABEC 11 Good?
Ceramic Bearings
Ceramic bearings are known for their superior speed and durability. They are resistant to heat and friction, allowing for smoother and faster rides.
How to Maintain Your Skateboard for Optimal Speed?
Keep Wheels Clean
Regularly clean your skateboard wheels to remove dirt, debris, and built-up grime. Dirty wheels can create friction and slow you down.
Lubricate Bearings
Properly lubricate your bearings with skate-specific lubricants or speed cream to minimize friction and keep them running smoothly.
Check and Adjust Axle Tightness
Ensure that your axle nuts are tightened securely but not overly tight. Loose axles can lead to speed-reducing wheel wobbles, while overly tight axles can restrict movement.
#3- Pumping Techniques for Speed
The Basics of Pumping for Speed
Pumping is a fundamental technique that allows skateboarders to generate and maintain speed without relying solely on pushing or gravity. It involves using your body's momentum and weight transfer to propel yourself forward on a skateboard. Mastering the art of pumping can significantly enhance your ability to maintain speed on a skateboard.
How to Generate Speed through Pumping?
Weight Transfer
Start by shifting your weight towards the front of the board as you go down a transition or ramp. This transfers energy to the front wheels, compressing them and generating forward momentum. As you reach the bottom, transition your weight to the back of the board, unweighting the front wheels and allowing the rear wheels to push against the surface.
Upper Body Movement
Coordinate your upper body movement with weight transfer. When transitioning from front to back, use your arms to assist in the pumping motion by pulling back as you shift your weight backward. This helps generate additional power and speed.
Bending and Extending
Flex your legs and bend your knees as you approach the transition, absorbing the downward force. As you reach the bottom, extend your legs explosively, pushing against the board and using the stored energy to propel yourself upward and forward.
Advanced Pumping Techniques for Maximum Speed
Carving
Incorporate carving into your pumping technique by making wider turns across the transition. This allows you to generate more speed by utilizing the full width of the ramp or bowl.
Pumping Transitions
Experiment with pumping different types of transitions, such as bowls, halfpipes, or banks. Each transition has its unique shape and contour, requiring adjustments in your pumping technique to maximize speed.
Pumping with Style
As you become more proficient in pumping, focus on adding style to your technique. Flow smoothly through transitions, utilizing fluid movements and maintaining a balanced stance.
#4- Carving for Speed
Importance of Carving for Maintaining Speed
Carving is a crucial technique that can greatly enhance your ability to maintain speed on a skateboard. It involves making smooth, wide turns while shifting your weight and using the board's natural movements to generate and sustain momentum. Mastering the art of carving can significantly improve your speed-maintaining skills and overall skateboarding experience.
How to Carve Properly for Maximum Speed?
Foot Placement
Position your feet in a slightly wider stance with your front foot angled towards the direction you want to carve. This provides stability and control during the carving motion.
Body Positioning
Bend your knees slightly and maintain a low center of gravity. Keep your upper body relaxed and balanced, allowing for fluid movements.
Initiating the Carve
Shift your weight towards the heelside edge of the board to initiate the turn. Apply gentle pressure to the toeside edge to control the carve's radius and speed.
Pumping Motion
Utilize your body's pumping motion to generate additional speed during the carve. As you shift your weight from heelside to toeside, extend your legs and compress them as you transition back. This pumping action adds momentum to your carve and helps maintain speed.
How to Use Your Body to Generate Speed through Carving?
Upper Body Movement
Coordinate your upper body movement with the carving motion. As you initiate the turn, twist your shoulders and engage your core muscles to enhance the carving power. This rotational movement adds torque and propels you forward.
Hips and Shoulders Alignment
Align your hips and shoulders with the direction of the carve. This alignment allows for smoother weight transfer and better control over the board's movements.
Timing and Rhythm
Develop a sense of timing and rhythm while carving. Flow seamlessly from one turn to another, maintaining a consistent pace. Practice anticipating the transitions and adapting your body movements accordingly.
#5- Balance and Body Positioning for Speed
Importance of Proper Balance and Body Positioning
Maintaining proper balance and body positioning is crucial when riding a skateboard at high speeds. It not only ensures your safety but also allows you to maximize your speed and control over the board. Achieving the right balance and body alignment enables you to navigate obstacles, execute maneuvers, and maintain momentum effectively.
How to Maintain Balance While Riding at High Speeds?
Stance and Foot Placement
Adopt a comfortable and stable stance on your skateboard. Position your feet shoulder-width apart with your front foot slightly angled towards the direction you want to go. This provides a solid foundation for maintaining balance and control.
Bend Your Knees
Keep your knees slightly bent to absorb shocks and maintain stability. This flexed position allows for quick adjustments and better weight distribution, enhancing your ability to react to changes in terrain or unexpected obstacles.
Core Engagement
Engage your core muscles by keeping your torso upright and aligned with your hips. A strong core provides stability and allows for better weight transfer during turns and maneuvers.
How to Position Your Body for Maximum Speed?
Lean Forward
When riding at high speeds, shift your weight slightly forward, distributing it towards the front of the skateboard. This forward-leaning position increases traction on the front wheels and promotes better control and speed.
Lower Center of Gravity
Maintain a low center of gravity by crouching slightly. This reduces wind resistance, increases stability, and allows for more efficient weight transfer, enabling you to maintain speed more effectively.
Arms and Head Positioning
Keep your arms relaxed and balanced, with your elbows slightly bent. Your head should be facing forward, looking in the direction you want to go. This promotes a streamlined body position and enhances your overall stability and focus.
#6- Choosing the Right Terrain for Speed
Terrain Considerations for Speed
When it comes to maintaining speed on a skateboard, the choice of terrain plays a significant role. Different terrains offer varying levels of smoothness, stability, and opportunities for speed. Understanding the terrain and its characteristics will help you make informed decisions for maximizing your speed and overall skateboarding experience.
How to Choose the Right Terrain for Maximum Speed?
Smooth Surfaces
Look for smooth surfaces free from cracks, debris, or rough patches. Smooth pavement allows your skateboard wheels to roll more efficiently, reducing friction and enabling you to maintain higher speeds.
Downhill Slopes
Find gentle downhill slopes that offer a controlled descent. Gravity will assist your momentum, allowing you to pick up speed naturally. However, it's important to choose slopes that match your skill level and always prioritize safety.
Skate Parks
Skate parks provide a controlled environment designed specifically for skateboarding. They often feature smooth ramps, transitions, and bowls that can generate high speeds when utilized skillfully. Skate parks offer a range of obstacles and features that allow you to practice and refine your speed techniques.
Advanced Terrain Options for Experienced Riders
Banks and Curved Surfaces
Advanced riders can explore banks and curved surfaces, such as halfpipes or bowl sections. These terrains allow for dynamic pumping and carving techniques, generating substantial speed and maintaining flow throughout the ride.
Street Courses
Street courses present a variety of obstacles like stairs, rails, and ledges. Experienced riders can use these features to their advantage, incorporating tricks and maneuvers into their speed runs. The ability to maintain speed while navigating these obstacles showcases skill and control.
DIY Spots
DIY spots, created by skateboarders themselves, often provide unique terrain configurations. These spots may include homemade ramps, ledges, and transitions, offering riders the opportunity to experiment with creative lines and generate speed through unconventional means.
#7- Safety Tips for High-Speed Skateboarding
Importance of Safety Gear
When it comes to maintaining speed on a skateboard, safety should always be a top priority. High-speed skateboarding presents unique risks, and wearing the right safety gear is crucial to protect yourself from potential accidents and injuries. Prioritizing safety will allow you to enjoy your skateboarding sessions with peace of mind.
How to Choose the Right Safety Gear for High-Speed Skateboarding?
Helmet: A helmet is an essential piece of safety gear that protects your head in case of falls or collisions. Choose a helmet specifically designed for skateboarding with a snug fit and proper certification to ensure maximum protection.
Pads and Guards: Elbow pads, knee pads, and wrist guards are crucial for protecting your joints and minimizing the risk of fractures or sprains. Look for pads made from durable materials and with a comfortable fit that allows freedom of movement.
Protective Clothing: Consider wearing long-sleeved shirts, pants, and durable skate shoes to protect your skin and minimize the risk of road rash or abrasions. Opt for clothing that allows flexibility and breathability while providing some level of impact protection.
Safety Tips for Avoiding Accidents While Riding at High Speeds
Start Slow and Gradually Increase Speed: It's important to build your speed gradually and only ride at high speeds once you have developed the necessary skills and control. Begin on flat ground or gentle slopes and gradually progress to more challenging terrains.
Maintain Focus and Concentration: Pay attention to your surroundings and stay alert while riding at high speeds. Avoid distractions and keep your focus on the road ahead, anticipating any potential obstacles or hazards.
Practice Good Riding Technique: Develop proper riding technique, including maintaining a stable stance, bending your knees to absorb shocks, and distributing your weight evenly on the board. This will help you maintain control and stability while riding at high speeds.
Be Mindful of Traffic and Pedestrians: If riding on public roads or paths, always follow traffic rules and be considerate of pedestrians. Signal your intentions, look out for vehicles, and be prepared to react quickly if necessary.
Regularly Inspect and Maintain Your Equipment: Ensure that your skateboard is in good condition by regularly checking the trucks, wheels, and bearings. Replace any worn-out or damaged parts to ensure optimal performance and safety.
#8- Building Endurance for High-Speed Skateboarding
Importance of Endurance for High-Speed Skateboarding
When it comes to high-speed skateboarding, endurance plays a crucial role in your overall performance and ability to maintain speed. Building endurance allows you to skate for longer periods, push through fatigue, and sustain the energy needed for high-speed maneuvers.
Physical Stamina: Endurance is essential for maintaining the intensity required to ride at high speeds. It enables you to keep up the momentum, execute tricks, and navigate different terrains without compromising control or speed.
Safety: Developing endurance reduces the risk of fatigue-related accidents. Being physically prepared for the demands of high-speed skateboarding ensures that you can react quickly and effectively, minimizing the chance of mishaps.
How to Build Endurance through Training and Practice?
Cardiovascular Exercise: Engaging in cardiovascular activities such as running, cycling, or swimming helps improve overall stamina and cardiovascular health. These exercises enhance your lung capacity and circulation, enabling you to sustain higher speeds for longer durations.
Skateboarding Sessions: Regular skateboarding sessions focused on maintaining speed are key to building endurance. Start with shorter bursts of high-speed riding, gradually increasing the duration as your stamina improves. Push yourself to sustain speed for longer distances or time intervals.
Exercises and Drills to Improve Your Endurance for High-Speed Skateboarding
Interval Training: Incorporate interval training into your routine by alternating between high-speed bursts and recovery periods. For example, sprint at maximum speed for 30 seconds, then ride at a comfortable pace for 1-2 minutes. Repeat this cycle several times to build endurance.
Hill Training: Seek out hills or inclined surfaces to challenge yourself. Riding uphill requires more effort and engages different muscle groups, helping to improve endurance. Incorporate hill repeats into your training, gradually increasing the number of repetitions over time.
Strength and Conditioning: Incorporate strength and conditioning exercises specific to skateboarding, such as squats, lunges, and core exercises. Building overall strength and stability contributes to better endurance and control while riding at high speeds.
Long-Distance Skating: Plan longer rides to test and improve your endurance. Push yourself to maintain speed over extended distances, gradually increasing the length of your rides as you progress. This helps build mental and physical resilience.
Common Mistakes and How to Avoid Them
Common Mistakes Made While Trying to Maintain Speed on a Skateboard
When it comes to maintaining speed on a skateboard, certain common mistakes can hinder your progress and limit your overall performance. By being aware of these mistakes, you can take proactive steps to avoid them and improve your speed on the board.
Poor Weight Distribution
One common mistake is improper weight distribution on the skateboard. Placing too much weight on the front or back foot can disrupt balance and hinder speed. It's important to maintain a centered and balanced stance to optimize control and speed.
Lack of Proper Foot Placement
Incorrect foot placement can also impede speed. Placing your feet too close together or too far apart can affect stability and hinder your ability to generate power through your movements. Ensuring a proper and comfortable foot placement is essential for maintaining speed.
How to Identify and Avoid These Mistakes?
Body Awareness
Developing a strong sense of body awareness is key to identifying and correcting mistakes. Pay attention to how your body feels on the skateboard and be mindful of any imbalances or limitations in your movements.
Video Analysis
Recording and analyzing your skateboarding sessions can provide valuable insights. Reviewing the footage can help you identify any mistakes in weight distribution, foot placement, or overall technique. Take note of any areas where improvements can be made.
Tips for Correcting Mistakes and Improving Your Speed
Practice Proper Weight Distribution: Experiment with shifting your weight on the skateboard to find the sweet spot that allows for optimal control and speed. Practice distributing your weight evenly across both feet and engage your core muscles for stability.
Focus on Foot Placement: Ensure that your front foot is positioned slightly angled towards the nose of the board, while your back foot should be centered or slightly angled towards the tail. This stance allows for better control and power generation.
Develop Leg Strength and Flexibility: Strengthening your leg muscles through specific exercises can enhance your ability to generate speed. Incorporate exercises that target your quadriceps, hamstrings, and calf muscles into your fitness routine. Additionally, maintaining flexibility through stretching exercises can improve your overall agility on the skateboard.
Seek Professional Guidance: If you're struggling to correct mistakes or improve your speed, consider seeking guidance from a professional skateboard instructor. They can provide personalized feedback and offer valuable tips and techniques to enhance your performance.
Frequently Asked Questions
What is the best skateboard setup for speed?
The best skateboard setup for speed depends on various factors, including personal preference and the type of skateboarding you engage in. However, some key components to consider for speed are:
Deck: Choose a deck that provides stability and control. Longer and wider decks offer more stability at high speeds.
Wheels: Opt for larger wheels with a harder durometer. Larger wheels maintain momentum better and roll faster, while harder wheels reduce friction.
Bearings: High-quality bearings with a high ABEC rating or precision rating help reduce friction and improve speed.
How can I generate more speed while pumping?
Pumping is a technique that involves using your body to generate speed without pushing off the ground. To generate more speed while pumping, focus on the following:
Weight Shift: Shift your body weight from your front foot to your back foot and vice versa. This transfers energy to the board, creating forward momentum.
Timing: Coordinate your weight shifts with the transitions of the terrain or ramps. Pumping at the right time when transitioning from a downward slope to an upward slope maximizes the energy transfer and increases speed.
Is it dangerous to ride at high speeds on a skateboard?
Riding at high speeds on a skateboard can be dangerous if proper safety precautions are not taken. It is important to:
Wear Protective Gear: Always wear a helmet, knee pads, elbow pads, and wrist guards to protect yourself in case of falls or accidents.
Choose Suitable Terrain: Ride on smooth surfaces and avoid uneven or slippery terrain that can compromise your control and increase the risk of accidents.
Build Skills Gradually: Progressively build your speed and confidence. Start at lower speeds and gradually increase as your skills and experience improve.
How can I improve my balance and body positioning for speed?
Improving balance and body positioning is essential for maintaining speed on a skateboard. Consider the following tips:
Stance: Find a comfortable and balanced stance with your feet shoulder-width apart, knees slightly bent, and weight centered over the board.
Lower Center of Gravity: Lowering your center of gravity by bending your knees helps increase stability and control at higher speeds.
Arms and Upper Body: Keep your arms relaxed and use them for balance and stability. Engage your core muscles to maintain control and absorb vibrations.
What are some common mistakes to avoid when trying to maintain speed on a skateboard?
Some common mistakes to avoid when trying to maintain speed on a skateboard include:
Improper Foot Placement: Ensure your feet are properly positioned on the board, with the front foot angled slightly toward the nose and the back foot positioned over the tail for better control and power.
Inefficient Pushing: Use efficient pushing techniques, such as pushing off the ground with the entire foot and extending your leg fully to generate more power with each push.
Lack of Aerodynamics: Minimize wind resistance by crouching slightly, keeping your body low to the ground, and reducing unnecessary movements.
How can I improve my endurance for high-speed skateboarding?
To improve endurance for high-speed skateboarding, consider the following:
Regular Practice: Engage in regular skateboarding sessions focused on speed and endurance to gradually build your stamina.
Interval Training: Alternate between periods of high-speed bursts and recovery intervals to challenge your endurance and build up your stamina over time.
Cardiovascular Exercise: Incorporate cardio exercises like running, cycling, or swimming to improve your overall cardiovascular fitness and endurance.
Strength Training: Include strength training exercises that target your leg muscles, core, and upper body to enhance your stamina and power while riding.
By implementing these strategies and techniques, you can improve your speed, endurance, and overall performance in high-speed skateboarding while reducing the risk of fatigue-related issues. Remember to always prioritize safety and gradually progress at your own pace.
Conclusion…
Throughout this comprehensive guide, you've discovered the fundamental principles and advanced techniques that play a crucial role in maintaining speed on a skateboard. From foot positioning and weight distribution to wheel selection and specialized maneuvers, you've gained the knowledge and skills necessary to take your skateboarding to new heights.
By understanding the importance of proper foot positioning, you've learned how to harness the power of your body to generate speed and control. You've explored the intricacies of weight distribution and balance, allowing you to maintain momentum and unlock lightning-fast acceleration.
We delved into the world of wheel selection, size, and hardness, highlighting the impact these factors have on your speed. Armed with this knowledge, you're now equipped to choose the perfect setup that aligns with your skateboarding style and enhances your overall performance.
Moreover, we dived into specialized techniques like carving, pumping, sliding, and more, providing you with step-by-step instructions and expert insights. These techniques not only add flair to your riding style but also contribute to maintaining speed and conquering new terrain with confidence.
By being aware of common mistakes that can hinder your speed, you've gained valuable insights on how to overcome obstacles and optimize your performance. Avoiding these pitfalls will ensure that you're always pushing the boundaries and unleashing your full skateboarding potential.
Now, armed with this newfound knowledge and honed skills, it's time to hit the streets, skate parks, and any other terrain that beckons. Embrace the thrill of the wind rushing through your hair, the sound of wheels spinning, and the exhilaration of maintaining speed like a true skateboarding champion.
Remember, mastering skateboarding is a lifelong journey. It's not just about speed, but also about creativity, self-expression, and the pure joy of riding. So continue to practice, explore, and push your limits. Embrace new challenges, learn from each experience, and celebrate your progress along the way.
Finally, I encourage you to share your passion for skateboarding with others. Inspire and support fellow riders on their own journeys to mastering speed. Together, let's cultivate a vibrant skateboarding community that thrives on camaraderie, innovation, and the pursuit of endless possibilities.
Now, go out there and conquer the world on your skateboard. Embrace the rush, push your limits, and experience the exhilaration of maintaining speed like never before. Your skateboarding adventure awaits, so keep rolling and keep mastering the art of maintaining speed on a skateboard.