As an Amazon Associate, I earn from qualifying purchases. Learn More.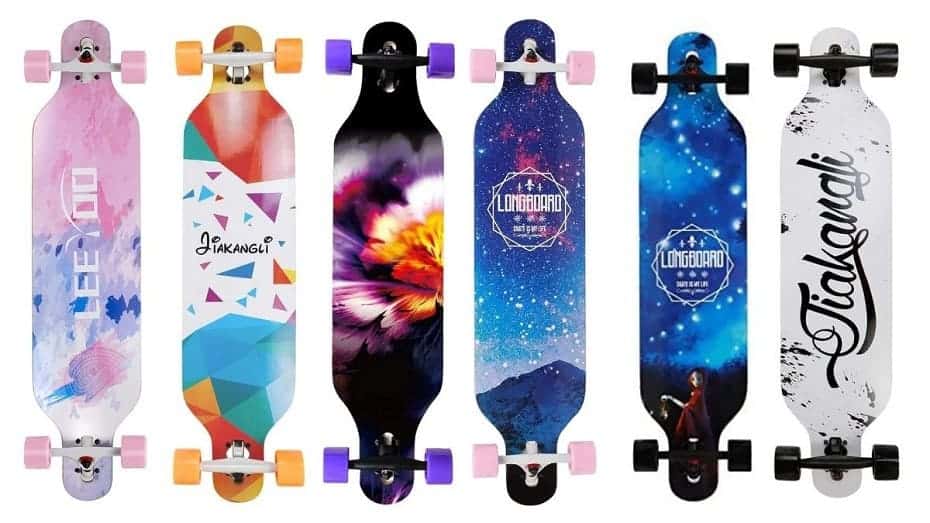 If you've been pondering about the Leeyoo's 41-inch drop-through longboard lately, this write-up will hopefully help you settle out for good.
The model is drawing more and more attraction from youngsters and beginner riders mainly through its look and price tag. You know it's a classy longboard the moment you take a look at it. And apart from the exquisite designs and build, it's a piece known for smooth rides beyond the known levels.
But whether you skate for fun or out of passion, diving straight into purchasing the longboard without weighing its value may cost you. After all, it's the key features that matter instead of great looks or fancy claims.
However, you're not to fret yet; because that's precisely what we're here to fix. Here, we've put together a thorough, comprehensive, and honest rundown of the critical aspects of the Leeyoo 41-inch longboard.
Leeyoo 41-inch Longboard Review
Specifications at a Glance
41 x 9-inch deck.
8-layer maple wood build.
Emery non-slip deck-top.
7-inch Aluminum alloy trucks.
70 x 50 mm polyurethane wheels.
40-degree baseplate.
ABEC-11 chrome steel bearings.
Deck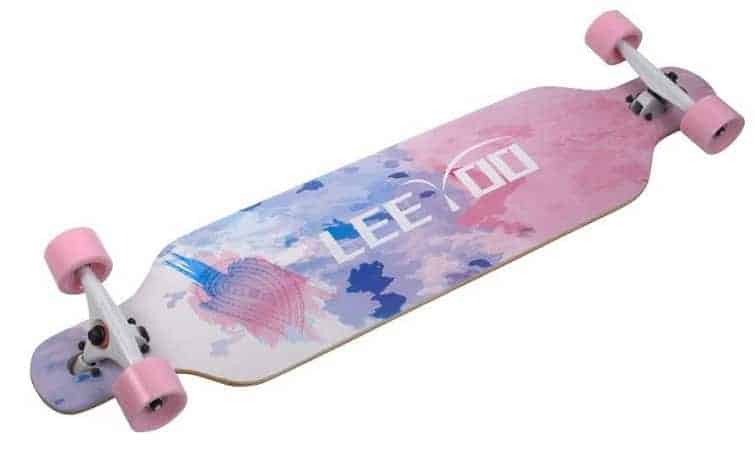 The performance and comfort of a longboard greatly depend on its deck. The Leeyoo uses a concave, curved deck to help you minimize the resistance so you can glide effortlessly through the wind.
It also gives you the much-needed convenience to your feet when they're on it. Besides, its elongated tail provides additional support to help you quickly cut through the wind and pick up the speed.
The deck also boasts drop-through trucks, which cuts the gap between the ground and the deck more than regular, drilled-to-the-bottom trucks, allowing your feet comfortable maneuvers. The feature lets you enjoy your ride with superior stability, especially during your high-speed cruise-downs on steep roads.
Trucks

A common rule of thumb when choosing a splendid longboard for downhill rides is never to settle for trucks less than seven inches. Most experts also recommend getting trucks having a 45 to 50-degree base plate.
While the Leeyoo does comply with the size, it falls somewhat short in terms of its base plate, which measures around 40-degrees. It's not particularly bad for beginner riders, but it isn't too good either as far as downhill rides are concerned. And at the end of the day, it comes down to how well you can keep your feet balanced and stabilized.
Wheels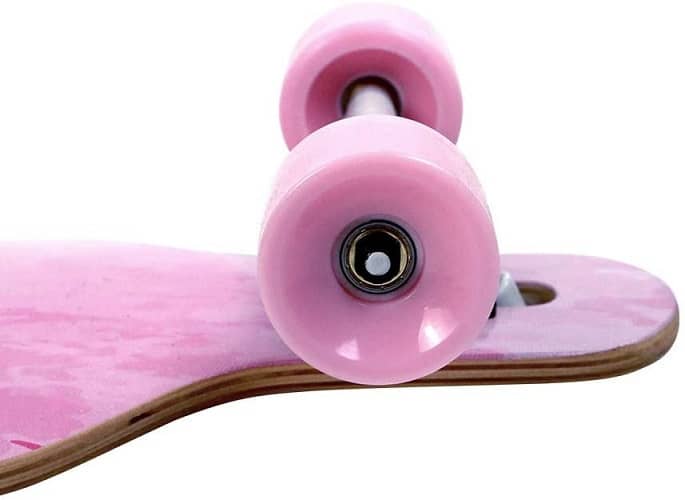 When you size up your longboard wheels, it's the diameter and hardness that matter most. And according to most longboard experts, a minimum of 70 mm with 78A of hardness is ideal when prioritizing beginner-friendly downhill rides.
Thankfully, the Leeyoo soundly complies. It comes with 70×50 mm polyurethane wheels having the precise hardness of 78A. Here, the 'A' denotes the hardness level. The higher the number, the harder the wheels.
Beginner riders can get a lot out of this piece because of the wheels' excellent adaptability with rougher surfaces without hassles and without the wheel showing signs of wearing for several years.
Bearings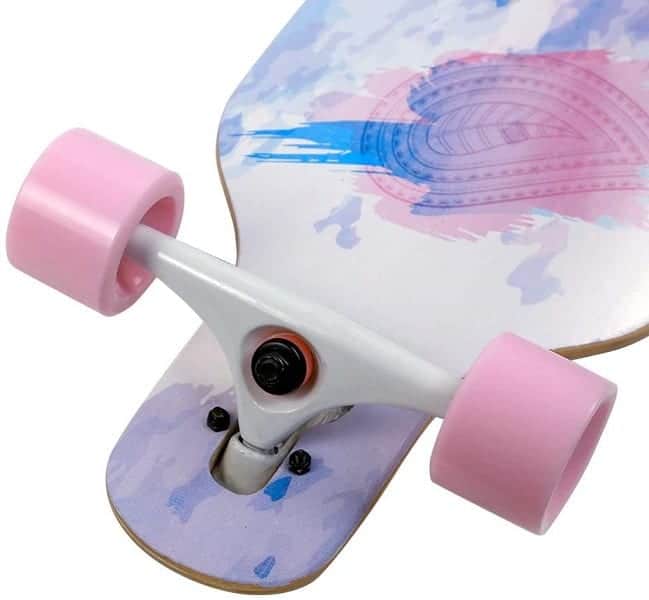 But the wheels are not alone to serve you with headache-free rides, for they partner with superb ABEC-11 precision bearings.
While they're among the smoothest bearings you'll ever come across, working firmly under the heavyweights is undoubtedly their top feature the big riders will love. Its combination with the anti-shock polyurethane wheels allows it to cruise faster than anyone would expect from a cheap longboard.
Materials
The Leeyoo uses maple in the making of its deck; eight layers of natural maple wood to be exact. The high-quality, hard-rock layers also come epoxy glued to provide you durable, reliable riding experience for years to come. Besides, the deck's non-slip grip topping offers further assistance in keeping your feet stable.
You'll also love its aluminum alloy trucks that hardly give in to corrosion or rust. However, you'll still be wise to be extra careful when taking on wet surfaces to keep the steel axles intact.
Weight Capacity
The weight capacity expectations are naturally high because of the eight-layer maple deck and 78A-marked hardness of the wheels. And with the capability of withstanding 330 pounds of weight, the Leeyoo doesn't disappoint in this regard either. In fact, it's one of those cheap longboards for tall, overweight beginners looking for a longboard that won't break after a week's practice ride.
Appearance
The Leeyoo's appearance is indeed worth boasting about. While each of the models in the line comes topped with black non-slip skin on its deck, the catchy, vibrant color patterns let everyone choose according to the vibe they prefer. They look fun, youthful, and all the more appealing.
Are Leeyoo Longboards Good?
So, how good are Leeyoo longboards for beginners? Here are some notable pros and cons we found that will hopefully give you some idea.
PROS
Splendid looks.
The sturdy maple wood deck justifies the promising lifespan.
The drop-through trucks are excellent feet-support providers for beginner riders.
The polyurethane bushings provide additional assistance during bent maneuvers.
Its smooth ABEC-11 bearings make it a perfect cruiser.
CONS
The baseplate is only 40-degrees, whereas 45-50-degrees is the benchmark for downhill boards.
Frequently Asked Questions (FAQ)
Is the Leeyoo longboard skateboard ideal for beginners?
Yes, it is. Because of its well-furnished design, drop-through deck, and super-smooth bearings, beginner riders will surely enjoy riding the longboard, especially during their first speed-ups.
Can you use it for freestyling?
We wouldn't recommend so. However, replacing the wheels with bigger, sturdier ones, exchanging the bearings with ceramic-made ones may allow you to do some freestyling without much trouble.
Does it work for carving?
Sure, it does. The Leeyoo's ABEC-11 bearings and the aptly pliant PU wheels make the carvings breezy and thoroughly controllable.
Is it possible to tighten the trucks?
Yes, but you can't tighten it by more than 2-3 degrees.
Verdict…
In our Leeyoo 41-inch Longboard review, we went over the skateboard's most critical aspects. It may not be among the best drop-through longboards out there because of the fell-short baseplate. Still, it'll hardly disappoint the beginner riders, especially when you consider its durability, weight capacity, and features like the smoothest bearings, compliant bushings, highly competent wheels, and all. And we bet most will call it the best longboard for speed the moment they hit the asphalt road.
Read More
Amazon and the Amazon logo are trademarks of Amazon.com, Inc, or its affiliates.